The Hidemont team is honored to produce high-quality, comfortable, and stylish leather collars for cats. Despite all controversial opinions about cat collars, vets agree that this pet accessory is a must-have for every kitten and adult cat because it functions as an efficient identifier and, in some cases, a real saver of a cat`s life. If your little felines, whether outdoor or indoor, tend to escape often, you should make sure they`re wearing an ID tag, so that they can find their way back home. Moreover, a collar makes it clear the cat isn`t stray and, when found by your neighbors out and about, this simple accessory is a visible sign that the cat needs help.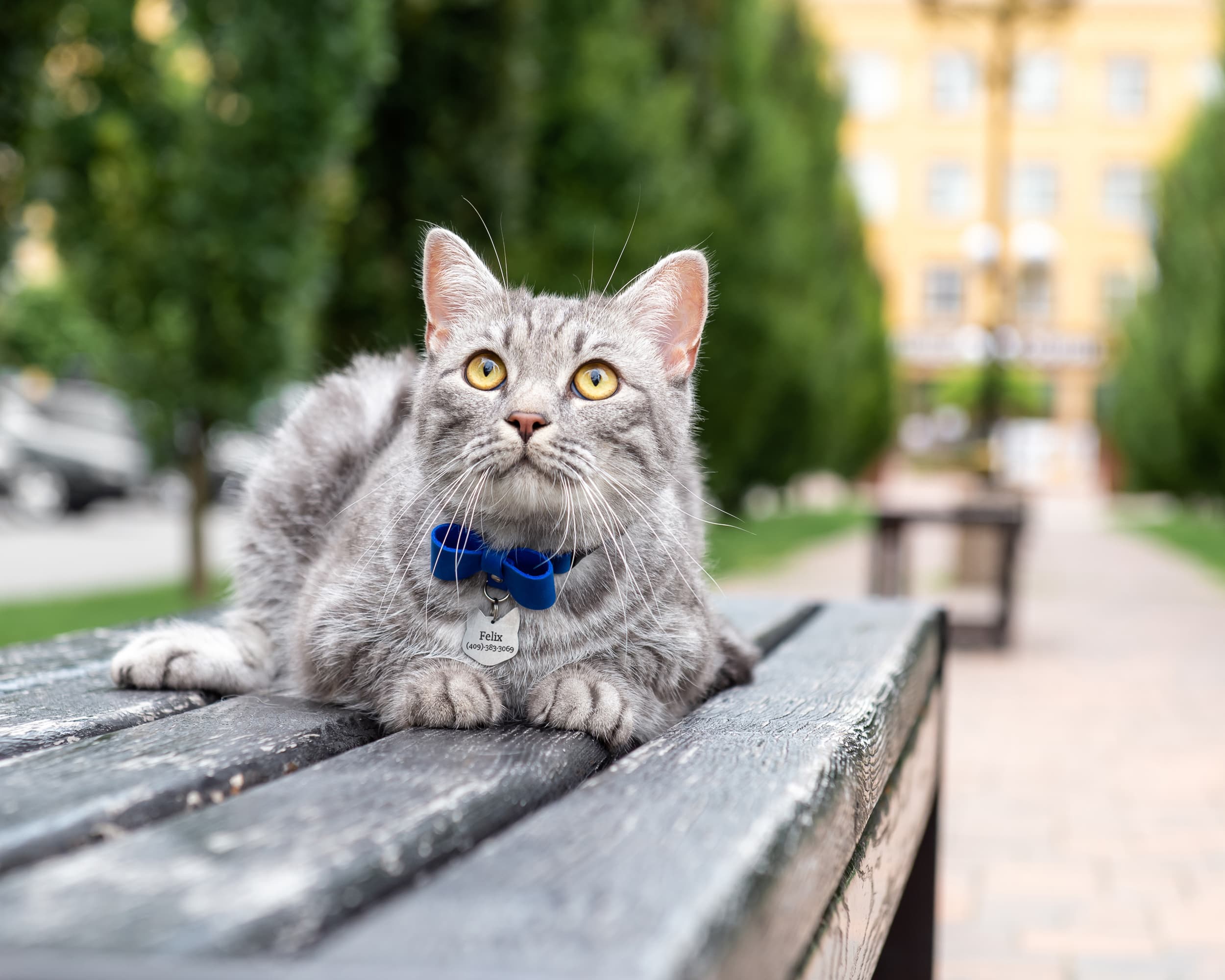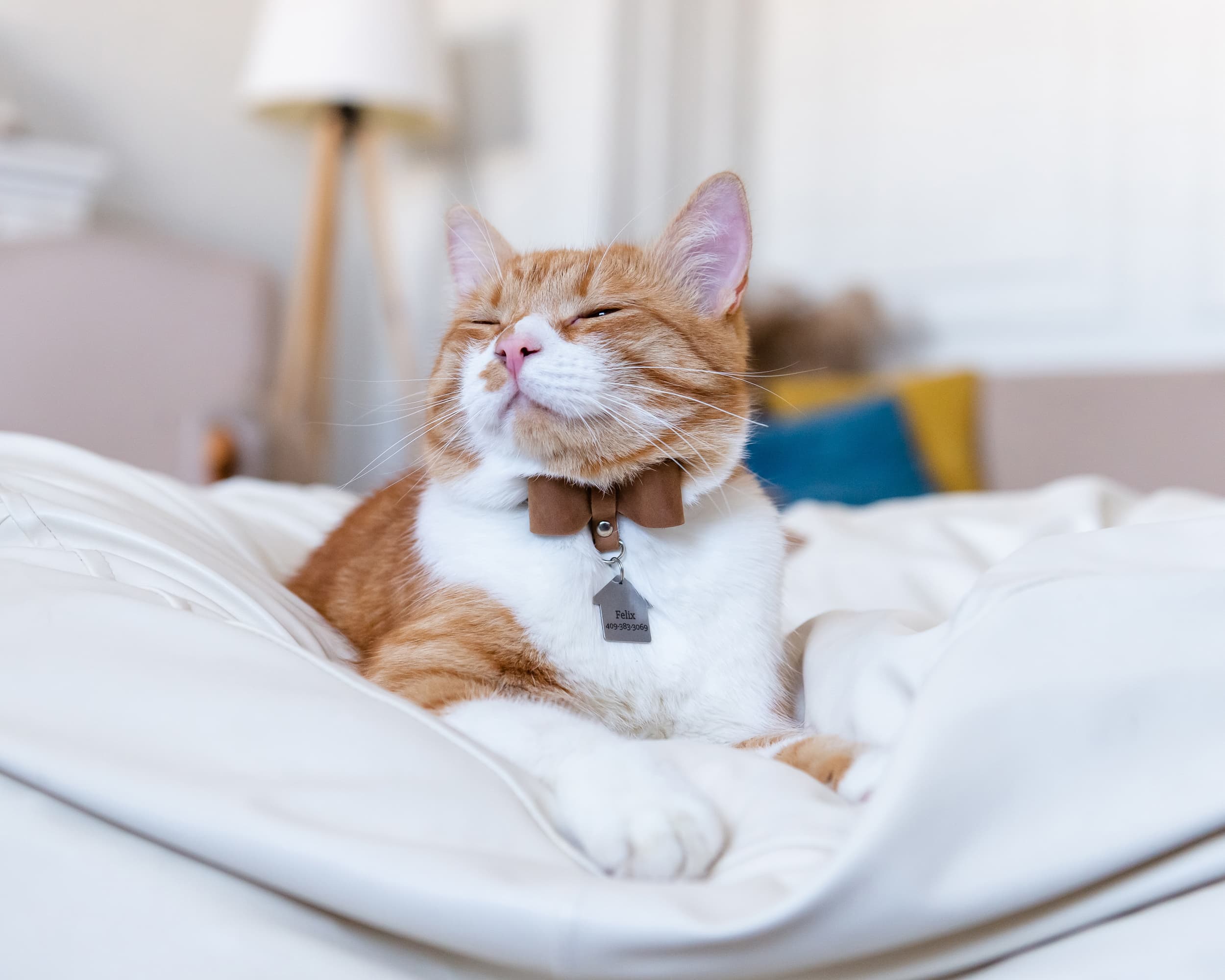 Besides, if you have a lot of cats, a collar is a perfect way to tell them apart, or it also works great as a cute addition to special occasions, like weddings or birthday parties.
Finding a proper collar for your cat can appear to be a tricky thing, and there are some key points to consider when choosing a collar.
Take material into account
A modern pet market offers cat collars made of different materials – nylon, cotton, mesh, microfiber, and polyester – that define their comfort, functionality, and design.
Cotton, mesh, microfiber, and polyester collars are the most lightweight pet accessories available in a diversity of bright colors. Yet, being quite cheap, these collars won`t impress you with durability and safety, as they are more likely to get stretched and lost.
Nylon collars are durable, lightweight, and sturdy. However, nylon collars are the most frequent reason why your cat keeps scratching the neck, trying to paw the collar off. Are you ready to sacrifice the issue of comfort for the sake of not buying a new collar each month? Plus, as they`re less prone to water, these collars can get pretty stinky over time.
As you can see with these materials, you should decide what aspect – safety, durability, quality, comfort, or cute design – comes to the fore.
Yet, you`re lucky to be offered a leather cat collar that combines all these features so that there`s no need to scratch your head thinking how your sweet pet will react to a new accessory. Leather collars have a classy and minimalistic, even, vintage look. But they are not just about beauty. Made of leather, collars are lightweight, long-lasting, sturdy, comfortable, and easy to be cleaned.
Choose a proper type
There is a range of cat collar types that fulfill different functions, but the most common are belt buckle cats and breakaway cat collars. To choose a proper type, you should think about your cat`s character and habits. If your cat is too little to say the prevailing traits, just take some time and observe how your pet behaves.
For little troublemakers which can`t resist the passion of climbing, jumping, and getting into small, confined spaces, leather breakaway collars are the best option. It unclasps when a cat gets caught in something, preventing neck injuries and choking. Finished with a durable buckle and adjustment slide, a collar is easily-accommodated to a perfect fit – not too loose to be lost and not too tight to cause discomfort.
Hidemont offers a rich collection of breakaway cat collars that are not only safe but fun, as well. Unlike any other mass-market collars, our collars are adorned with a matching leather bow and cute engraved ID tag, so you can spoil your precious kitten every day or on special occasions.
A classic leather cat collar with a belt buckle works better for more peaceful cats that don't tend to get into trouble but keep escaping a collar, wandering outside without identification. It provides easy adjustment and strap end fixating for a comfortable fit. The Hidemont leather cat collar with a belt buckle is durable, minimalist, lightweight, and secure. Cat collars with an engraved silent nameplate are perfect for pets as they make no noise while keeping vital info.
Pay a lot of attention to the hardware and other design features
We`d think that hardware isn`t so considerable aspect when choosing a cat collar but nothing of the kind. It directly affects the functionality and convenience of a collar. I tend to use solid hardware as that`s so strong and retains an attractive finish.
A classic collar with a belt buckle features a durable buckle and an additional loop for fixing a strap end. Such design provides maximum comfort and easy adjustment for fast-growing kitties or super-fluffs. This type of collar comes with a silent stainless-steel nameplate that can be personalized with engraved information like the cat`s name and your phone number. It works great for indoor cats as they don`t jingle at night but have vital information engraved. Also, a classic cat collar makes it possible to walk a cat on a leash that can be attached to a solid D-ring.
It`s also essential that the collar construction stands out with durability and strength. Unlike other cat collars that feature only one, non-finished surface, the Hidemont cat collar is crafted of double-layered quality leather that is finished with strong thread. Besides, there is an in-sewn layer of cotton webbing between the leather layers to ensure extra longevity and resilience to stretching. Who said durable and safe collars must be heavy and uncomfortable? Hidemont is proud of secure cat collars that provide lightweight daily wear.
In contrast, a leather breakaway collar is finished with a durable breakaway buckle that is safe to close and unclose. Its easily-adjusted design is achieved with a quality adjustment slide. Our collar fully extends 7-9.5" to ensure this one-sized collar fits perfectly. A breakaway collar can be personalized with a stainless-steel corrosion-resistant ID tag in cute designs to guarantee your feline`s safety and exclusive style. Besides, to make your cat feel special, Hidemont breakaway collar is adorned with a matching leather bow – an elegant and fun touch – that is effortlessly removable and moved around the collar length not to bother your cat. Such a leather collar, paired with other leather accessories for cats, is a perfect choice for special occasions and a cat lover gift.
Consider the ultimate size
The ideally-matched size of the collar guarantees freedom and comfort. It should be tight enough that your cat can`t paw it off but not too tight that your little friend won`t feel pressure. The classic collar with a belt buckle is easily adjustable for a proper and comfortable fit. It`s quite simple to choose the perfect size for your 4-legged friend. All you need to do is measure your cat`s neck and add an additional 2 cm (1/2") to this measurement. If you want to be sure that the collar fits 100%, put two fingers between a collar and a cat`s neck and measure again.
And, our leather breakaway collar is a one-sized collar that measures 7-9.5" to ensure a perfect fit.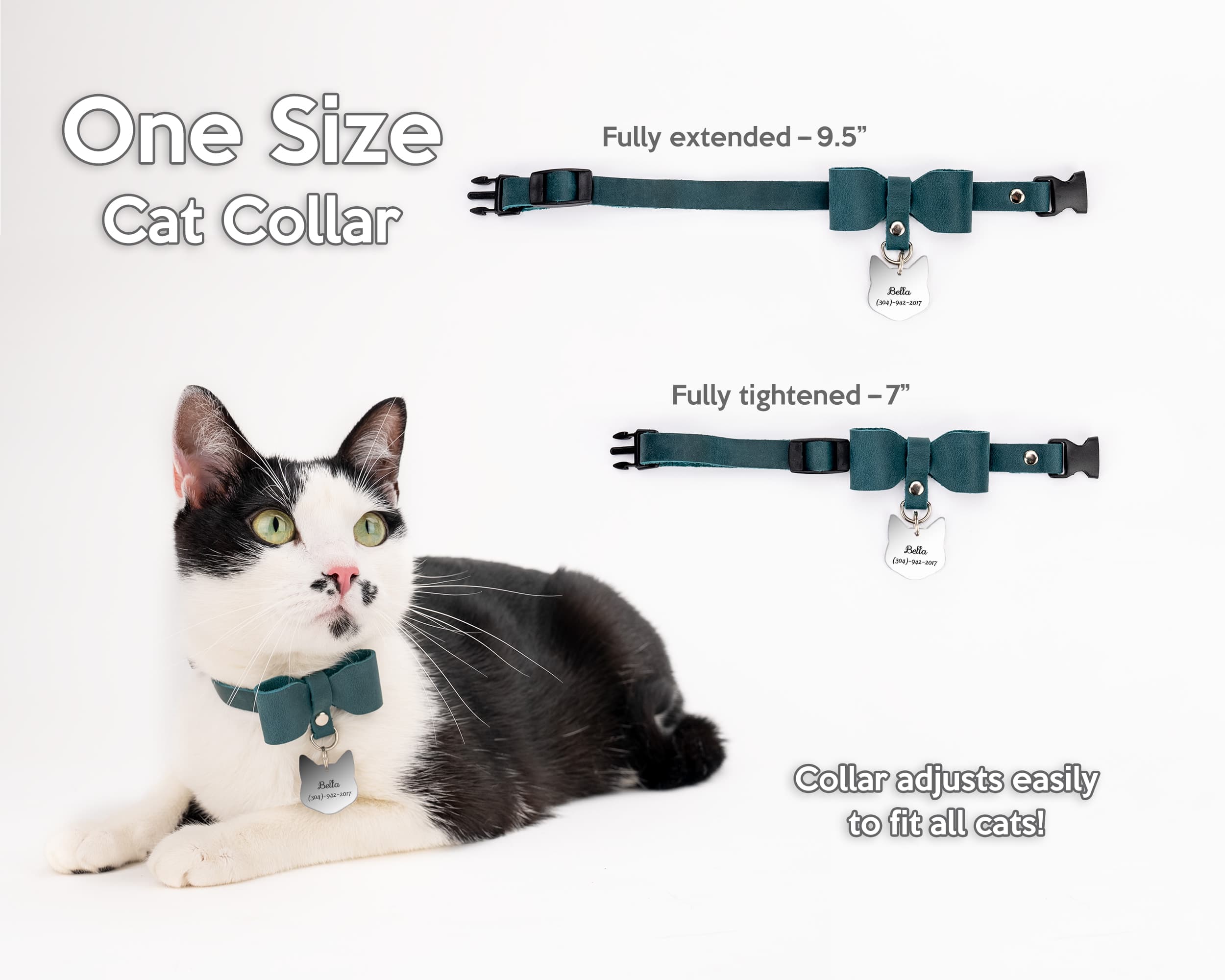 Both types of collars will fit little kittens, adult cats, and cats that aren`t used to wearing collars.

Such simple tips do work! Feel free to share your experience! ♡ ♡ ♡