For some of us, it may seem rather unusual to observe cats wearing collars. However, indeed, a cat collar, just like a dog collar, is a must-have pet accessory everyone should be aware of. Are you the one to think that putting collars on a cat is dangerous? Or, you`re the one to think that not putting a collar on a cat is dangerous? Despite all the controversial opinions on whether should cats wear collars or not, you must always prioritize your pet`s safety and well-being.
In this article, we`ll discuss why cats disapprove collars, what are the benefits of cat collar training, how to choose the best collars for kittens, when should you start training a kitten to wear a collar, and how to train a cat to wear a collar.
If you`ve googled such an article, it means you`ve conducted a comprehensive and sufficient study on the topic and, considering all pros, cons, and possible risks, made a big decision to start training a cat to wear a collar. It's crucial to mention that our tips on putting a collar on a cat are general and based on vet recommendations.
Why do cats dislike collars?
After endless hours of cat collar searches, you`ve finally found the best collars for kittens that`ll look so cute on your little purr-purr fellow. Full of excitement, you hurry up to put it on your precious kitty. Gorgeous! – you think. Making sure your cat has no intention to paw it off, you go about your business. Yet, you find a collar somewhere on the floor in half an hour. Puzzled, you try to put it on a cat again, but all appear to be in vain – your precious kitty stubbornly refuses to have it on. If this situation sounds familiar to you, this article is a must for you to read.
Actually, nature does it all – due to their natural instincts, cats don't like to be restricted and, unlike dogs, aren`t domesticated this easily.
Discomfort is the most common reason for collar rejection. Poor-quality collars are more likely to rub the skin, snag on the fur, bother a cat during playtime, or scare a cat with an ID tag noise.
The fact that a cat is biting, scratching, meowing, or trying to put a collar off means the accessory makes discomfort and should be replaced with a better, more comfortable cat collar. You should get a daily accessory that is soft, lightweight, and snug-sized. Hidemont offers a rich online collection of the best collars for kittens and adult cats. Natural properties of genuine leather guarantee a smooth texture, a beautiful, vintage finish, and a non-toxic design. Besides, cats are very sensitive to smells, so they`ll never wear a collar with a distinctive chemical smell. Learn more about how to choose a cat collar.
Benefits of cat collar training
As a must-have pet accessory, a cat collar fulfills a vital function – identification. A collar is the quickest and most practical way to ensure the safety of your feline. It works great for both outdoor and indoor cats.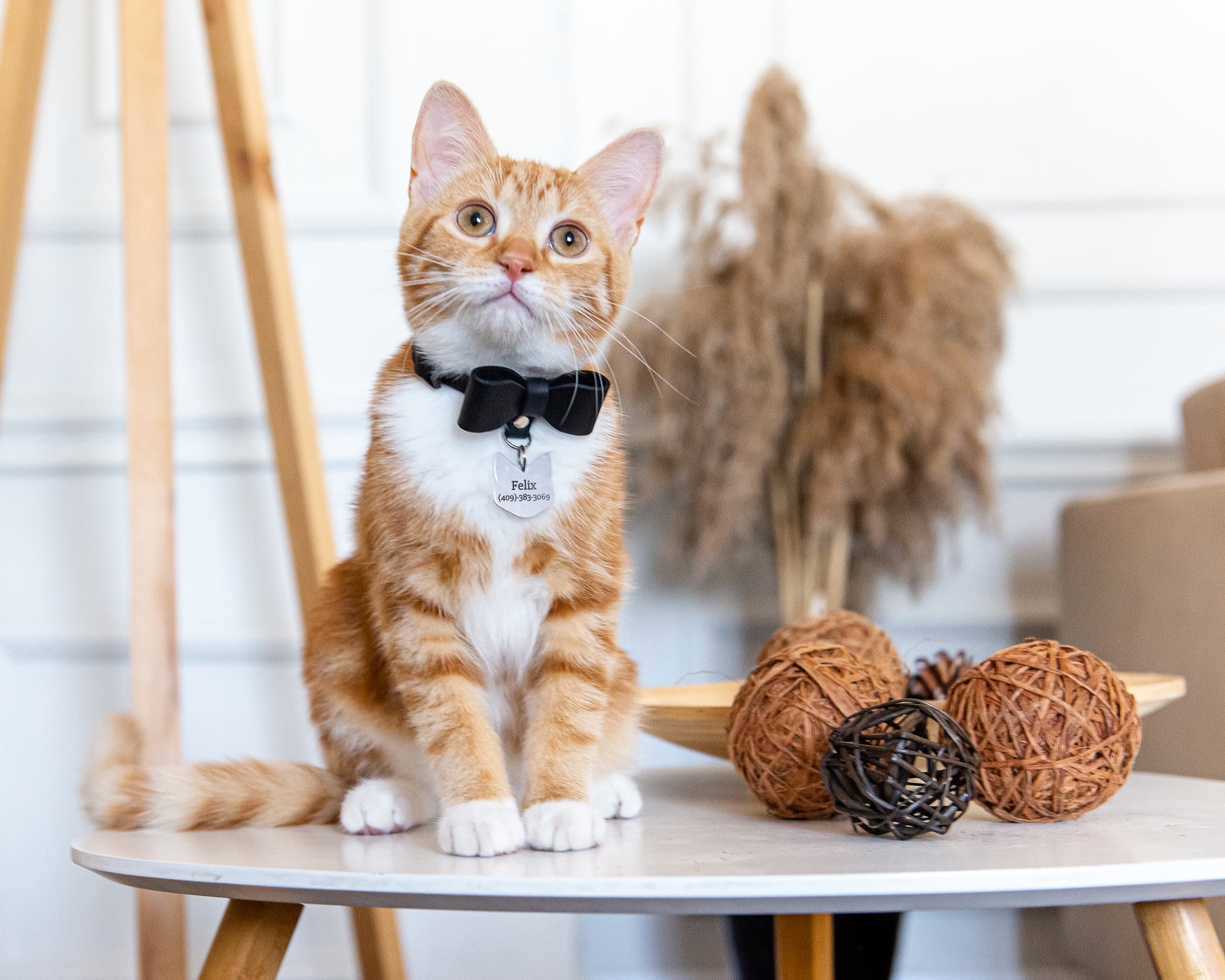 If you leave your cat unsupervised very often and your outdoor cat tends to be a little troublemaker, then, quality leather breakaway collars, also known as safety cat collars, are a find for you. Their buckling mechanism unclasps when a cat gets caught in something. This collar is a simple solution to make sure your little escape artist can find the way back home. What's more, a collar is a vivid sign that a cat, which has roamed too far, isn`t stray and needs some help. It`ll also prevent strangers, who find your lost cat, from feeding and "rescuing" the cat. Safety cat collars are the perfect alternative for the cat training collar.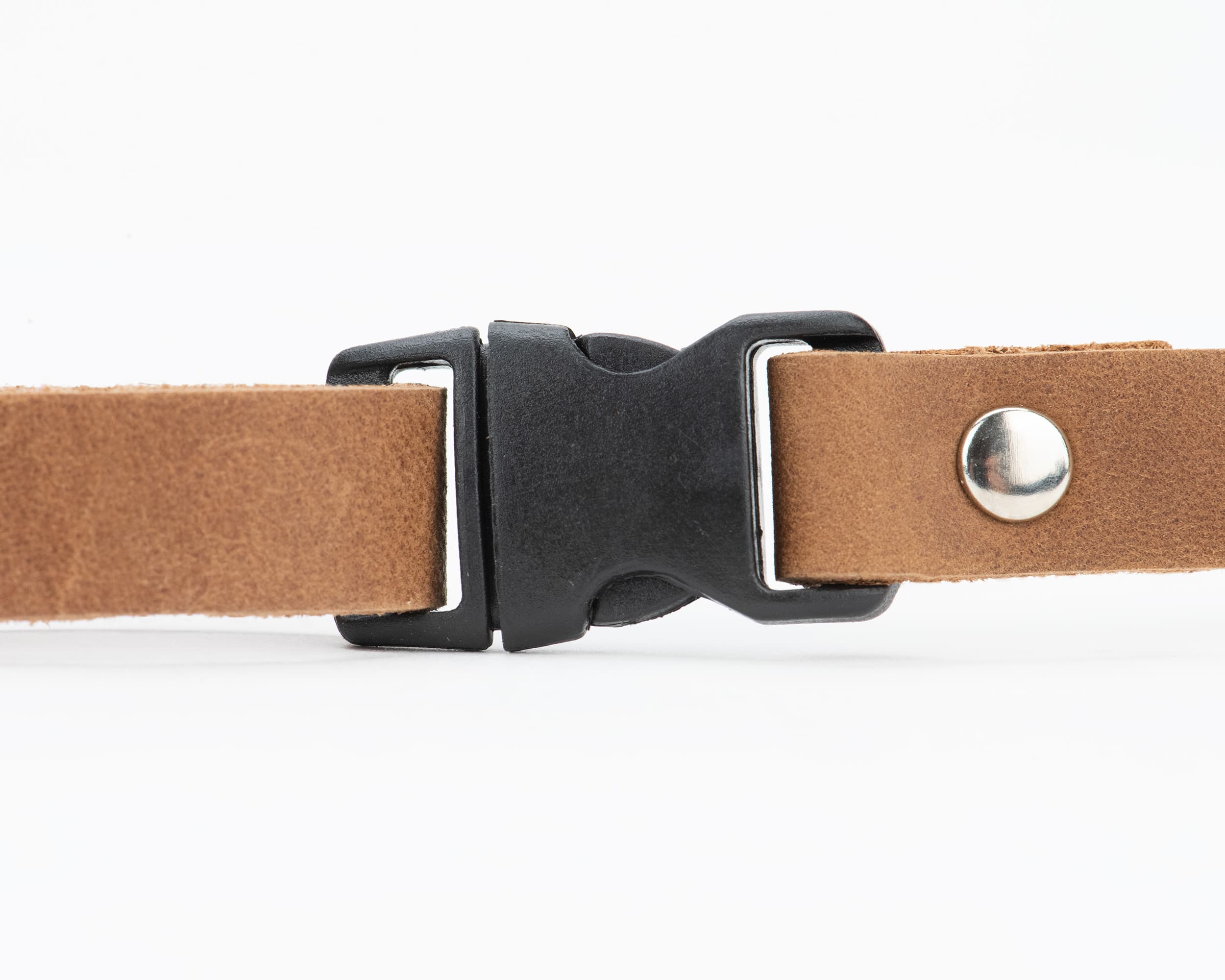 Find your cat to be a very calm and trouble-avoider? Your cat has no passion for climbing a tree or getting into confined, small spaces? Then, classic collars with a belt buckle are the best choice for your kitten. Such a collar type works great for indoor cats because, when door-dashing incidents happen, it identifies your cat as lost and increases the possibility of a quicker reunion.
Let's be frank, we all love seeing our cats wearing collars and we all enjoy making gifts for our pets and our friends` pets, whether for some special occasion or just for no reason. And, Hidemont classic leather collars with a belt buckle available in pretty colors are handmade with love to underline every kitten`s unique character and style. Surely, to get sheer pleasure from our pet`s fancy appearance, we've got to experience training a kitten or cat to wear a collar.
Always dreamt of walking with a cat along a picturesque lane? Your dream can come true if you start training a cat to wear this daily accessory. Hidemont offers high-quality comfortable belt buckle cat collars finished with solid hardware (read more about types of hardware used for all Hidemont leather accessories for pets) and in particular a durable D-ring that gives you the possibility to clip a leash and have an enjoyable walking experience with your dear kitten.
As you can see, there`re a lot of benefits you can get from training a cat to getting accustomed to a collar.
When should you start training a kitten to wear a collar?
The age of 6 months is the optimal age for your kitten to start wearing a collar. If you start earlier, you may not only face the kitten's collar disapproval but also hurt your kitty. Be aware that safety cat collars are the best cat training collar alternative, as they're very soft to the skin, super safe, lightweight, cute, and easy to be cleaned. Find out simple tips on how to take care of leather goods. Besides, small cats, being still not that mature to control their behavior and be cautious about hazards, will avoid unfortunate accidents thanks to a breakaway buckle collar. Paired with other leather accessories for cats, a personalized leather breakaway cat collar makes an ideal practical leather gift for pet lovers and welcome home new kitten gifts.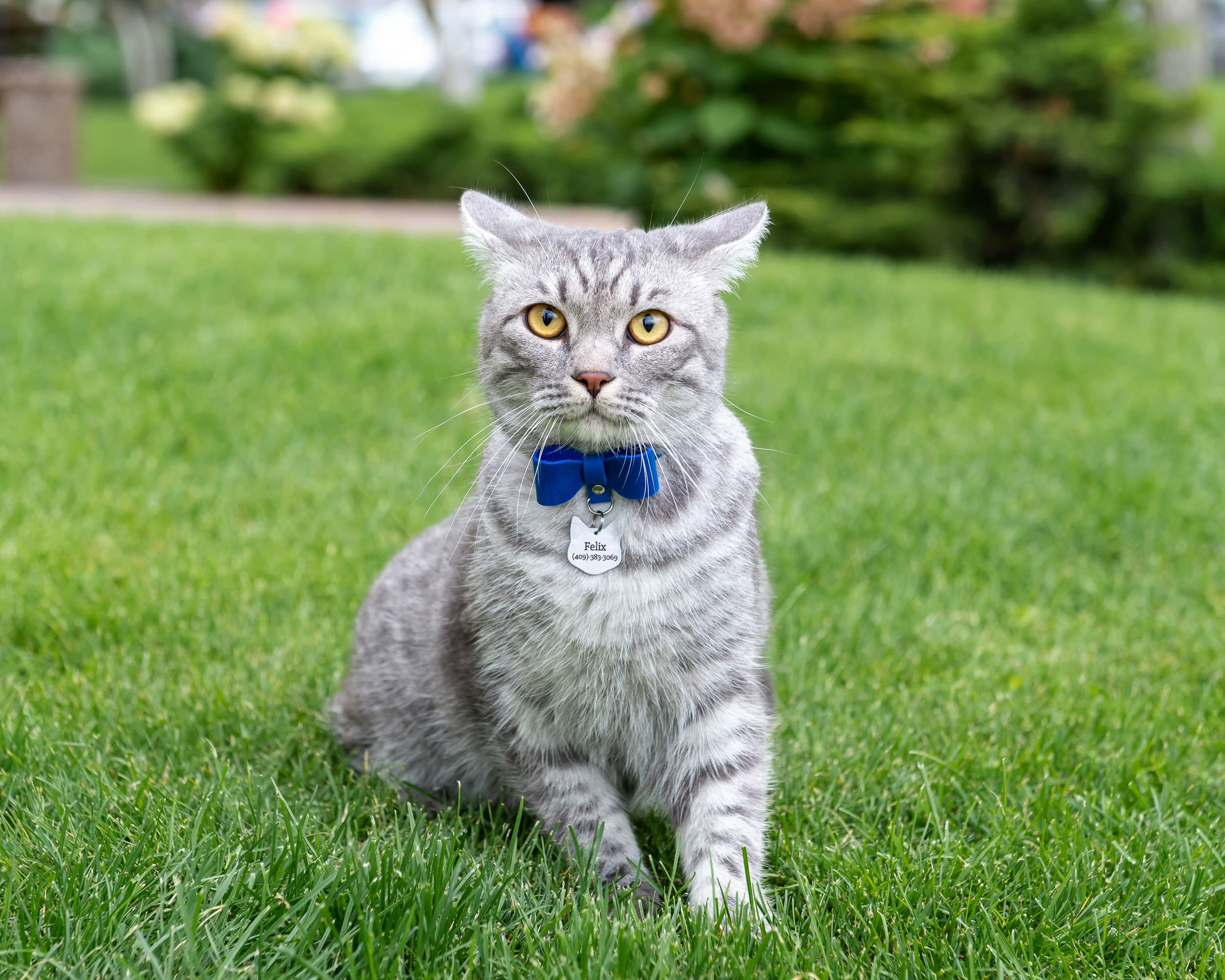 It's quite expected that your kitten will reject wearing a collar, at first, but you shouldn't be very persistent and impatient. Instead of forcing your cat to wear a collar, follow our simple recommendations on how to train a kitten to wear a collar.
Step-by-step guide on how to train a cat to wear a collar
Before the first session of training a kitten, you must make certain that a chosen accessory is a comfortable cat collar of the proper size, and that its hardware, especially the breakaway buckle, is durable and works as it should.
Introduce the collar to a cat
The most important thing to start with your cat collar training is introducing a new accessory to your pet. Allow your kitten to sniff the collar and, if it comes with a bell or ID tag, get comfortable with its sound.
Associate the collar with something nice
The next step to successful training is to let your cat associate the collar with something nice, fun, and harmless. Go ahead and put a collar on the floor or table and place some treats around the collar.
When you see that a cat is satisfied and relaxed, you can proceed with putting a collar unbuckled over the neck. At this point, your kitten should take some time to get used to a collar weight and the feeling that something is over the neck. Put the collar off, reward your cat with a treat, and put the collar on again.
When the cat doesn`t mind it, try to buckle the collar and slightly tighten it up so it makes no discomfort. Again, praise your cat with a treat and start some amusing play, distracting the cat from the idea that something is on, and again treat your little fellow.
Repeat the procedure every day
Remember that the first training sessions should last not more than a couple of minutes, and you should keep on with the further ones gradually prolonged for a few minutes every time. Repeat the procedure every day and be patient if the result isn`t as expected.
Are these tips on how to train a kitten helpful? Feel free to share your experience.