From scratches. Damages. Dirt. Curious kids or pets. Daily. At work. On trips. Yes, we need to protect our favorite, in most cases, high-priced eyewear, regardless these are prescription glasses, reading glasses, or sunglasses.
Surprisingly, it`s a real challenge to find an efficient, functional, stylish case for glasses because there are always some aspects that we can`t ignore. Poor-quality materials lead to rapid deforming of the case, and eventually, glasses construction. Extravagant, but yes, eye-catching, designs appear not to be functional at all. Or, what about shell-formed or triangle-formed cases – a classy offer of most popular eyewear brands? Yeap, within months of daily use, the first lose their ability for tight closure putting your glasses at risk of sudden falling out. And the last ones are not very convenient for carrying in a bag.
If you`ve gone through hell and back searching for a simple but efficient glasses case, you`d be pleased to know that this disaster is about to end.
Crafted with every detail in mind, Hidemont cases models, namely Chris and Ray, serve as reliable companions for glasses satisfying your needs with quality leather, simple design, and well-thought functionality.
So, why am I so sure these cases are the most secure and drop-resistant?
A SINGLE PIECE OF THE BEST-QUALITY ITALIAN LEATHER
Authentic, sturdy, smooth, pleasant to touch, patinaed – that`s all about leather that Hidemont glasses cases are made of. To ensure they are great protectors, we use 3 mm thick Crazy Horse leather. A single-pieced construction rather than a multiple-pieced construction guarantees the item will be tough, strong, long-lasting. Thus, anywhere tucked, its outer material will safely protect your glasses.
SADDLE STITCHING
Handmade, these glasses cases feature saddle stitching that implies two rows of stitching in one single row of holes. This way of stitching is considered to be the most durable and neat. In case one of the seams is damaged, others won`t dissolve. Plus, a waxed cotton cord enhances the strength of stitching. And burnished, waxed edges bring more special, vintage touch to handmade work.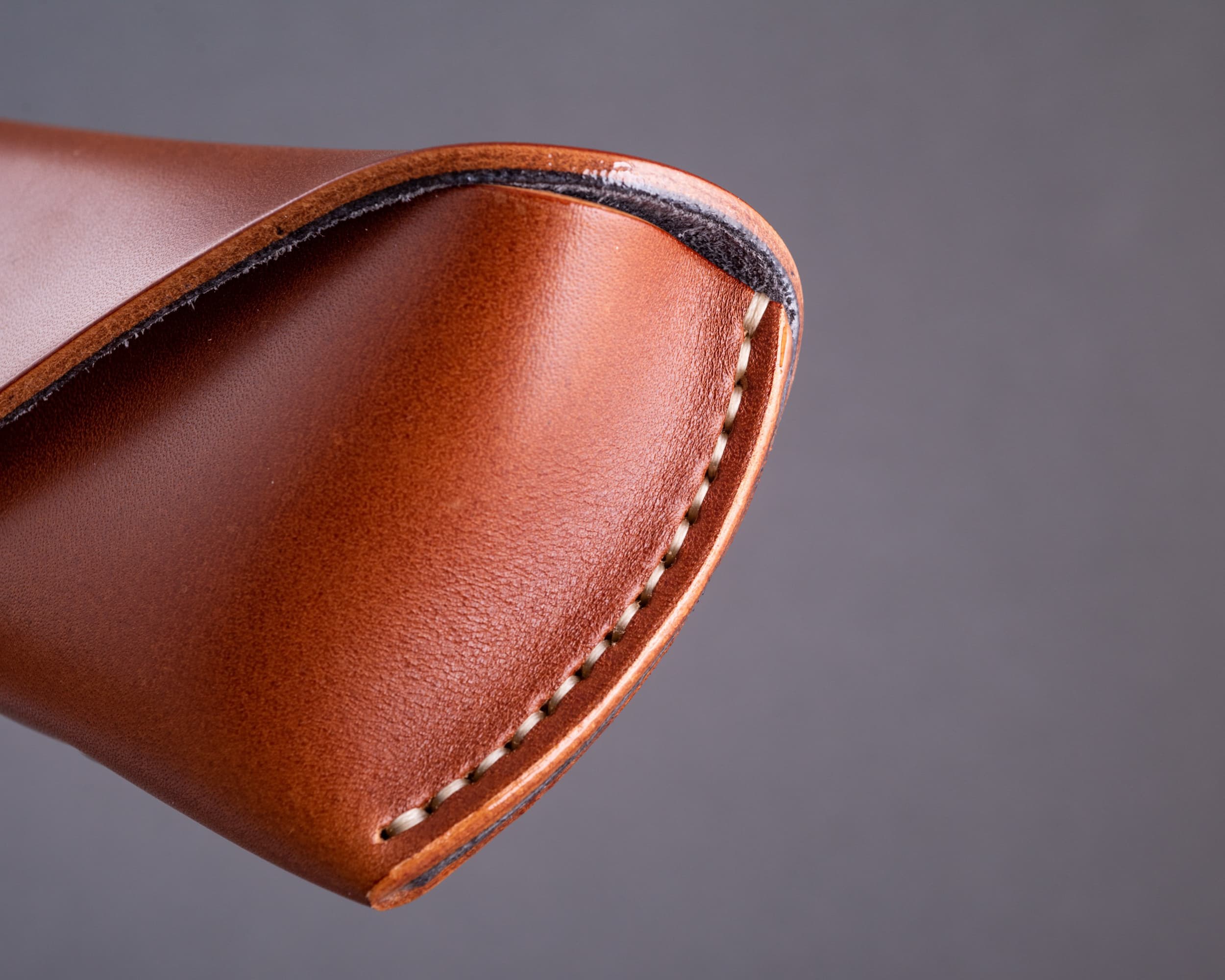 SECURE SNAP BUTTON
When you`re afraid that a case can unsnap in the most inconvenient moment and your glasses will fall out, don`t be. These leather sunglasses cases boast YKK snap buttons. In fact, these are the most effective hardware featuring high-end corrosion-resistant materials.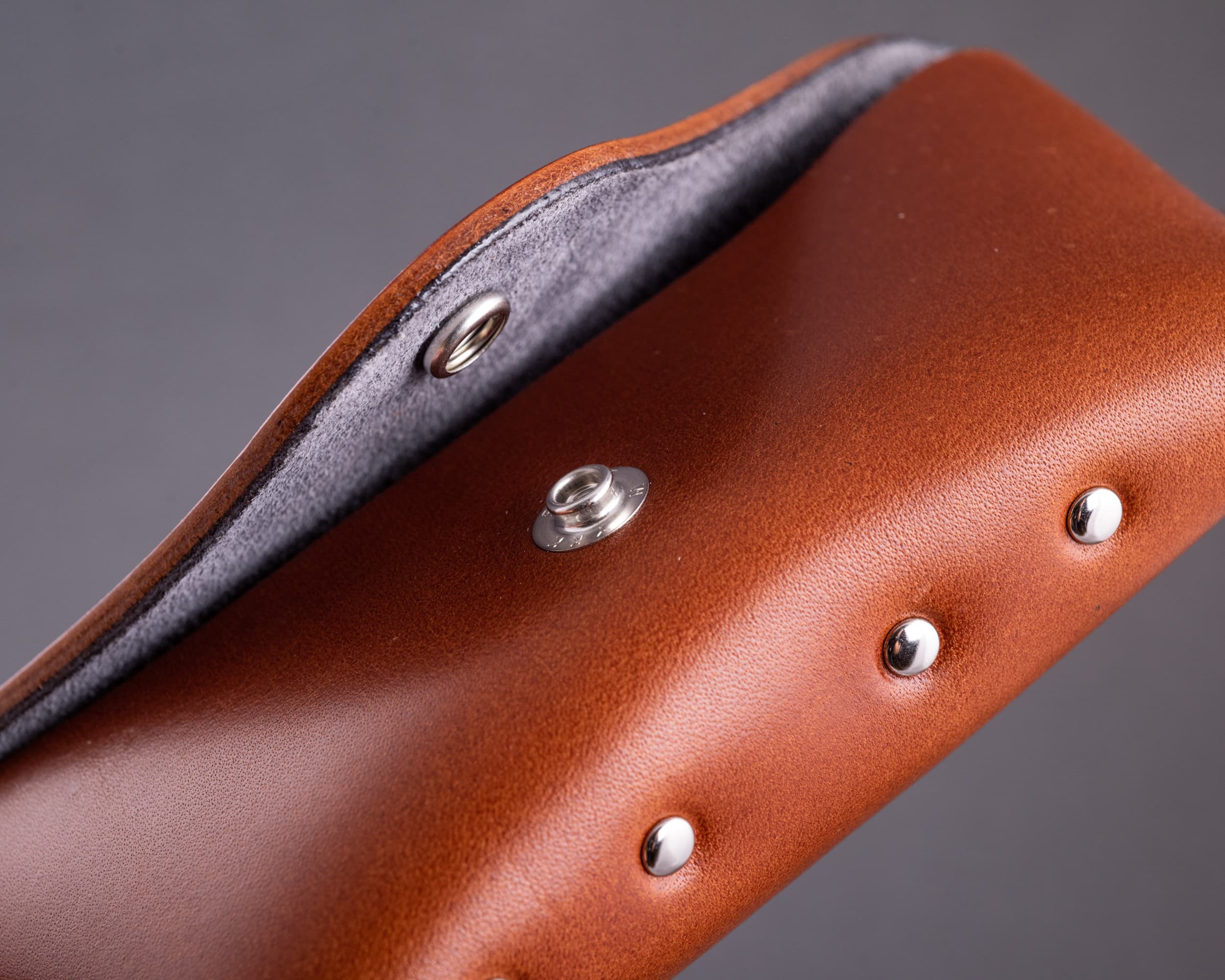 SOFT INTERNAL SIDE
These cases are coming with no cotton cloth for polishing lenses, but with a smooth leather surface inside, you won`t need it. Thinking of your needs, we offer two interior options – cases without lining and with full suede lining. Be sure, the case without lining is still very soft inside, but for extra softness and luxe design lovers, the last one is a good choice.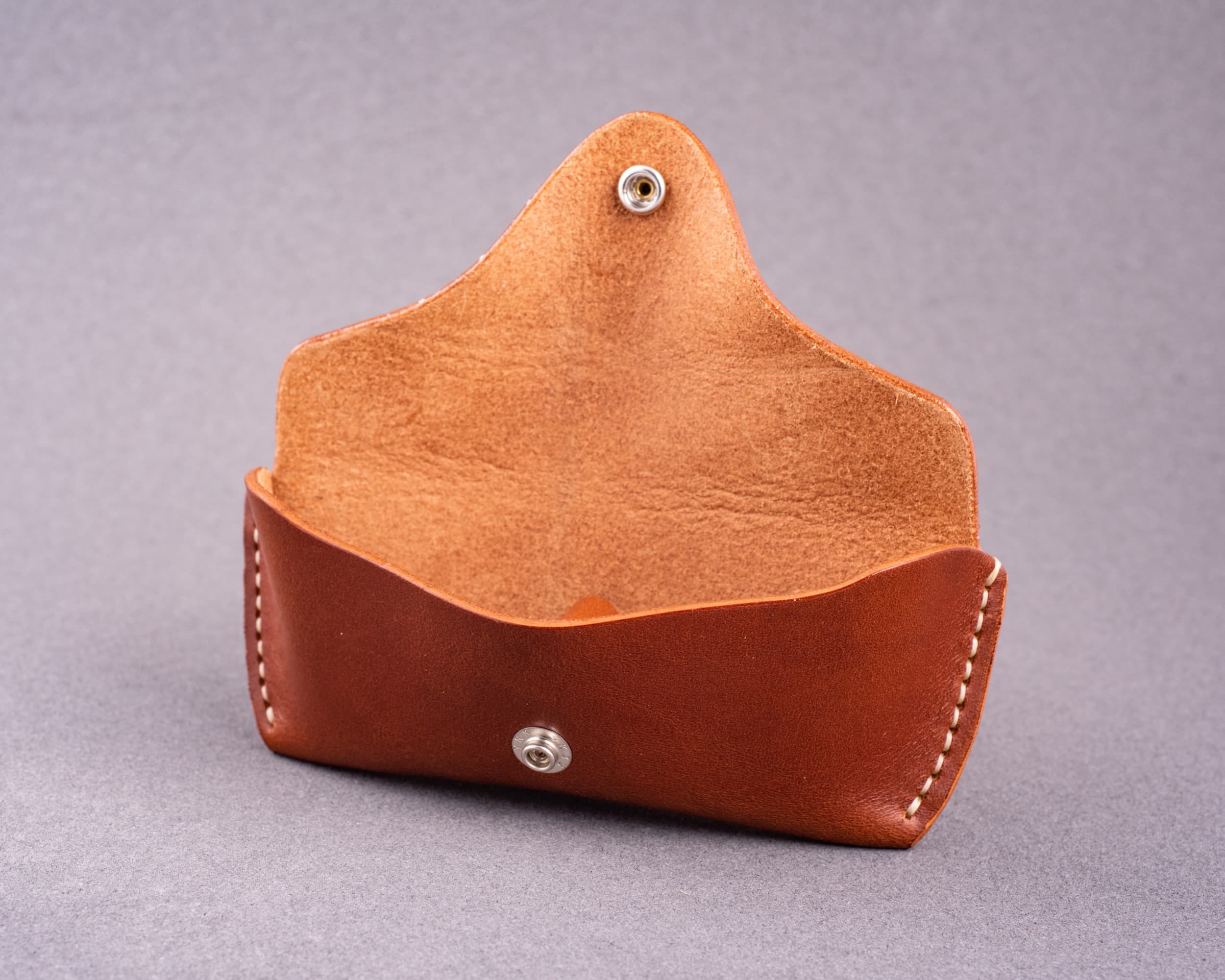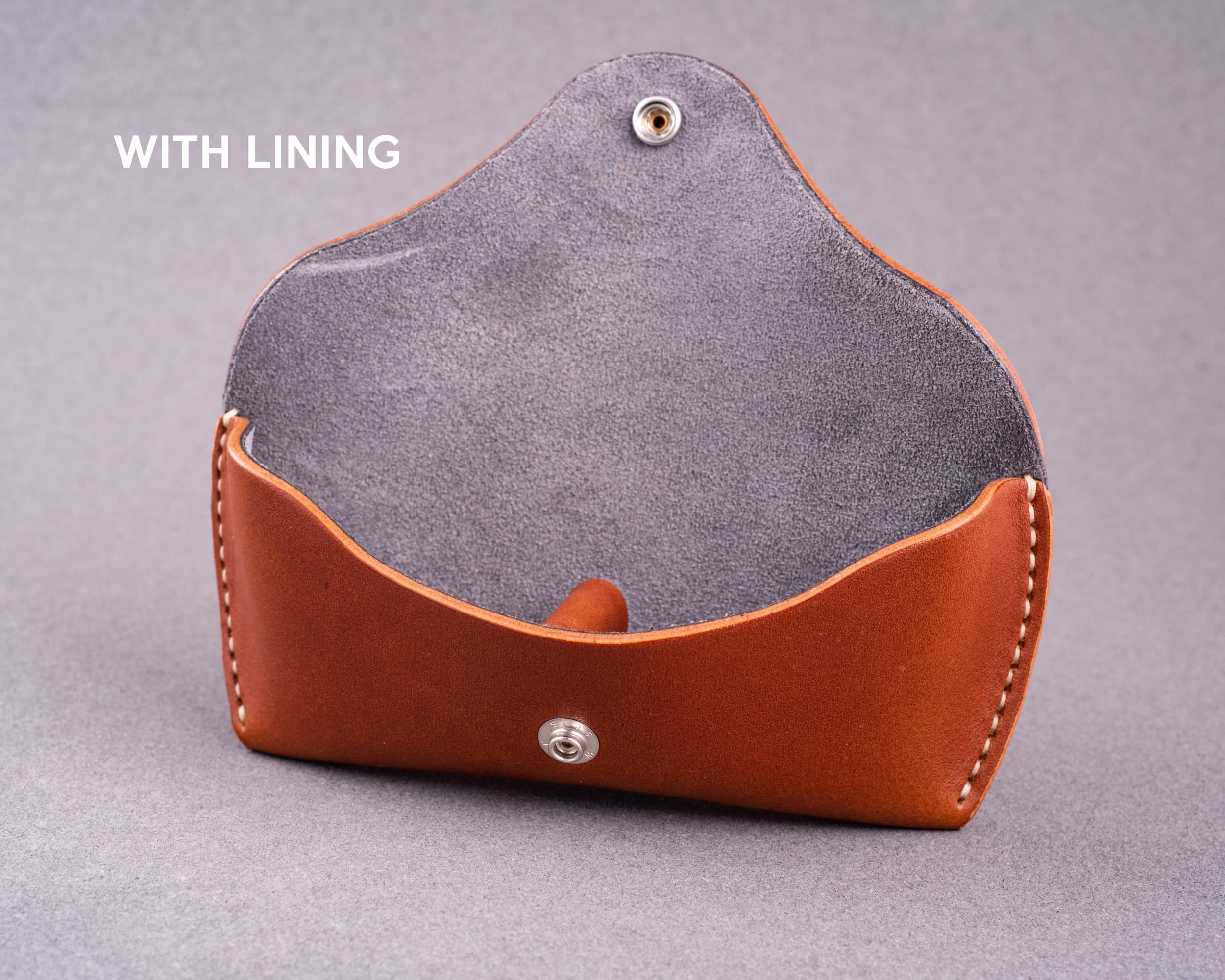 NOSE BRIDGE
It`s a small detail that makes a huge difference. A nose bridge, placed in the middle of the case with rivets, prevents the glasses from tumbling, and it securely fixes them in one position. What is more distinctive, the nose bridge provides an enhanced level of corpus sturdiness, making it less prone to arching.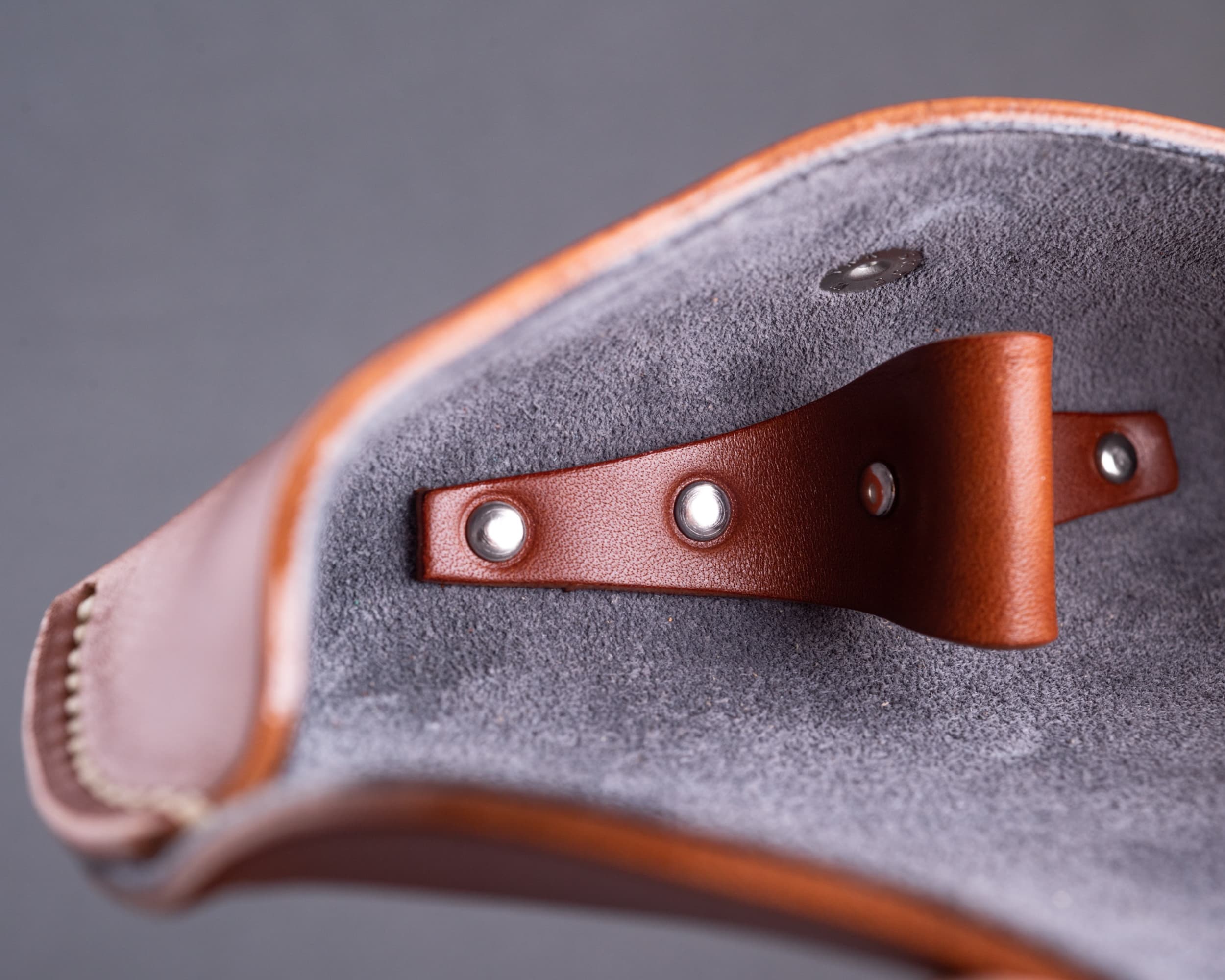 As this simple accessory offers protection inside and out, it makes an ideal choice for daily use and trips. The leather glasses case will be a high-tech addition to your workspace style and solid storage spot in a loaded travel bag.
Still not sure of its safety? Check out our crash test to see that this case is designed to withstand everything that can happen during your plain day routine.