Hidemont is a flourishing workshop dedicated to leather goods production. Our team of artisans is constantly striving to foster values that define our passion for leather goods craftsmanship. Hidemont produces quality accessories that are meant to last for generations. Hidemont produces practical accessories that are meant to meet the needs of contemporary people. Hidemont produces exclusive accessories that are meant to underline your personality.
Hidemont is honored to offer a big collection of genuine leather goods that can be personalized to become one-of-a-kind accessories or pleasant gifts that bear an intimate meaning. Bringing a personal touch to every item and embodying your creative ideas on the leather surface, we desire to make it a valuable source of self-expression and inspiration. And, we`re happy that your personalization ideas always inspire us to create accessories that are nothing but a manifestation of uniqueness and individuality.
Every leather piece can be personalized and customized to underline your and your loved ones` style.
Why are personalized accessories preferred to non-personalized ones?
Personalized accessories look very special and matchless – you`ll have, for example, leather notepad covers that no one else have
Personalized accessories carry some sense and story – for example, personalized leather passport covers with family names are a common choice of newlyweds for a future honeymoon trip to symbolize all the roads that will be gone through together. Check out more family leather traditions for uniting your family members

Personalized accessories tell a lot about their owner

Personalized accessories as the best gifts show your unconditional love to the recipient without a word
Personalization is a common way to add a distinctive touch to everyday items, brand them, and make them really individual gifts. You can personalize and customize any Hidemont leather items with embossing or engraving.
This article will tell you more about the difference between embossing and engraving, what is laser engraving on leather, which leather type is the best for laser engraving, what are the advantages of leather engraving to leather embossing, as well as some laser engraving leather tips and leather engraving designs to make your favorite items super unique.
Embossing vs laser engraving on leather
Embossing is the process of cold or hot lettering and patterns applying deep into the leather surface with the press. To put it simply, metal stamps in the shape of letters or patterns are pressed deep into the leather to create relief markings. Read on more about types of embossing.
In every product listing, we provide the option to make the personalization with embossed text and/or one of the stamps from our stamp palette in the places where these will look the best and most beautiful.
Also, you can customize the item with any image you wish by sending us a black-and-white vector image so that we can produce the metal stamp in the shape of the image you wish and emboss it into the leather. However, making a custom-stamped item takes more time, so please take this into account when picking up the gifts for your beloved ones.
In contrast, engraving is the process of lettering and patterns applying into the leather surface with a laser machine. The laser beam heats the leather surface, burning out and vaporizing the outer layer of leather.
We provide quality and quick engraving not only on leather but stainless steel, as well, and there is a detailed overview of laser engraving on metal.
It's essential to mention that different personalization types look better on certain leather types. Embossing looks more distinct on Crazy Horse leather, and engraving is preferable for pebbled leather and full-grain vegetable-tanned leather.
See below the example of embossing on two different leather types. Because of the unique leather texture, the embossing looks barely visible on the pebbled leather.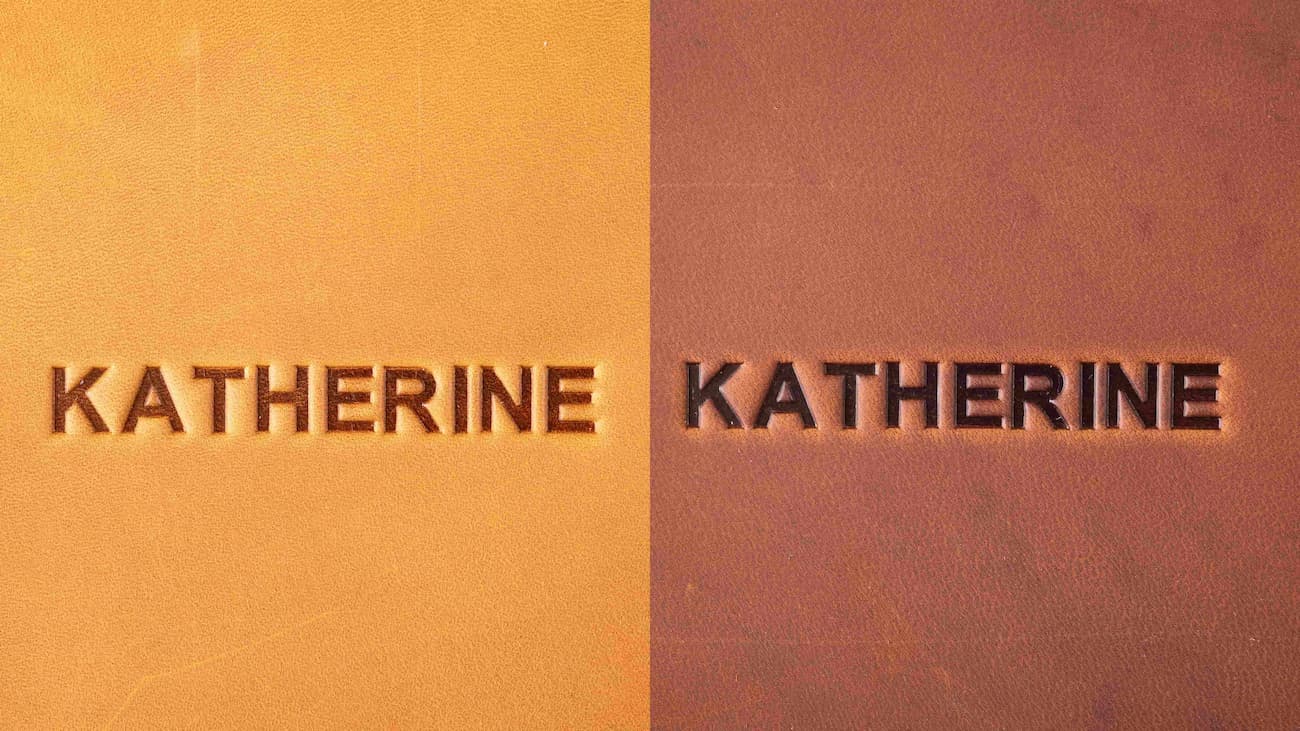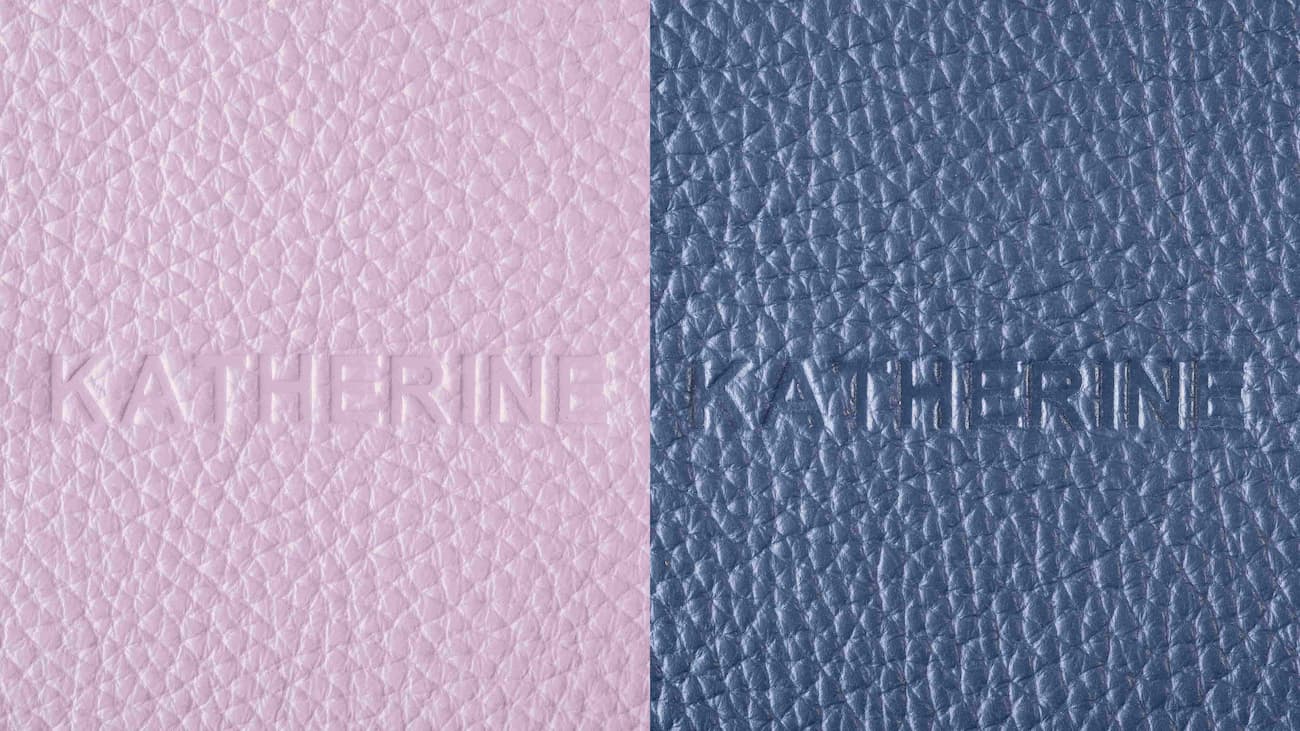 Crazy Horse leather Pebbled leather
To compare, there are examples of engraving on the same leather types.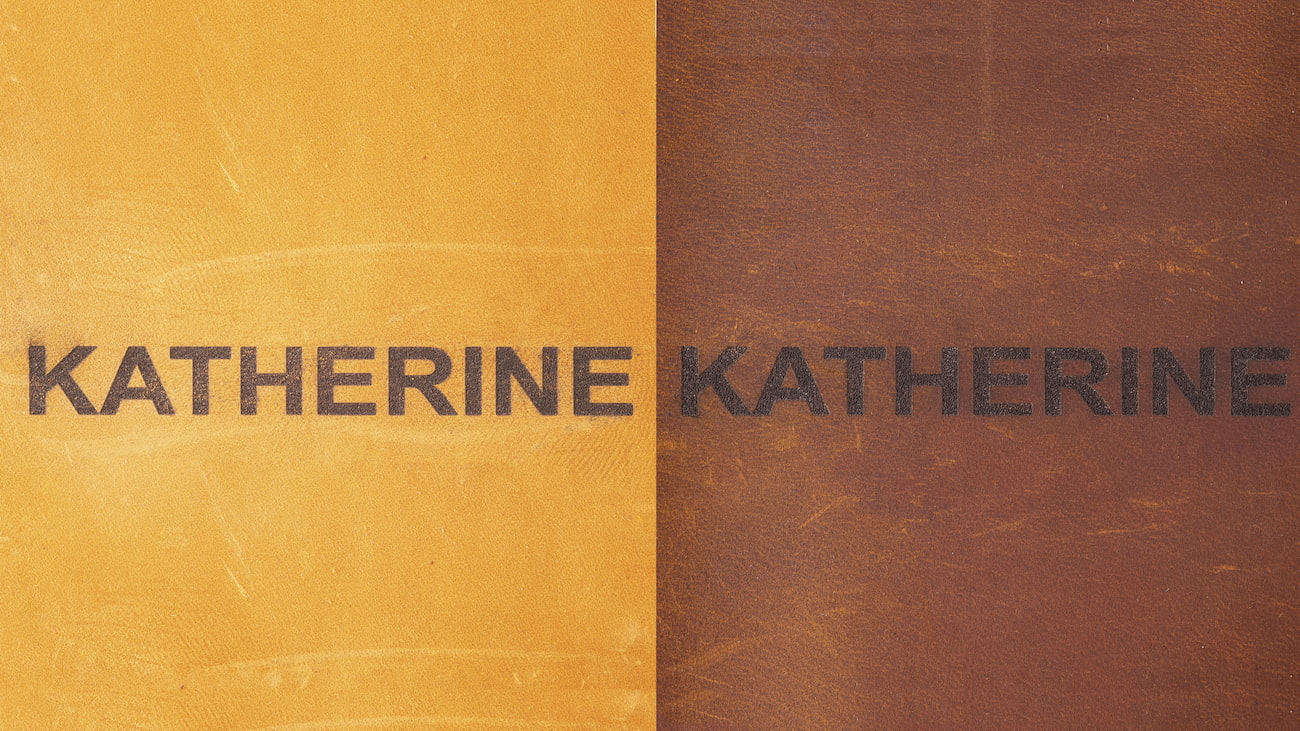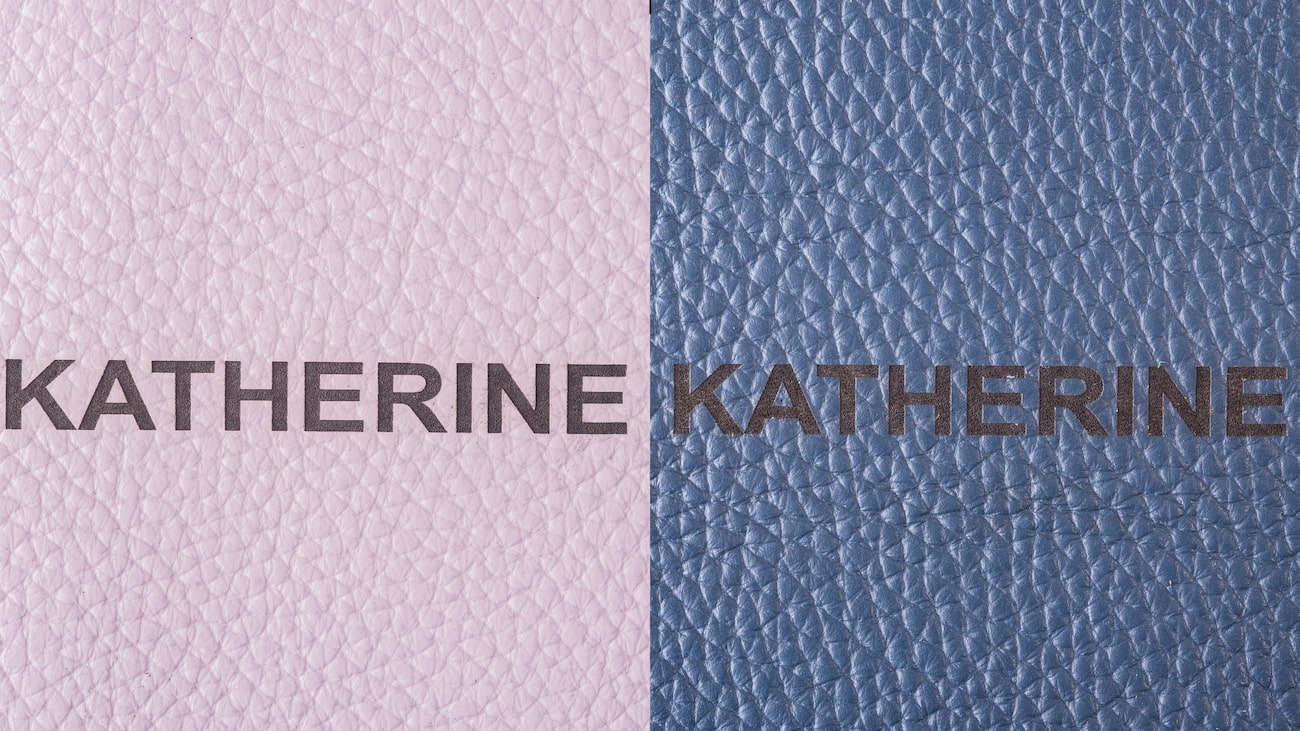 Crazy Horse leather Pebbled leather
Laser-engraved text on Crazy Horse leather isn't very natural and aesthetic. The outer layer of Crazy Horse leather is processed with oil, which under the exposure of laser beam heat turns into micro soot. Because of that, the engraved text on this leather looks dirty and grimy. On the other hand, the laser engraved text on a pebbled laser adds extra beauty and sophistication to the natural material properties and will be permanent and long-lasting.
It's important to say that, on every listing, we offer the best type of personalization – whether embossing or engraving – depending on the leather type. However, it's also possible for you to request the method of personalization you like more by contacting me.
What is a leather engraving
Leather is one of the most durable, supple, and appealing materials with a buttery-soft and vintage finish. The natural properties of leather make it a sturdy material that is resistant to stretching, tearing, and punching, which allows for different ways of personalization.
It's common knowledge that genuine leather has become the most popular choice of people who value quality and ecology-inspired appearance combined in one accessory. The fast-growing demand for leather goods crafting means there's a high demand for leather goods personalization. Leather belts, wallets, watch straps, bracelets, and keychains can be made with an exclusive flair to become your new favs for everyday use, traveling, or make heartfelt leather gifts for her, conveying a lot of sense and love.
Genuine leather stands out with its sturdy but supple texture, which makes it an ideal material for making deep cuts on the surface that won't disappear over time, and thus it's a perfect choice for laser engraving.
Like any other ecological material, leather is exposed to heat and flame. To provide the best service and to engrave on leather with superior quality, I`ve studied how to engrave leather carefully and found the best laser machine. The etched letters and patterns are made on the leather surface with a narrow laser beam. The temperature and depth of the beam are controlled with computer software to guarantee the leather won't catch on fire, get full of holes, or wrinkle, but it`ll preserve its original look as much as possible.
Which leather is the best for laser engraving
To engrave leather with the expected quality, durability, and delicacy, it's recommendable to choose genuine leather, the outer layer of which isn't processed with oil. During laser printing on leather, beam heat burns out the material surface, turning the oily finish into micro soot. When it comes to Crazy Horse leather engraving, the disadvantage is that the leather loses its natural appeal and seems dirty and grimy.
Pebbled and full-grain vegetable-tanned leather are the safest options to engrave on leather and which, more importantly, don`t obtain the smell of leather burning while processing.
Besides, the laser engraving leather method of personalization ensures the result suggests a contrasting style on the leather, and the color of engraving on leather is dark and black-like. And that's why it's better to choose light-colored pebbled leather rather than dark-colored to guarantee the engraving is noticeable, clear-cut, and neat.
Advantages of laser engraving leather:
No risk of human error.

The computer software controls the laser engraving machine. And, it's exactly how to engrave leather without production spoilage.

Quick process.

Laser engraving leather takes less than a minute to receive the desired result.

Accurate process.

Laser engraving presupposes extremely narrow cuts on the surface, so they`re as precise as possible.

Contrasting styles. The color of the leather engraved markings is dark, almost black, which looks visible and contrasts with the leather color.

Durability.

The laser machines make deep cuts into the sturdy but soft leather surface to guarantee the engraving won't chip or fade over time.

Customer-oriented service.

Unlike embossing, laser engraving on leather works best for customized gifts because this option gives you freedom and allows for implementing your creative ideas.
Leather engraving ideas
Leather laser engraving is a more flexible way of personalization than embossing because we can customize it to your needs and taste. And, here are some leather engraving ideas for you to pay attention to.
It may happen that you`d like to personalize a new leather item with your favorite saying or leather gift with the best and sincerest wishes, but the text appears to be too long and unlikely to fit the item. It sounds like a great job for laser engraving.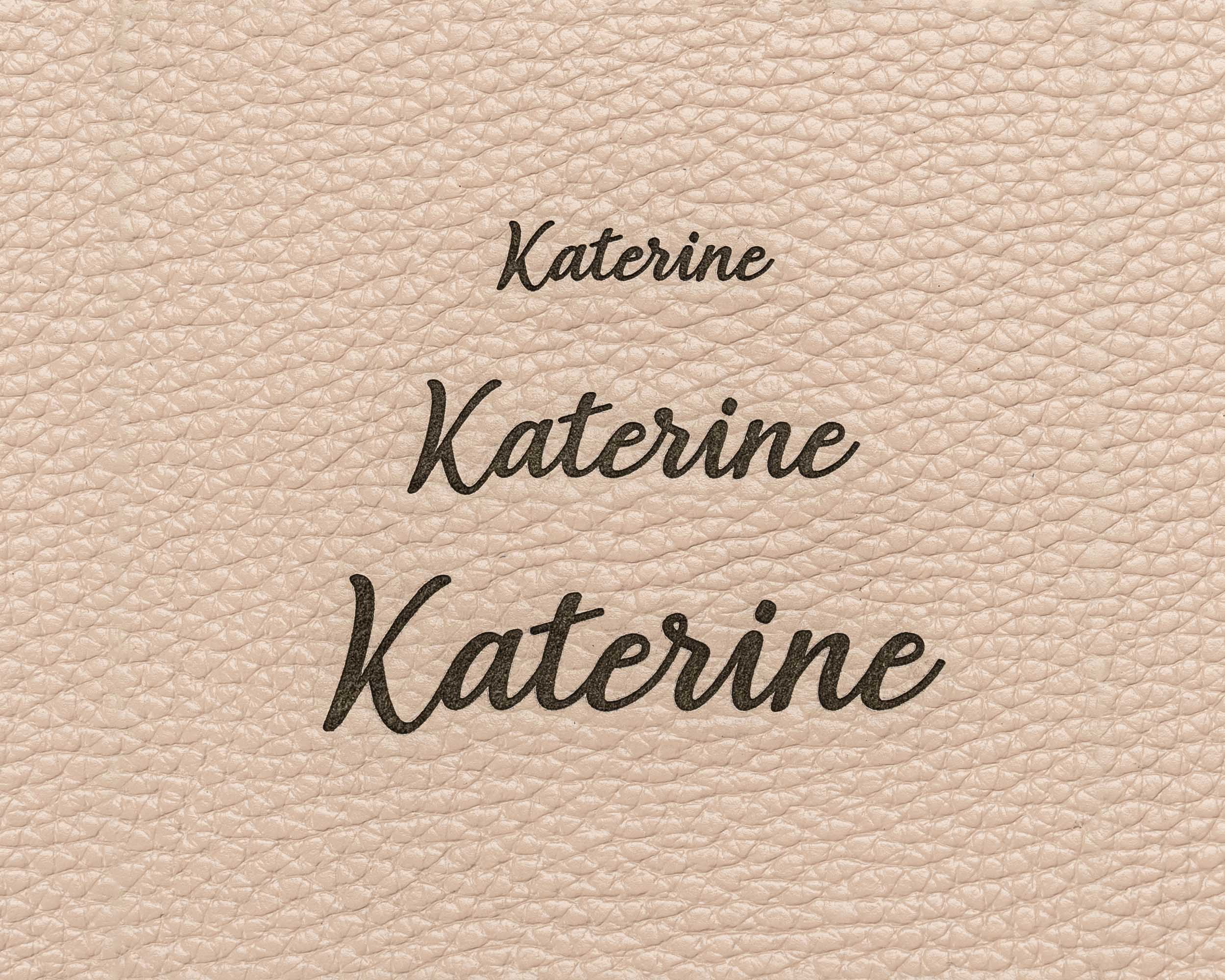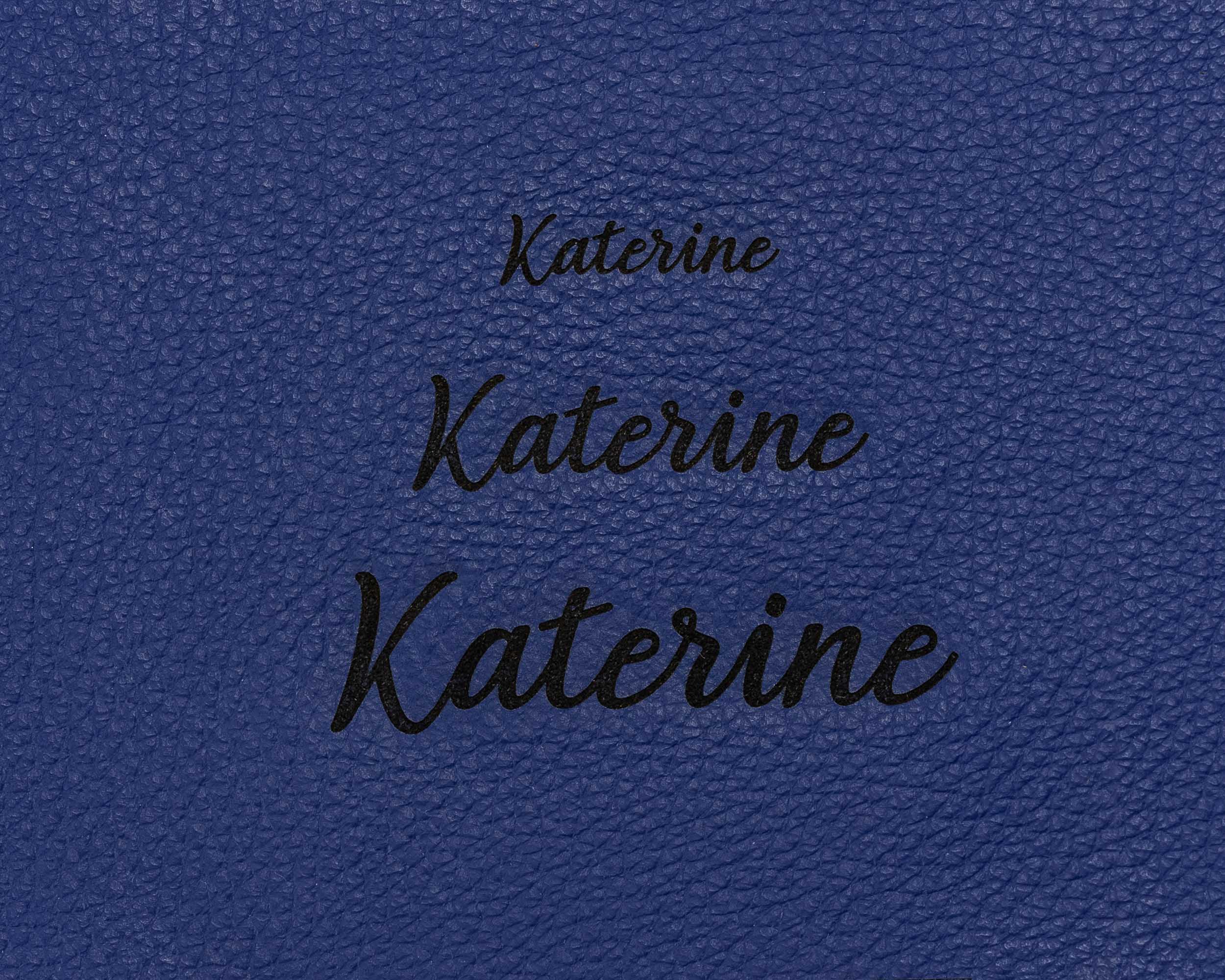 You can customize the leather item with the laser-engraved text of the needed symbol number and the length because the engraving method of personalization is quite convenient and quick in terms of text or design size adjusting.
Full-grain vegetable-tanned leather men`s belt personalized with laser engraved love confession makes the best gift for him that will melt his heart for any occasion like a birthday, anniversary, Father`s Day, or Christmas.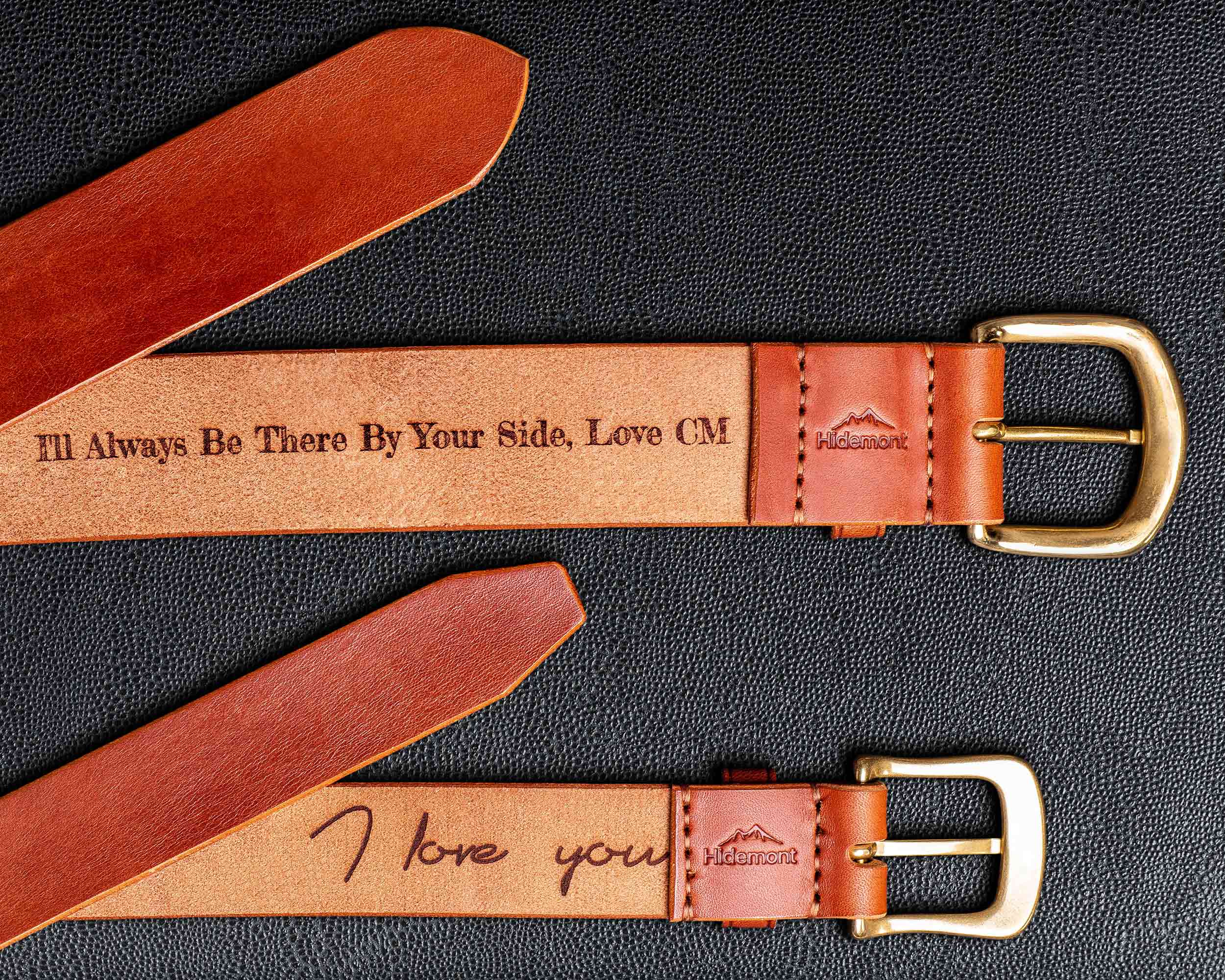 Add a special touch to the leather item with a font you like – regular, handwriting, calligraphic, or with special symbols – and whatever you choose, you`ll make the message feel much more intimate.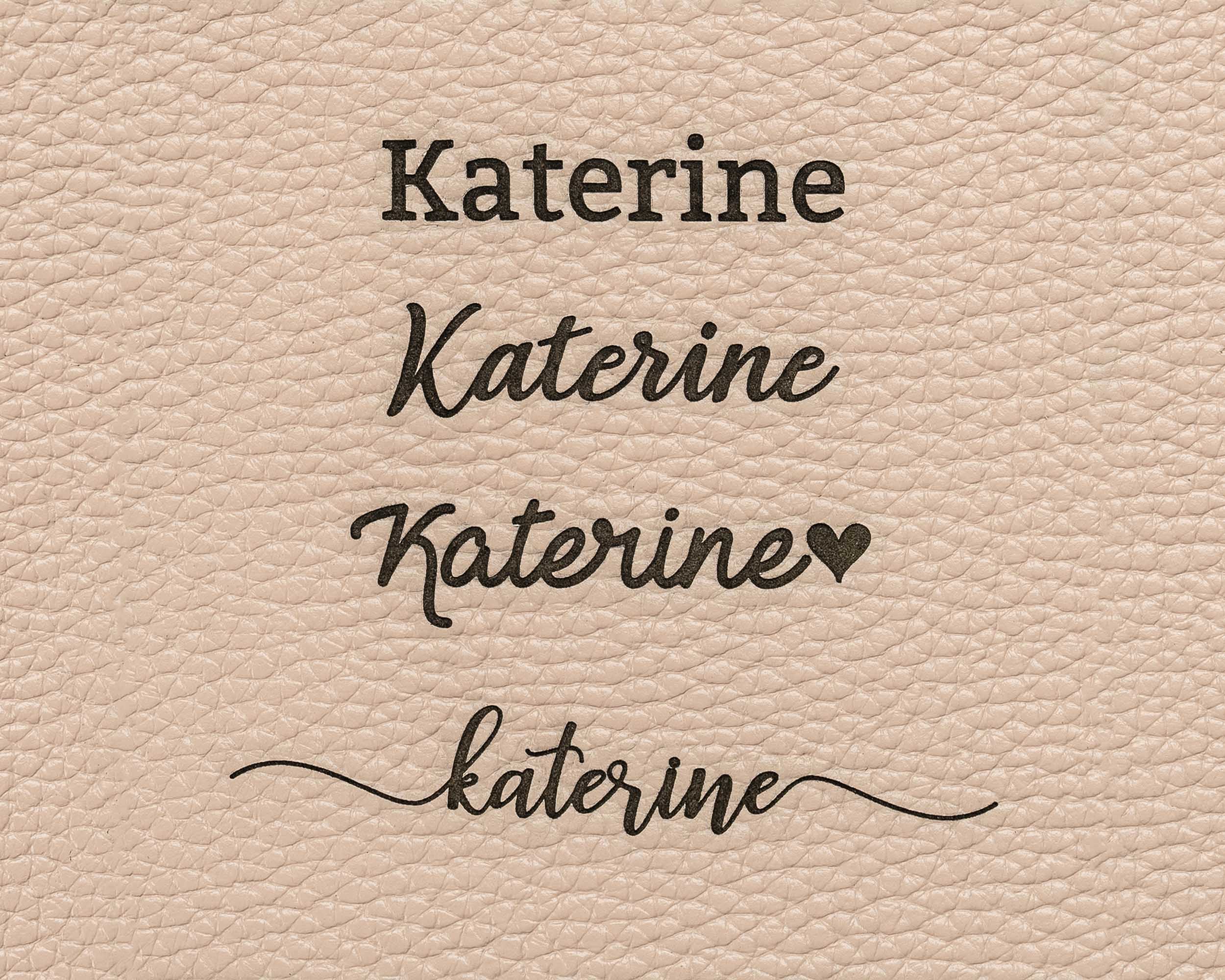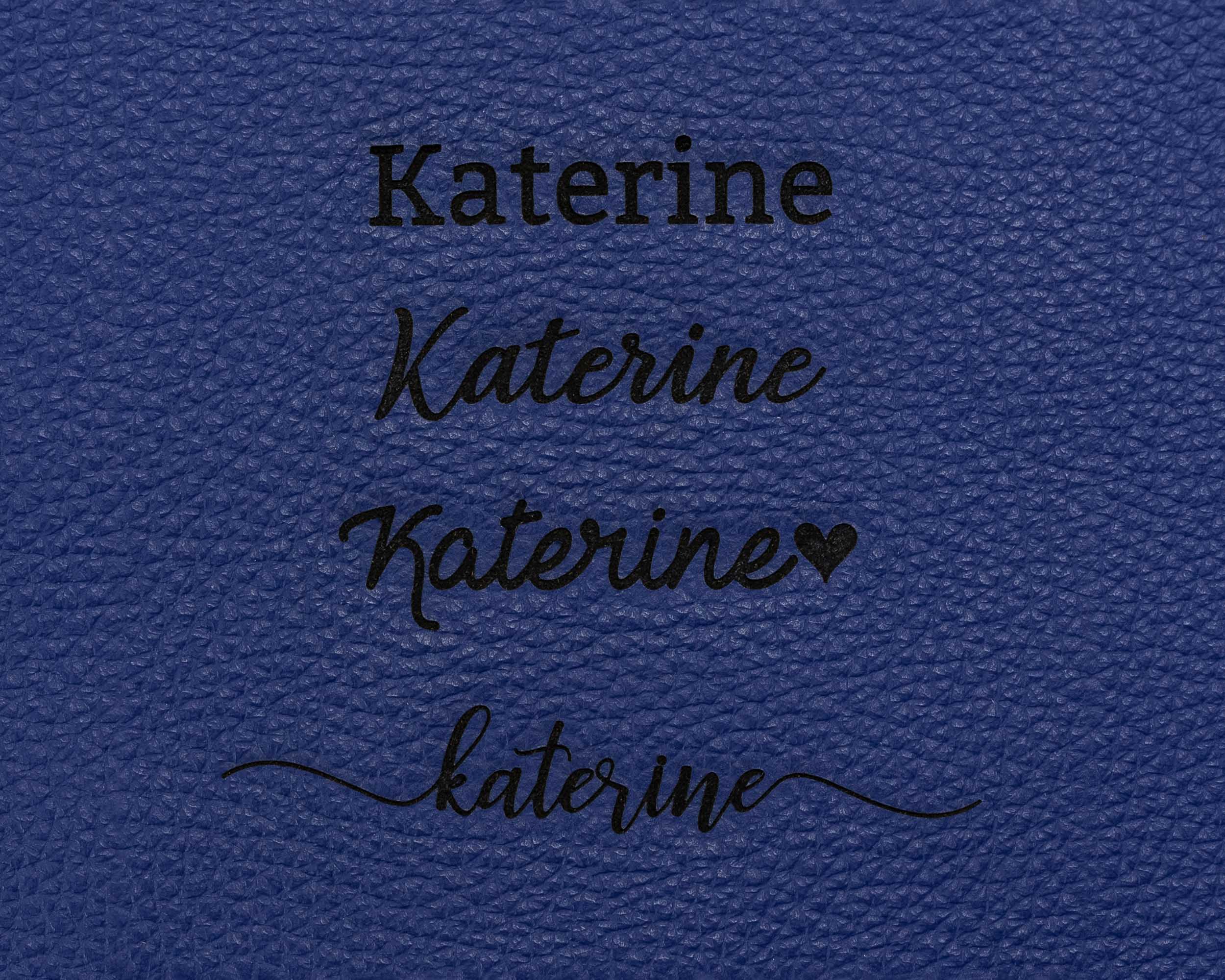 Feel free to express your creativity and individuality by customizing your everyday essentials with not only text but also pictures. The laser engraving technology allows for accurate and deep pattern printmaking on the leather surface so that the smallest details will be visible and last a long time. All you need to do is to send us a black-and-white vector file of the design you wish to get engraved on leather. Check the example of our sophisticated leather engraving designs on pebbled leather.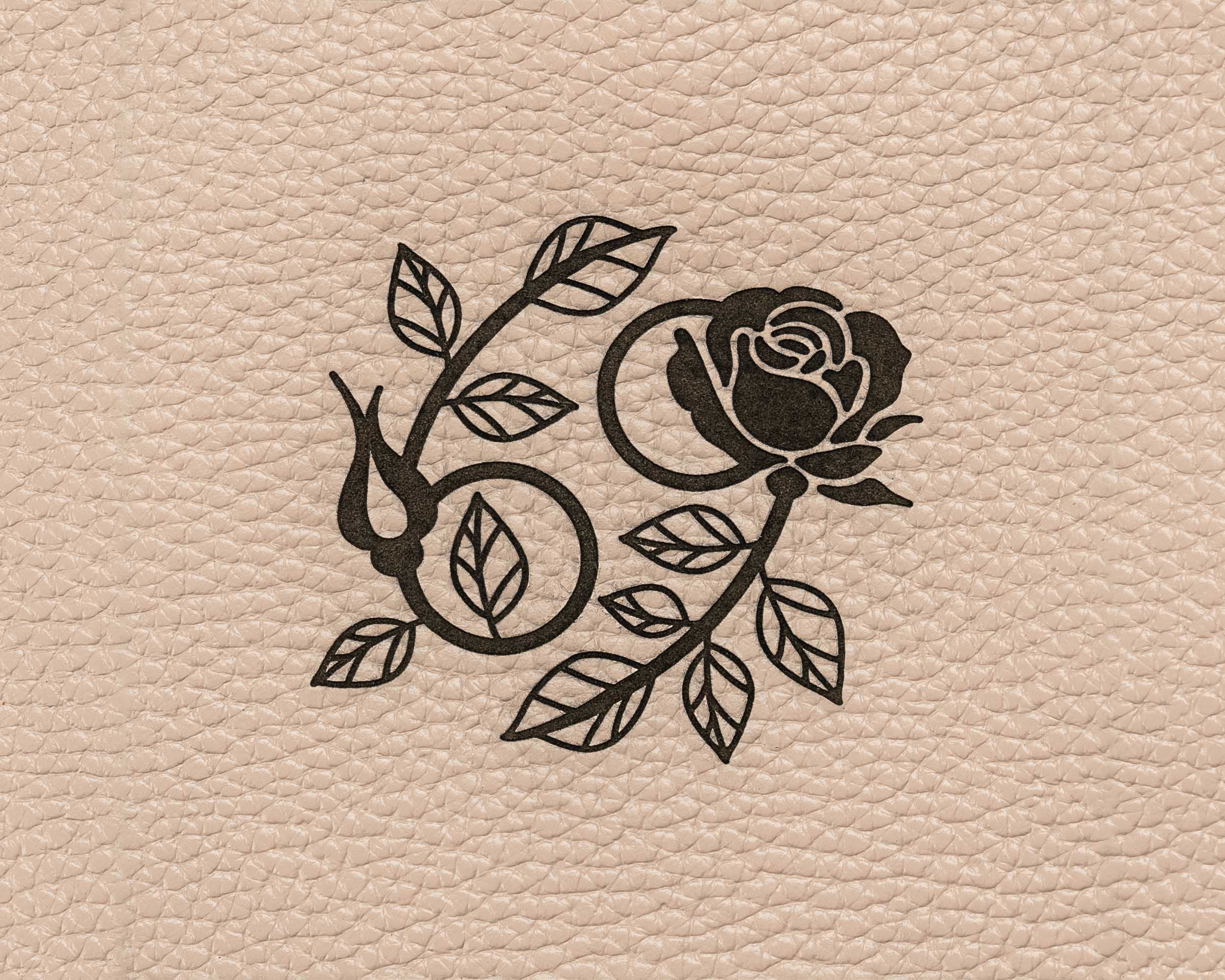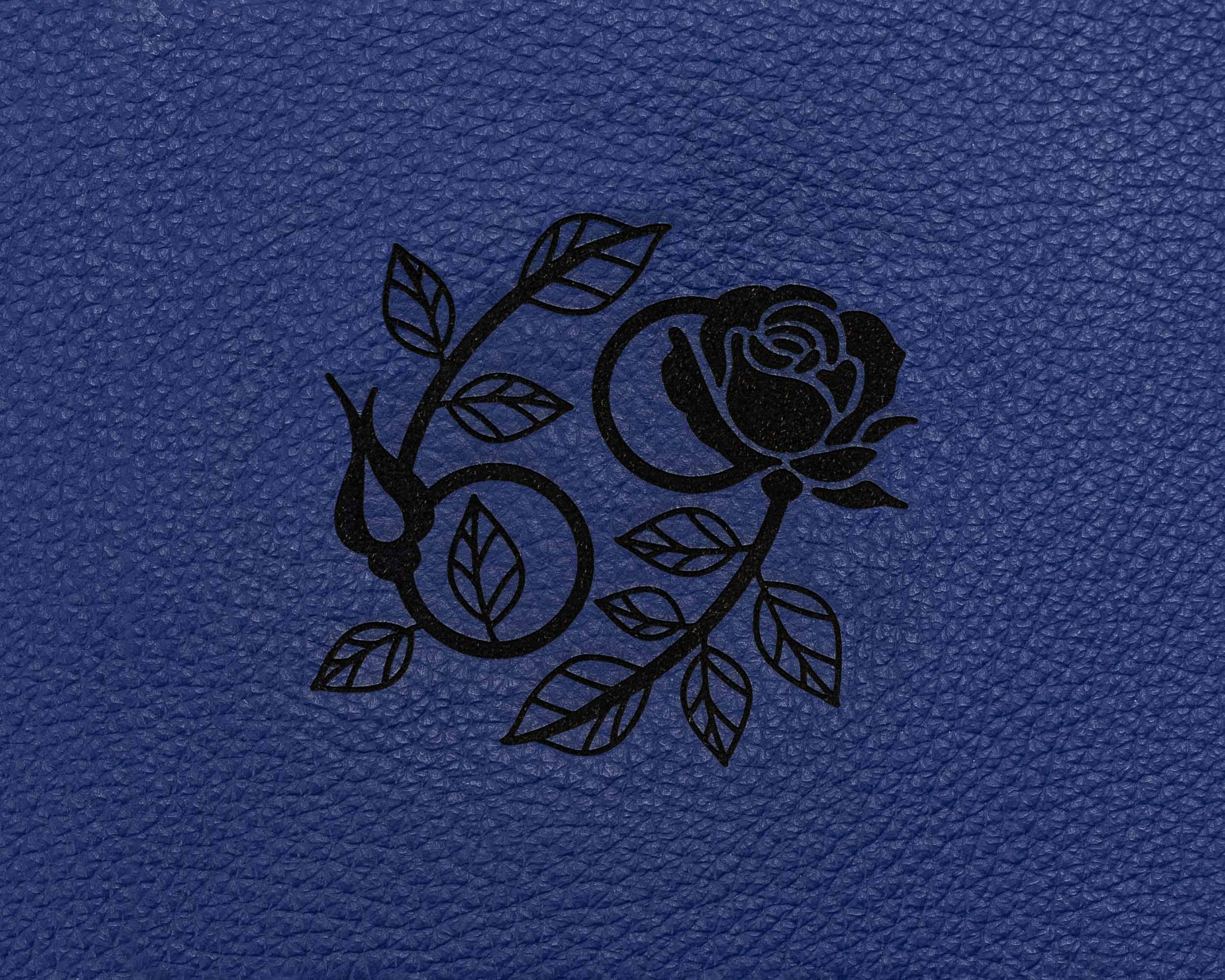 When looking for more suggestions to engrave leather accessories, consider an excellent idea of logo engraving on leather accessories. Company-branded leather gifts are gifts not "just for the record" but practical, stylish, and meaningful gifts for your dream team, a "Welcome!" gift for newcomers or a "Thank you!" gift for clients and partners. Learn more about corporate gifts and how to order them.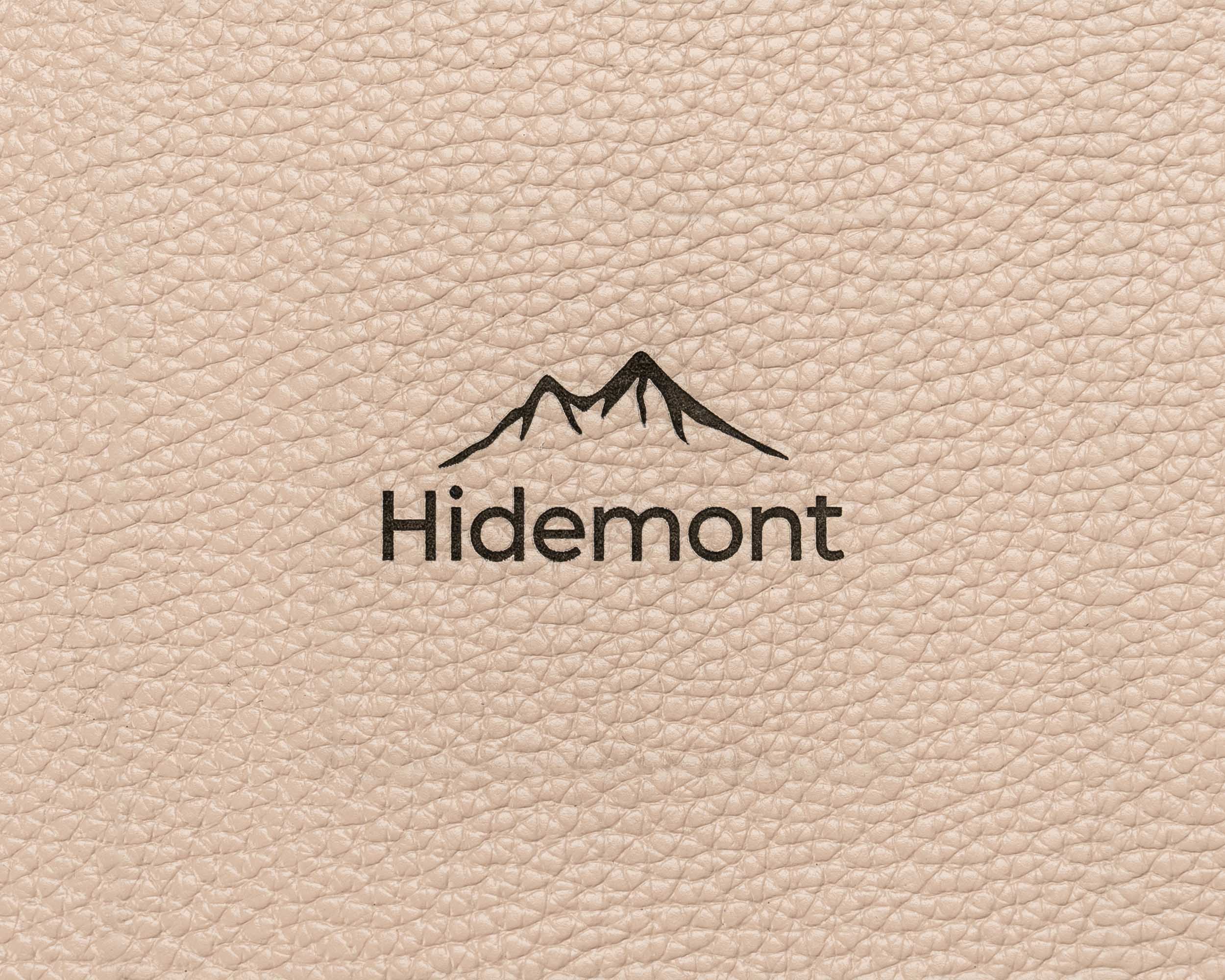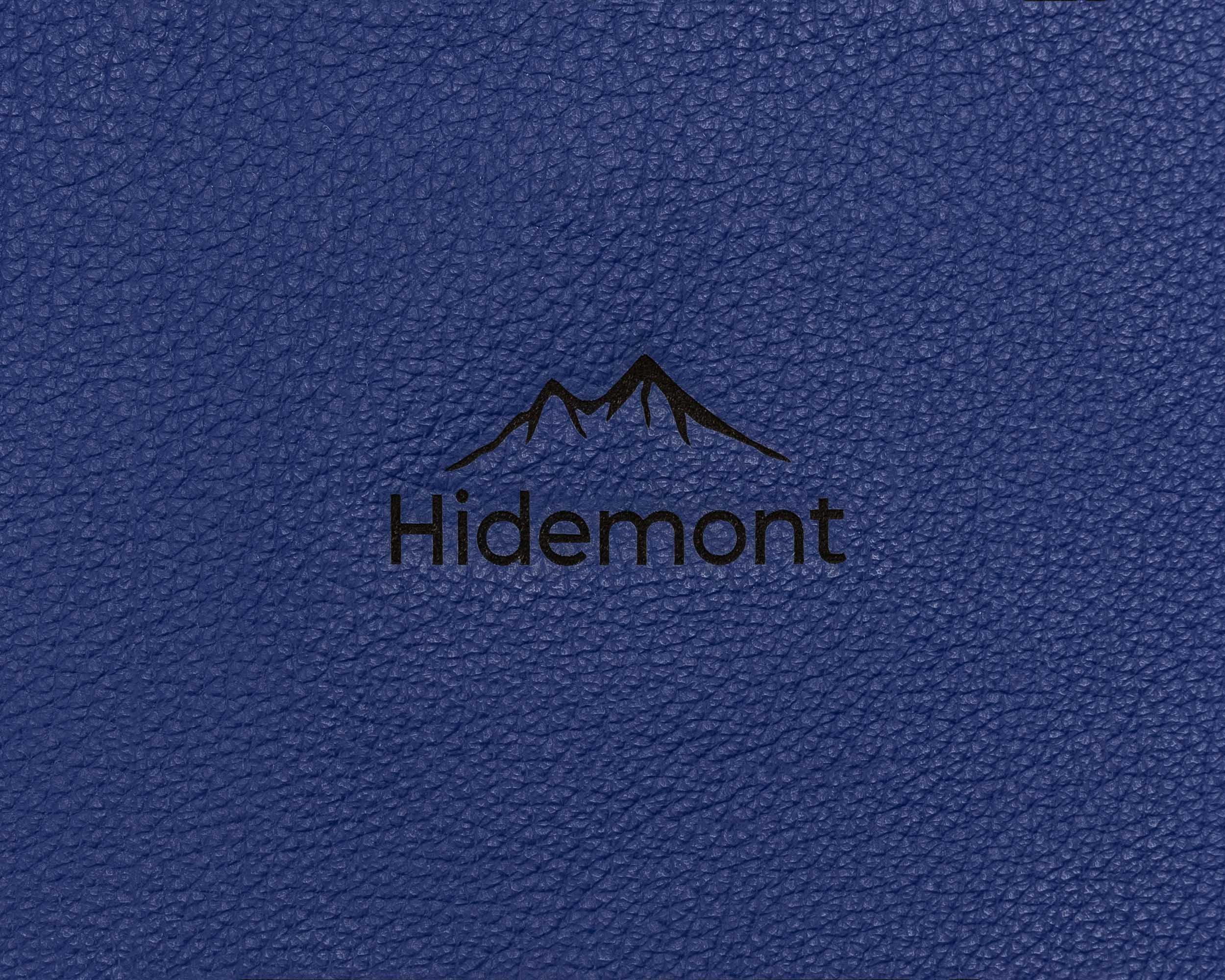 Necessary to mention that the result depends on the leather item size, and not every Hidemont accessory allows customization with picture designs. Please, contact us for any other questions regarding personalization.
Conclusions
Hidemont is happy to produce exclusive leather accessories that look like nothing else. To make them just as you wish, our team offers you two types of personalization and customization, namely embossing and engraving on leather.
It's recommendable to emboss on the oil-processed genuine leather like Crazy Horse, while engraving works better for the full-grain vegetable-tanned and pebbled leather.
Laser engraving on leather is a popular way of adding a unique accent to everyday carry and gifts.
Hidemont is proud to operate advanced technologies like automated laser machines to guarantee the quickest, most accurate, most appealing, and most durable result.