It's difficult to underestimate the role of laptops in the life of modern, busy, and active people. Whatever our plans for the day are and wherever we go, for work, study, games, shopping, or hobby, we get enormous benefits from this tech wonder. Laptops bring us considerable flexibility regarding where and when we can surf the net or have an online business meeting – at home, in the office, at the cafe, in the park – ensuring we can adapt to any situation. The portability of laptops allows us to stay super productive and in touch with family, friends, colleagues, or clients on trips.
Well, everyone enjoys their own benefit from a laptop. However, not everyone can say their laptop sizes and models when they're asked unexpectedly. And it may happen because of many reasons. Some consider the screen size for laptop to be not very useful information, and others could have gotten the laptop as a gift. After all, every owner should know the specifications of their gadget and how to measure screen size. But why?
It's essential to know the size and model of your laptop in inches and how to measure laptop size, as it can really help you out when it comes to the choice of accessories like a case or bag. The proper and snug fit of the case or bag guarantees the maximum protection for the device and gives you the desired comfort of use.
In this article, we`ll discuss how to measure laptop size with tape, more ways of finding out your laptop size without physically measuring laptop screen size, what are the advantages of laptop cover case, and how to choose the coolest laptop cases. Moreover, we'd also like to tell you more about Hidemont leather cases for different laptop sizes that are sure to be the cases for laptops you`ve been looking for so long.
Laptop size means the screen size
The world's leading brands like Apple, Dell, Lenovo, and HP offer a great diversity of laptop sizes, which vary from 11" to 17". And the 13" screen size for laptop has become the most common choice of tech lovers. In fact, the screen size matters as – from the most compact to the largest 17" laptop – it should meet your needs, fit your lifestyle, and make no discomfort during constant usage.
If you`re still unsure about your device screen size, consider the simplest, quickest, and most effective way of measuring a laptop screen.
Physical screen size determines the laptop sizes, so it's easy to know the specification by measuring laptop screen size with an inch tape. Usually, the screen is measured diagonally from one corner of the screen to the opposite corner. It's necessary to mention that you should measure the screen area only without the bezels included. The resulting number of the measured diagonal is the laptop screen size.
For those who`re used to the metric system, there's one more step to follow while measuring a laptop screen. Using the CM tape, measure the screen area without the bezels, and divide the resulting number by 2.54 (1 inch = 2.54 cm). The result will tell you the actual screen size for laptop.
Besides, by knowing the length, width, and thickness of your laptop, you`re most likely to pick up the best-fitting case or bag.
Other ways to find out the screen size
In case you'd like to be 100% sure what device you use, except for the tips on how to measure laptop screen, you can also take some more recommendations on how to know the laptop size and model into account.
Check the System Information
To find the System information, Mac users should choose the Apple menu, click on System Settings, and then go to General in the sidebar. After that, find About on the right and press System Report. It`ll provide you with detailed information about your laptop, including screen size and model.
You can also find original documentation or packaging for your laptop and the needed information about the screen size and model. It's recommended to keep the electronics packaging for the life of their warranty, and this rule, by the way, will come in handy if you decide to resale the device.
Check the manufacturer's website
One of the effective ways to know your laptop screen size and model is to google the manufacturer's website and look up the gadget specifications, including size and model.
Importance of laptop cases
A laptop cover case is a must-have accessory for every laptop user. These simple but efficient accessories work great for daily use, work, study, or traveling, and personalized cases make practical and stylish gifts for tech lovers and those whose profession presupposes frequent use of the laptop, like programmers, web designers, lawyers, secretaries, etc. Learn more ideas on the perfect profession-focused gifts.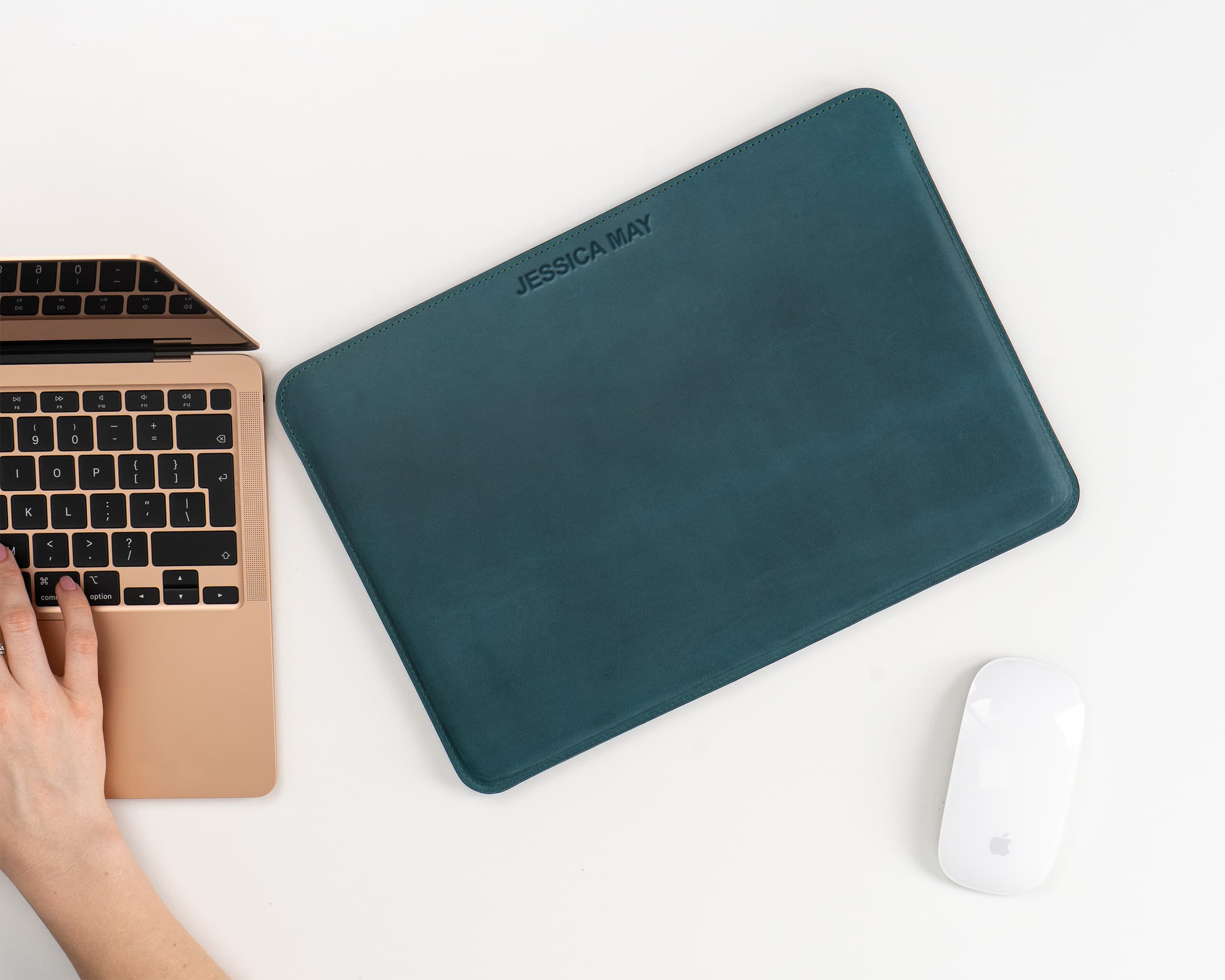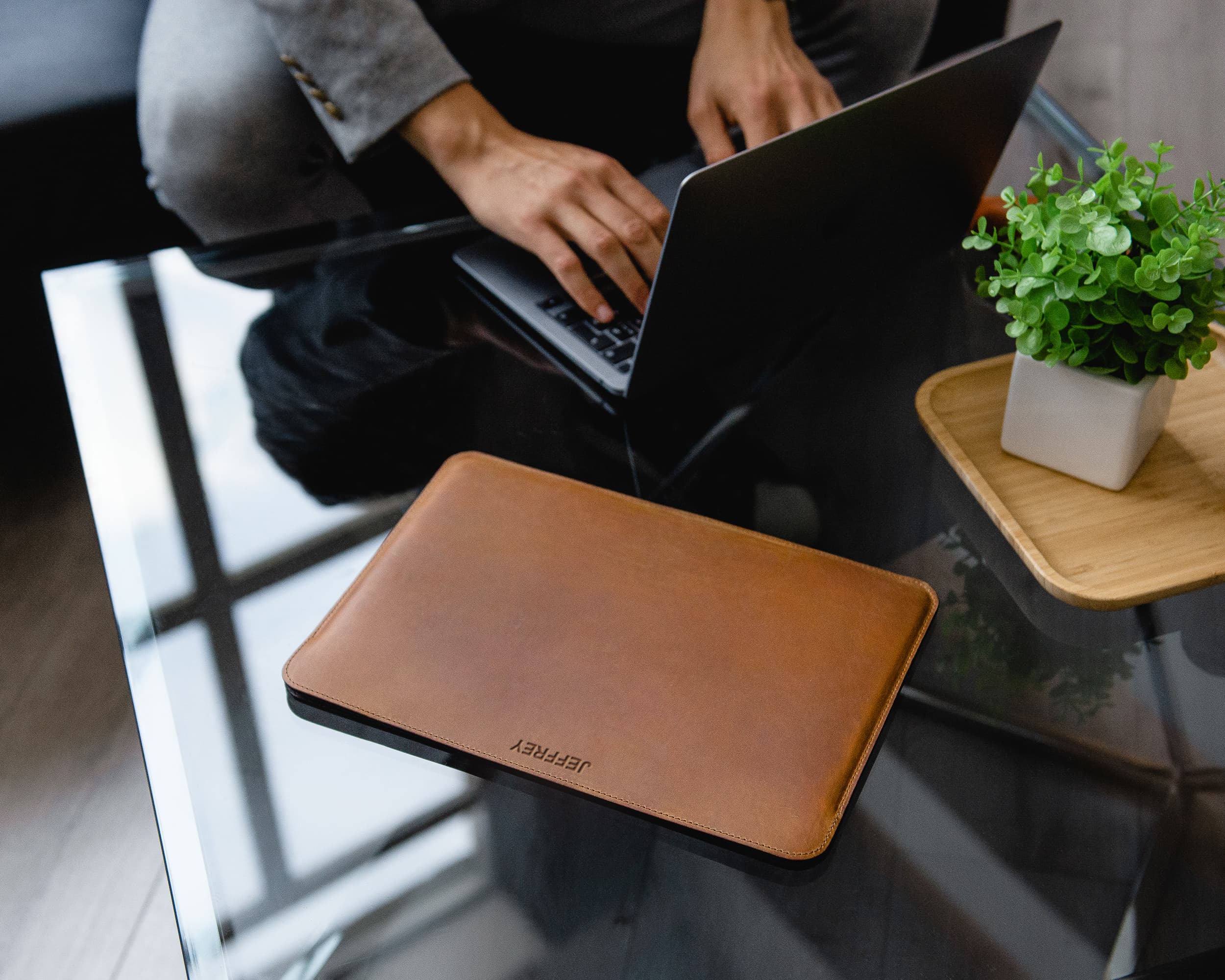 As user-friendly essentials, cases for laptops have many advantages, so let`s go into greater detail about why we need them.
Laptops appear to be rather expensive gadgets and, of course, we strive to do our best to treat them with great care. First and foremost, the laptop case protects sensitive electronics, cushioning them against scratches and bumps during transportation. Furthermore, the case prevents the laptop from dirt, dust, and moisture exposure. It's relevant when you suddenly get caught in the rain. The further significant aspect is that the cover secures the laptop when carried in a bag, insulating its corpus from other items inside. Undoubtedly, a quality case is an excellent investment in the laptop's lifespan prolonging.
A laptop cover case makes it easy to transport the device safely when you're commuting or traveling. Whether you find it convenient to carry in your hands, in a leather crossbody bag compartment, or on a car back seat, a laptop cover can be really useful.
The modern technology market provides a rich collection of laptop sleeves in bright colors, designs, and materials. Let a new laptop case reflect your individuality that keeps up with the time. Paired with other business accessories like leather mouse pads, leather desk pads, and leather business card holders, leather laptop cases make great attributes to underline professionalism and good taste. Additionally, you can add an exclusive touch to the laptop case by personalizing it with initials, a name, or a catchphrase.
How to choose the perfect laptop case
Shopping for the coolest laptop cases may appear rather challenging and time-consuming. I`m glad to give you some simple recommendations on what aspects to consider while selecting the laptop cover of your dreams.
We strongly advise you to double-check the size and model of your laptop before purchasing the case or bag. The awareness of the screen size guarantees a comfortable fit for your laptop and, thus, all-around protection. In addition, if you order the proper size of the cover, it`ll minimize the risk of the device falling out and ensure the convenience of putting the laptop in and out. It's also necessary to pay attention to the laptop model and release year because the dimensions may vary from model to model.
Compare your laptop specifications with the dimensions of the case you like the most. It should be not too big and not too small. The difference of around half of an inch is enough for convenient usage.
Having the options of neoprene, polyester, and nylon cases, you look better for a laptop case made of high-quality leather. This case is durable and resistant to wear and tear. Even though other materials are durable and water-resistant, too, those are artificial materials that may feel uncomfortable and unnatural in hands.
Opt for a case with features that suit your needs, such as extra pockets for accessories, easy access to ports, or a padded interior for unmatched protection.
Why are Hidemont laptop cases the best?
Hidemont is proud to design practical laptop cases. Paying attention to every detail, we want the case to become your new favorite.
We combined three layers to guarantee the maximum level of protection for your fragile device.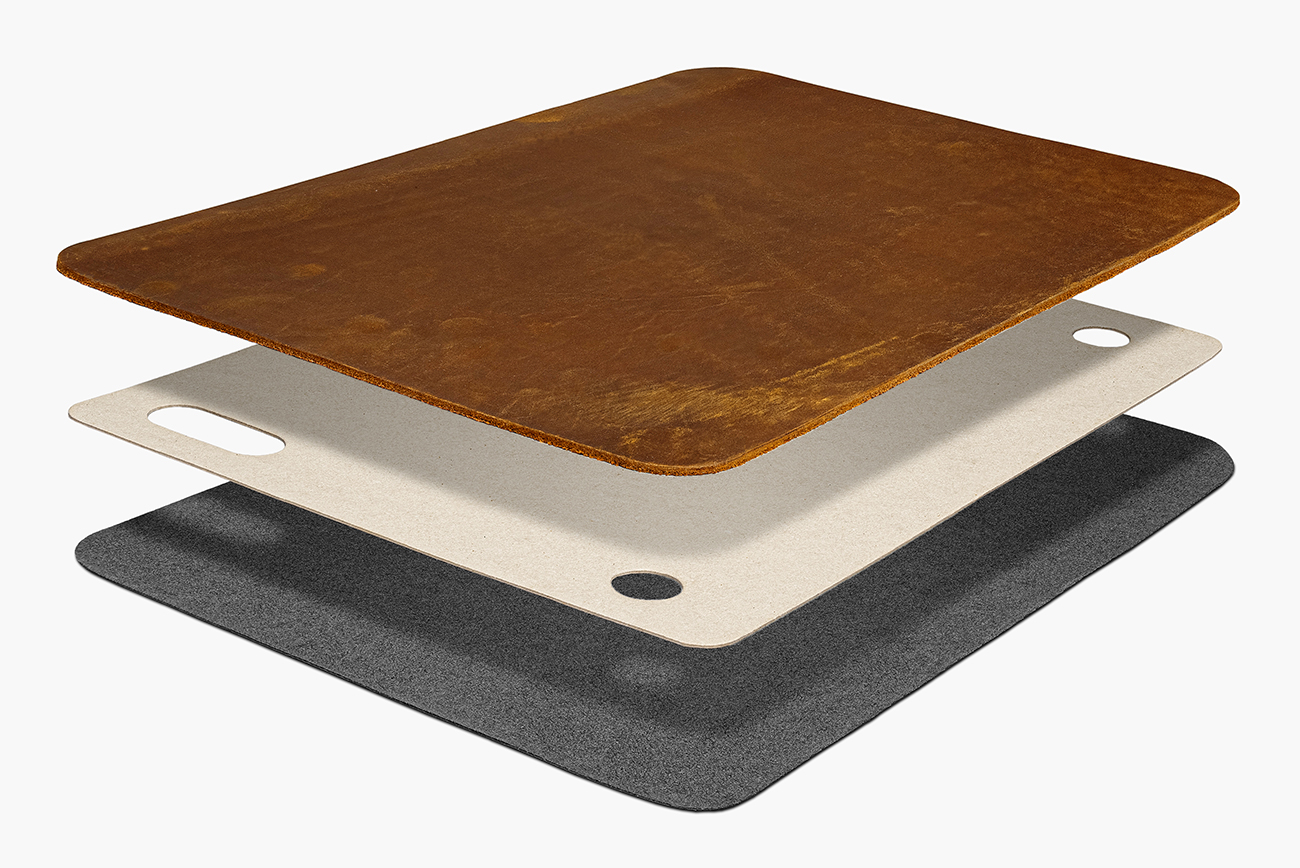 Inside, our laptop cases are padded with quality and soft microfiber to air-cushion the laptop corpus against scratches and prevent the laptop from overheating. The middle layer is enhanced with a tough, solid pad that provides extra shock absorption and creates a frame, repeating the laptop contours. The exterior is finished with ISO-complying genuine leather that amazes with patinaed texture, natural smoothness, and sturdiness, as well as resistance to wear and tear. Genuine leather is long-lasting, and when treated properly, it will last for generations. Check out our simple tips on how to take care of leather and affordable leather care products.
Coming in smart colorways, our laptop covers are handmade to match leather notepad covers and leather tech organizers ideally.
Each laptop case is carefully stitched by hand and finished on the edges to ensure they won't crack or chip over the years of usage but preserve their elegant and minimalist look.
Compact and slim-profile design
Hidemont leather laptop cases stand out with a sleek design that neatly and safely stores the device inside without looking bulky. Such convenient cover dimensions allow for stashing it into the briefcase or travel bag, carrying it in hand, and even using it as a desk or mouse pad.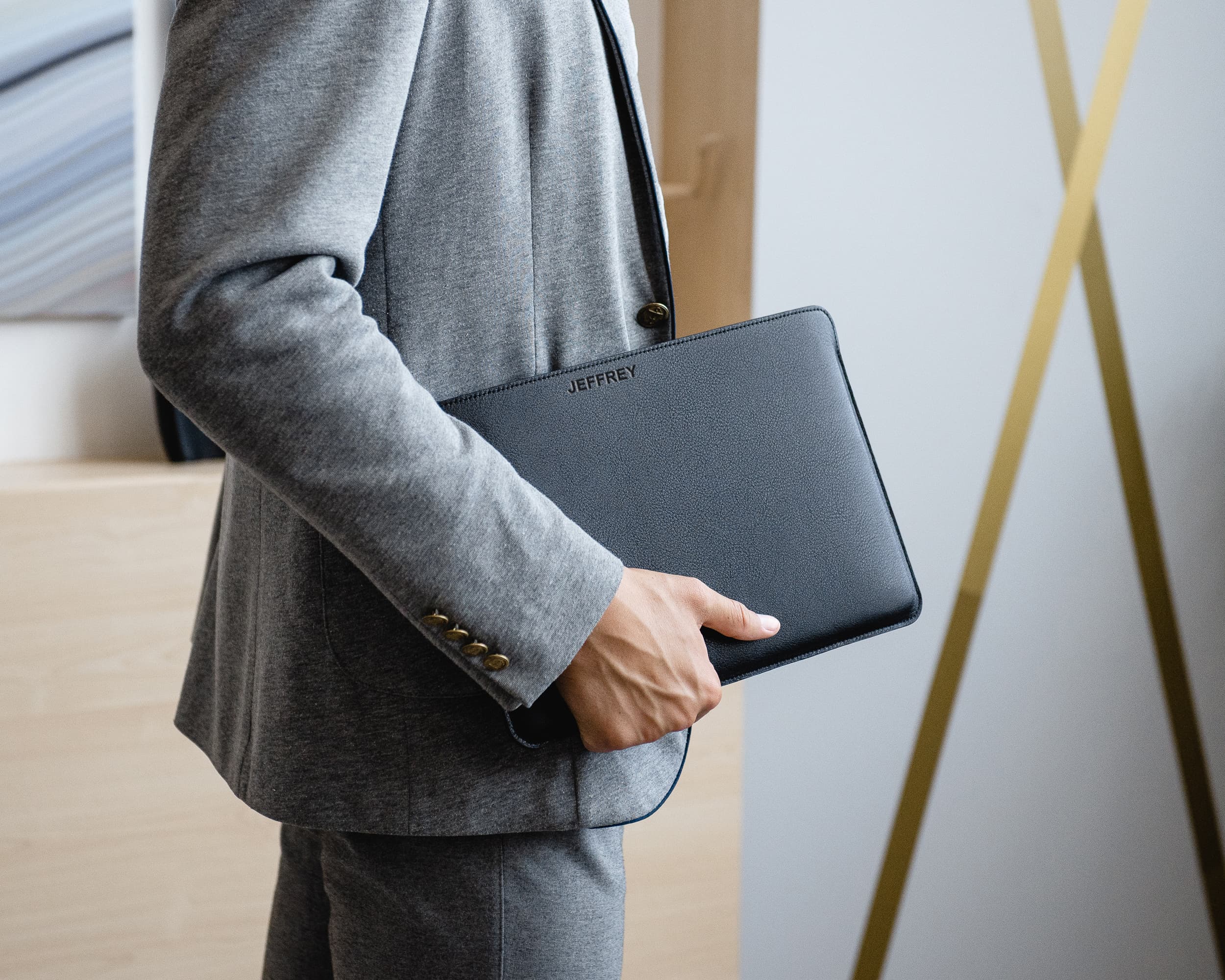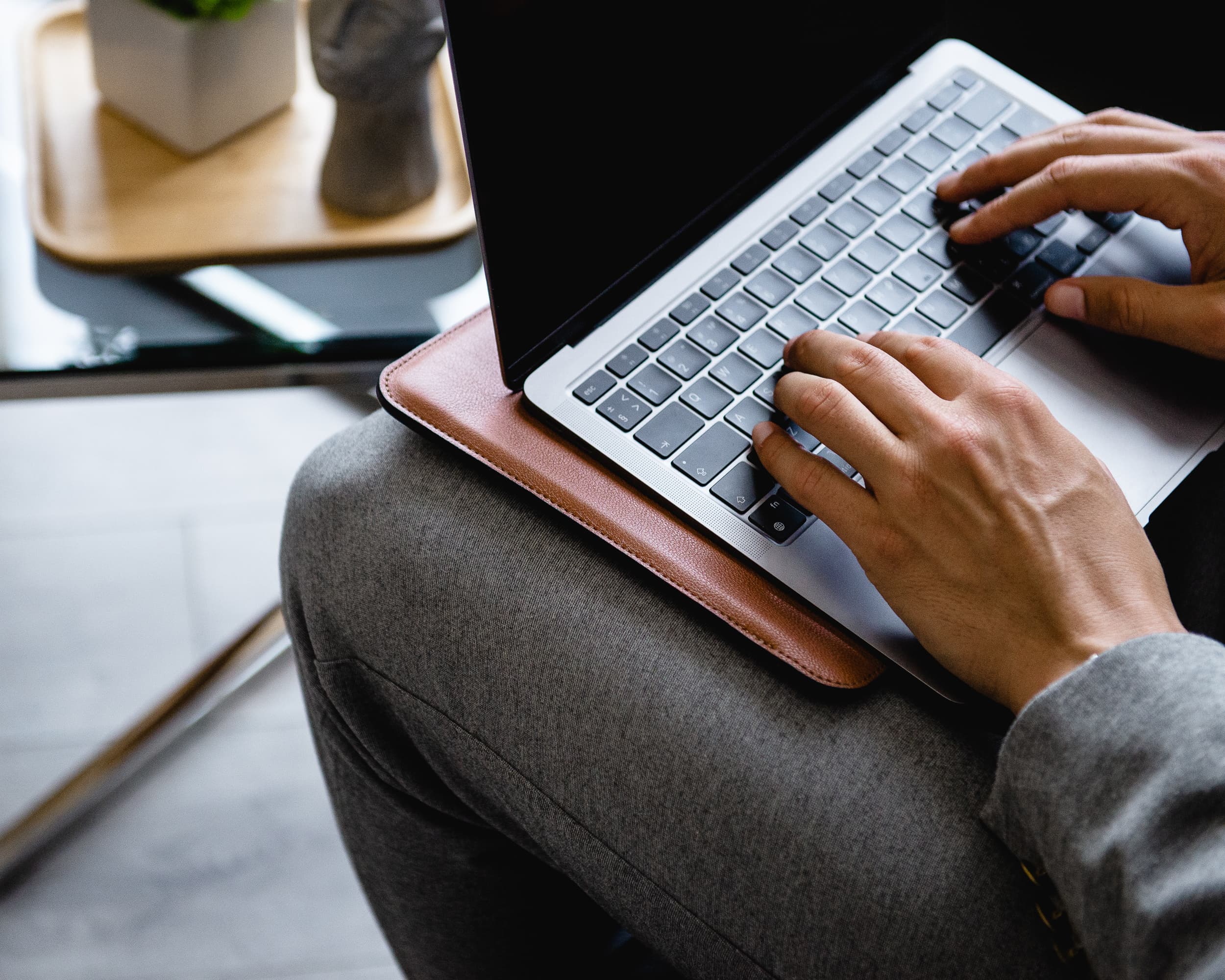 Moreover, the simplicity of design provides a relatively light weight (depending on the size, the Hidemont case weight is 0.6-1.1 lb (280-500 g)), and together with the laptop weight it won't weigh you down when you're on the go.
Simple and minimalist looking, our laptop cover case offers a lot of convenience. Unlike mass-market cases, Hidemont cases feature easy access to charging ports so that you stay super productive on the go. Also, every case comes with pressed recesses on the microfiber padding to fixate the laptop's feet, preventing the device from tumbling inside or falling out.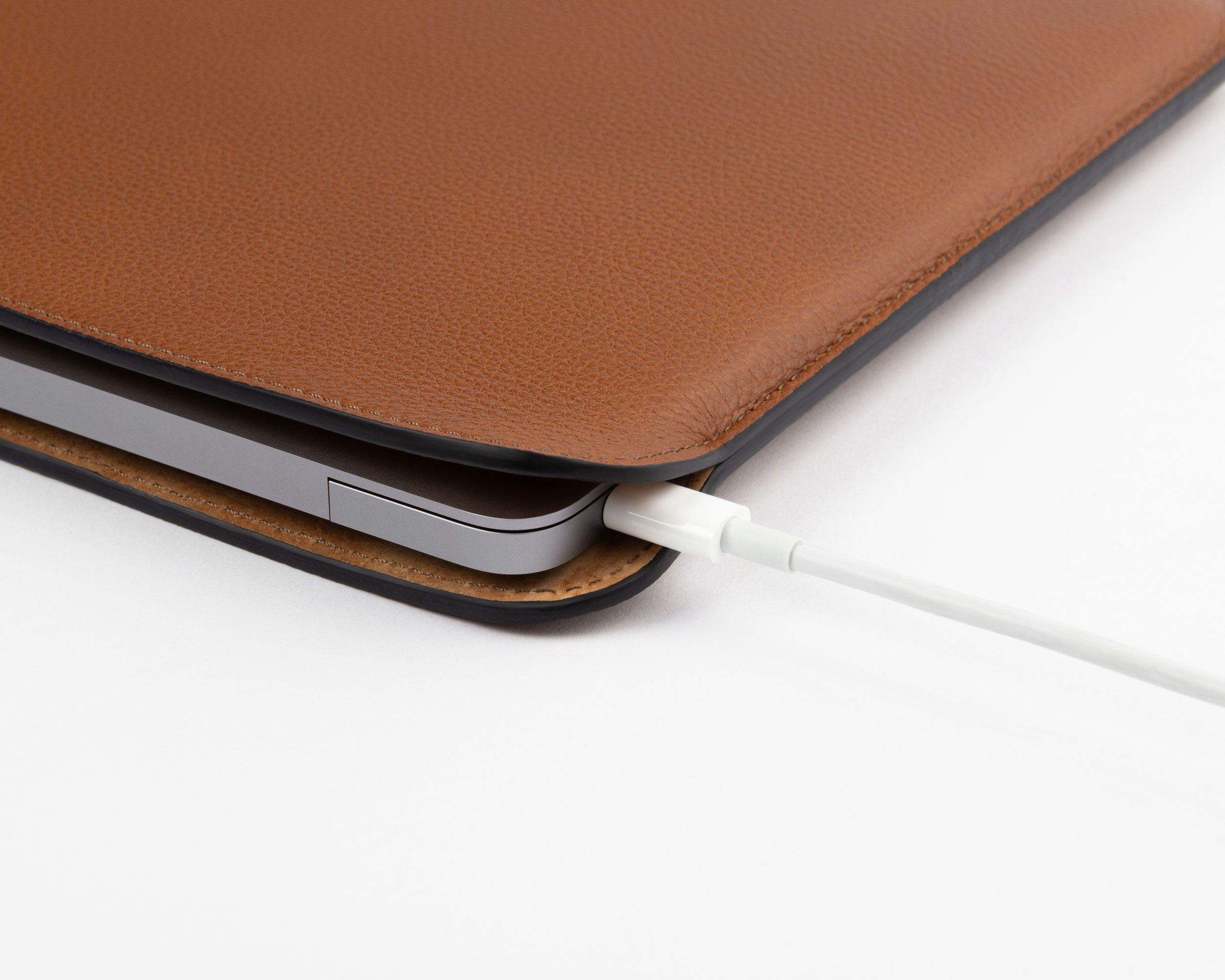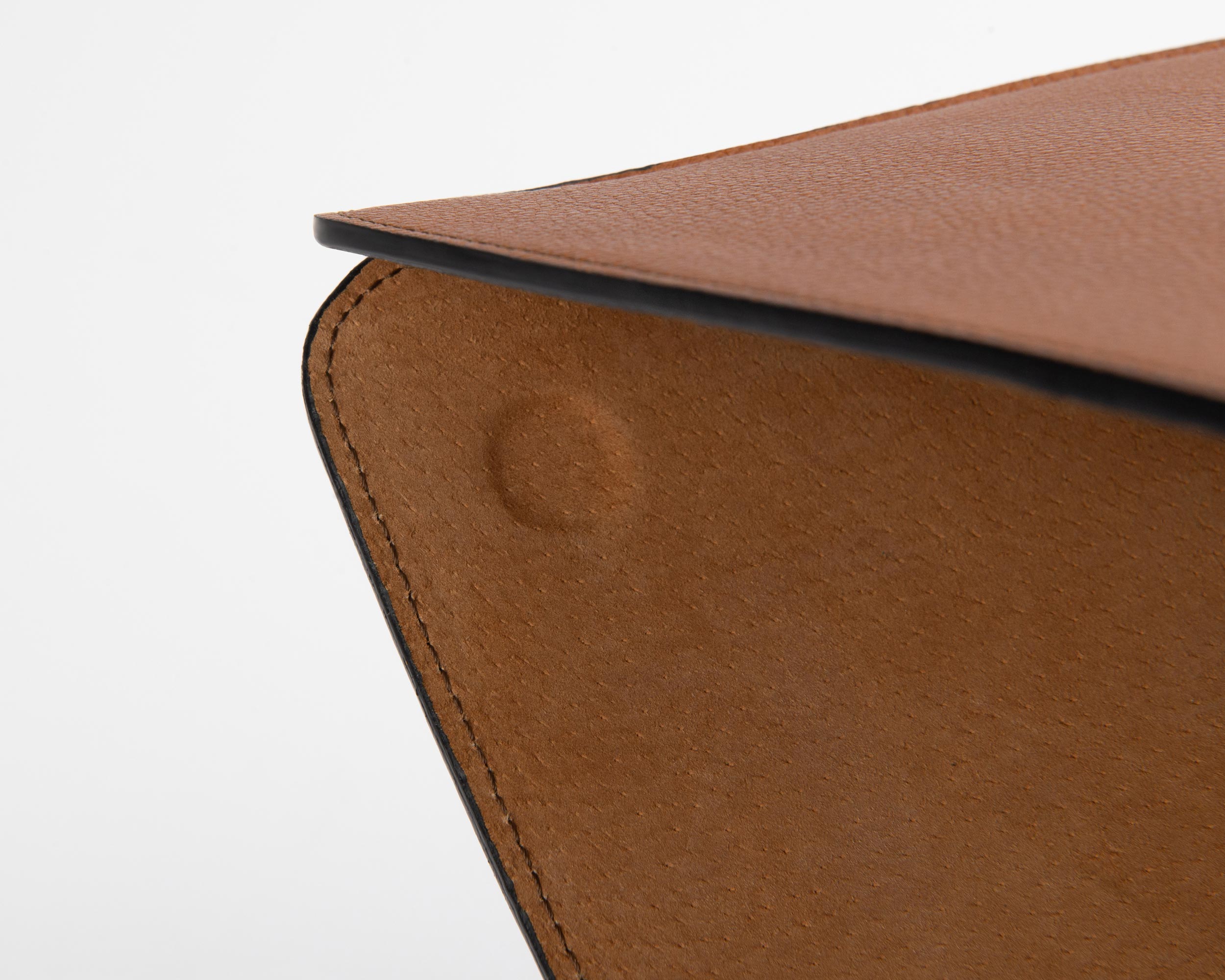 We produce cases compatible with a specific laptop model. It guarantees the perfect fit for a laptop, advanced protection, slim and neat appearance, and lightweight, convenient carry. In our collection, you can find leather laptop cases for the latest models like MacBook Air Retina (2020), M1 (2020), M2 (2022), MacBook Pro 13" (2016-2020), MacBook Pro 13" M1 (2020), MacBook Pro 13" M2 (2022), MacBook Pro 14" (2021), MacBook Pro 16" (2019), MacBook Pro 16" (2021), Dell XPS 13" and Dell New XPS 13".
The year of the laptop's release does matter for ordering the correct case size. As follows, the MacBook Pro 16" (2019) case won`t fit your MacBook Pro 16" (2021). For this reason, we strongly recommend double-checking your laptop screen size and model before purchasing the case.
We provide the personalization option to make your laptop case look exceptional and stylish. Make meaningful gifts for your family and friends by getting them not just a boring protective case but a new daily accessory that carries a lot of sense and love.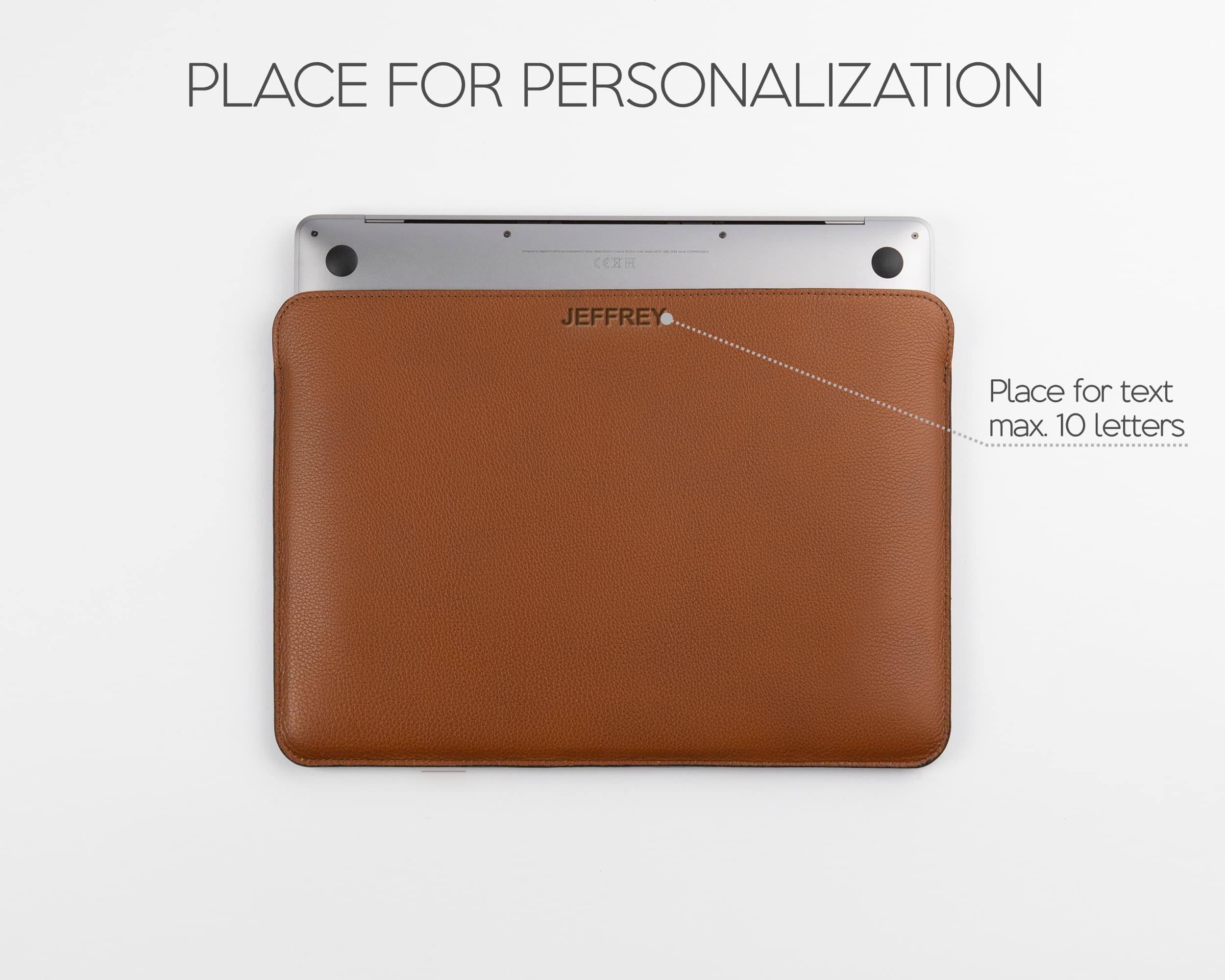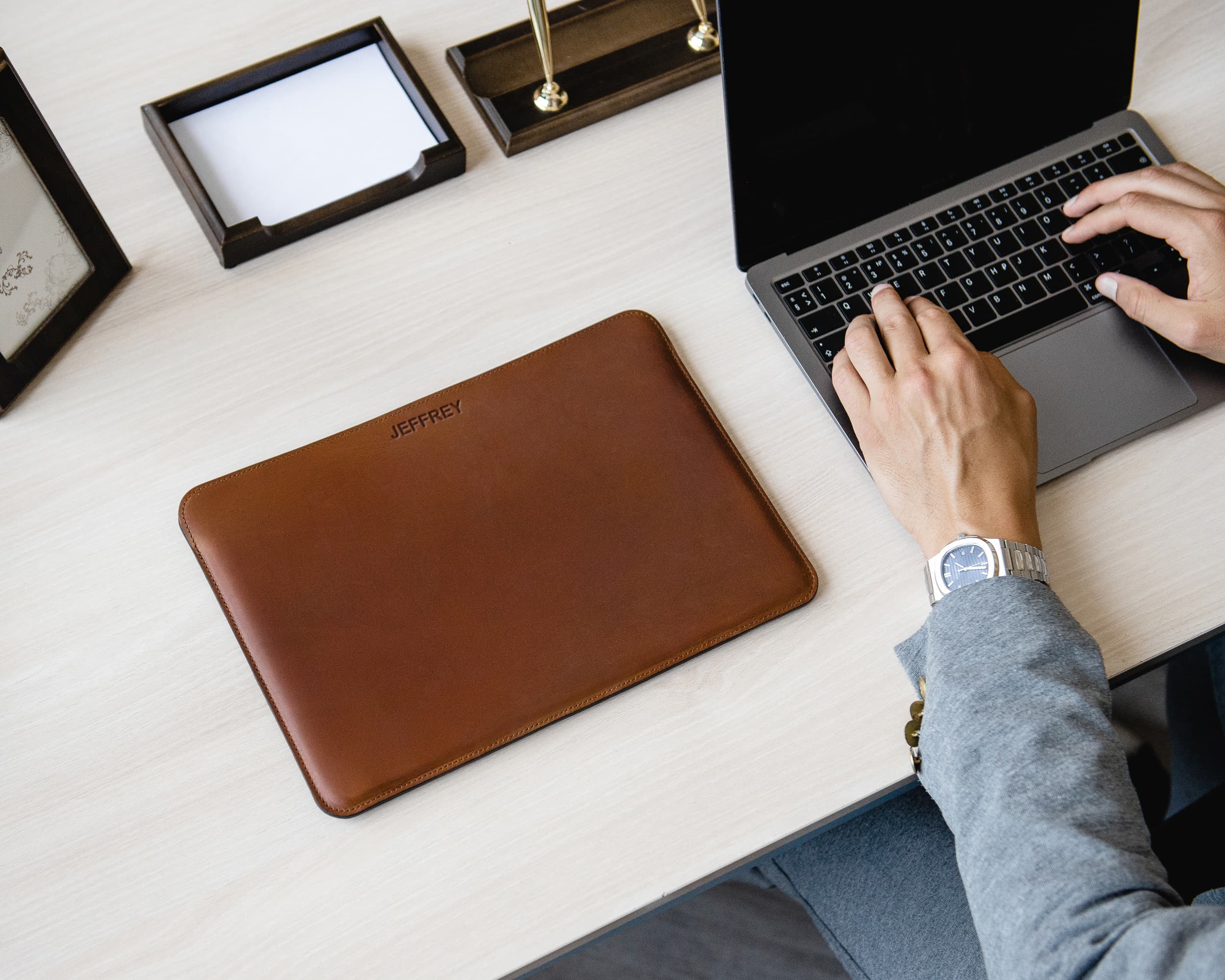 Also, personalized laptop cases are sure to be nice corporate gifts and an unforgettable addition to corporate event ideas.
To sum up
So, we cannot do without a laptop cover. It fulfills the important functions of protecting expensive electronics from mechanical damage and weather conditions during transportation, ensuring the comfort of carrying and using the device on the go, and emphasizing the professionalism and each user`s individual style.
Although choosing a high-quality cover or bag for a laptop seems like an overwhelming task, finding the perfect accessory is still possible by following simple tips.
Hidemont is happy to make this choice easier for you, because here you can find a unique collection of not only reliable, safe and shock-resistant, but also functional, compact and stylish cases that you can customize.