There`s no more exciting experience than traveling. Exploring new corners gives us valuable lessons – tolerance to people of other nationalities, appreciation of what we have, flexibility and self-sufficiency, reviewing life priorities, the need for balance between work and self-development, the importance of history and cultural knowledge, and many others.
Traveling teaches us to be patient, self-independent, inventive, and eco-conscious. And it has a considerable impact on Hidemont`s team philosophy, as well.
We`re proud to stick to the fundamental principle that all leather items are made for people by people. A new product enriches the collection only after careful checking it corresponds to high standards. Be sure that all Hidemont travel accessories for women and men are tested to lasting quality, expected functionality, and unmatching style.
In this article, we will discuss what a passport cover is, why we need it, the difference between a passport cover and a passport travel wallet, and how to choose the best passport cover. Besides, you`re going to know more about the diversity of Hidemont`s passport cover designs, how to use a passport holder, and how to make a passport cover a meaningful travel gift.
What is a passport cover?
The more we travel, the more our passport suffers. And, not to travel with a rather well-worn passport before its expiration date or not show the customs officer spattered entry and exit stamps, one should be aware of the advantages the best passport holder provides.
A passport cover is a must-have accessory for every frequent flier that gently handles the documents and prolongs their lifespan. As an efficient travel piece, a passport cover neatly blankets the passport to protect important documents from wear and tear, weather conditions, spills, and other sudden damage.
Everyone has their needs, so it's possible to shop online for personalized passport holder in various styles, designs, and colors to find the one to suit your travel repertoire.
Advantages of a passport cover
Such a simple travel accessory like a passport cover may be a real life-saver and game-changer during business trips, family vacations, honeymoons, travel vlogging, or other significant life situations when you need to spend many hours getting from A to B.
Each trip implies many steps you and your passport go through – check-in desk, luggage handling, security pass, boarding gate, and customs. Moreover, walking around the city, we keep our passports handy.
Protection of documents is the first and foremost function the case fulfills on the go. Hit the road and have no worries about your passport getting torn, stained, soaked, or lost. Also, the cover protects the passport when it`s stashed in bags and backpacks, insulating it from other items inside.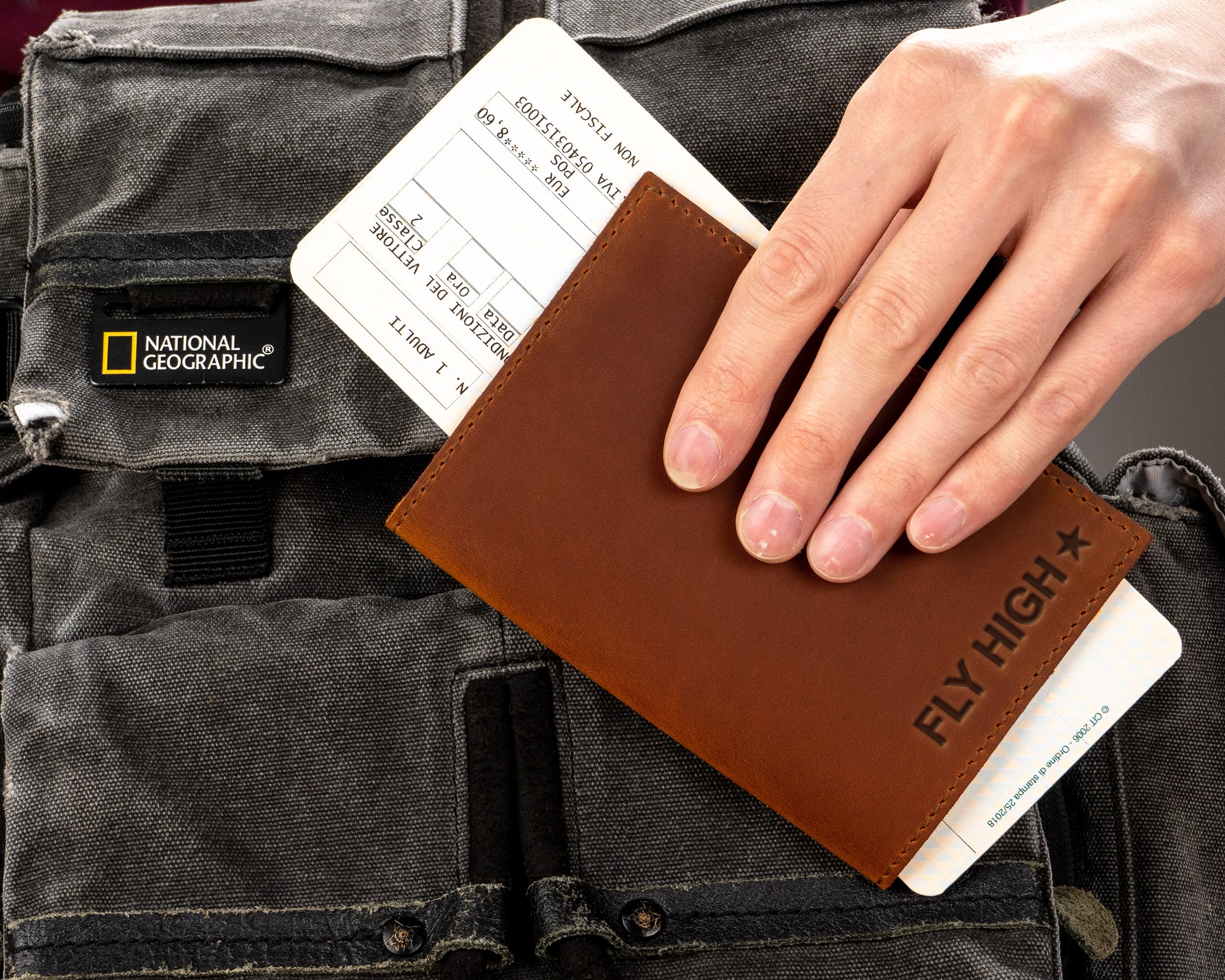 Traveling is all about unpredictable situations we should be ready for. A quality passport cover will soften the effect of possible consequences, keeping the documents fresh-looking as long as possible.
You may come across different terms to denote passport covers like passport case, passport holder, passport wallet, travel wallet with a passport holder, or passport sleeve. Those are different goods offering many ways how to use a passport holder. Whereas passport cover, case, and holder are almost the same, safeguarding the passport, passport wallet and travel wallet with passport holder have slots for other needed items. And the passport sleeve features a pocket form where you can put a passport and other stuff inside.
Don't deny yourself the pleasure of getting a new designer passport wallet because it guarantees convenience during trips, making your travel experience much more pleasant and hustle-free. This little helper ensures you don`t waste a spare minute rummaging for needed stuff but have everything at hand when every minute counts. Have you ever held up the line at the check-in counter, digging up the boarding pass from the bag bottom? Have you ever arrived at the boarding gate the second it closed? Have you ever missed a flight? Then, the best passport wallet guarantees you a smooth flight.
Our passport cover designs will meet your needs, providing different functionality features like extra pockets for essentials and reliable snap button closure.
Distinctive identification
When traveling with a personalized passport holder or a passport travel wallet, you`ll feel a big difference at every step. Beautifully customized with your initials, name, favorite phrase, quote, and image, you`ll set your documents apart in the big pile of passports and avoid confusing situations. And by enhancing your travel style with matching leather luggage tags, you`ll travel confidently and stylishly.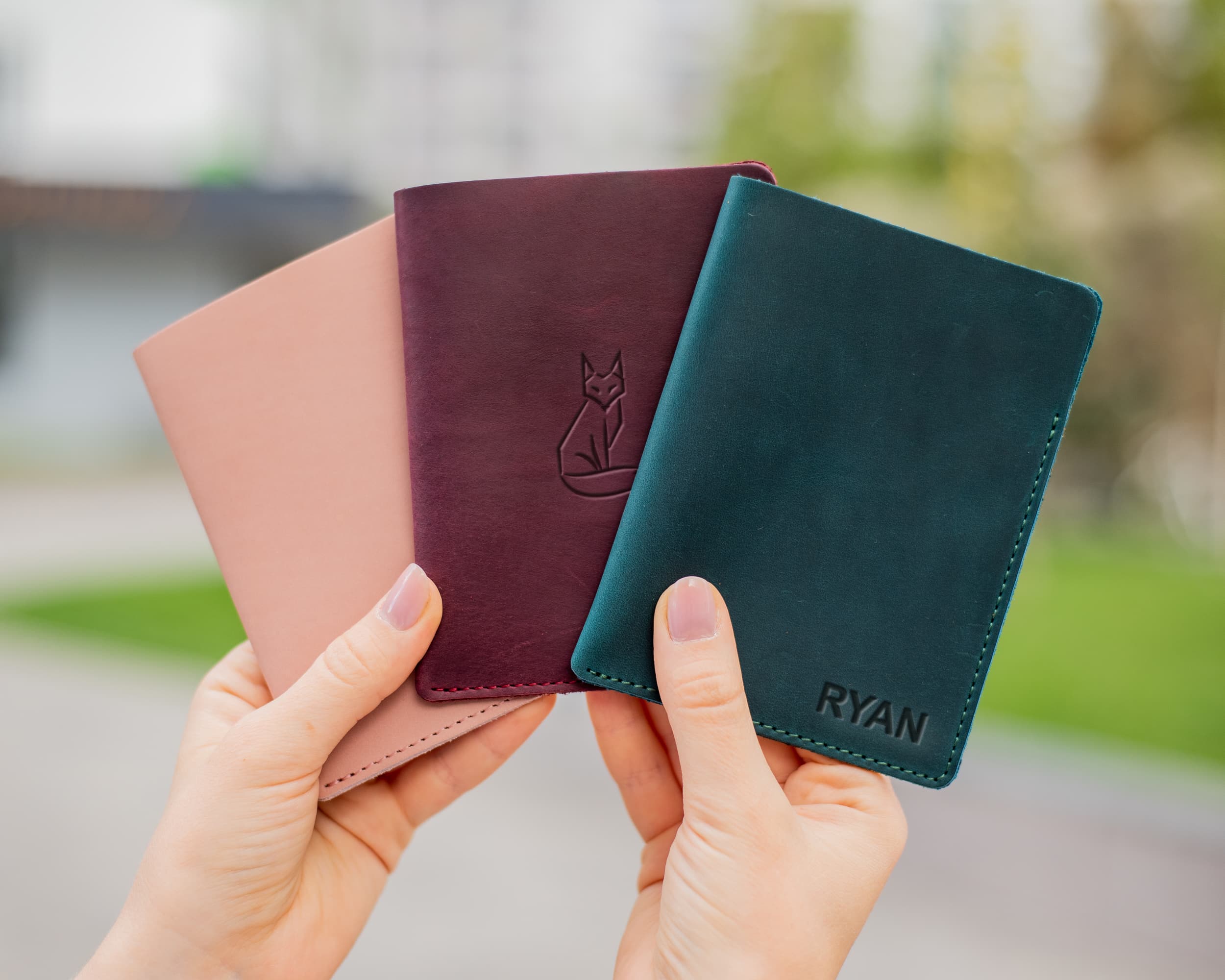 Quality passport cases are the best solution to take your travel style to new heights. Crafted from premium materials, the best passport covers will make a powerful statement on every mile of your journey. Who said only official representatives and successful businessmen can feel VIP at the airport?
Passport covers can become a meaningful attribute that manifests significant milestones. A personalized passport holder is an ideal choice for a honeymoon to celebrate the beginning of a family adventure, an anniversary – to mark the roads a couple has gone through being a united family, or a family vacation – to honor the generations that live in harmony and love. Read on about fascinating leather family traditions that will make you closer.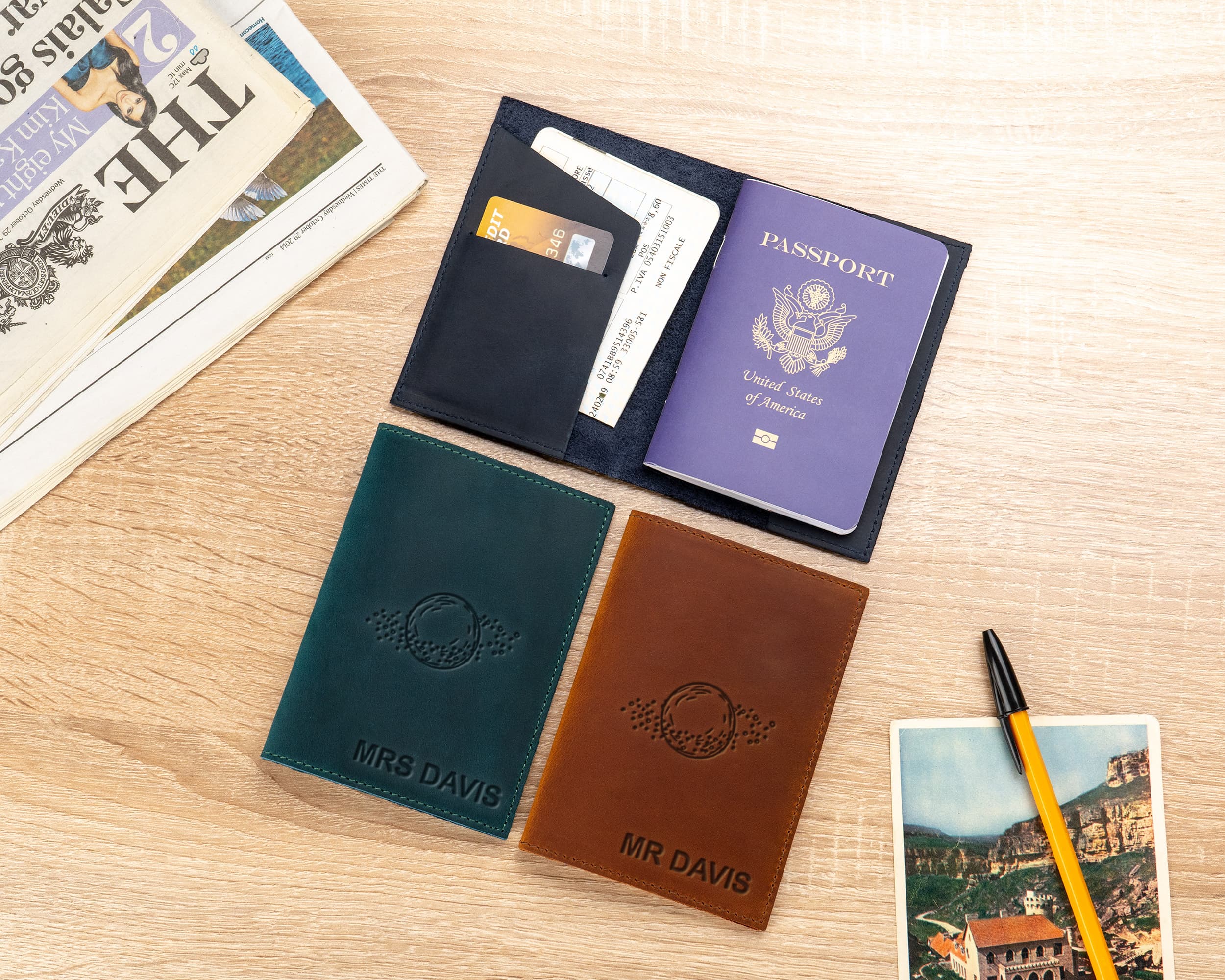 How to choose the best passport holder?
A choice of a new passport holder may seem a challenging task because most of the mass-market covers are impractical and cause considerable discomfort during trips.
First of all, the extra bulk the cover provides discourages us from taking it for every trip because it requires too much space in a travel bag or pocket – when everything needs to be packed tidily and compactly. In addition, usually, the cover size often appears to be bigger than a passport, not fitting it snuggly and making it float around.
Paying little attention to vital aspects, we may face inconvenient passport cover usage, its fraying look, and, in the worst cases, the loss of the document. Even though you think searching for a passport cover is time-consuming and nerve-racking, you`ll be relieved to know about useful ways to make this process far more stressless. I`m glad to give some tips on selecting the best passport cover.
Size of passport and cover
When searching for a passport case, double-check your passport dimensions and compare them with passport cover dimensions. The standardized size of the US passport is 3.5" x 5" (9 x 12.5 cm), and the difference of half an inch (1 cm) is enough for the best-fitting passport cover.
Why is the size of the cover so important? If the cover is too big, the passport and other essentials will tumble inside with the risk of falling out. If the cover is too tight, you`ll feel inconvenienced while putting the passport in and out. A snug-fit passport cover will save you a couple of minutes at the customs counter when asked to remove the cover. Also, the appropriate cover size is less likely to bend the corners of the passport and thus prolong the document's lifespan.
Passport covers offer a wide range of materials, for example, clear vinyl that provides good protection but looks cheap and boring, or fabric and faux leather that fail to be waterproof and durable. The designer passport wallet crafted of genuine leather is the best option for jet-setters because of its long-lasting quality, smooth texture, superior appearance, and easy maintenance. Learn more about how to take care of leather goods and leather care products to keep your passport wallet fresh-looking for as long as possible.
Go ahead and plum for a passport travel wallet that fully meets your needs and taste. Consider personal preferences and whether you require extra pockets for maps, credit cards, notes, receipts, tickets, or boarding passes. Also, the closure mechanism the passport wallets provide plays a huge role in securing the documents.
Personalization makes a pleasant bonus when selecting your new travel companion because it not only adds much fun to your style but also identifies your documents on the go. However, it's necessary to pay attention to the quality and durability of the personalization method, so be sure that hot stamping (embossing) will bring a sophisticated flair to your trips that won't fade away over the years. Check out our detailed guide on embossing types.
Hidemont`s leather collection for your next trip
Thinking about your needs and preferences, our team offers a rich passport cover collection in diverse designs. Check out our best-selling products that will become your new favorite travel accessories.
Debby is a classic pick for every globe-trotter. This passport cover, handcrafted of quality genuine leather, will last for generations and gently protect your passport. Simplicity underlines the natural properties of leather and emphasizes the practicality and neat appearance, which you can smartly finish with personalization.
Meet and greet a beloved Debby`s sister, Donna, that provides enhanced organization. This lightweight and designer passport wallet features a slot for a credit card and pocket for needed stuff so you can stay prepared for any surprises along the way. Even though it offers extra space for essentials, it closes slim without taking up much space in a travel bag. Upgrade your travel style with a luxury leather passport wallet and watch your convenience bring much pleasure during the adventure.
Get ready to feel yourself a first-class traveler with a passport travel wallet made to withstand the longest to-go list. It has ample and snug-fit space for a passport, 2 credit cards, and some notes. Experience the elevated protection of your documents – the passport wallet named Roland snaps compact and lightweight to fit a travel bag.
Evan manifests everything the traveler may value on the go – quality, compact design, efficiency, smooth leather texture, and elegant style. This long-lasting passport holder offers a pocket-like compartment for documents and essentials, preventing them from getting lost. Even at the maximum capacity, the passport sleeve compactly fits your jeans or jacket pocket.
The best travel gifts
Personalized passport covers make practical and exclusive gifts for enthusiastic travelers. An individualized touch and efficient design will show your sincerest feelings without you saying a word.
Personalized covers are great travel gift ideas for anniversaries, weddings, graduation, and Christmas. Moreover, regard a custom passport holder with a company logo to make meaningful corporate gifts and corporate event ideas that will be cherished in every office. Express much appreciation to your colleagues for their constant support during business trips or conferences with a new personalized passport cover.
To sum up
All in all, a quality passport cover is a must for every trip because it fulfills the vital function of document protection, effective item organization, and travel style enhancement. The quality and designer passport wallet will always be by your side and hold up great, offering resistance to wear and tear, and weather conditions exposure. The personalized passport holders will not only make your adventure much more enjoyable and convenient but also give a little bit more sense to your world exploration.
Hidemont is proud to offer a large collection of passport covers in diverse designs and colors so that you can find the perfect one to fit your travel needs.