We cannot underestimate the presence of a superhero – Daddy – in our life. Such a small word that associates with the greatest feelings ever. Daddy is the one who placed us on his shoulders. The one who understands the importance of the words "Just don`t tell mom" or "You`d better ask mom". The one who was against getting a puppy but then cannot imagine his life without a fluffy friend. The one who laughs out loud at his dad (bad) jokes when no one understands them. The one who is a big boss at home (certainly, when mom is out). And the one who every day surprises us with brilliant inventiveness.
Even though he may seem so strict, reserved, brutal, he also likes to get attention…Even though he says he doesn`t need anything, let him know you appreciate everything he`s done for you with a touching Father`s Day gift. Find out what gifts will 100% touch the soul of your daddy, grandpa, daddy-in-law, newly daddy.
Dopp kit. Your dearest father will appreciate such a simple but functional present. Meet his needs with a versatile accessory – for daily use, for trips, for toiletries, tools, tech stuff. Maybe, it can be a perfect stash for sweets or extra cash. Opt for the most suitable size, color, range of compartments to make it an inseparable companion for long-lasting use.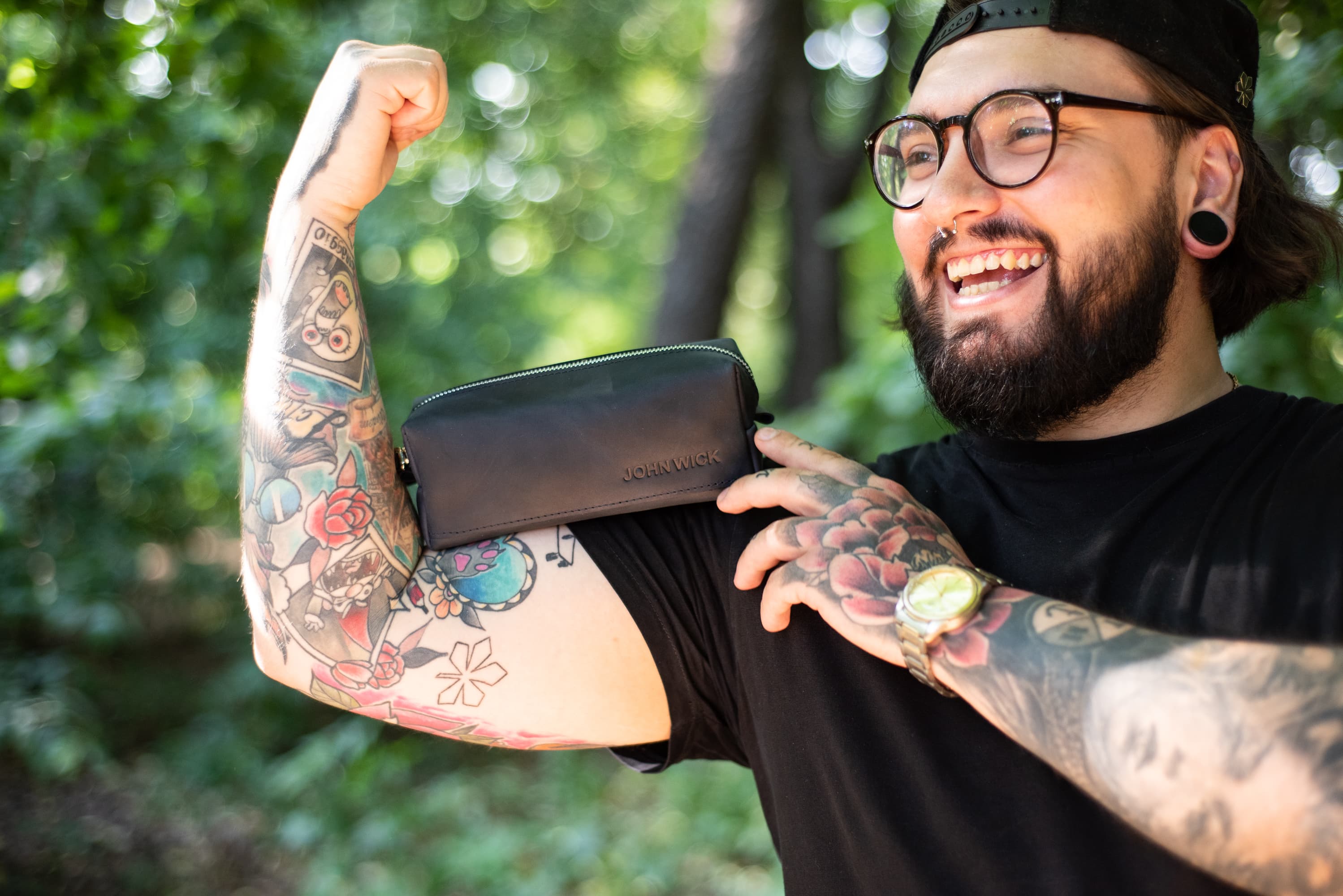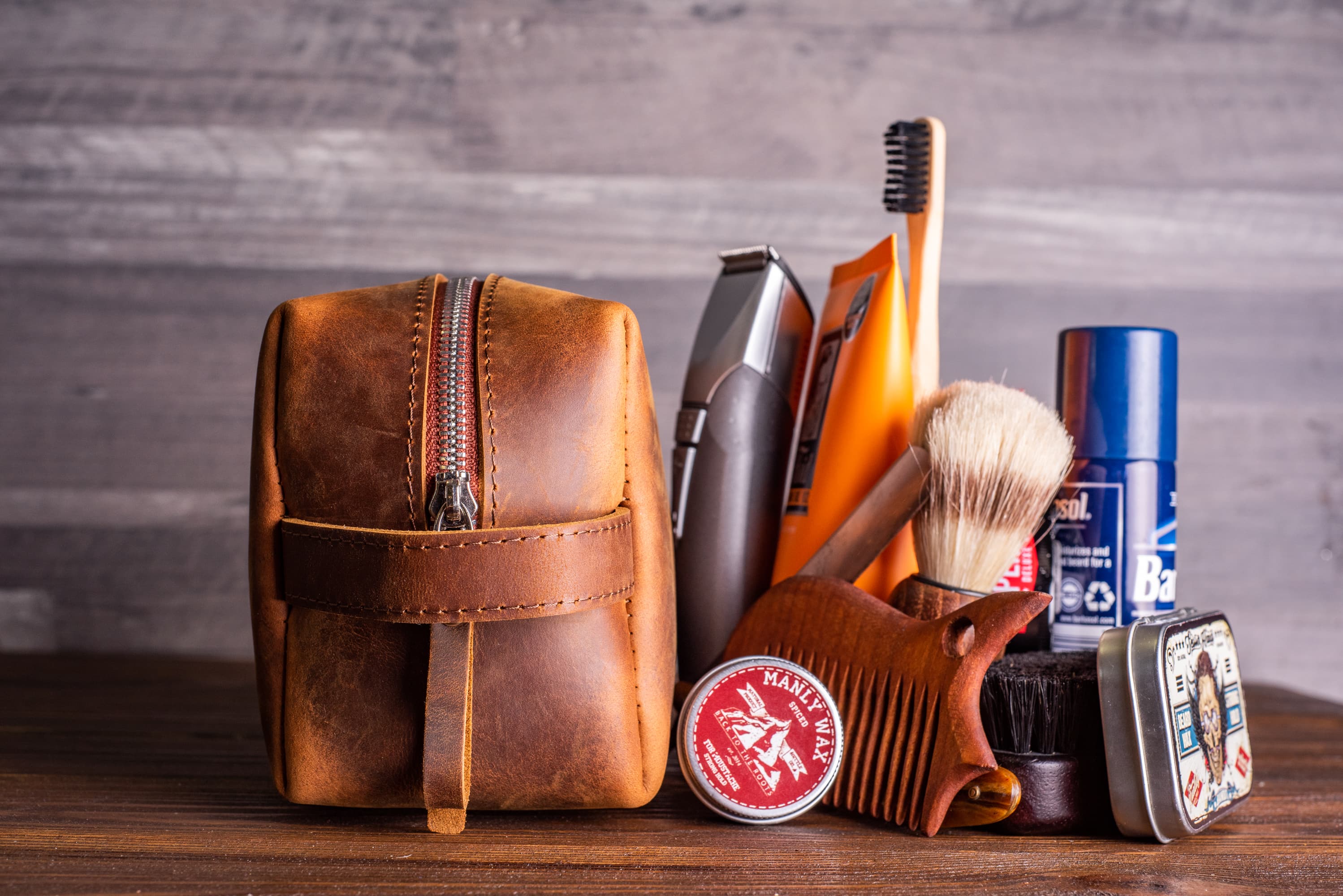 Tech organizer or for high-tech dads. Maybe, that`s not about all dads but they tend to store thousands of loose wires (that, you know, can be good for something else and no reason to utilize them). A leather tech organizer appears to be a nice way to arrange wires untangled and keep them in one place always at hand. It`s also a wonderful solution for housing adapters, cords, power banks, headphones, and so on. A cord organizer features multi-sized compartments and durable snap buttons so that it easily closes flat and compact. Or, you can consider a leather MacBook case as a perfect practical gift for busy daddy.
A leather travel wallet is a practical gift for dedicated drivers they can take favor of while everyday rides to work, shop, entertainment places. Your dad will be thankful for such a gift because he`ll be totally geared with essentials like a driver`s license, cash, credit cards. With a transparent slot for ID/driver`s license, your dad can easily show it to an officer in case of being suddenly pulled out. It`s designed to make journeys much comfier.
A leather journal cover is an ideal choice for busy dads. Just give him a quality journal blanketed with a sturdy cover and put there some funny jokes you`ve heard from him. Or go ahead with cute words like "Thanks, daddy, you`ve done an awesome job – I`m just perfect" or "Thanks, Daddy, for always catching spiders in my room".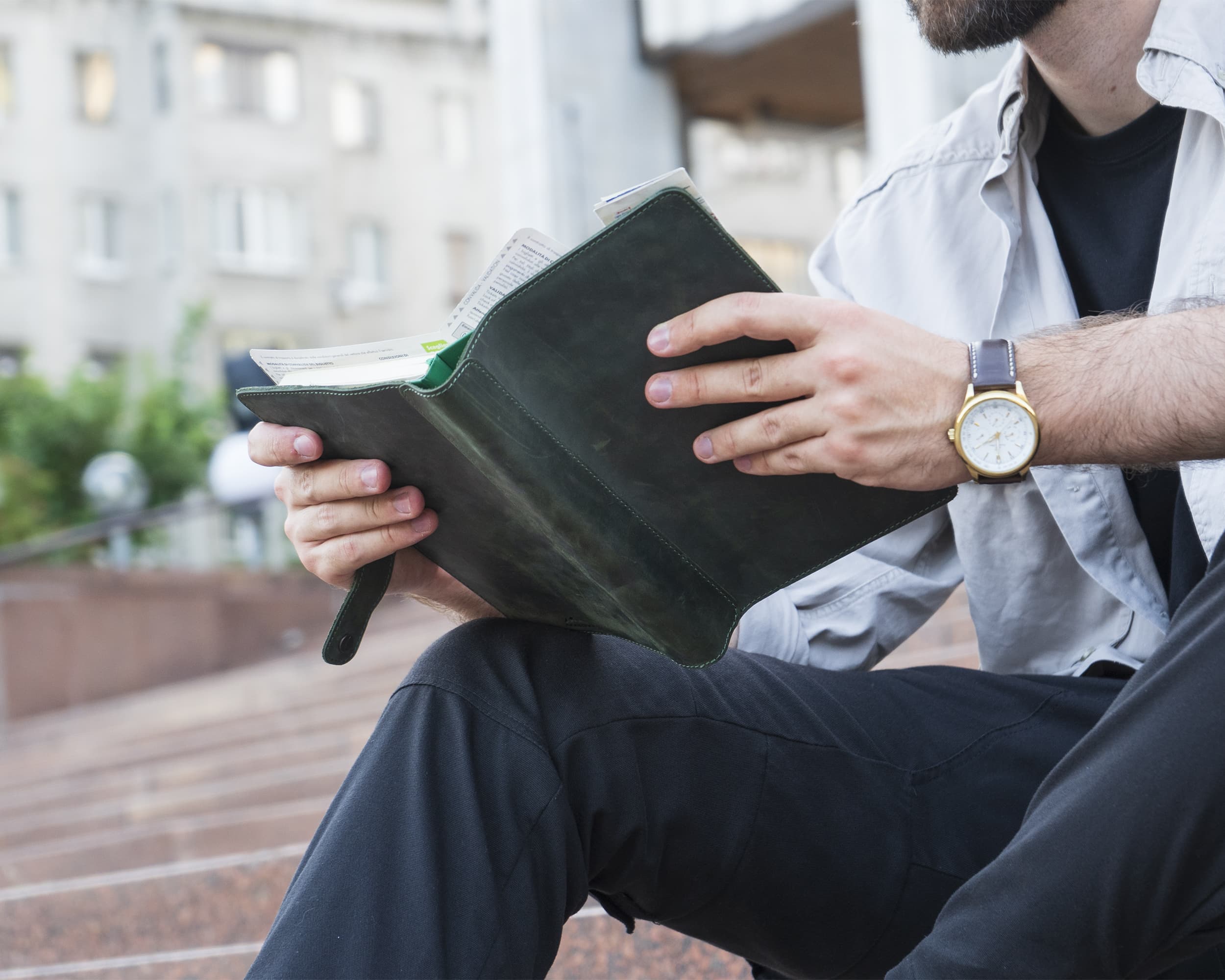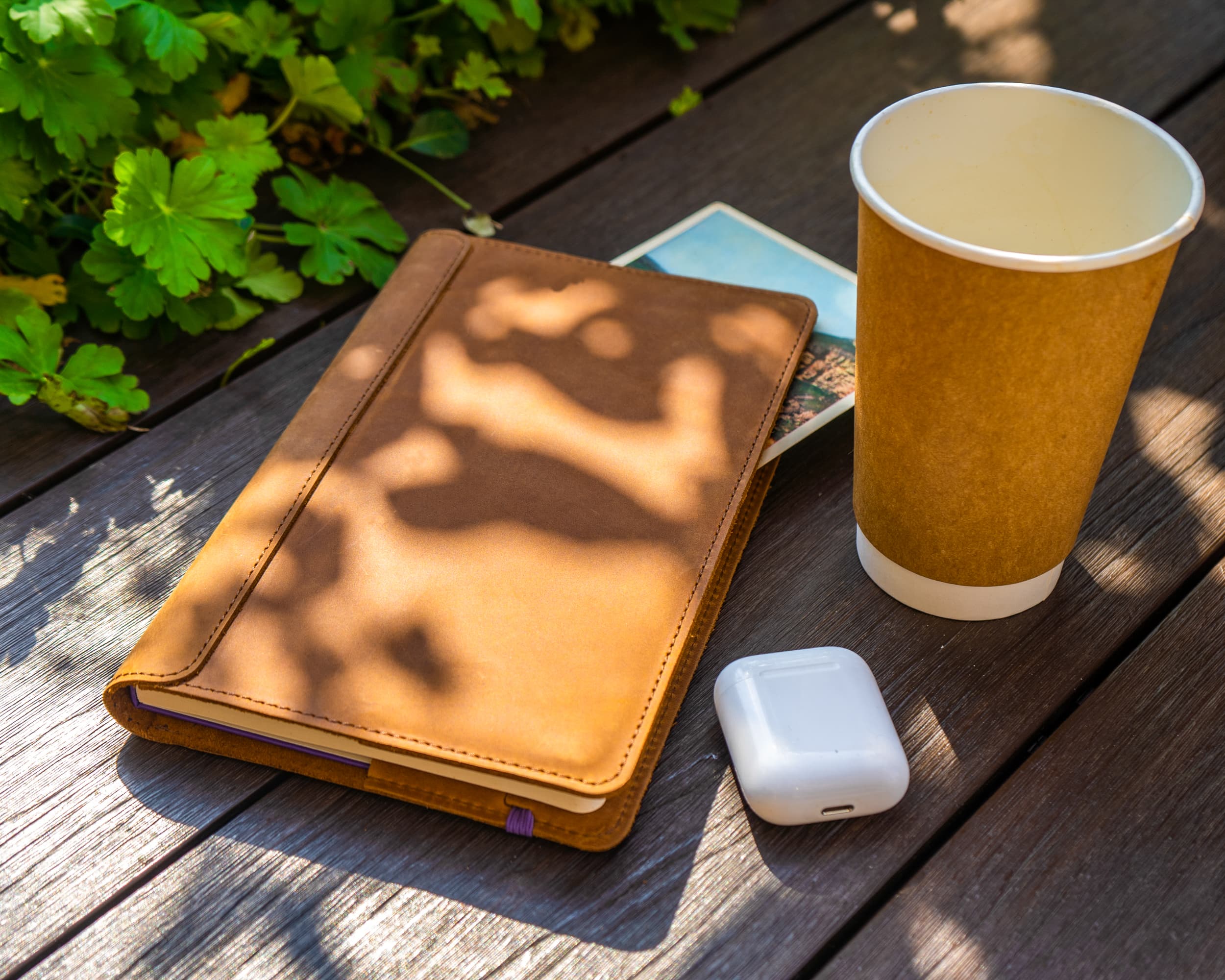 A leather belt and a business cardholder are the ultimate accessories that give an air of sophistication to an everyday outfit. Wearing a belt or carrying a cardholder, a man feels so confident and mighty convincing everyone – "Yeah, you`re right, I`m a big boss!"
Get him leather coasters for his precious collection of beer mugs or a leather tray for keeping men`s knick-knacks.
Your dad is a bookworm? He likes to have a dope look? Impress him with a leather glasses case that stuns with an enhanced corpus and durable nose bridge.
A photo keychain will tug at even the most reserved dad`s heartstrings. It boasts quality leather, a sturdy ring for easy attaching, a long-lasting snap button, and stainless steel plate. Think over a photo keychain to tell the newly daddy good news – just print an ultrasound photo on a steel plate meaning "You`ll be a daddy!" – or get your childhood photo printed for your dad to say "You`ll be a grandpa!".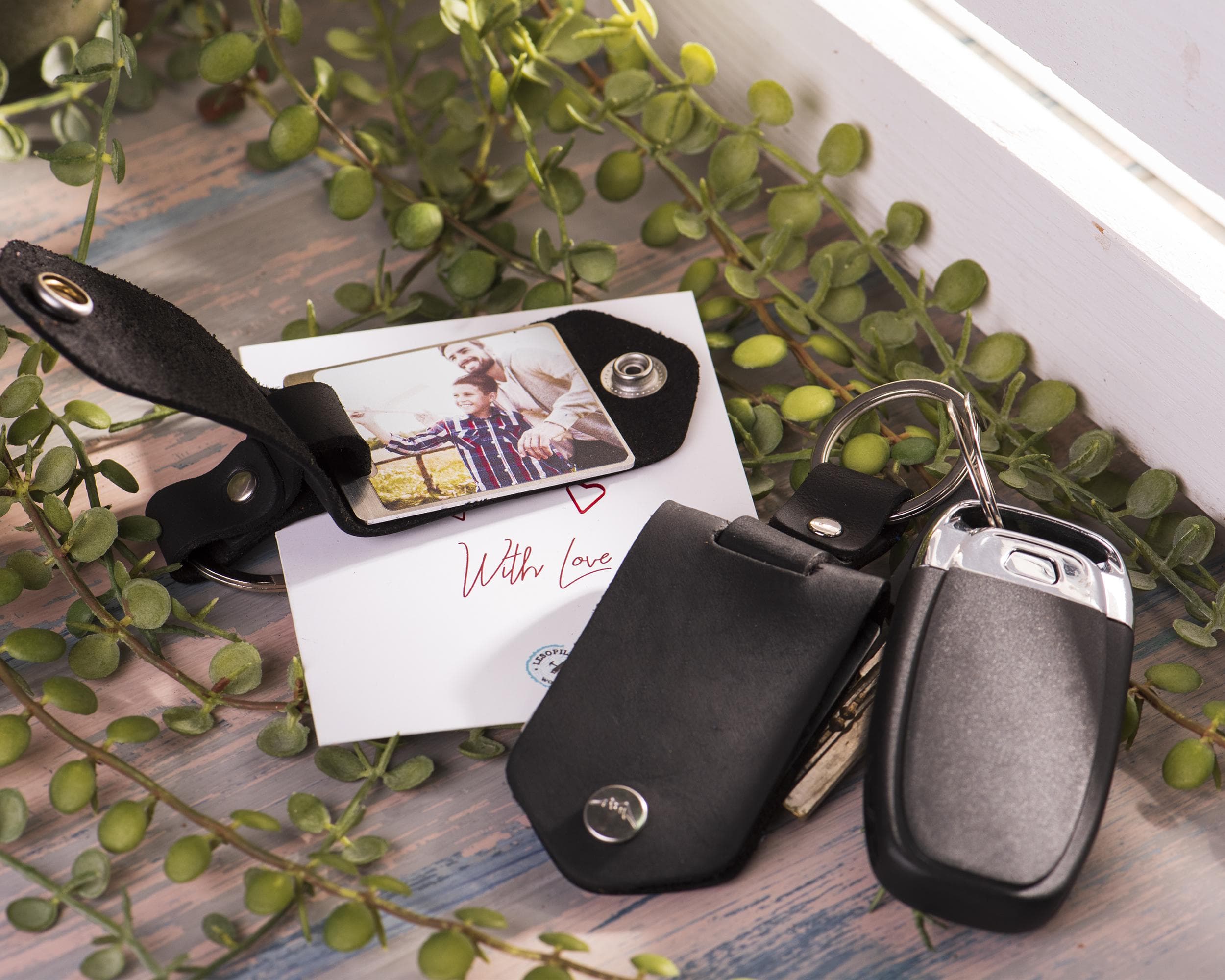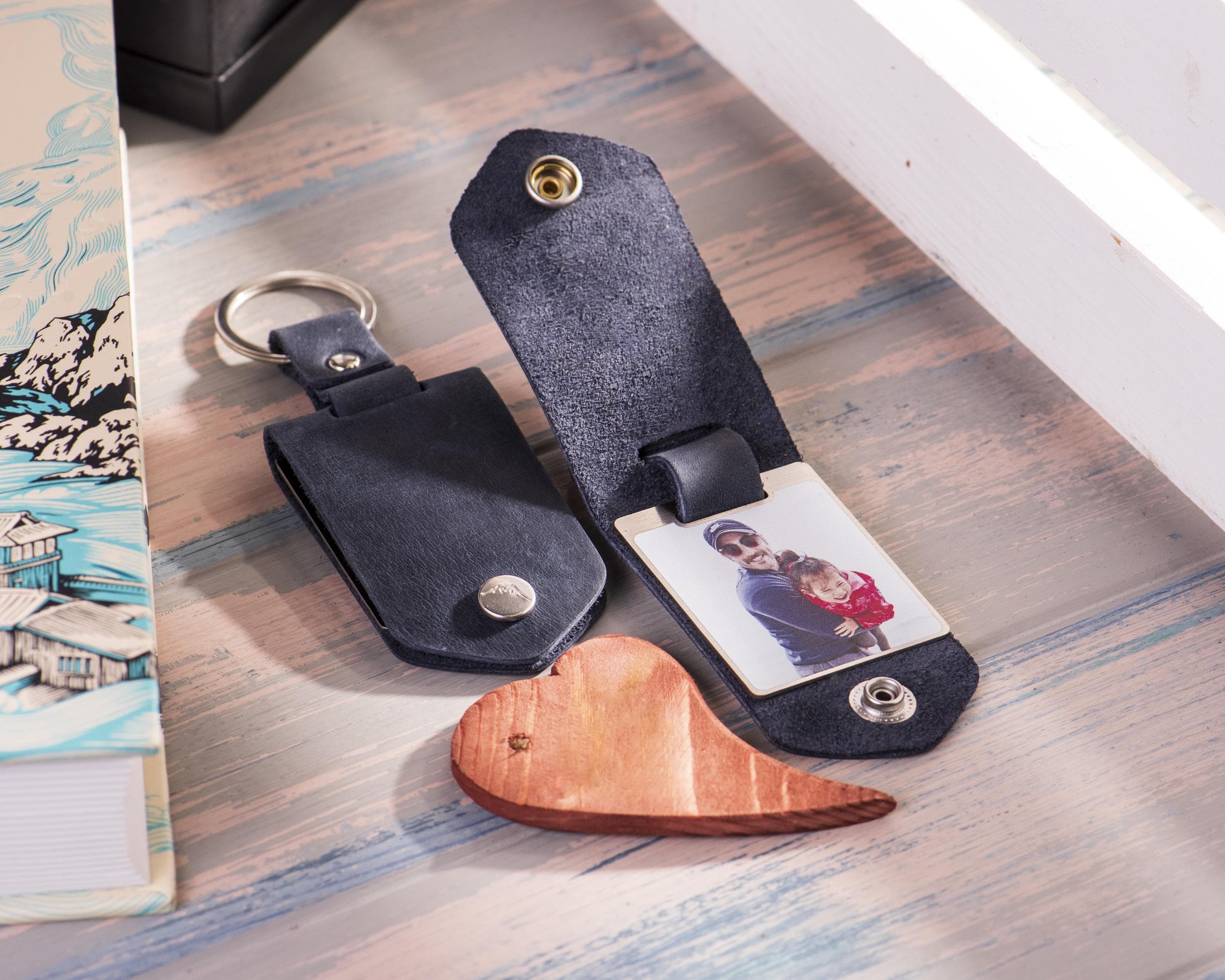 Personalize it! Don`t deny yourself getting a custom leather gift that will definitely win the heart of the family`s breadwinner.
I`ll be glad to know if these tips are helpful!