Some things are bought not for a month and not for two – but for years, and a men's leather belt is one of them. This is exactly the accessory practical and ideological significance of which are absolutely inseparable. The belt helps to maintain the trousers' perfect fit at the waistline while helping us to maintain a refined image. The belt emphasizes the waistline while emphasizing our good taste and status. The belt is a significant moment in shaping our personal style while being a frequent witness to our significant life moments, such as graduation, dates, weddings, anniversaries, or professional success.
A belt can refresh our look, or vice versa completely spoil it. So how to choose the best belt for yourself and a gift? Let's figure it out together.
In this article, we'll talk about what you should pay attention to when choosing a belt, what are the most common mistakes when wearing a belt, and how to avoid them. We'll also learn more about full-grain vegetable-tanned leather belt care and storage.
How to choose a genuine leather belt?
Material comes first
If you're looking for a durable, long-lasting belt, I advise you to think about the material. It defines not only how beautiful and elegant the belt is but also how functional and comfortable it is. You can find belts made of polyester, nylon, full-grain leather, and many others.
By giving preference to polyester belts, you can be sure of their strength, and also, through endless shades and possible prints, you can easily find one that will tell everyone more about your character. But you cannot be sure of their wear resistance and durability (the edges will quickly start to crack and fray around), neatness (on such belts, and especially in light shades, spots are very noticeable), the ability to cope with moisture (falling under the drain wearing such a belt is very undesirable because it will dry for a long time) or convenience (be prepared for the rigidity and roughness of the material). And it's also unlikely that a polyester belt will combine with trousers, so versatility is obviously not one of its advantages.
The vegetable-tanned full-grain leather belt is the best solution because with it you won't have to sacrifice either its durability or your comfort or style. You can never go wrong when choosing a real leather belt because it's an ideal option for sophisticated and casual outfits, which makes it one of the main trends for any season.
Following our goal to create only handy, only high-quality, only durable, only unique goods, as well as only goods that bring aesthetic pleasure, we've developed our collection of leather products, and in particular, in our store, you can buy a handmade leather belt for men that fully meets these criteria.
We carefully select the material, make it by hand one single cut of the required length and 4 mm thickness, and sew it with the strongest, most accurate saddle stitching with waxed thread to guarantee the best quality for many years. Read more about the types of thread that we use to create our leather goods.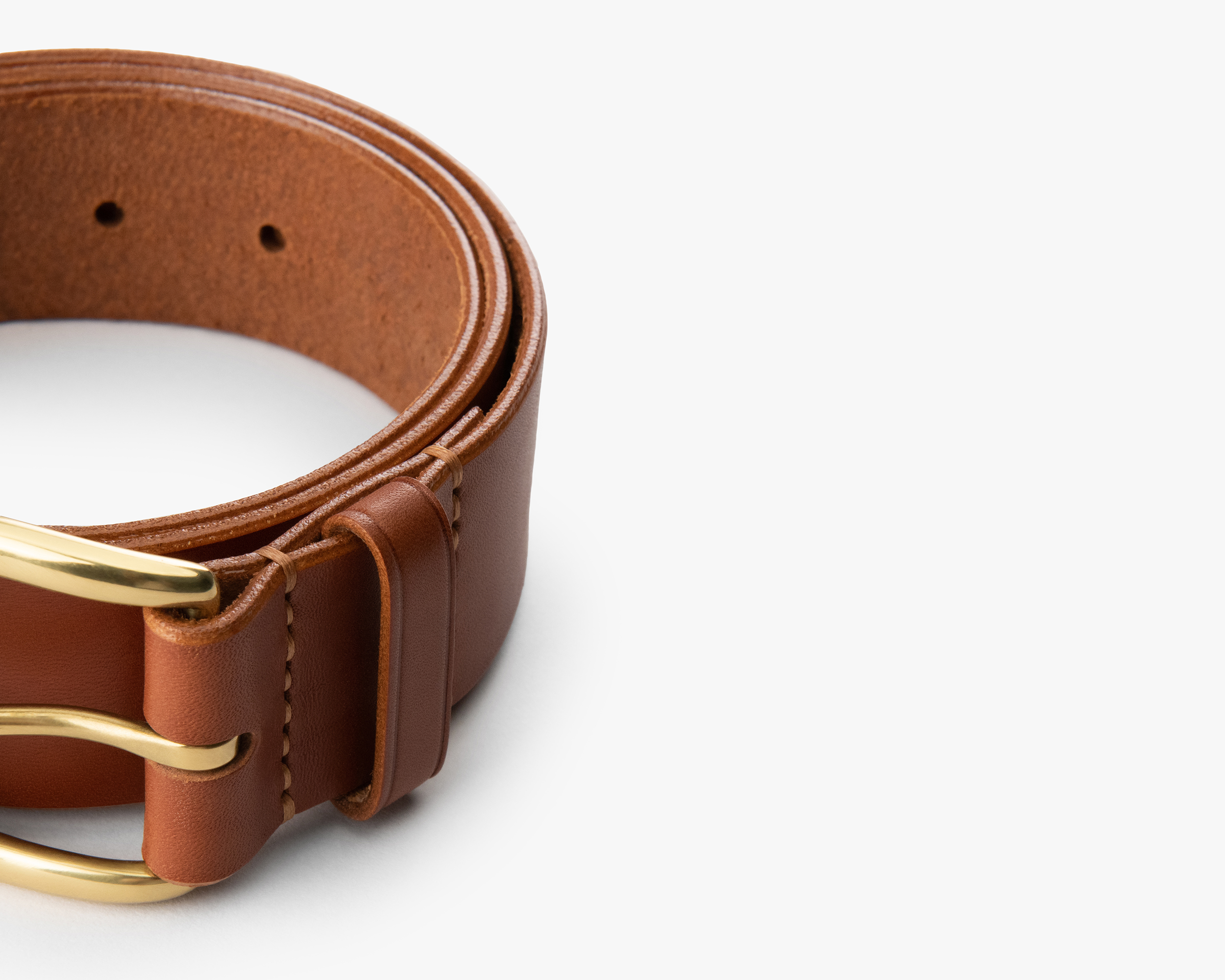 Vegetable tanning involves minimum processing of the material, which preserves the maximum of its natural structure and properties: the dense and smooth texture is resistant to stretching and amazes with its water resistance; the strong and at the same time elastic, flexible, and breathable leather surface gives the belt needed convenience. True, from the first days of use, the leather may be somewhat stiff, but it'll quickly become pliable and adapt to your figure. The soft shine of full-grain leather oils adds a minimalistic appeal to the belt and will eventually contribute to the beautiful patina development.
In addition, vegetable-tanned leather nicely and accurately gains different personalization types like engraving or stamping. Therefore, in Hidemont, a mens leather belt is worth buying because you can make your belt as exclusive as possible or a meaningful gift for a loved man.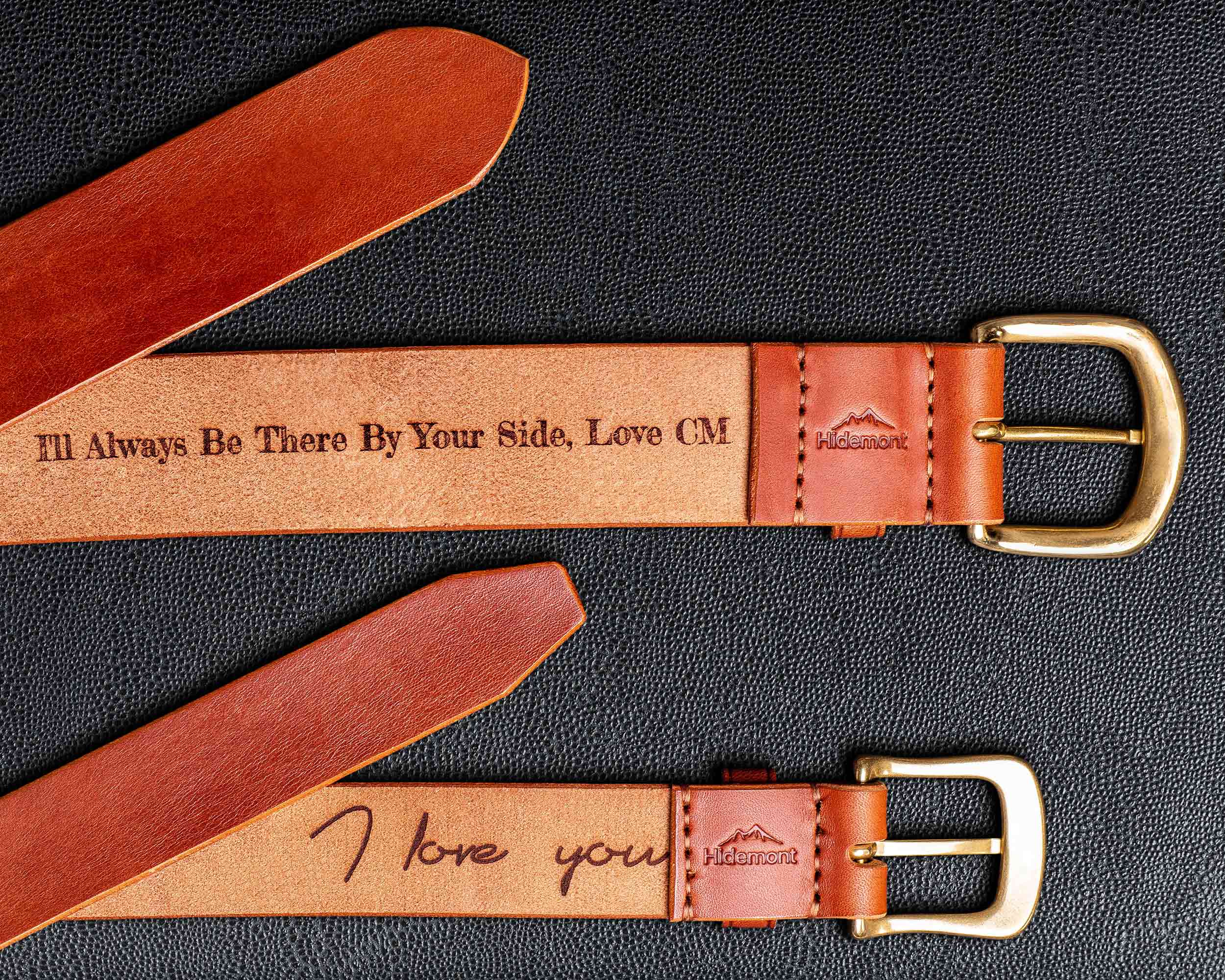 The quality buckle is a must
The buckle performs several core functions as fixing the belt to the needed waistline point, adjusting the length, and emphasizing the style. It's better to choose belts with a high-quality buckle that is easy to use, comfortable at the waist, and without sharp edges. A massive buckle can cause discomfort and look awkward, and a tiny one can inefficiently cope with keeping the trousers at the needed waist level.
We've fashioned all our belts with the highest quality solid brass frame-style buckles.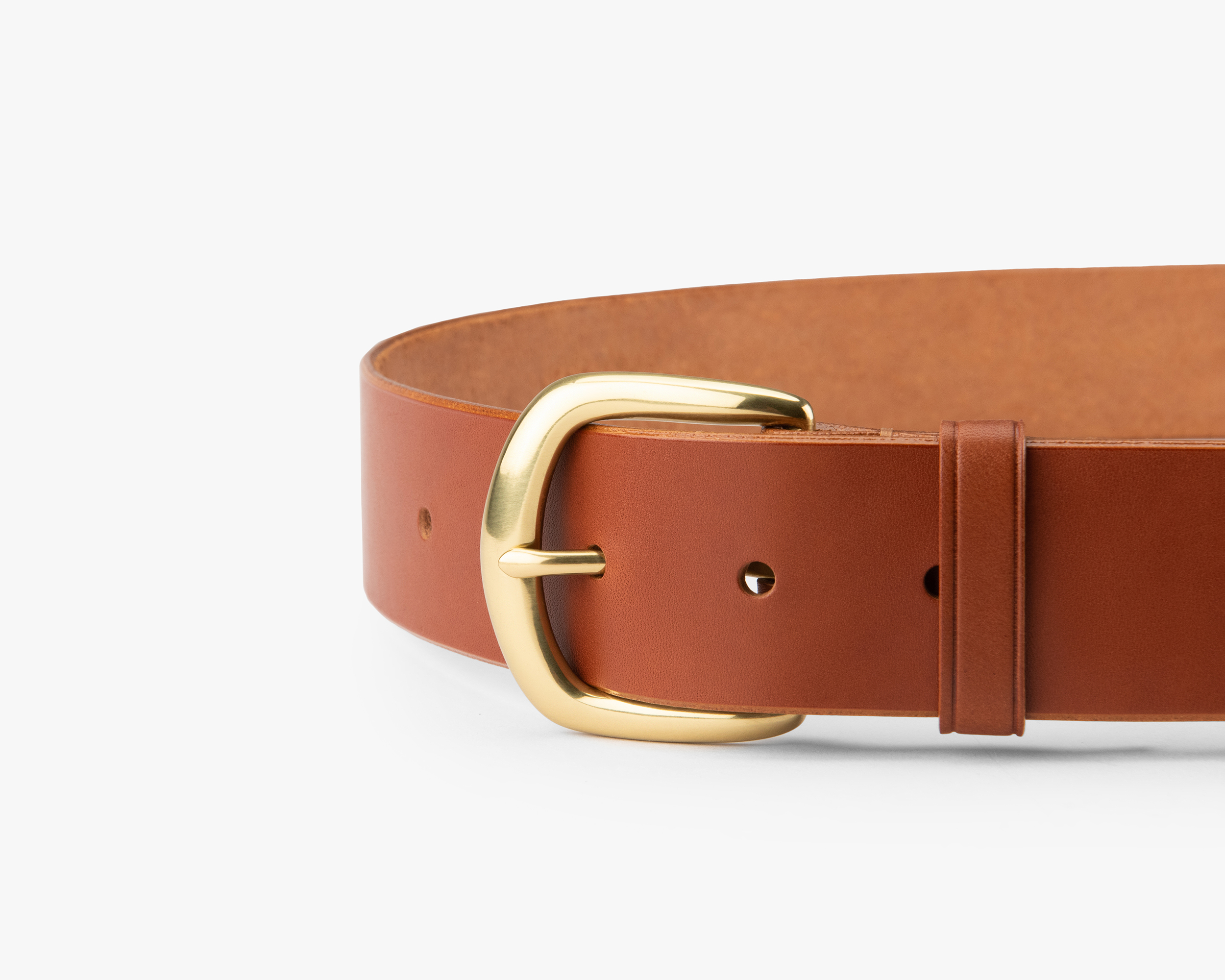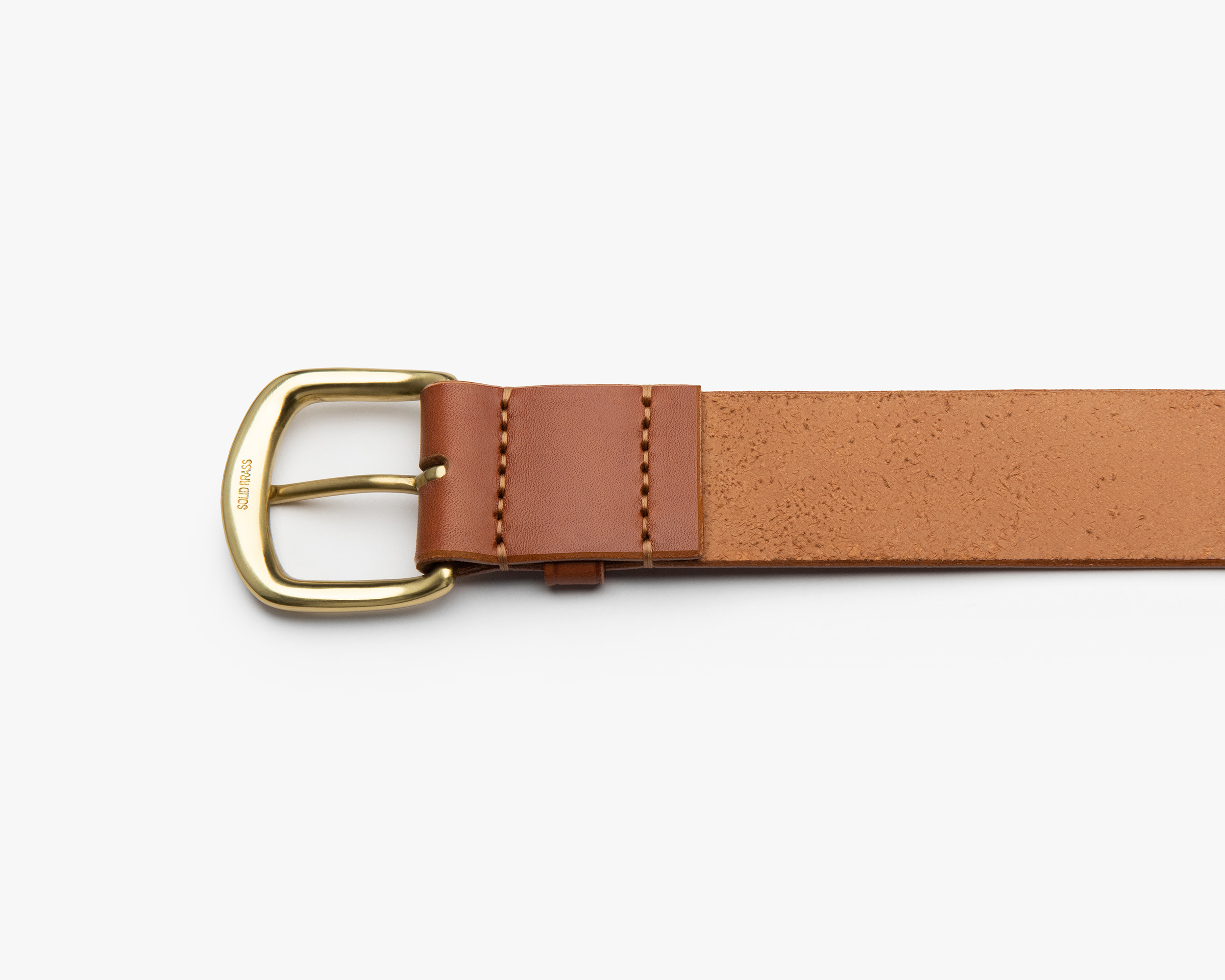 This buckle is reliable, strong, durable, resistant to corrosion and other external factors, and provides easy adjustment. And its vintage golden flair adds relaxed elegance to casual and formal attire. Also, the buckle we use for our belts is of the optimal size, sits comfortably on the waist, and complements the classic style that will never go out of fashion.
Choose the right belt size
It would seem that even the wrong belt size can easily fit into your outfit, but unfortunately, this is not so. There are several reasons why you need to buy a leather belt of the right size:
Too short belt will cause discomfort with every movement.

Too short belt will also wear out faster because when exposed to constant pressure, it'll stretch and, therefore, it'll quickly begin to crack and fray around the edges or break at the attachment points of the buckle. To prevent untimely fraying, we carefully finish all the edges, burnishing and polishing them.

If you choose a belt that is too long, you will always be annoyed by the strap end tucking away and the thought of how to fix it so that it doesn't bug you.

An incorrectly selected belt size will look awkward, visually making you look shorter.

An incorrectly selected belt size will not effectively keep the pants at the needed waist level.

The wrong size also implies possible additional costs and efforts to shorten or make new holes.
The Hidemont team is committed to providing you with the most enjoyable and smooth experience of choosing the best leather belt. For that, we give a simple and helpful guide on how to measure for a leather belt's best size:
But how do you know that the belt size is correct and it fits you as it should? You can tell by whether the belt is on the central hole, and you don't feel discomfort. It's recommended to wear the belt on the central hole because:
Most manufacturers design the length of the belt in such a way that the belt is on the central hole.

Wearing the belt on the central hole, you'll have additional holes on both sides for easy adjustment, which is convenient when the body parameters change.

If the belt is on the central hole, it'll have the optimal strap end length, which won't bother you while wearing.

By having the belt on the central hole, you'll distribute the load on the belt evenly, which will help you avoid untimely wear and deformation.
To get the perfect size, it's not enough to know only how long is a leather belt but also how wide it is. In our Hidemont store, you'll find two main types: men leather belts for trousers and jeans, the latter of which is much wider.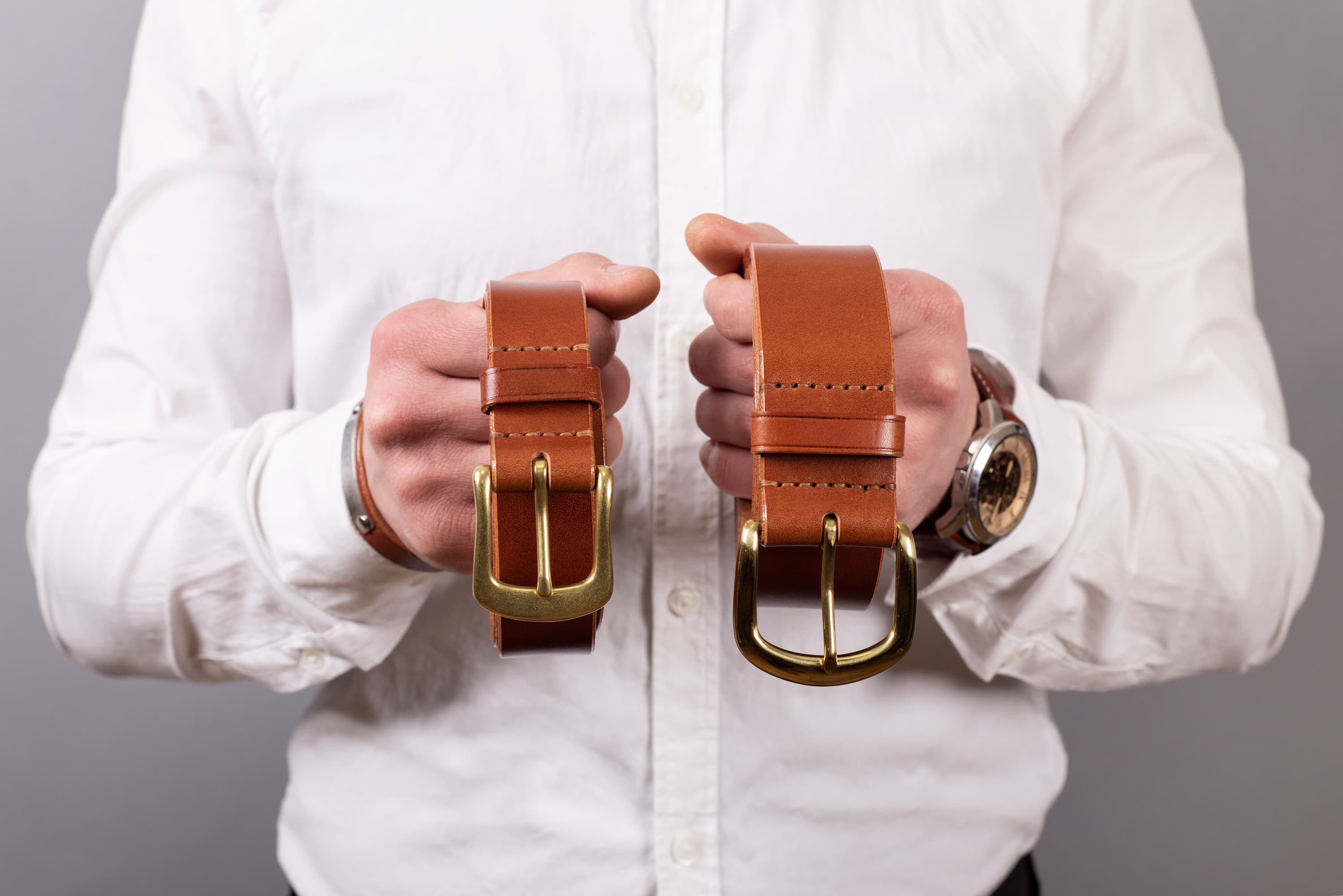 It isn't recommended to wear a trousers belt with jeans and vice versa. It's all about the width of the loops, and on jeans, they are usually larger, so the belt for trousers seems lost on jeans.
Handmade leather belts are a remarkable gift idea for him for any occasion. And I can confidently say that choosing such a gift may appear rather challenging since you probably don't want to ask the clothes size directly, so as not to spoil the surprise. Therefore, I suggest you take notice of the following tips:
If you know the size of the clothes that a man is wearing, then you can add 1-2 inches to it. For example, if the size of the trousers is 32, then the belt of size 34 is an ideal choice, that is, in the Hidemont size chart, the size M (86.3 cm).

If you have access to the wardrobe of the person you plan to give the belt to, you can measure its length. While doing this, pay attention to which hole sets apart the most.

Ensure that the store where you plan to buy the leather belt offers a loyal return-exchange policy. Hidemont is where to buy leather belts of the best quality and experience an excellent and transparent service, and we've clearly outlived our policy in our FAQs.
If you want to be 100% sure that the belt gift will fit perfectly, then you should consider the option of an e-gift card, which will allow you to save shopping time and add any message from yourself.
How to wear a mens leather belt: a few main recommendations
The designers recommend wearing a men's belt with a buckle to the left and the strap end – to the right. It comes opposite for women's belts.
Color is also a point not to be ignored when creating a complete look. The color of the belt should match the color of other accessories (watch strap, briefcase) or shoes.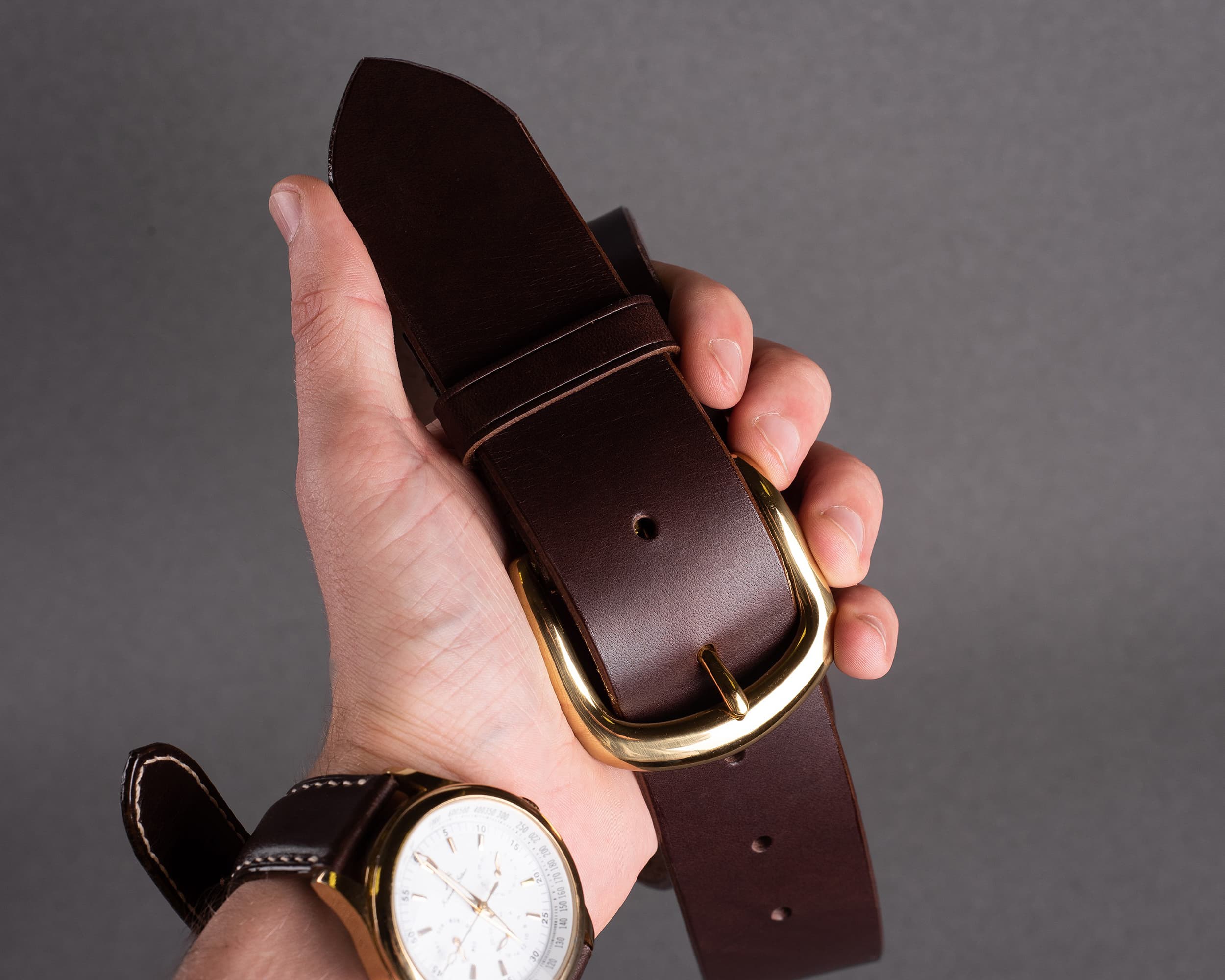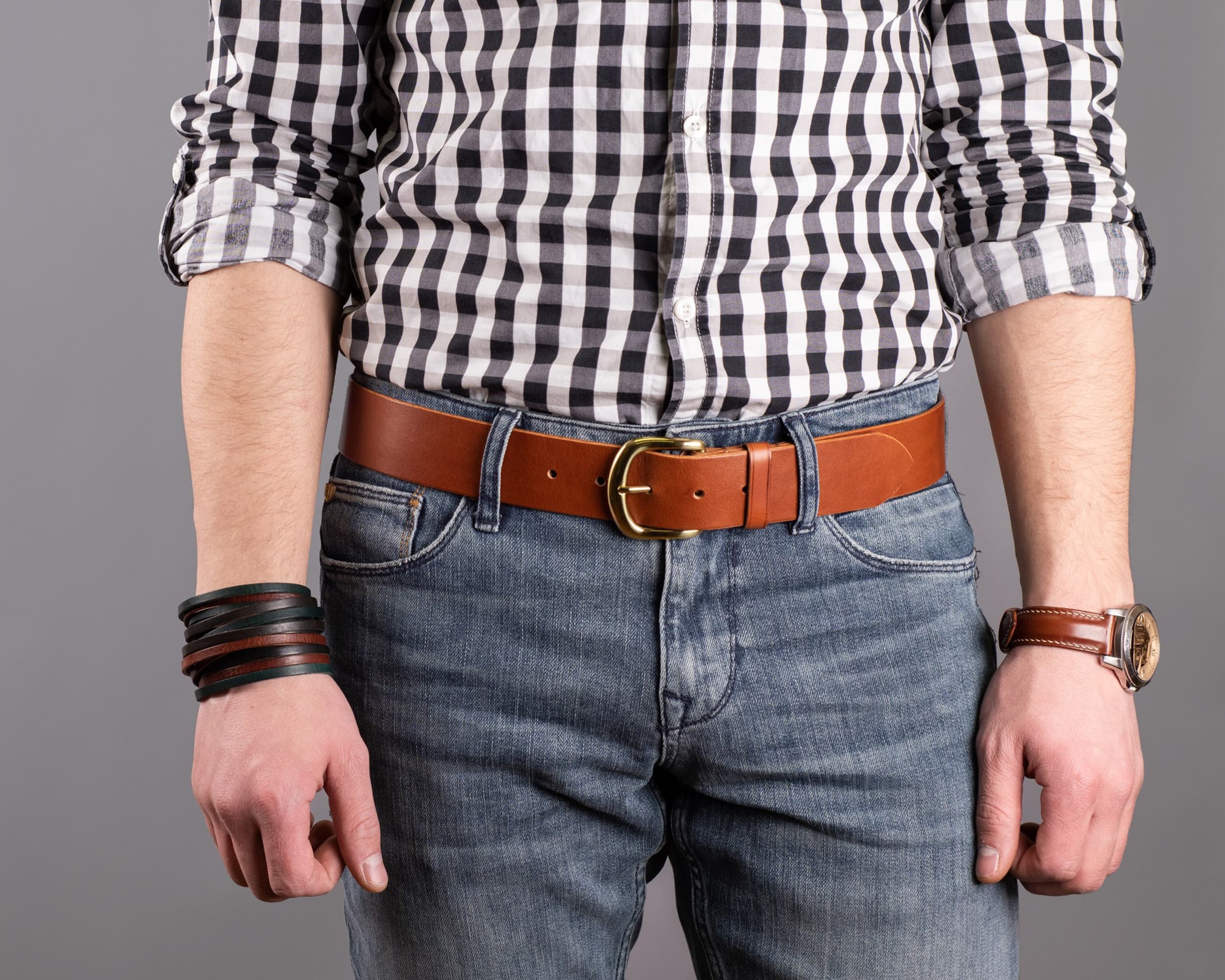 In our store, you can buy men's leather belts in a timeless range: discover a wide range of black leather belt and two different shades of brown leather belt, which will allow you to harmoniously match them with your shoes or accessories, as well the palette of our leather sunglasses cases or leather wallets.
In addition, it's great when the buckle color matches the color of other metal parts, such as cufflinks or watches.
Recommendations for the care and storage of a leather belt
Firstly, you should remember that full-grain leather is a natural, "breathable" material, which, despite its durability and wear resistance, which are noticeably better than with other materials, still has its life span. The correct approach to the care and storage of handmade products made of vegetable-tanned full-grain leather is guaranteed to increase the wearing time and preserve the attractive appearance of such accessories.
To keep your new belt leather texture as good as possible, you should:
Clean it with a slightly damp cotton cloth.

Once every three months, apply the leather conditioner (or hand cream, if you don't have it). This results from the leather layer of natural oil that wears off over time, leading to cracking or fraying. By conditioning the leather, you can prevent this from happening.

Avoid too intense contact with water. This is because the leather structure contains a layer of natural oils that help preserve its integrity. Exposure to water may lead to the destruction of this oil layer, compromising the overall quality of the leather. If your belt gets stained, clean it with a damp, alcohol-free wipe and allow it to air-dry naturally, but don't use artificial heat sources to speed up the drying process. Once the belt is dry, apply conditioner (or hand cream) on the leather, polishing it with a dry cotton cloth.

Store the belt in a dry place where there is no direct sunlight. All Hidemont belts are sent in branded wooden boxes, which makes this task a breeze.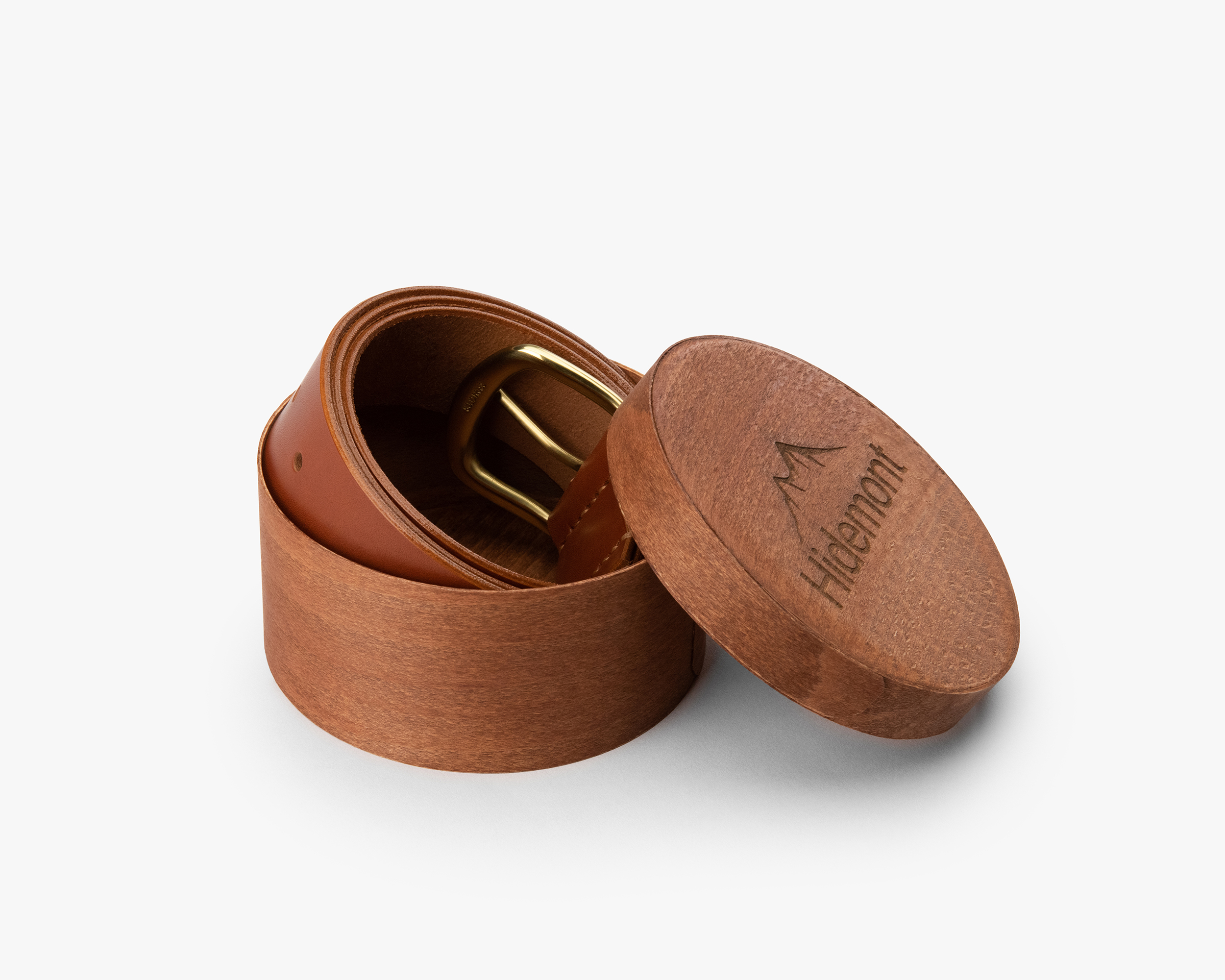 Avoid bending the belt.

Store the belt in the wardrobe, hung by the buckle.

Wipe and polish the buckle.

Check the belt from time to time for cracks or fraying.

Change your belts.
Please note that vegetable-tanned full-grain leather stands out with a beautiful patina, which adds uniqueness and refinement to the belt. With each day of use, the leather gets a darker shade and scratches, meaning it gets a vintage charm, which is an undeniable sign of the highest-quality material. If you don't like scratches on the leather, you can easily remove them by polishing them with conditioner (or hand cream) and a dry cotton cloth.
To sum up
Choosing the best leather belt is not just about choosing an accessory for everyday or special occasions, it's an investment in durability, comfort, and a stylish look regardless of the circumstances. It's essential to pay attention to the quality of materials, buckles, and correct size and follow simple recommendations for care and storage.
Our Hidemont team has considered all these aspects and developed a unique collection of trousers and jeans belts in timeless colorways so you can complete your outfits with a sophisticated accessory and be confident in your choice.