It's always there. It will always help out. It's a loyal friend and companion in beauty matters. A women's cosmetic bag is no longer just an accessory, but something more. It can be of multiple types, multi-functional, and multi-colored, but every lady relies on it equally. It will easily turn a beauty disaster into a beauty zen.
I can confidently say that the cosmetic bag is nothing more than a must-have women's accessory that embodies confidence, self-love, and care for the inner "self", because it stores, delicately protects, and effectively organizes everything we need for this in one place. From everyday makeup essentials to other items of personal use – it's there for everything your imagination will fly for.
Its role is difficult to overestimate – but in general, it's difficult to estimate the volume of essential makeup items one can pack into it. As a girl, I admit that one article is not enough to list makeup basics to have in it, and it's quite challenging to mention only 5 makeup bag essentials.
But I will take a chance and consider in detail what essential makeup products should be in the cosmetic bag, and to be short: what a girl needs for complete (or at least some) happiness.
I also want to share my life hacks for using a cosmetic bag, and it turned out that there are many of them, and, most importantly, the choice of your future assistant, which will be side by side with you for many years.
Check-list of the basic makeup must haves
To be quite frank, I`m very reserved about decorative cosmetics and mostly keep them for total make-up on a special occasion or just because all the stars aligned – on the occasion of a good mood. So, my personal list of what should I have in my makeup bag and what my basic makeup needs look like includes:
mascara

eyeliner

eyebrow pencil

matte lipsticks in neutral pastel pink and classic red shades
But I take the issue of skin care, and not only, seriously, which is why the considerable part of my basic (I will emphasize, the basic) cosmetic bag is well-stocked with:
face cream, tonic, and serum

lip balm

cleansing milk

eye care cream

creams for skin, hands, and feet care

manicure set (scissors, tweezers, etc.)

hair rubber bands and hair clips

sunscreen
And this is without taking into account those large but very cute and beautiful bottles and tubes that simply did not fit in the cosmetic bag and which now honorably occupy a place on the shelf in the bathroom next to that lonely "10-in-1" bottle, of course, not mine.
This is my list, it's extremely individual and meets my needs. But for some, it can differ significantly, and this is ok.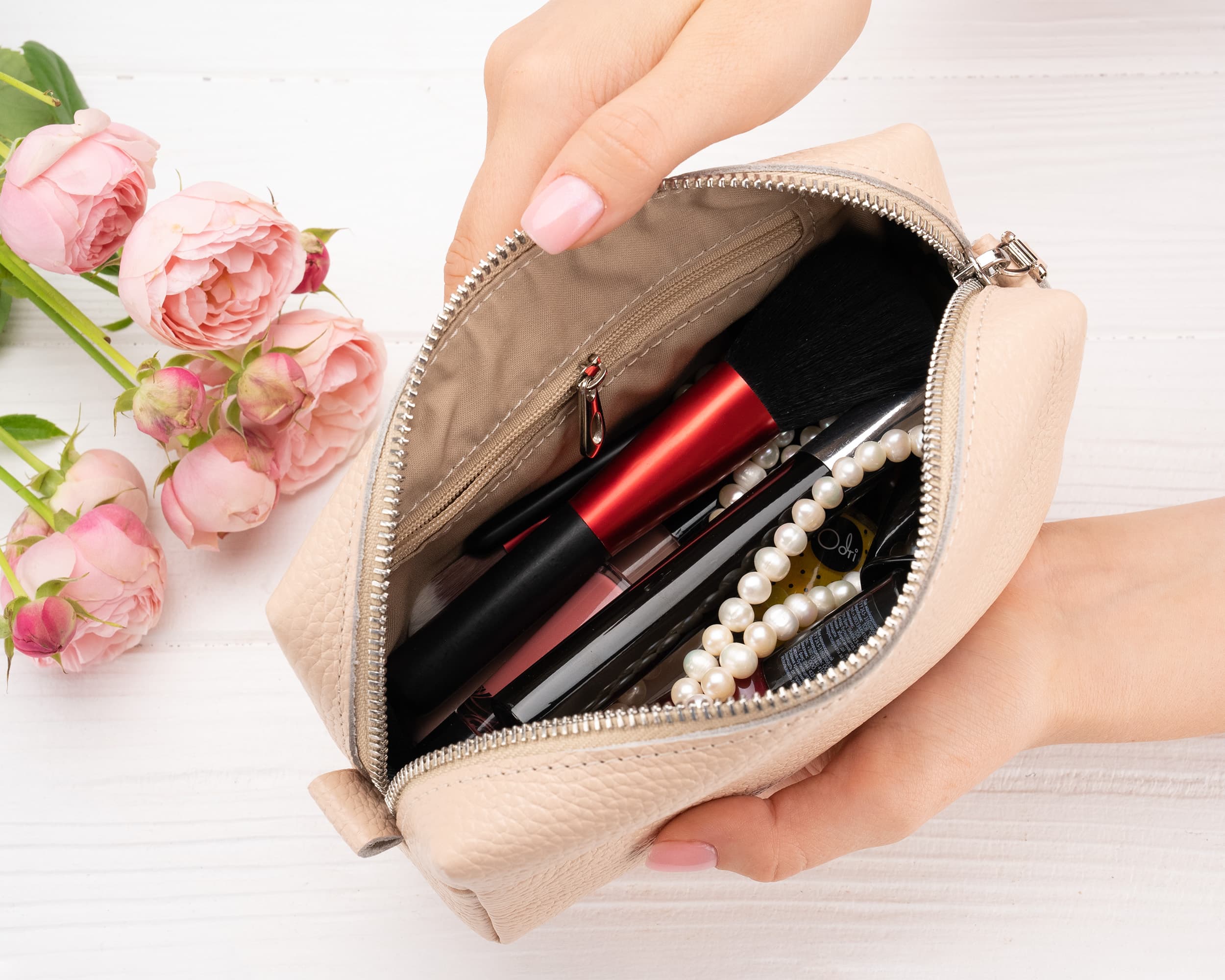 So, honestly, not having a clear idea of what essential makeup products other women most often keep in their basics cosmetics bags ('cause that's so intimate), I decided to ask AI what most women need for makeup. Here's what it mentioned:
foundation

concealer

powder

eye shadow

eye pencil

mascara

lipstick

foundation sponge

makeup brushes set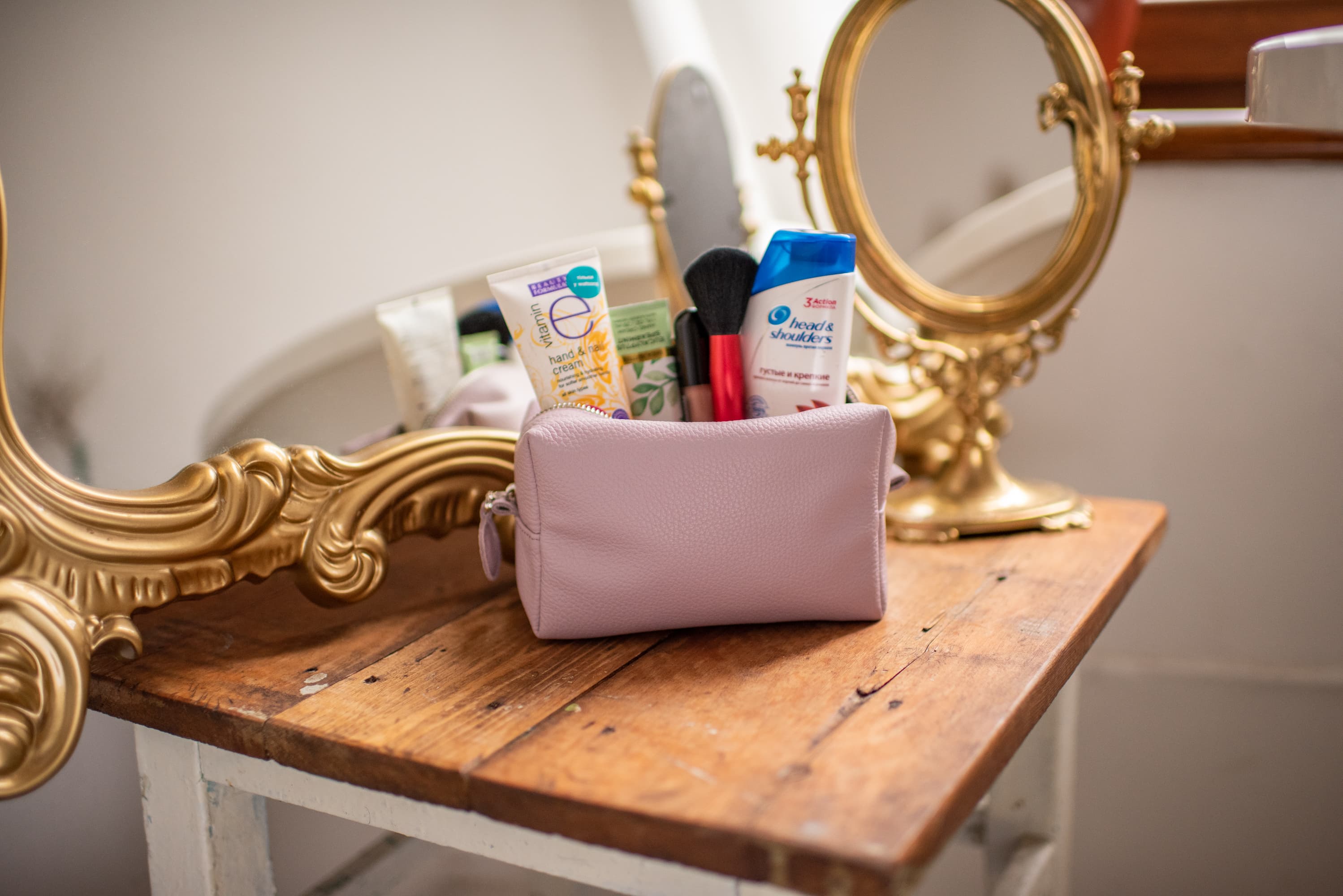 The versatility of a women's cosmetic bag in action
When it comes to accessories, women's creativity sometimes has no limits, and a women's cosmetic bag is no exception. It's banal to say that basic makeup bags are only for makeup essentials, and I am ready to prove it by my own example.
Of course, every lady should have her basics cosmetics bags, which will always store basic makeup must haves at hand. And this is especially appreciated when the hustle and bustle in the morning is already consistently making itself felt, or when you need to touch up your makeup at a party or apply light makeup after a night flight. Learn more about how to wear the right accessories for a particular life scenario.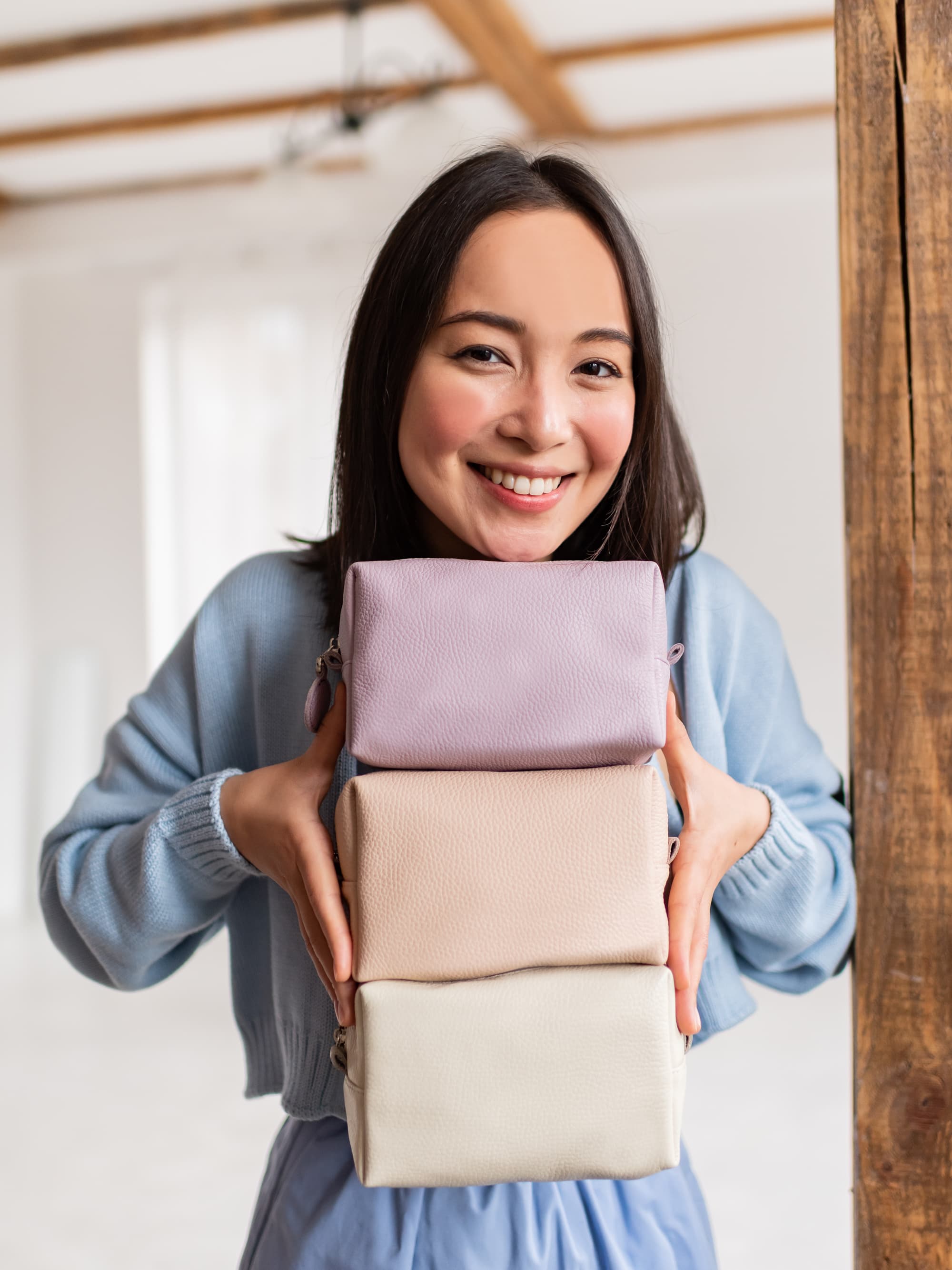 And just basics makeup bags appeared to be not enough for my lifestyle. I have my own stylish arsenal of several Hidemont cosmetic bags, which I use for their original purpose, and some of them – not really, namely as:
a basic cosmetic bag for essential makeup products and everyday care items

a cosmetic bag for makeup basics to have during trips (already in small travel cosmetic containers to pass the security checkpoint at the airport)

a cosmetic bag for cosmetics that I bought and never used (admit it, you also have one)

travel organizer for underwear and socks

a cosmetic bag for anything that comes to hand and never catches my eye again, but I know it's there. For example, spare ear pads for headphones, satin ribbons from gifts, shells and stones from the beach
Find more arguments for the fact that a women's cosmetic bag is a practical and versatile thing below. One can also use it as:
a first aid kit

a jewelry organizer

a travel organizer for your passport with a leather cover, boarding passes, and other documents

an organizer for a sewing set (thread, needles, pins, etc.)

an organizer for oil paints and brushes or other hobby attributes

a leather clutch bag

a stash place

a snack bag for work

a stand for your phone or tablet when watching movies/videos
How to choose a cosmetic bag for yourself or as a gift? (or why am I so addicted to Hidemont cosmetic bags)
My beauty treasures outlived many makeup bags, most of which were just cute. When choosing a women's cosmetic bag that you expect to be long-lasting, functional, and practical, give you a minimum of fuss and a maximum of elegance, pay attention to the following points:
1. Material quality
It's reasonable that the better the material of the cosmetic bag, the less trouble you will have with it and the faster you will forget about constant repairs or searches for a new one.
It's not recommendable to choose everyday accessories made of PVC, because, first of all, the transparent material looks cheap and inelegant, it will show all your makeup bag essentials without the slightest hint of privacy. And, secondly, it has a chemical smell, which is quite difficult to get rid of.
Nylon and polyester also have specific characteristics that you should not ignore. Because of their artificial texture, which "does not breathe", a favorable environment for the growth of bacteria can develop inside.
As for cotton cosmetic bags, it's worth noting that they give you the freedom to choose from a variety of prints and colors, and you can easily wash them, and this, in fact, is all about the pros. Cotton cosmetic bags cannot boast of their water-resistance properties. I don't think anyone is ready for unpleasant surprises in the bag. It's also not practical that such toiletry bags do not keep their shape, so they will never ensure the tidiness of essential makeup items. In addition, packing a cosmetic bag in a travel bag so that nothing breaks or crushes is still challenging.
None of the above awaits you with the Hidemont leather cosmetic bag, handmade from genuine pebbled leather.
The natural material properties provide wear-and-tear resistance, durability, a breathable texture with a unique pattern, a pleasant smell, and a rich palette of timeless shades. Genuine leather combines strength, good response to contact with moisture and elasticity. That's why this leather accessory keeps its shape perfectly, but it's not rough and tough in the hands.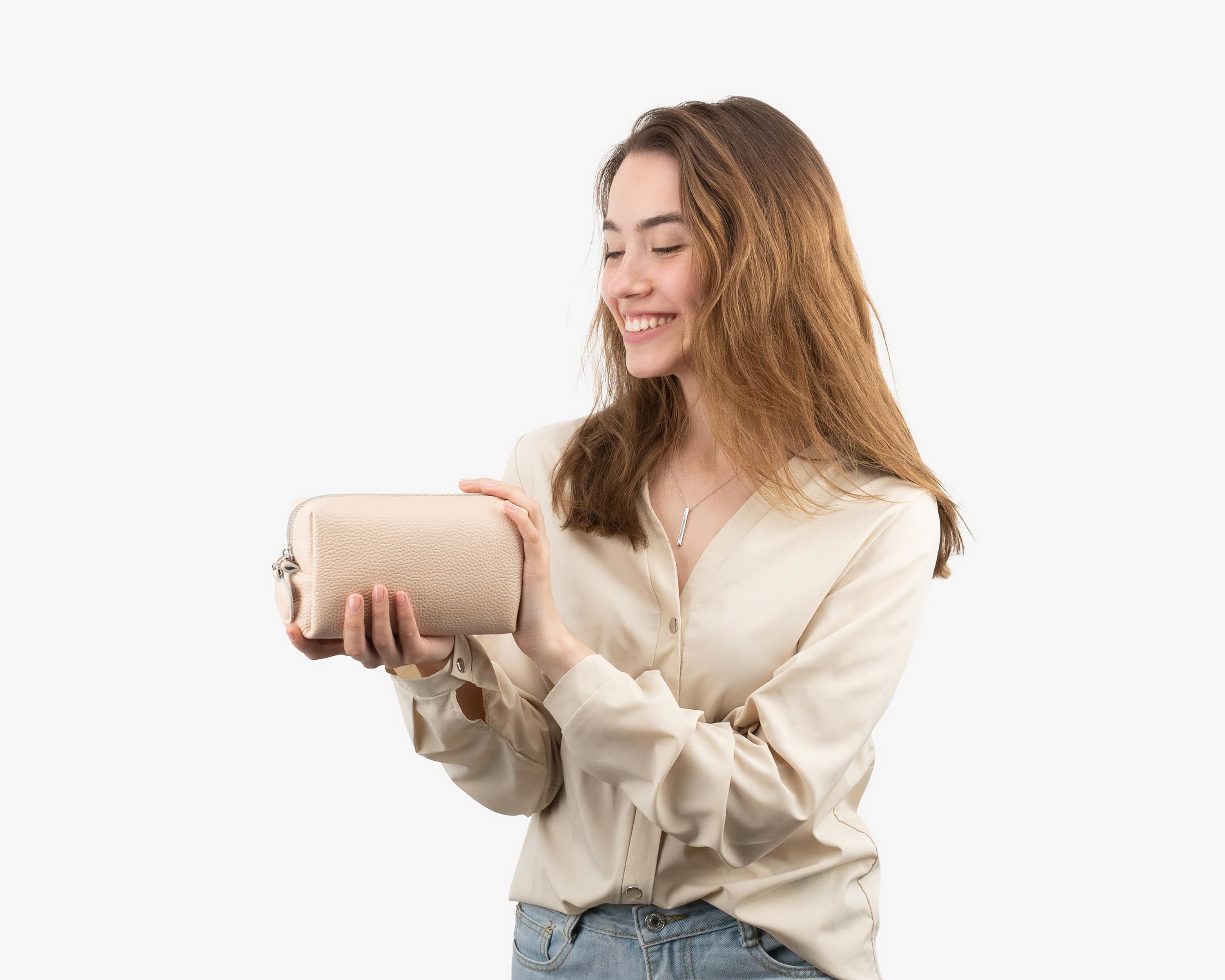 The soft and smooth texture of the cosmetic bag gives an incredible tactile sensation and easily adapts, for example, to all makeup bag essentials and the contents of any bag. The pebbled leather cosmetic bag will retain its original appearance without fraying and cracking much longer than cosmetic bags made of other materials.
2. Hardware quality
The quality aspect of the zipper is also crucial when choosing a women's cosmetic bag. It directly affects how long you`ll use the cosmetic bag, how often you`ll have to replace the zipper, whether your essential makeup products will be lost or scattered throughout the bag during transportation, whether you will be annoyed every time you open/close the cosmetic bag with endless jamming and what your new cosmetic bag will look like in general.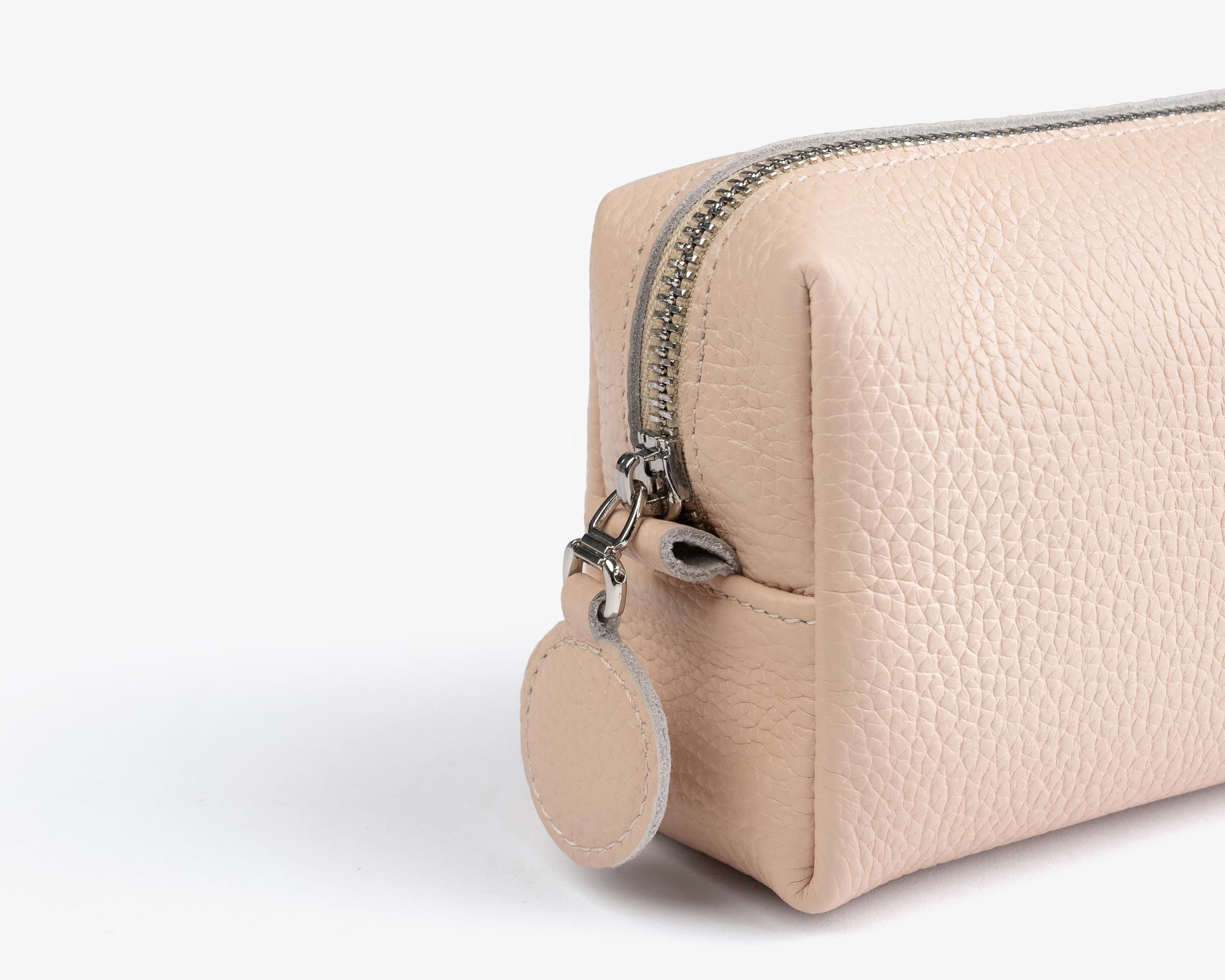 In creating our leather cosmetic bags, we choose only high-quality, sturdy zippers and carefully complete them with a neat leather pulley. We guarantee you the pleasure of a smooth zip glide, reliable protection, an effective cosmetics arrangement, a minimalist design, and the absence of the need to repair the cosmetic bag every few months. The zipper will not break, jam, or tear at the seam.
3. Lining
Cosmetic bags with a lining inside are much more practical than those without. The difference will be noticeable immediately right after the first beauty ritual.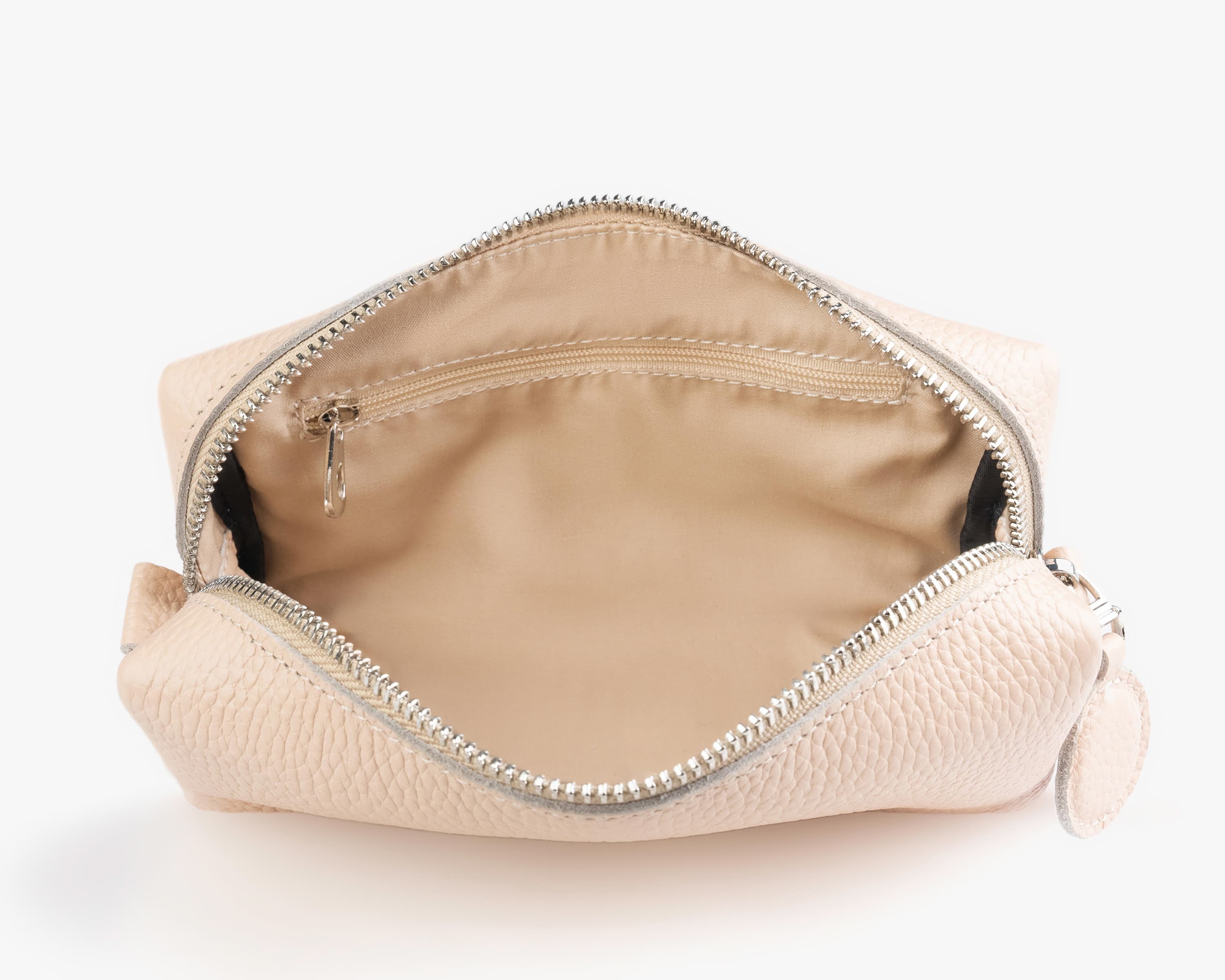 We`ve combined genuine leather with a soft, smooth cotton lining in one versatile design of Hidemont leather cosmetic bags. Thanks to this, the women's cosmetic bag is delicate to essential makeup items, keeps its shape even more, prevents leaks, and is more attractive inside. The lining also implies the additional zippered pocket for better organization and quicker access to the needed essentials.
4. The aspect of care
Life is life, and unpleasant situations of leakage and staining, unfortunately, can happen to everyone, both at home and on the go. Hygiene of a cosmetic bag is vital because it stores everything you need for makeup, that is, what often comes into contact with your skin. And the growth of bacteria or fungi can lead to very unpleasant consequences.
The Hidemont cosmetic bag is handmade from genuine pebbled leather, so it's easy to clean. Whatever they say that leather cosmetic bags require more thorough and complex care, I'm sure this is just an exaggeration. After learning more about our simple tips about how to take care of leather goods, and, in particular, how to care of pebbled leather products you will see it for yourself.
The lining facilitates the cleaning process and minimizes the possibility of stains on the outside of the cosmetic bag, and the natural "breathable" material prevents the growth of bacteria inside.
5. Size and capacity
Not to be disappointed with a new makeup bag, think about what exactly you`re going to keep in it, as well as in what life situations it can help you out: only in everyday use or, perhaps, in frequent trips.
The main thing is to find a balance between size and capacity: a roomy cosmetic bag can be too bulky and huge to pack in a travel bag, and in a very tiny one you can put barely half of everything that should be in a cosmetic bag for confidence throughout the day.
I have several Hidemont cosmetic bags, but this isn't because they`re too small, but because each of them is there for a certain role. They are compact for carrying in a bag but have a generous main compartment + an additional internal zippered pocket.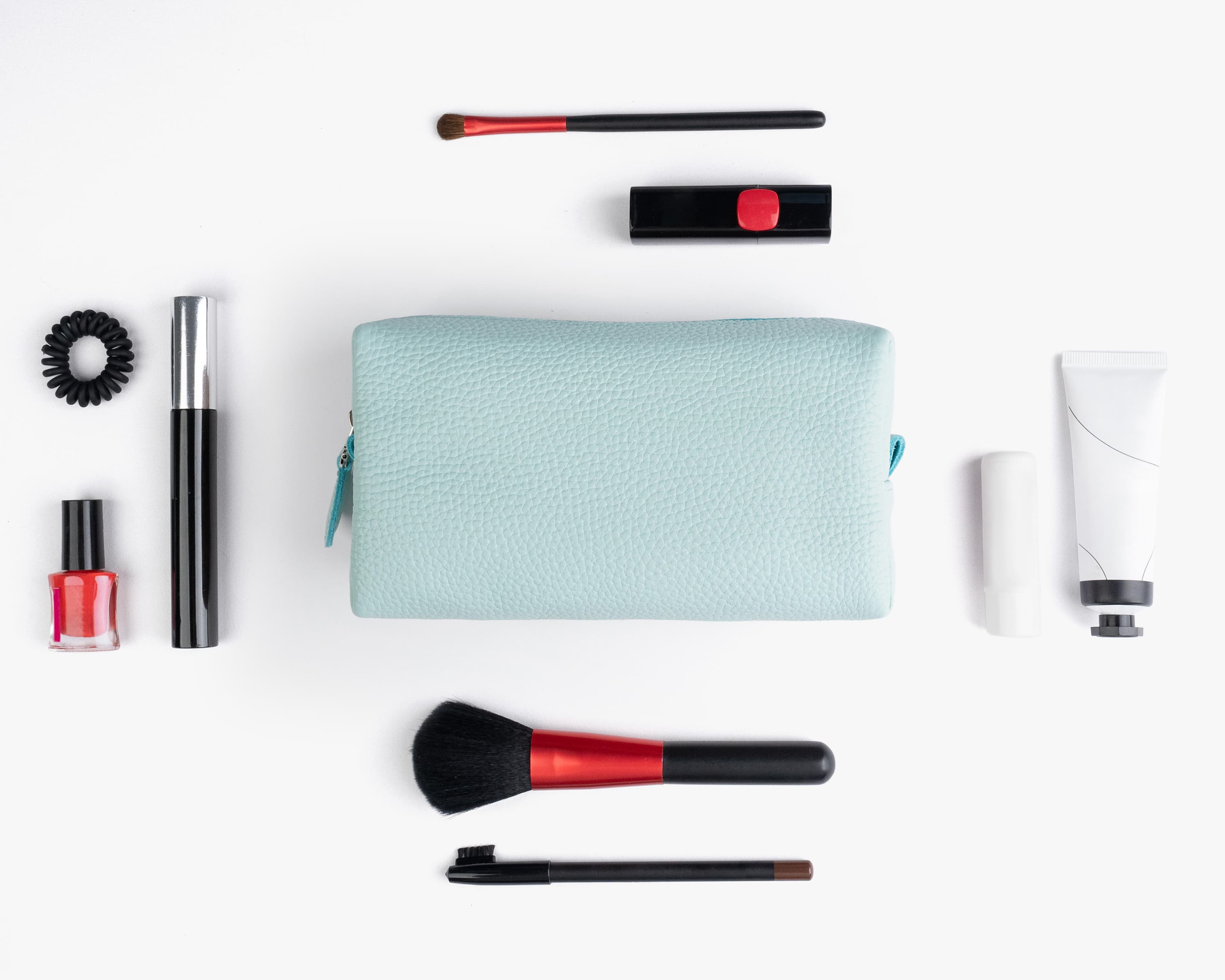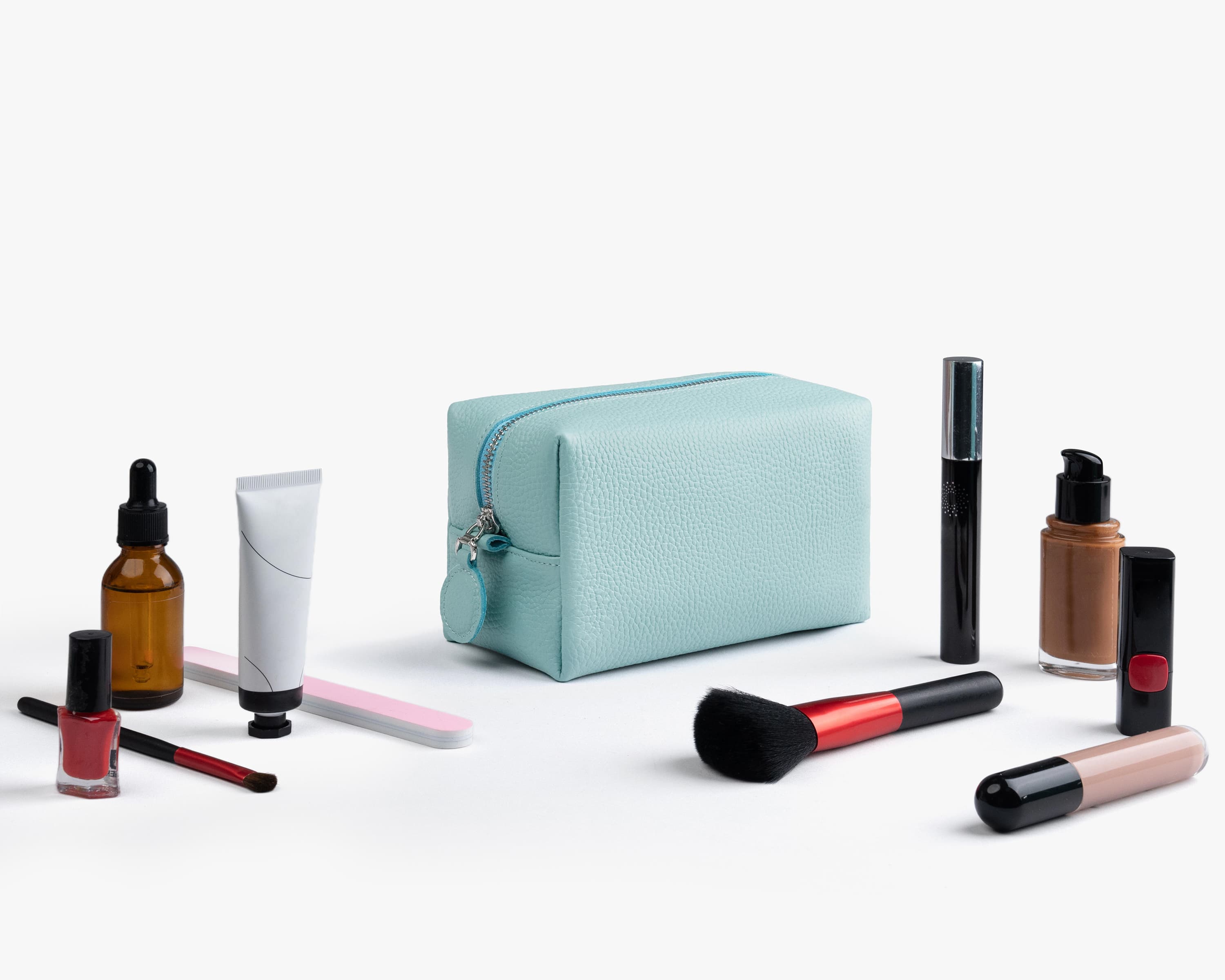 They also come in two different sizes, and you`ll find the one that suits your basic makeup needs.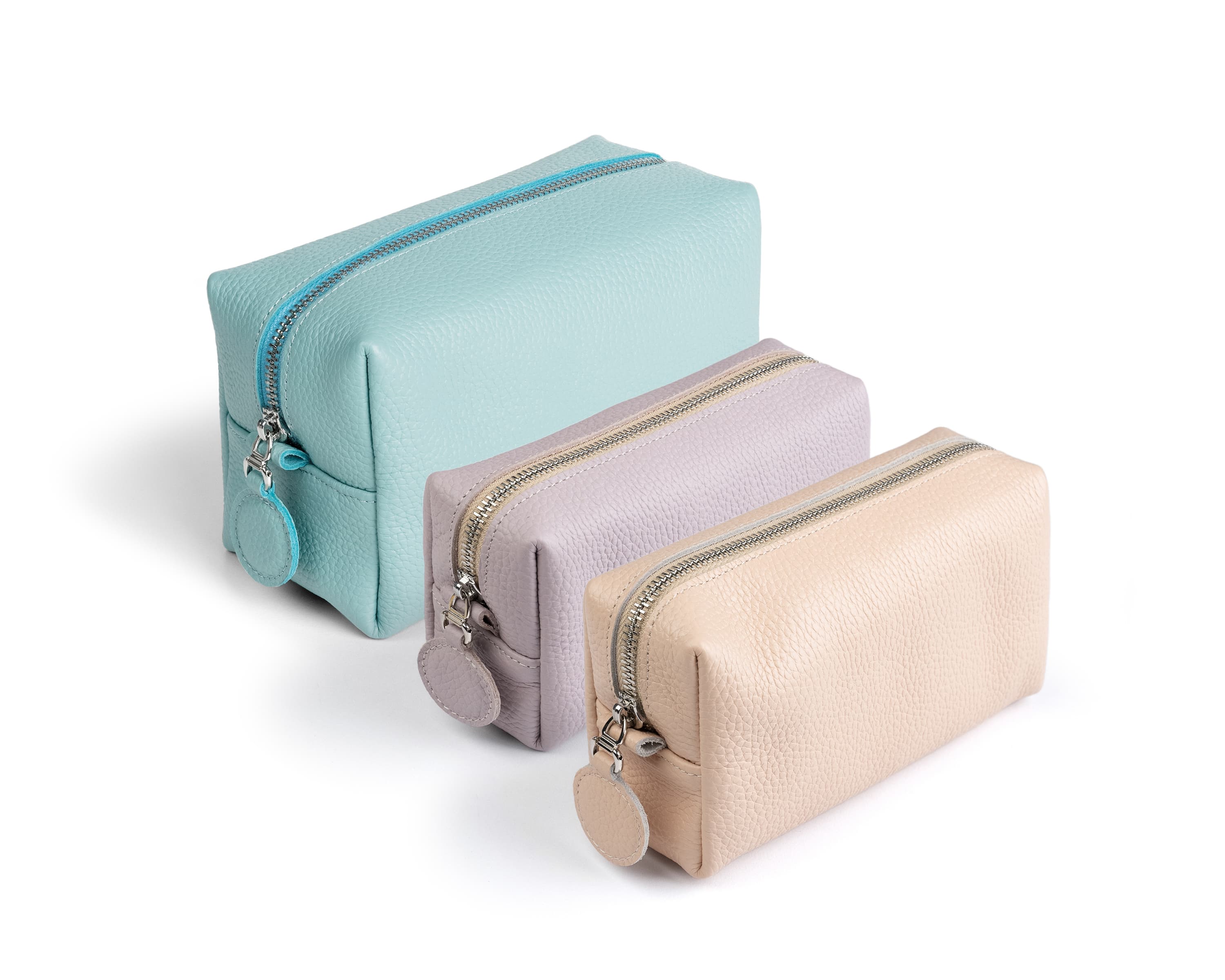 6. Aesthetics and personalization options
I will not lie, the design and aesthetic value do influence the choice. After all, everyone expects this accessory to reflect their style, preferences, personal taste, and state of mind.
The Hidemont leather cosmetic bag is quite minimalistic, so you won't find anything excess about it, which makes it so charming and versatile, and the handmade design makes it unique and meaningful.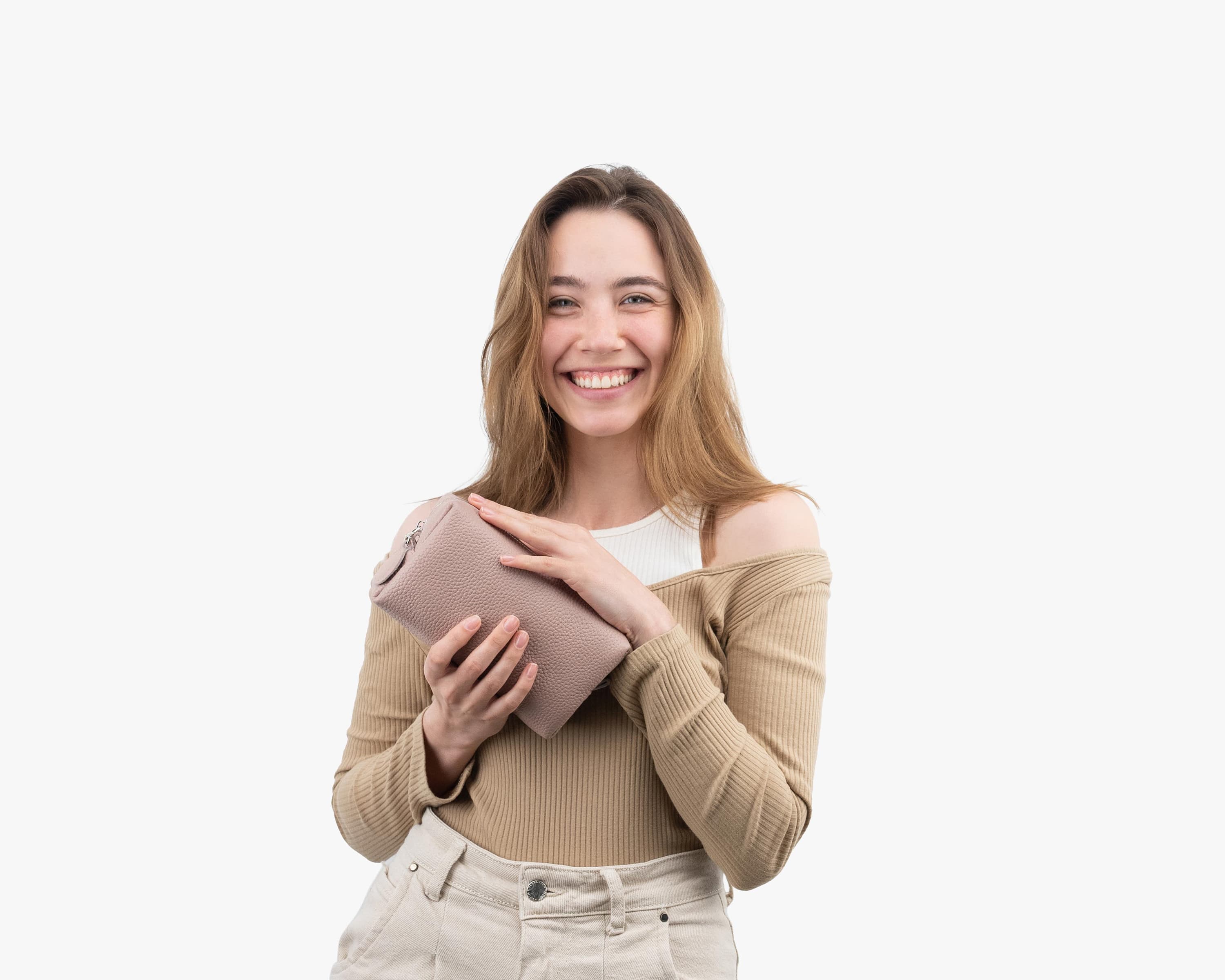 Such a cosmetic bag won`t be a shame to pull out of the bag and show it off in front of your friends. Such a cosmetic bag won`t be a shame to choose as a gift for your mother, grandmother, sister, girlfriend, wife, or friend for any occasion or for no reason. Our designers have developed an elegant and delicate palette that will become a harmonious part of your everyday life and emphasize your personality.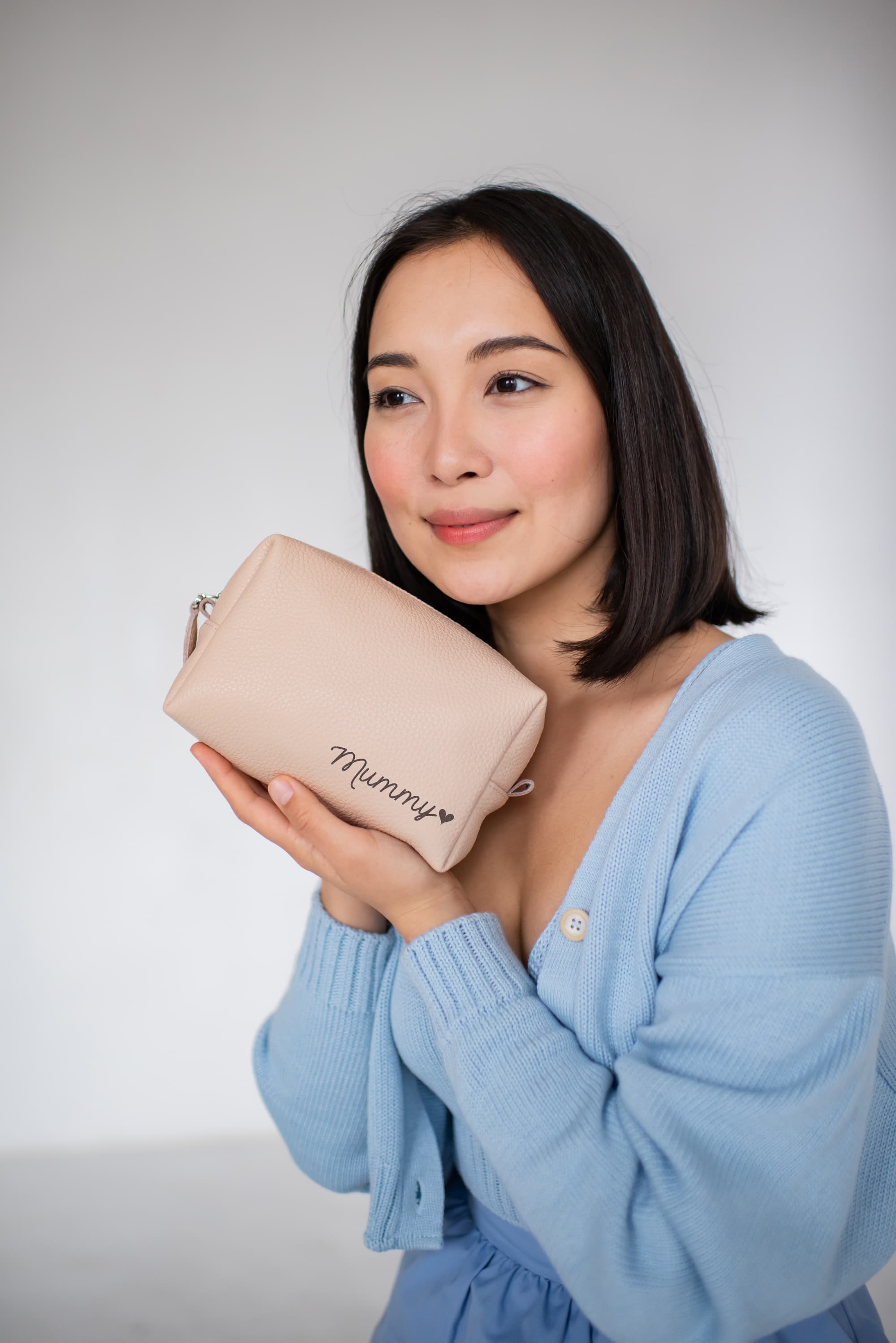 Also, you can create your personal beauty story by adding a unique touch. Artfully laser-engraved initials or name on a leather cosmetic bag will enrich it with so much sense. Experience a good selection of engraving fonts and incredible precision technology: find out more about laser-engraving on leather.
To sum up
I hope my reflections on what should be in your makeup bag and tips for choosing a new accessory will inspire you to express yourself and the courage to listen to your inner voice. I`ll be happy to know what you store in your makeup bag and how you approach the search for a new beauty companion.