Of course, appearance can play a key role during important moments in life: an interview, the first meeting with the person you secretly love. However, it`ll be difficult to make an impression if you don't feel confident in your clothes. The same goes for outfit accessories.
That is why it's so important to determine the importance of stylish accessories. You should combine clothing and accessories harmoniously and you should be in harmony with both clothes and accessories. One should not underestimate the role of accessories!
Therefore, we open Hidemont's style and accessory zen courses and recommend that you read our review of the best summer 2023 fashion trends. So, we`ll have a fashion-focused glance at how to choose designer leather accessories for particular outfits. Don't worry, our tips won't take long.
In this article, we will talk about how to wear accessories according to your style of clothing, according to a certain dress code, and about the features of choosing the color scheme of accessories. We will also discuss why you should select a high-quality leather accessory and how to make it speak of your individuality.
General view on the outfit style
The selection of clothing and accessories is, of course, the basis. Each of us (regardless of whether we want to or not) is identified with a certain style of clothing. If you look not that globally, then at least something will prevail: classic, gothic, sports styles, oversized attires, accent on branded clothes, bright sequins, or other elements that determine our taste. Here you can add your version (and you can do this in the comments to this article).
Therefore, this overall style should become the basis for future accessory ideas.
Careful color selection
If you carefully analyze your wardrobe, you will see that you prefer some color or color scheme. That's the second most vital point that determines the style. The colors of clothing and accessories do not have to be the same, but they must be harmoniously combined or complement each other. The easiest way will be to bring the finishing touch to the black, gray, white, and brown shades of clothing. In this case, you can easily choose stylish womens leather accessories because most leather products are in these colors.
Hidemont designers are proud to offer you a rich palette of colors, including delicate, natural, and bright ones. The choice of color depends on the type of leather from which a certain Hidemont accessory is made.
For example, our Crazy Horse leather notepad covers come in 14 colors, pebbled leather makeup bags will win your heart with their elegant and sophisticated shades of 6 colors.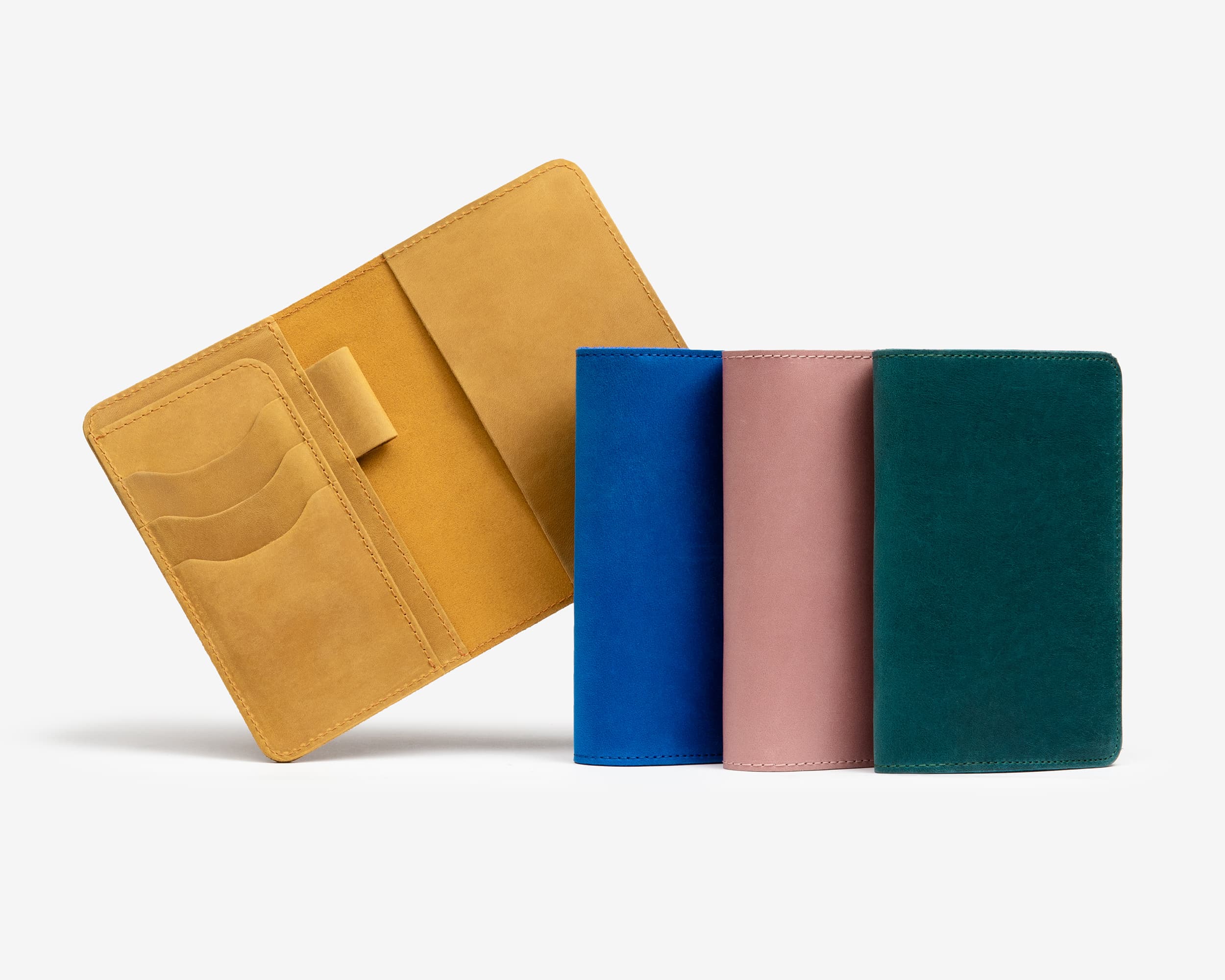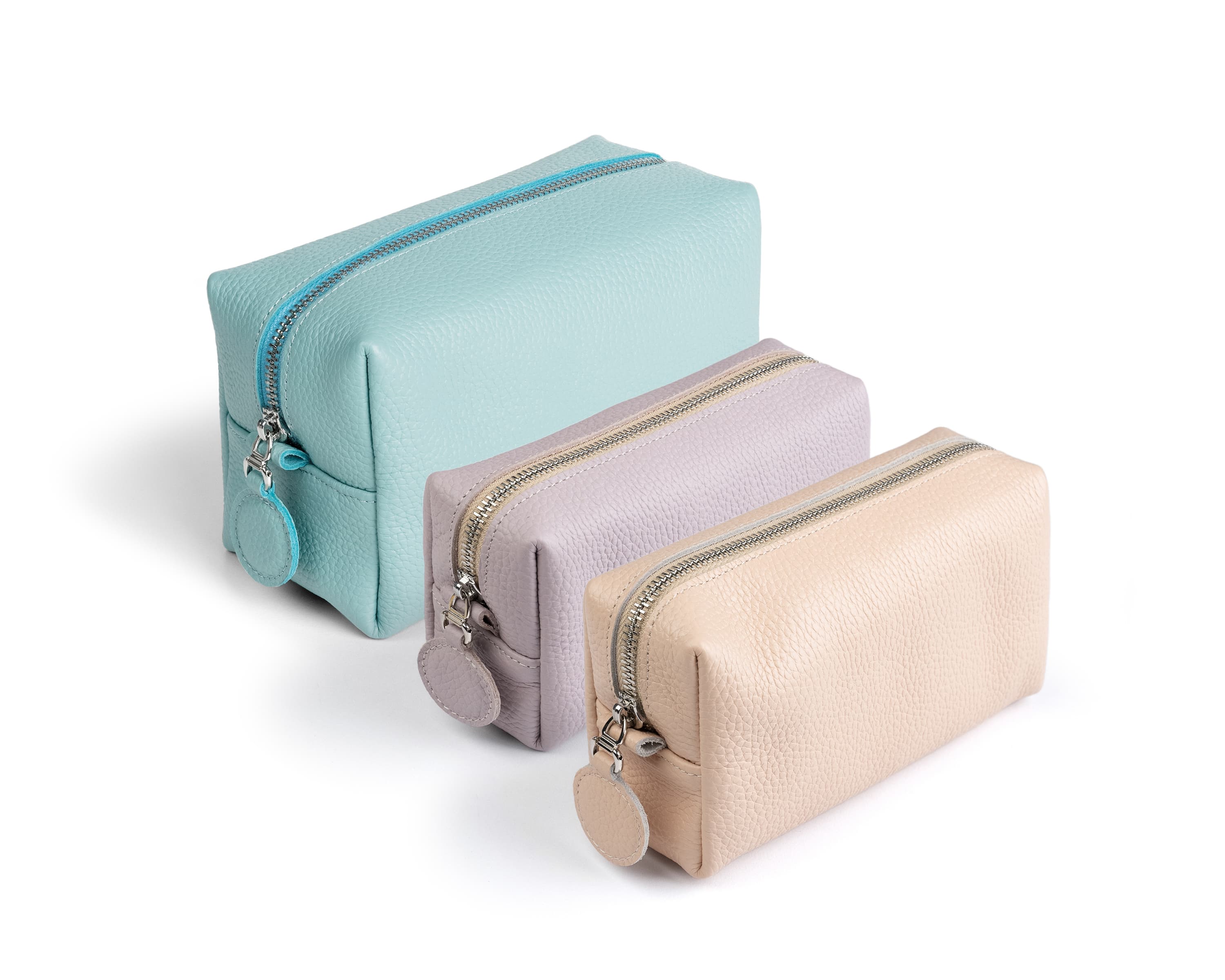 And, choosing between full-grain vegetable-tanned leather sunglasses cases, you will find your favorite one out of 3 timeless colors.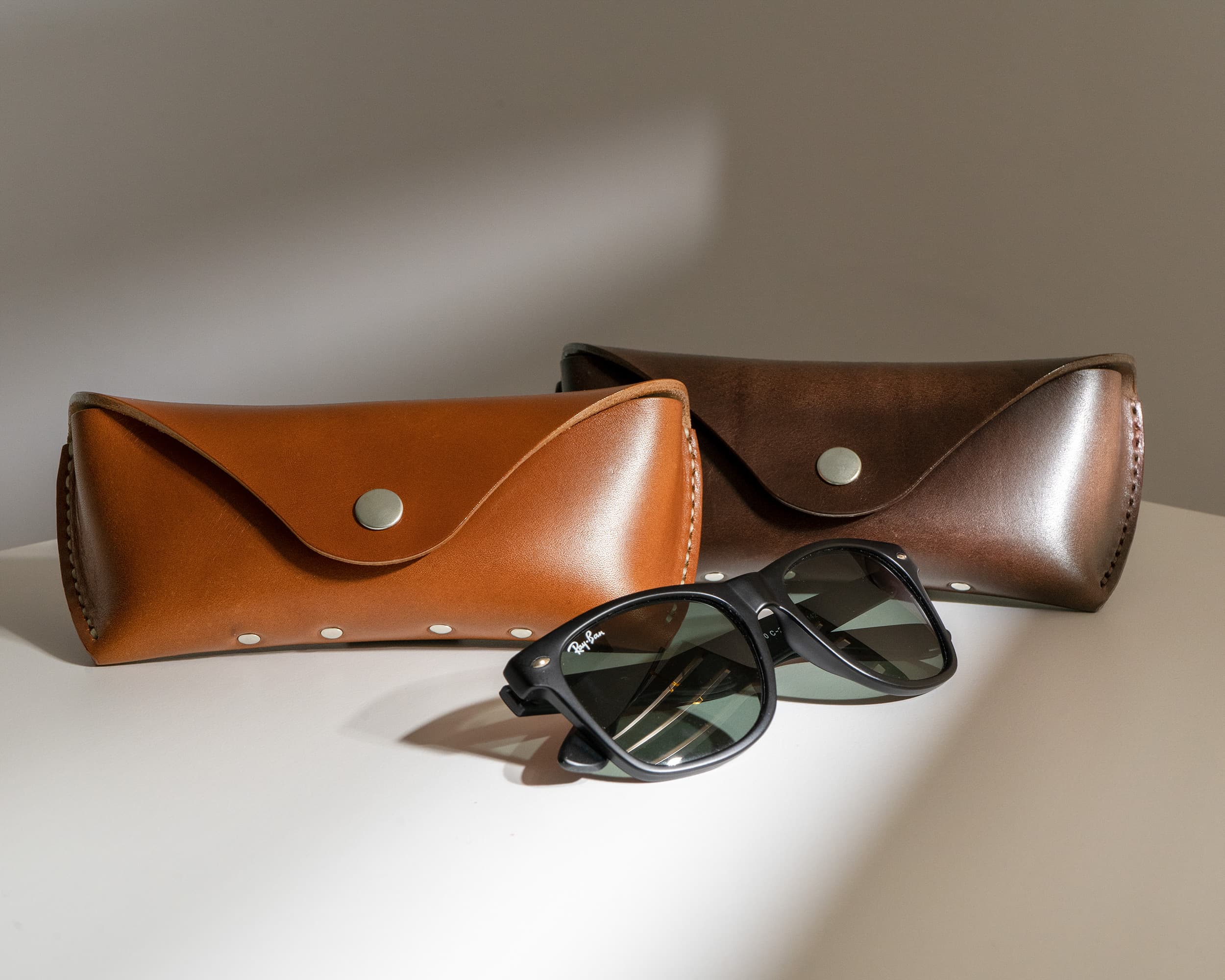 For your convenience, we have given each color a meaningful name, such as evergreen, cognac, ginger, peony pink, and antique rose. Sounds intriguing, doesn't it?
Please note that the color in the photo may not always look as in real life. During each photo shoot of all our products, we do everything possible to make the color look as accurate and natural as possible.
However, please note that the color of the illustrated product may slightly vary due to photographic lighting sources or your monitor settings. Also, the accuracy of the shade is affected by the fact that leather is a genuine, natural material, and on different areas of the leather, different colors look lighter or darker.
If you notice the color differences between the product photo and the color of the product that you received, don`t get disappointed. This means you`ve added an outstanding accessory to your wardrobe that no one else will have!
The importance of the best quality leather accessories
Fashionable and unique accessories always attract our attention, and, yes, let's be honest, we often buy gorgeous and cute appearances. But if such accessories will last only a few months, after which they will finally lose their original appearance, then this makes no sense. We recommend avoiding leatherette or artificial leather at all costs. Such products will sooner or later show their true side of quality.
Goods handcrafted of genuine leather make a considerable difference. We carefully select and test all the leather (and we have many types of leather) for our designer leather accessories, ensuring their lasting design.
Learn more about leather goods care so that your brand-new accessory will delight you with its magnificent appearance for a long time!
However, it would be wrong to say that the quality of accessories depends solely on the material. No less significant role in terms of the durability and wear resistance of products plays the hardware choice. All our womens leather accessories come with minimalistic and sturdy hardware.
You can read more about the types of hardware Hidemont accessories are finished with.
How to wear accessories according to a life situation
The choice of clothing and accessories depends on a life situation. For example, it's not very appropriate to come to the office in a swimsuit and pareo, or at a party with friends, we may feel like a white crow in a classic suit with a briefcase in our hand.
Not only clothing but also modern outfit accessories set the needed mood. In addition, the justifiably important role of stylish accessories is to create a never-to-be-forgotten image both personal and professional.
For special events
As for me, it's still a mystery how to accessorize an outfit for special events, such as wedding ceremonies. Having dressed in an elegant dress, made a neat hairstyle and evening makeup, and picked up beautiful heels, one doesn`t want to spoil the look with a bulky bag. But, yes, a bag is a must-have.
This women's accessory stores and carries the minimum set of necessary things, such as a phone, wallet, keys, handkerchiefs, "emergency" makeup, and other things that help us look our best even after a few hours of fun.
A leather crossbody bag, which we named Sandy, will help you out if you often face a problem like mine.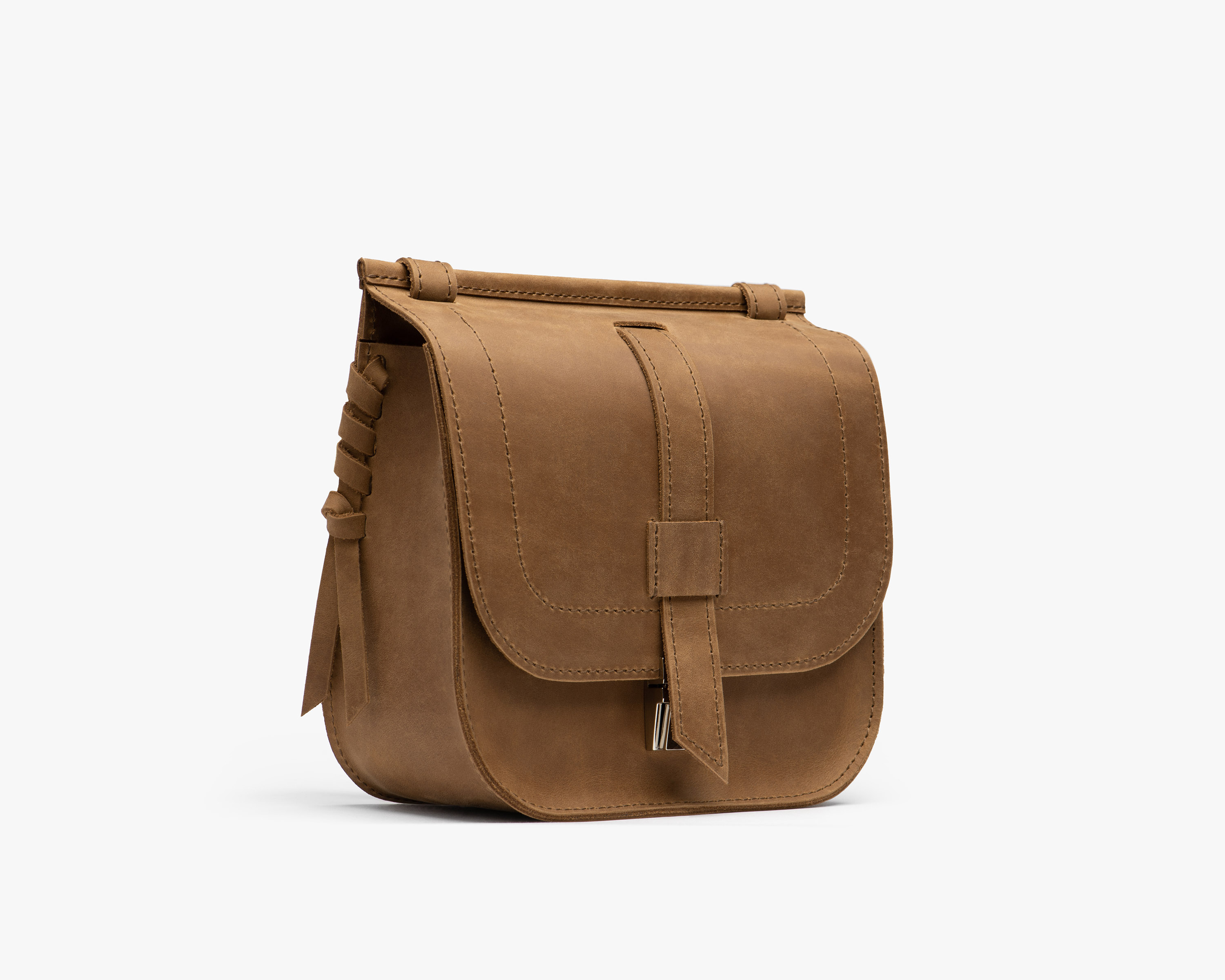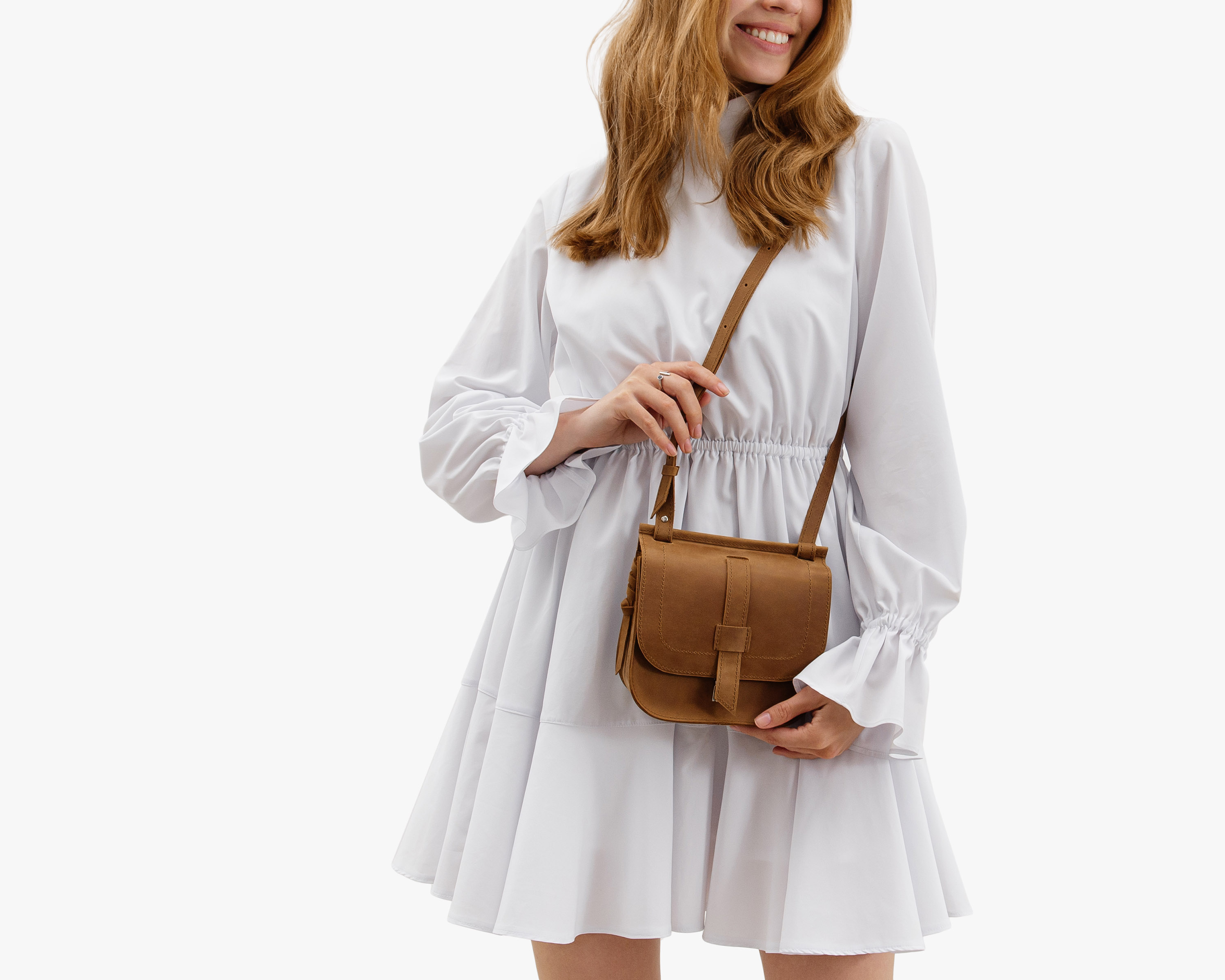 Its compact but generous compartment securely closes with a high-quality clasp and has an additional internal pocket for better organization. The bag fits comfortably on the shoulder thanks to an adjustable leather strap. More importantly, this petite bag perfectly complements the romantic look with its vintage design and classic palette.
A leather wine bag solves several problems you may have when getting ready for any official event: carrying a bottle of wine in your hands, packing a gift wine bottle, and making an unusual gift to a lover of noble drinks.
For business meetings
Are you planning a business meeting? Then, don`t forget to look for quality and prestigious-looking business casual accessories. You can always count on our personalized leather business card holder, which can hold up to 40 business cards without taking up much space in a bag.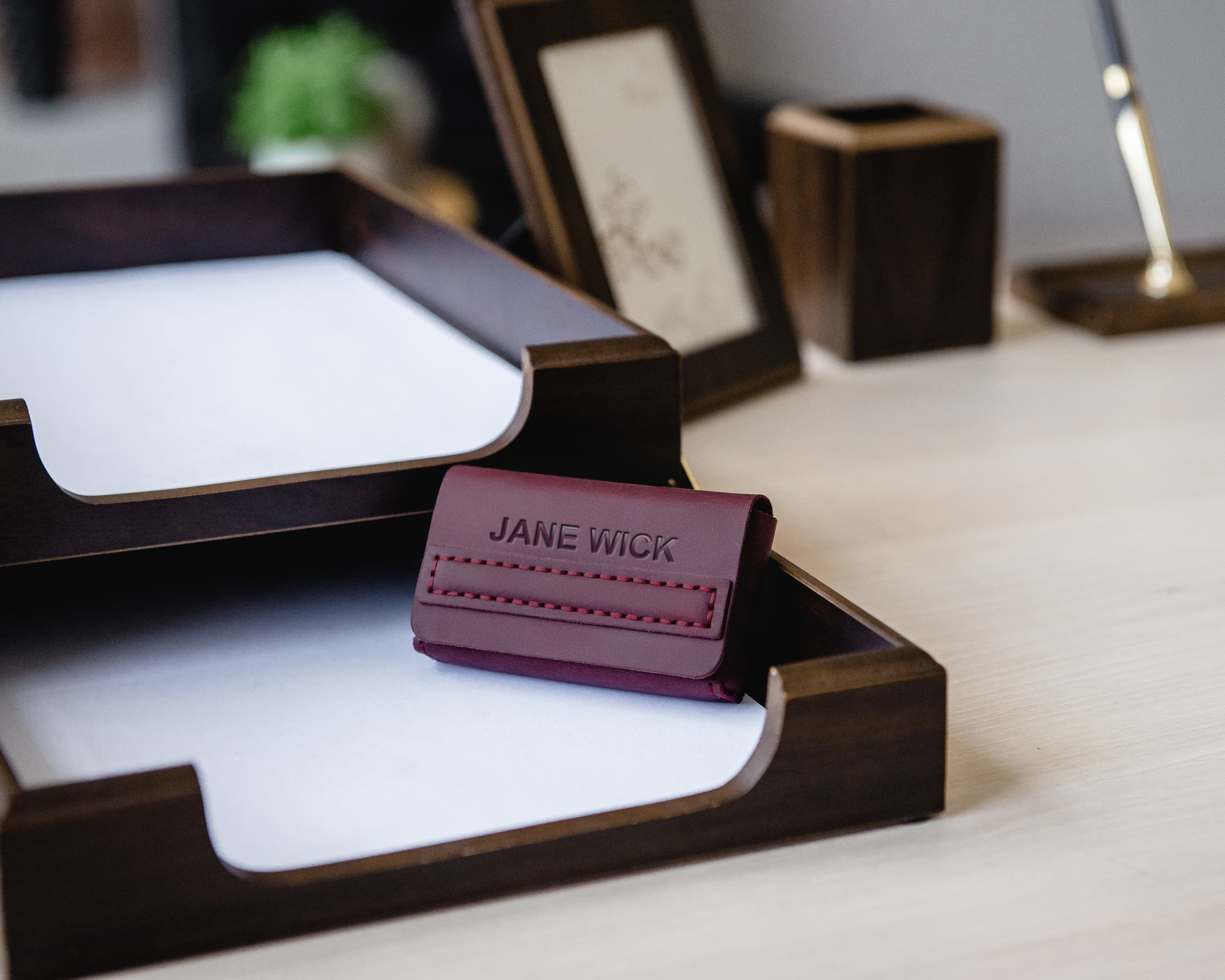 If you plan to work on a laptop during negotiations, trust our leather laptop case, which will not only carefully protect your device from damage and weather conditions but also make a professional impression on your potential clients or partners with its high-quality and exclusive personalization.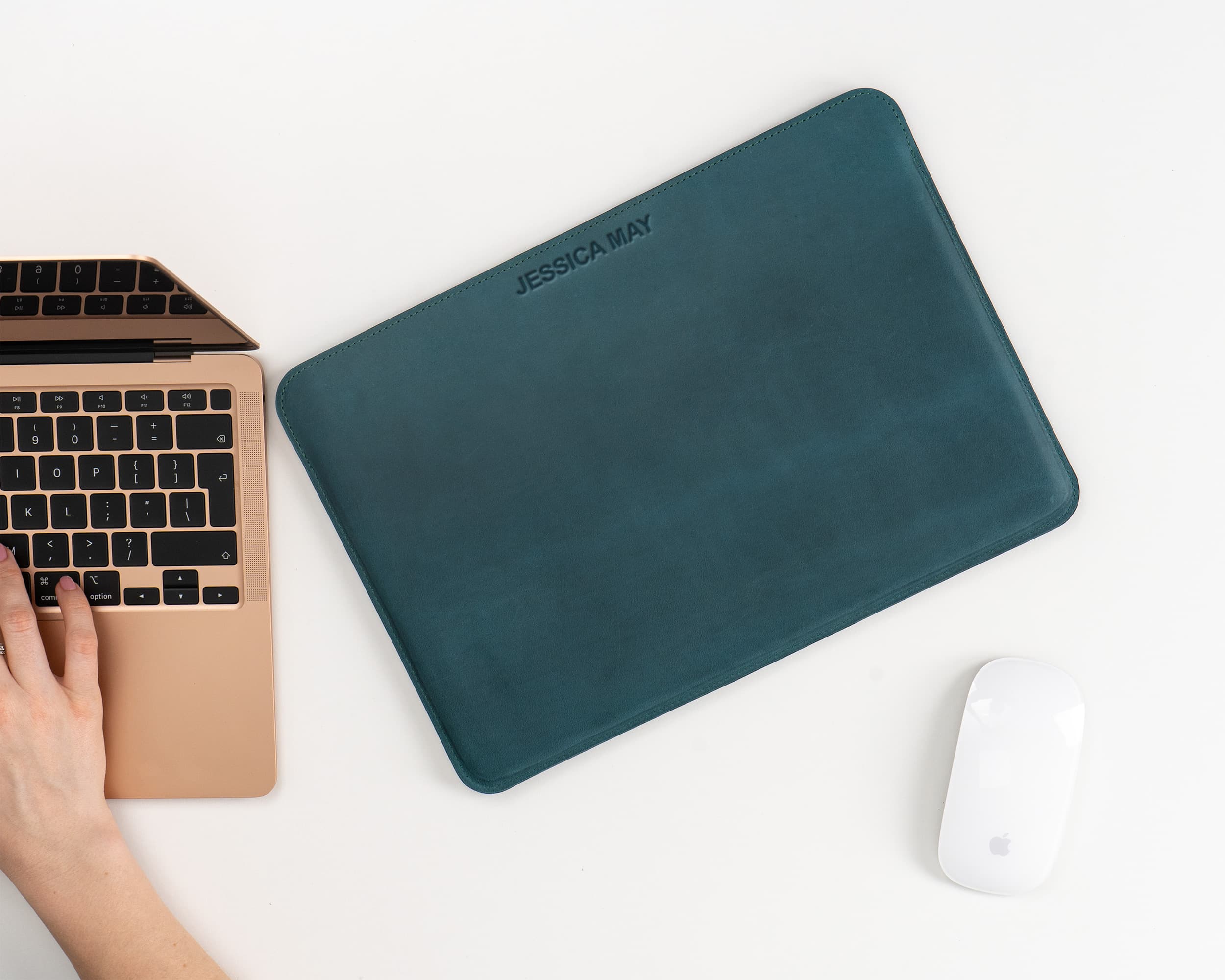 Read more about how to choose a laptop case or bag.
For traveling
We`re sure that with our leather passport covers and leather luggage tags all your upcoming trips will be full of only pleasant memories instead of worries about important documents. The difference will be noticeable from the very first minutes at the airport.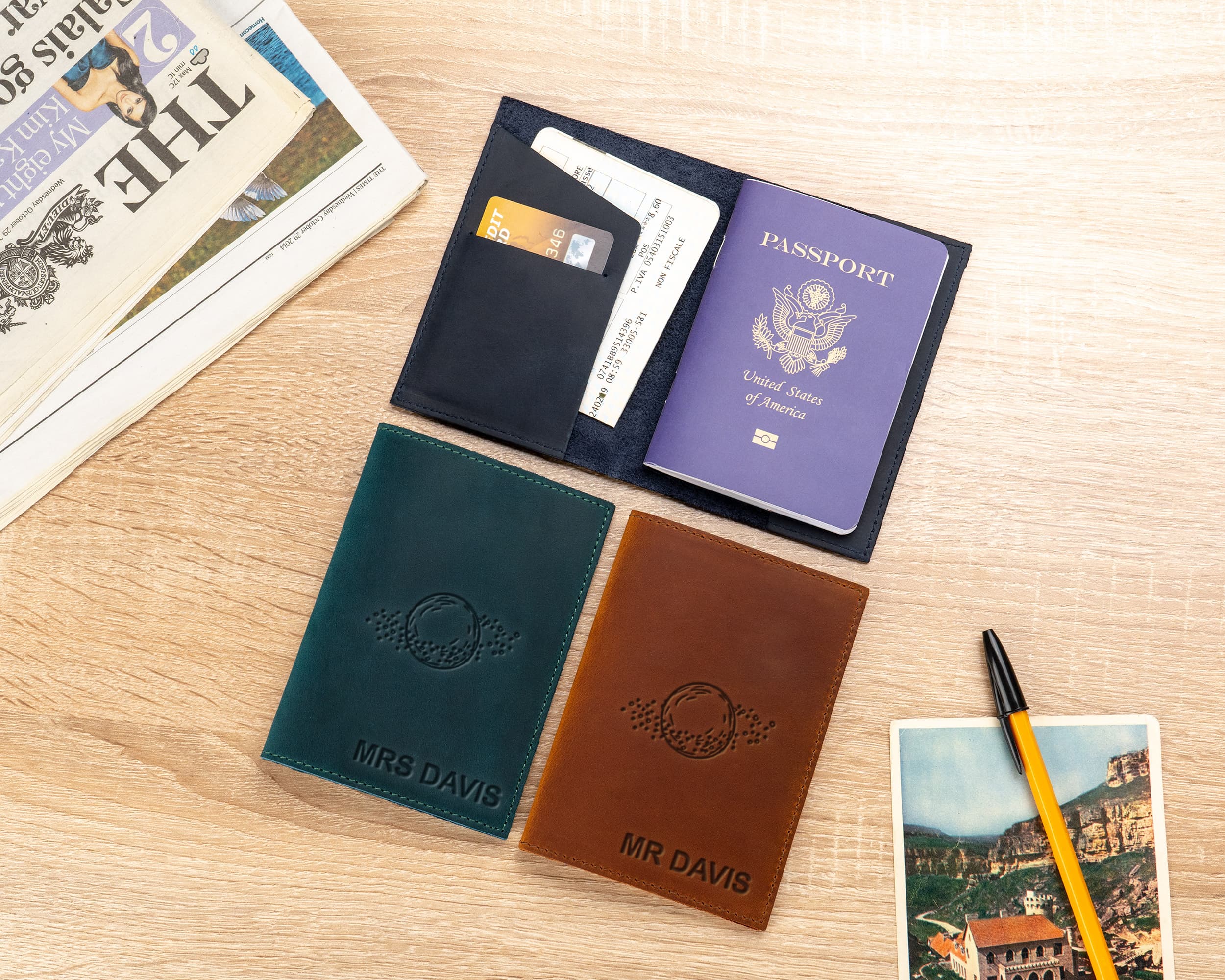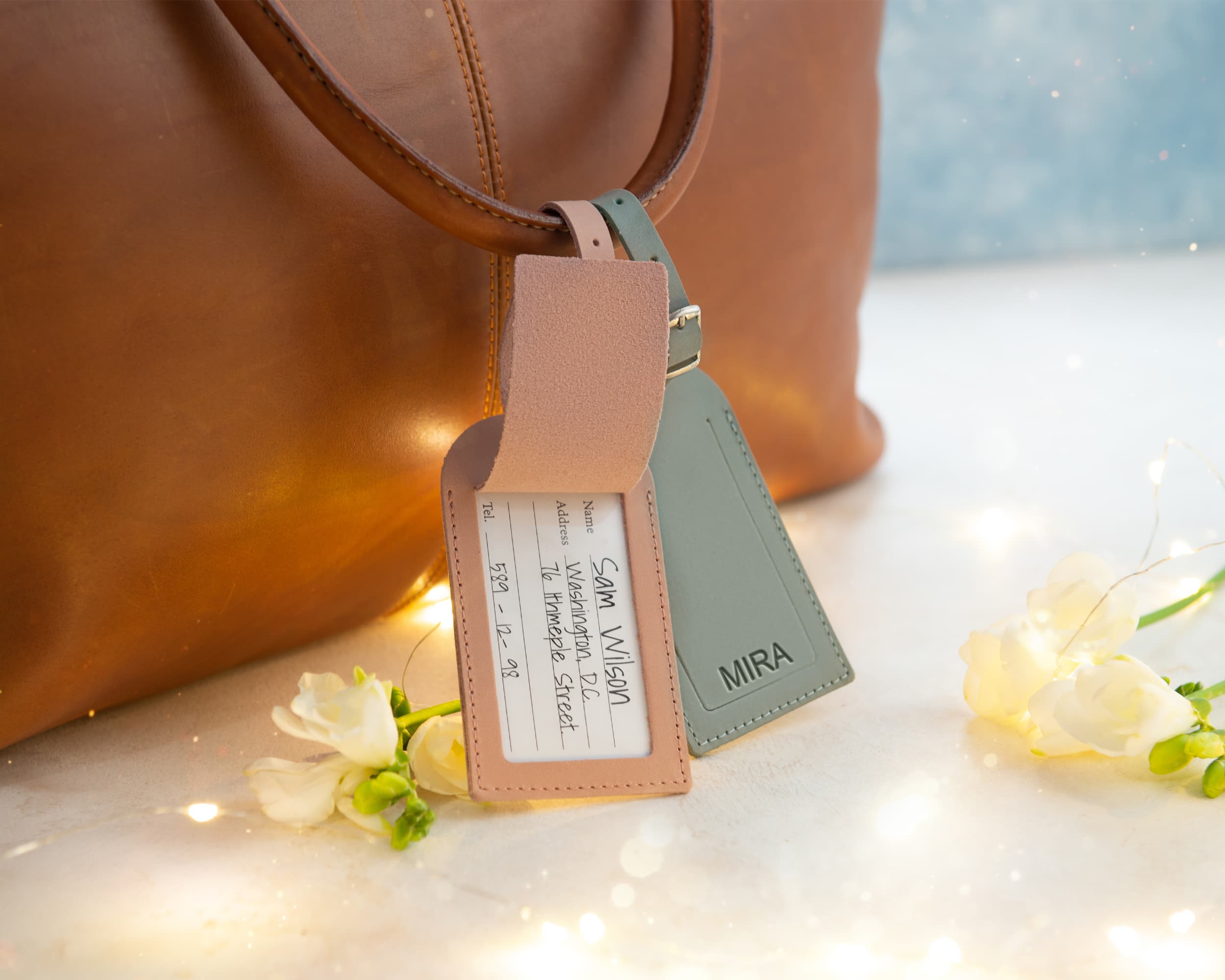 Moreover, leather tech organizers are the best accessory ideas if you strive to experience the minimum problems and fuss while packing your bag or using a power bank or headphones en route.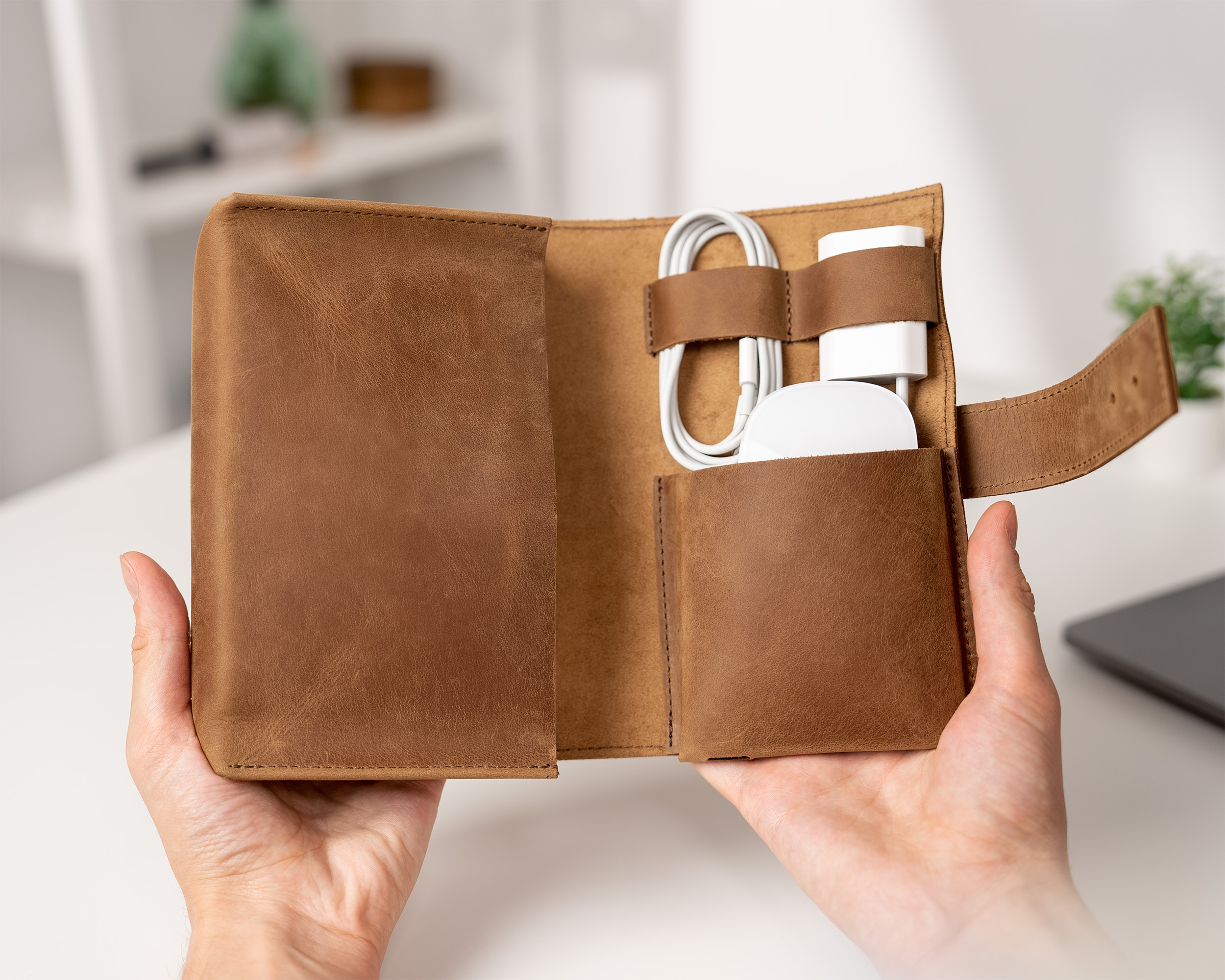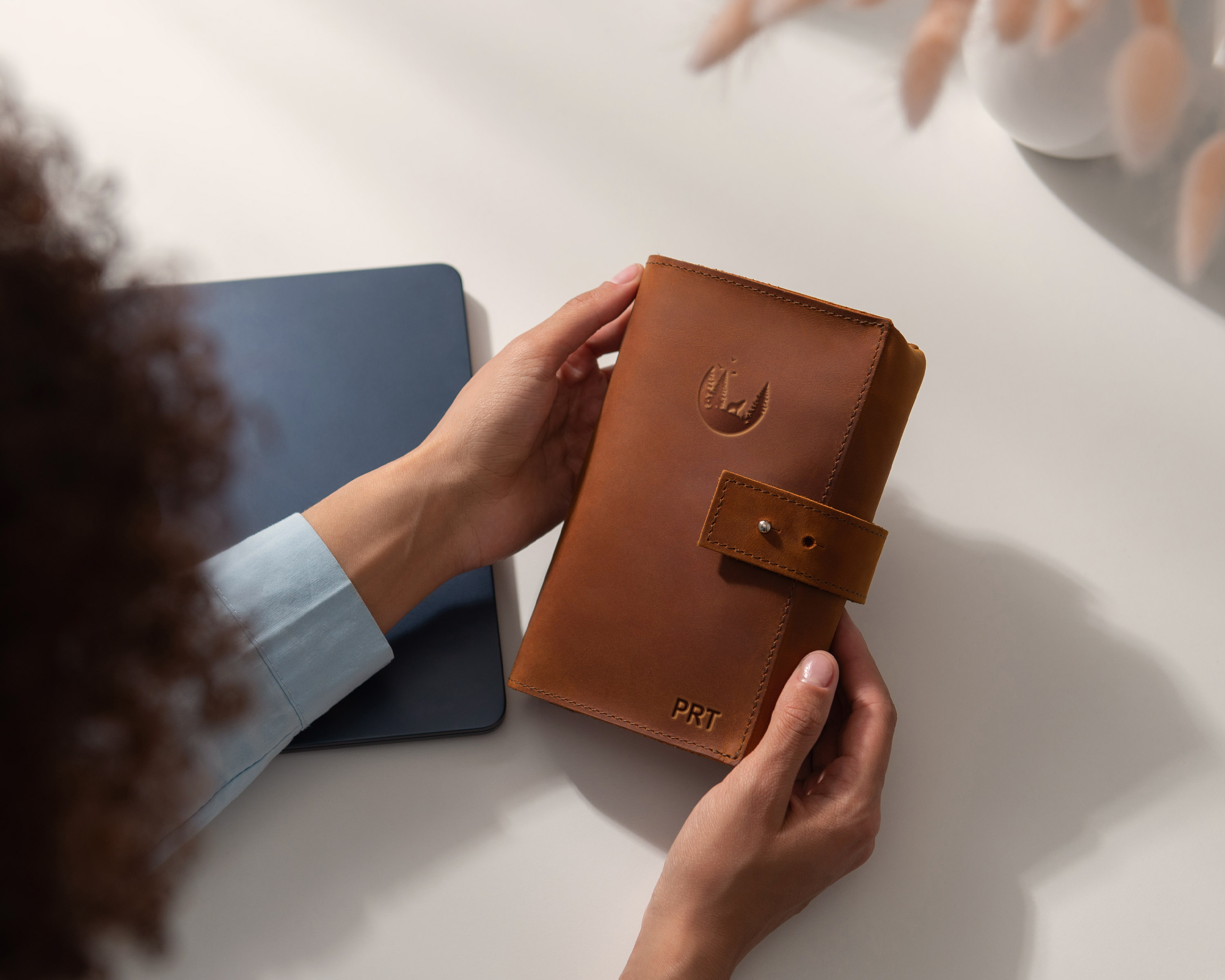 For shopping and other everyday activities
Crazy about shopping? In this case, our team has developed high-quality womens leather accessories for you, namely leather zip wallets.
These wallets with multiple slots will securely organize your money, protect it, and underline your daily style.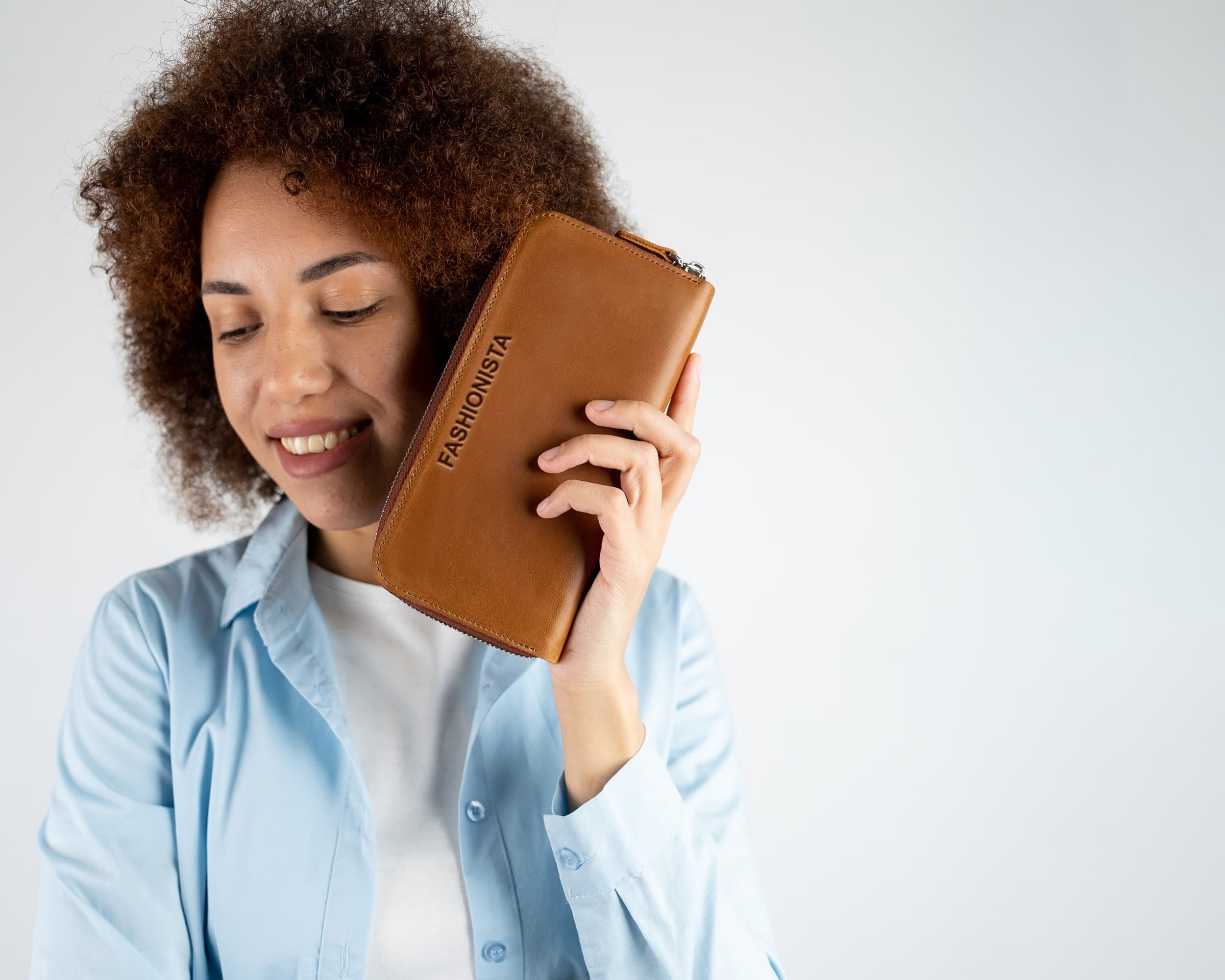 If selecting long-lasting and unique accessories seems too challenging, you will quickly change your mind by reading our blogs about types of women's leather wallets and tips on how to choose a wallet.
You won't regret taking one of our leather satchels. These are stylish women's outfit accessories, the lightweight and stylish design of which was inspired by the university tradition of Great Britain.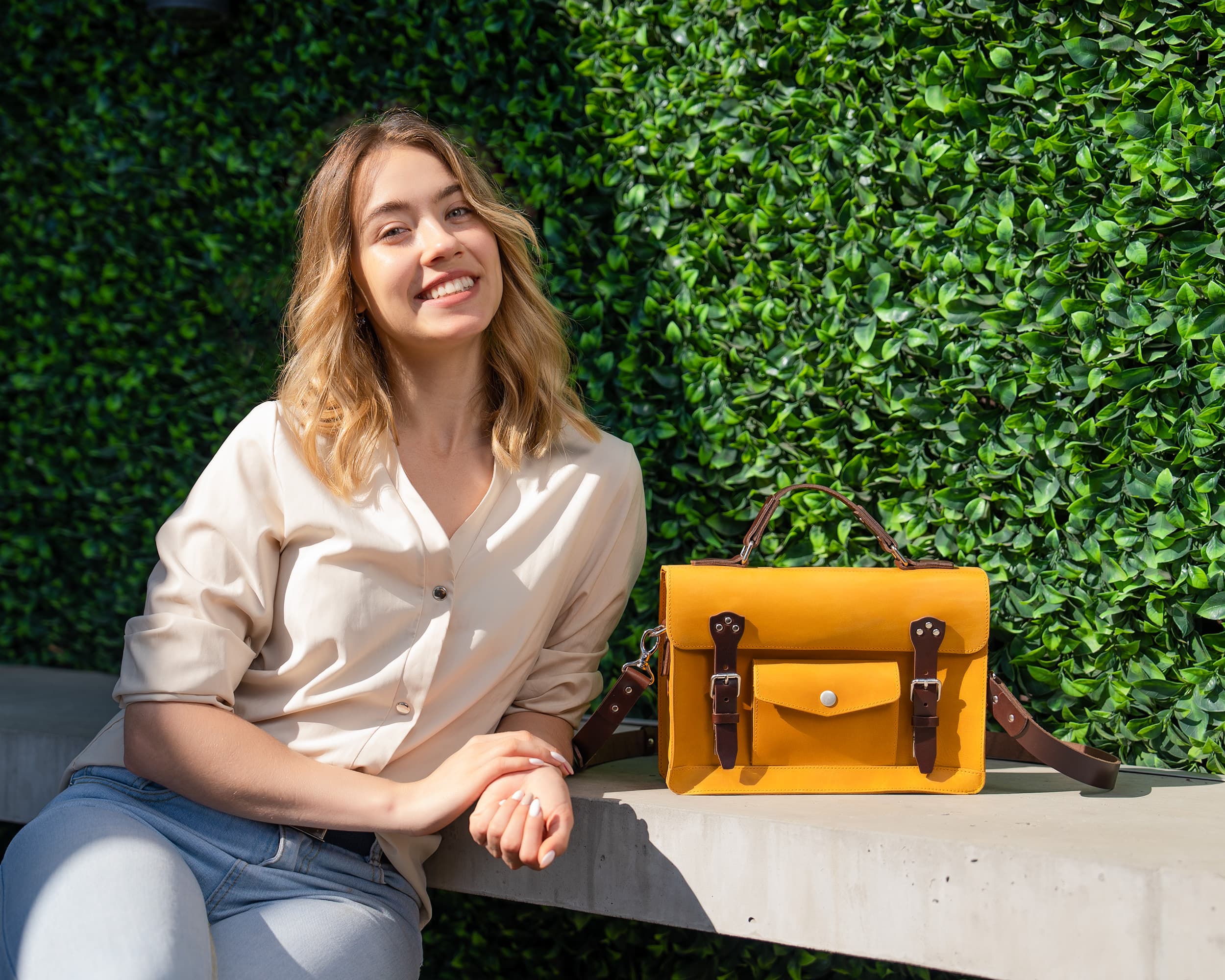 Their main compartment will compactly accommodate everything you need for confidence throughout the day: a laptop, wallet, notepad, water bottle, snacks, keys, cosmetics, comb, umbrella, phone, and everything you`ll purchase in your favorite stores.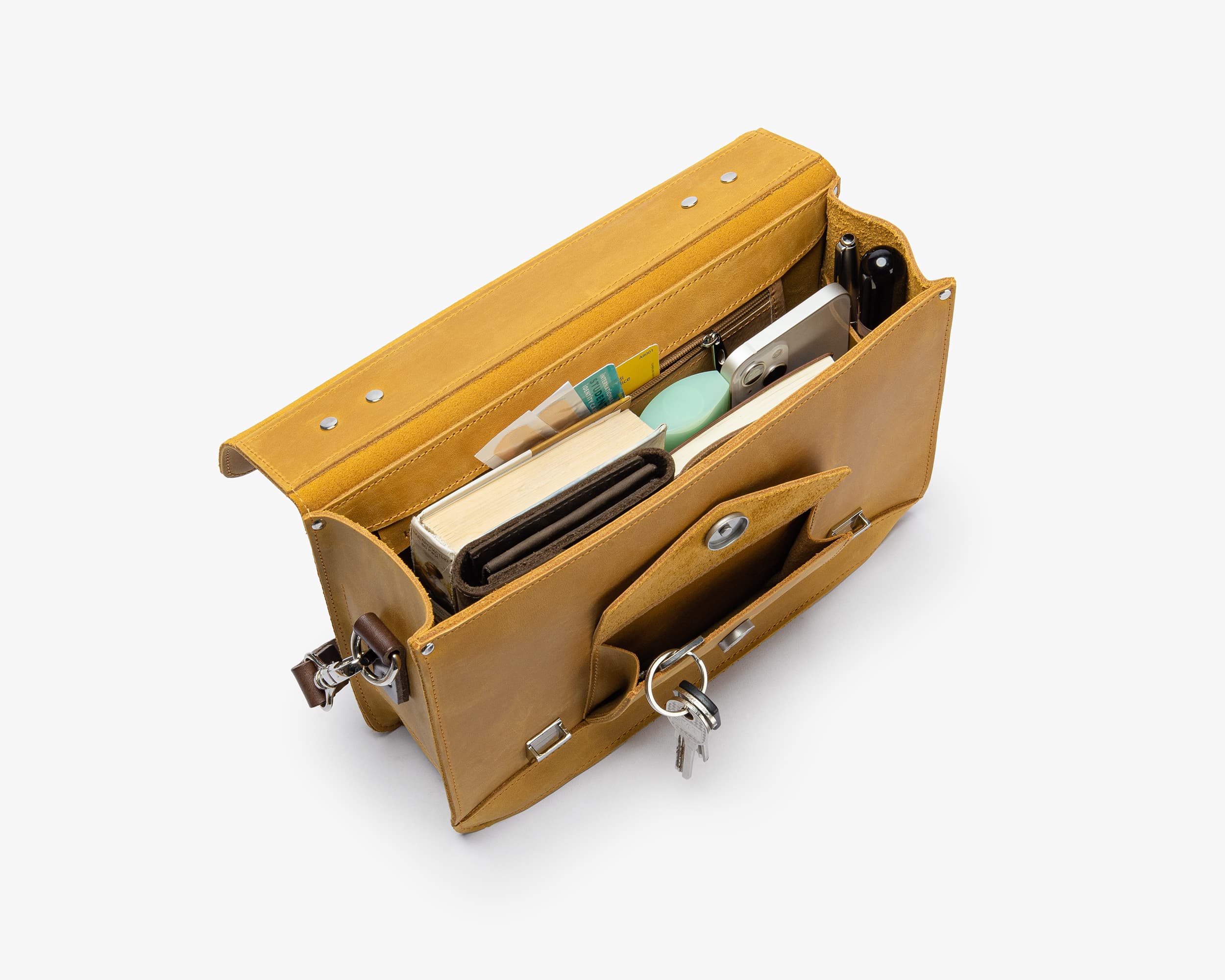 We have devoted a lot of attention to the issue of choosing a bag, in particular, in our ultimate guide to the best totes and the article about types of bags.
For walking with your dog
Setting out for a walk with your four-legged friend? Be sure that it's possible to look stylish even under such circumstances! Introduce your canon of everyday looks by spreading awareness about the environmental well-being of your city.
There are so many reasons why it's so important to clean up after your dog, and there are also many reasons to buy our leather poop bag holder.
First, you`ll be less likely to lose or forget the bags at home. Secondly, it conveniently attaches to a leather dog leash up to 1.7 cm wide, which gives comfort and ease during a walk. And, thirdly, the leather poop bag holder is one of the efficient accessory ideas that works great for storing bags in one place at home.
Our furry friends deserve to look stylish, attract the eyes of all passers-by, and feel as free as possible.
Show your boundless and selfless love for your dogs by giving them new high-quality, convenient, secure, and unique accessories or a whole personalized set of a leather dog collar, leather leash, leather poop bag holder, and leather ball holder.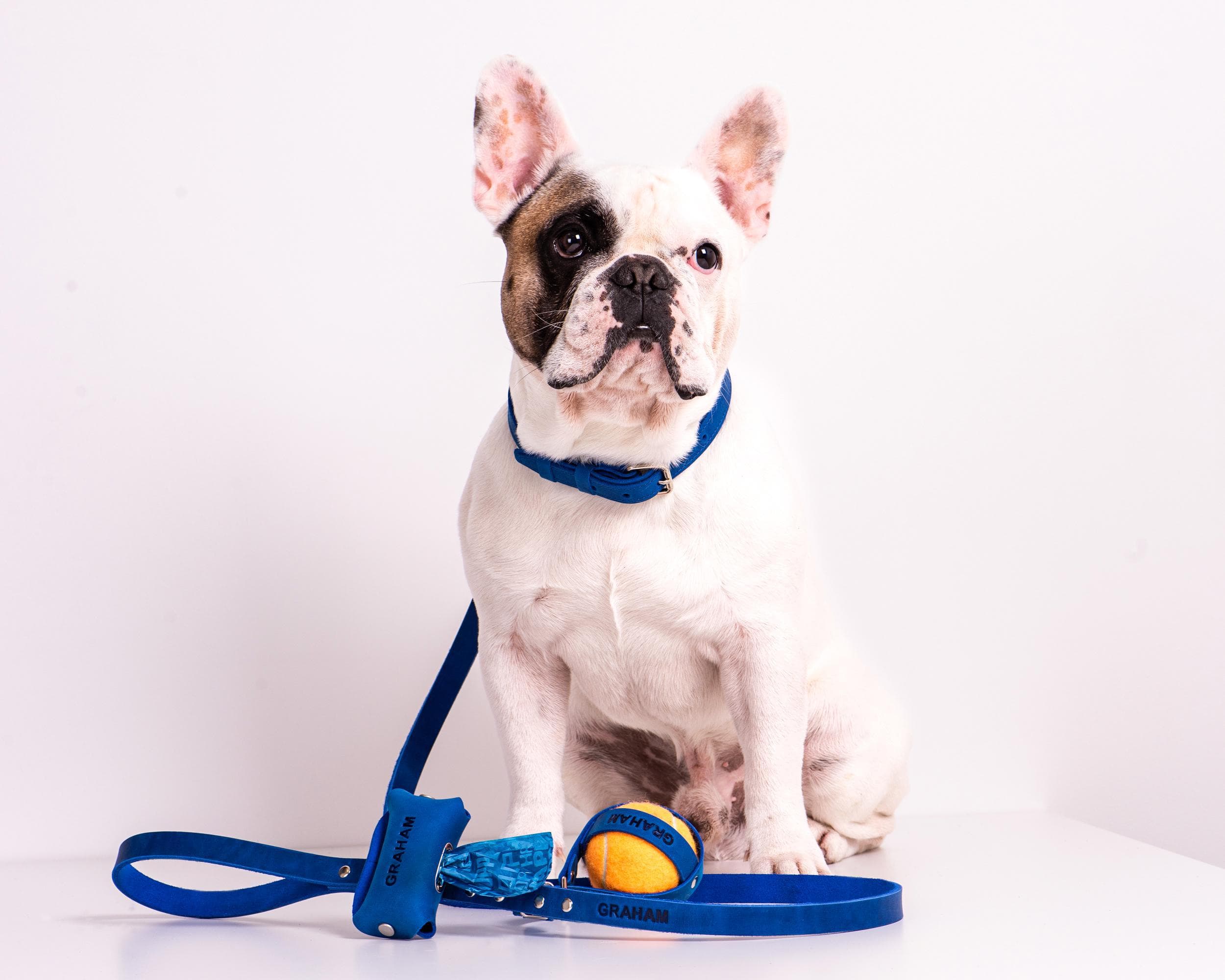 We also want to share with you how to choose the right accessories for your dog or cat. Find out more about how to choose a dog collar, how to choose a dog leash, and what to pay attention to when choosing a cat collar.
Embracing your style
If you doubt your accessory choice, you can always express your unique personality in different, more interesting, and fun ways. I mean the possibility of getting a personalized leather accessory.
Our long-time experience in personalization techniques helps us create unparalleled accessories for you, designed to unobtrusively tell everyone about your character: whether it`s romantic, adventurous, or reserved.
Thanks to the hot stamping technology, we can apply the text of your choice: initials, name, catchphrase, or some wishes on the leather accessory to make it one of a kind.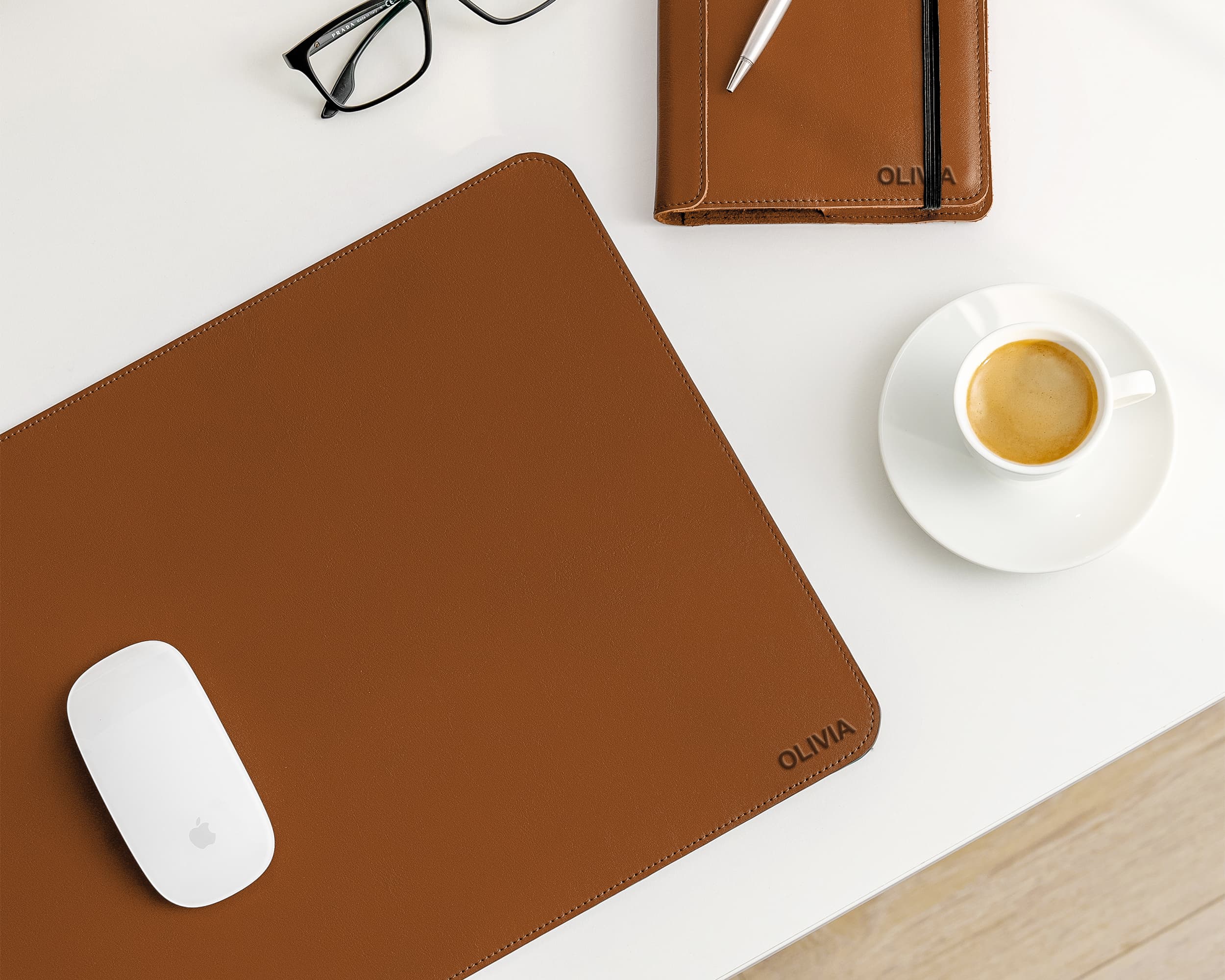 And adding personalization, such as the dog's name and your phone number, to the leather collar with laser engraving, you`ll not only be confident in your pet's safety, but also add a charming accent to everyday walks, training sessions, or special occasions.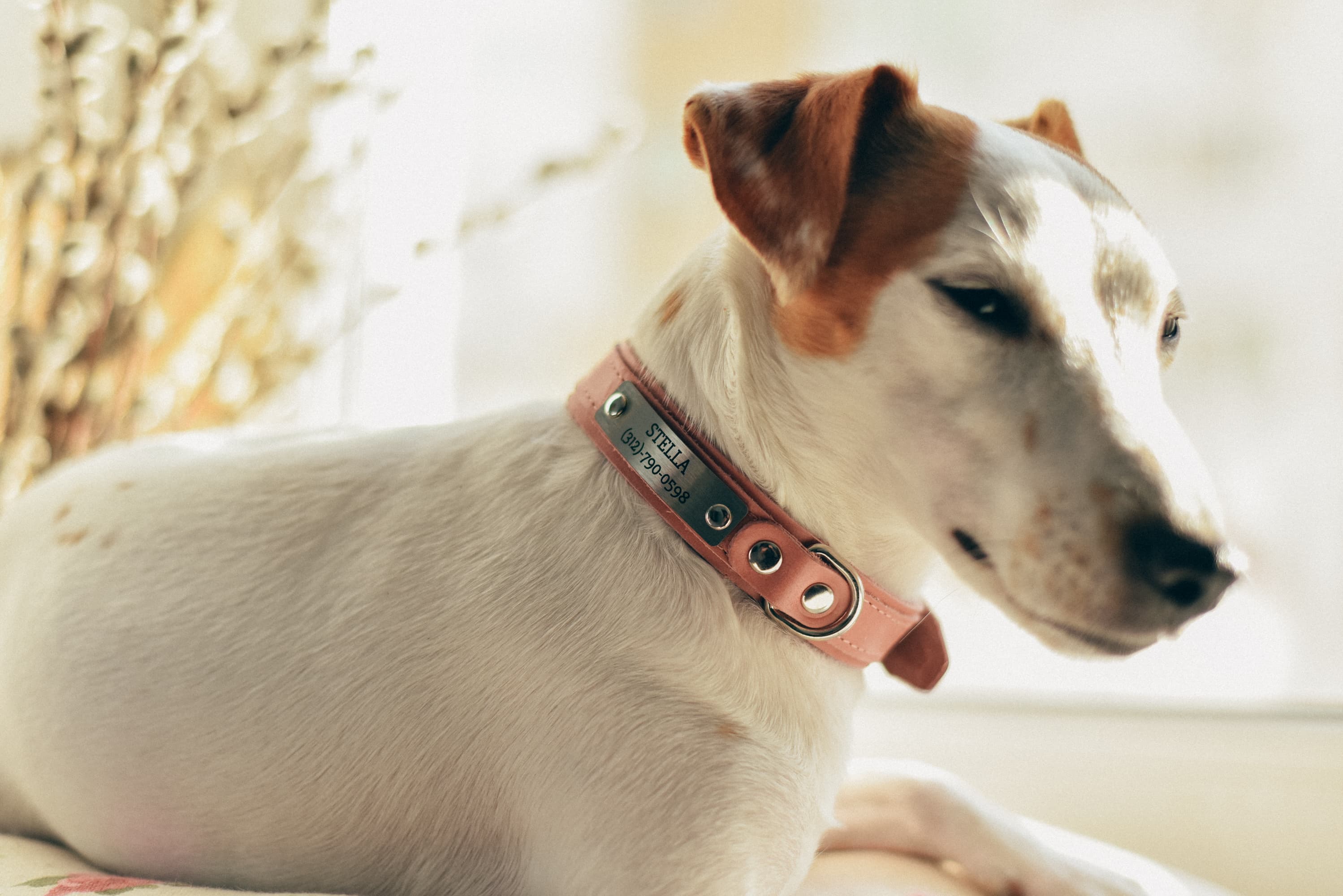 To sum up
Remember that we are all unique. There`s no rule of thumb for choosing the right accessories because fashion is dynamic. Since the accessories will always be central to creating a persuasive look, feel free to experiment with different types of fashion accessories and their combinations!