I want to share the story of how my world turned upside down.
I remember as a teenager, rummaging through the closet, I found an old photo album. Only somewhere on the 3rd-page spread did I realize that this was a collection of memories from the time of my parents' youth; oh, and they knew how to revel then. Flipping through it, I couldn't get rid of that obsessive thought: "Well, how could they dress like this? How was it possible to go out in public like this?».
Each of you probably now imagines your fashion wardrobe of the late 90's-the beginning of the second millennium, but I associate this fashion with baggy oversized blazers with shoulder pads, knitted vests, long trench coats, bright tops, funny low-waist capris, puffer jackets and down jackets, wide jeans, tracksuits, caps, somewhat extravagant makeup, and boldly short hairstyles.
Looking at modern fashion and women's trends that have spread all over the world, I understand how I was wrong before. As it turned out, my parents were still those fashionistas and looked like they were from the front cover of Vogue, released only a month ago.
We know that fashion changes every day, every minute, every second, and without keeping up with it, we do not even notice that it tends to surprise or sometimes, maybe even shock with its innovative solutions and approaches, but each time it takes the same wardrobe basic elements and accessories as a foundation.
Learn more about how fashion found its new reflection and interpretation in the article about top trends of the autumn-winter 2022 season.
And here we can talk about basic outfits that will never go out of fashion.
In this article, we will look in detail at why basics for a wardrobe are timeless, how it's connected to Hidemont accessories, and also what must be in women's wardrobes for unique outfits that will suit any scenario and season.
Why will basic outfits always be on trend?
In the fashion world, the concept of "basic essential clothing" appears as something that will always be relevant, unchangeable, will indicate good taste, and can easily adapt to a particular era of style. It will always be on everyone's lips, giving a "base" for future fashionable experiments.
1. Versatility and minimalism
Whatever you combine with the basic items, you will still get an attractive result. They will complete any other style: casual, smart casual, business, or evening fancy. In addition, you can be sure that any basic item will fit harmoniously into your wardrobe and its color scheme, as well as help out in any life situation, for example, it can be safely preferred for study, work, leisure, soirees, and trips.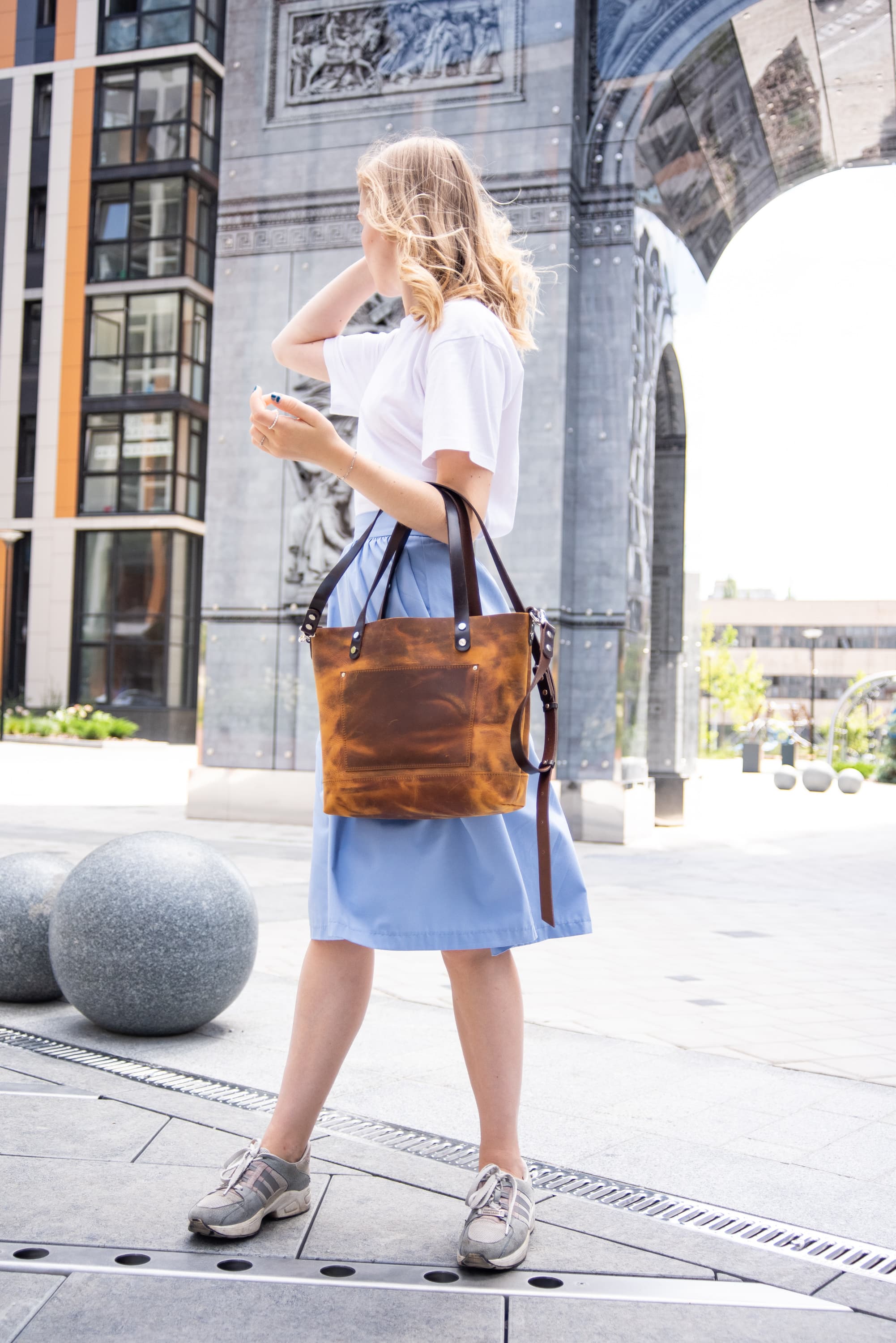 Hidemont designers invest their long-term skill in crafting so that you can get a new accessory and not think for a long time about how and where it can be useful.
2. Aesthetics
Women's basics clothing fascinates with its restrained sophistication, and elegance and can tell everyone around you a lot about your status, seriousness, and refined taste.
All Hidemont accessories have a simple design, you will not find anything excess in them. However, their minimalistic silhouette will surprise you with maximum functionality and practicality.
Leather business card holders are handcrafted in a simple form, and therefore they have a quite prestigious and convincing appearance. And you can't say that such an accessory has many advantages, namely: the business card holder keeps 35-40 standard business cards at once and at the same time fits compactly in the pocket of trousers, jacket, or bag; its simple design is enhanced by a strong, reliable sewn magnet that does not spoil the overall appearance; and thanks to genuine leather, the business card holder is pleasant to hold in your hands and it won't be a shame to get in front of colleagues or potential clients.
3. Investment in durability
Often, the basics for a wardrobe are about high quality and well-thought design.
When creating our accessories, we carefully select and test materials and hardware to guarantee you the long-term joy of use, practicality, and aesthetic expressiveness.
4. Investment in non-mass-produced items
We constantly strive for self-expression, choosing classic clothes for women, so the matter of exclusiveness and exceptionality will always be on the spot. In addition to versatility and functionality, our products also embody uniqueness, which will always remain relevant for years to come.
Depending on the material of the accessory, we offer a wide range of personalization options so that you get a one-of-a-kind accessory: engraving on stainless steel, engraving on pebbled leather, and hot stamping on Crazy Horse and full-grain vegetable-tanned leather.
Best basics for women: checklist of must haves in wardrobe
1. Shirt
There are many ways to wear a shirt: with jeans, trousers, a skirt, shorts, a dress, and even a swimsuit; the shirt itself is fully buttoned or with a T-shirt/top under the bottom; tucked in, loose, or tied in front or at the waist. For a casual style, a shirt is the perfect solution when it's hot in a jacket and cold without it.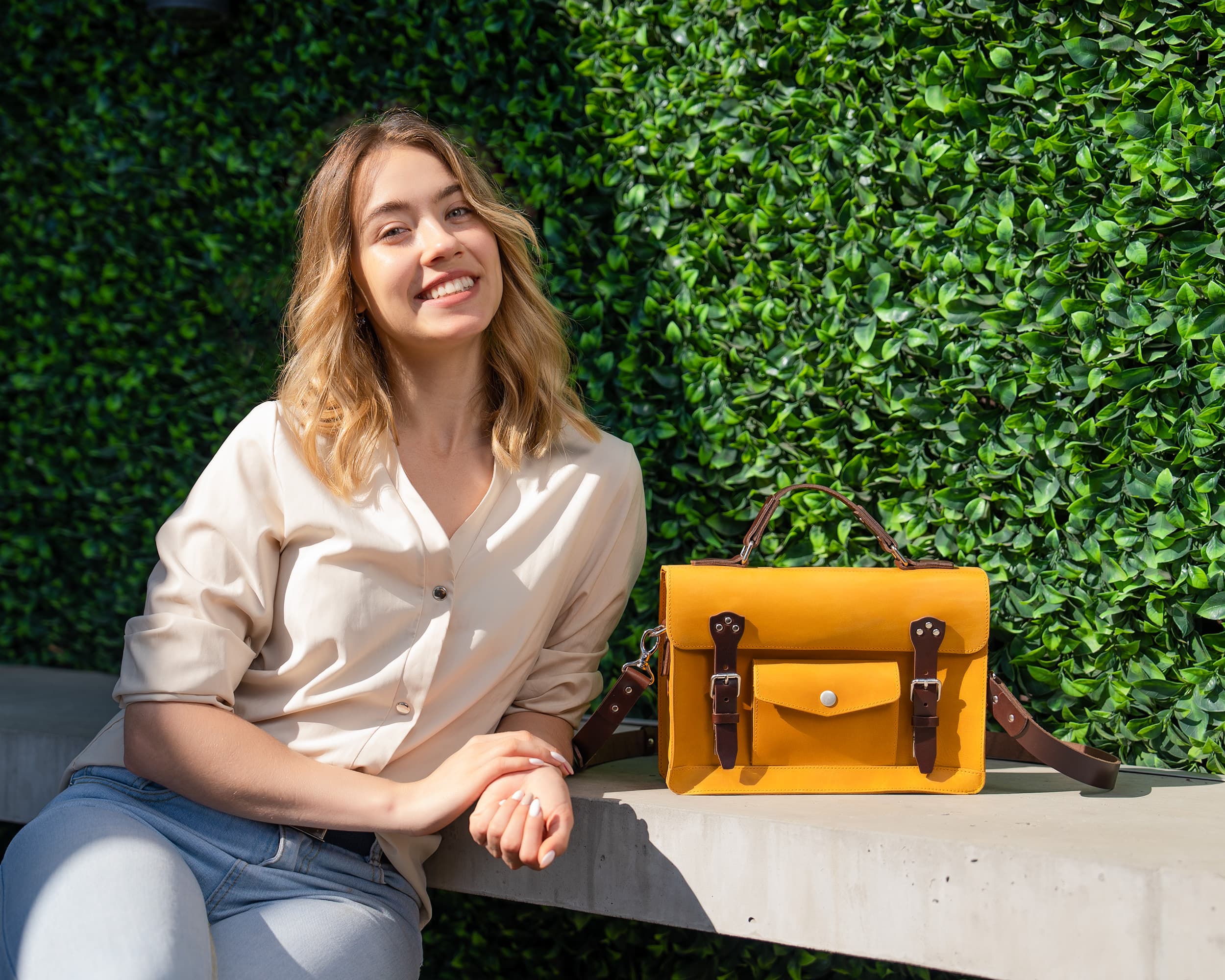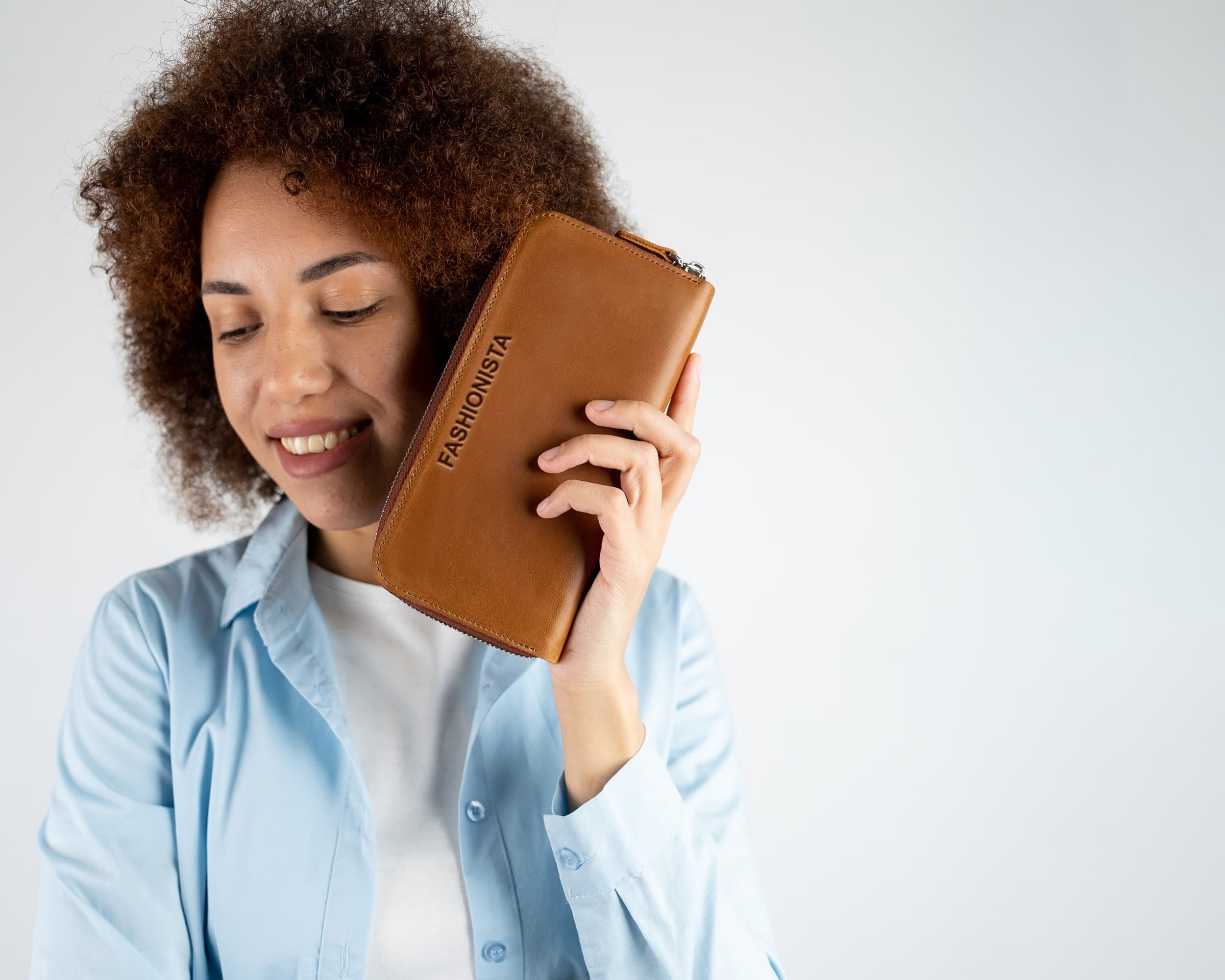 And in terms of business dress code and beautiful outfits for ladies, the shirt, especially in combination with fashionable accessories like a pendant or designer watch, speaks of accuracy, experience, and professionalism. Our stylish leather office accessories will also tell all your colleagues about this, or make a lasting impression on your boss. For example, leather mouse pads or leather desk pads are designed to give comfort and convenience during work.
2. Tailored blazer
A blazer is a fashion wardrobe essential that will help to refresh your look in the office by pairing it with a simple shirt or T-shirt, jeans, trousers or skirt, sneakers or shoes, and a leather laptop case. Reliably and delicately protecting your gadget throughout the day, the case will also emphasize the influence of the business image and your credibility.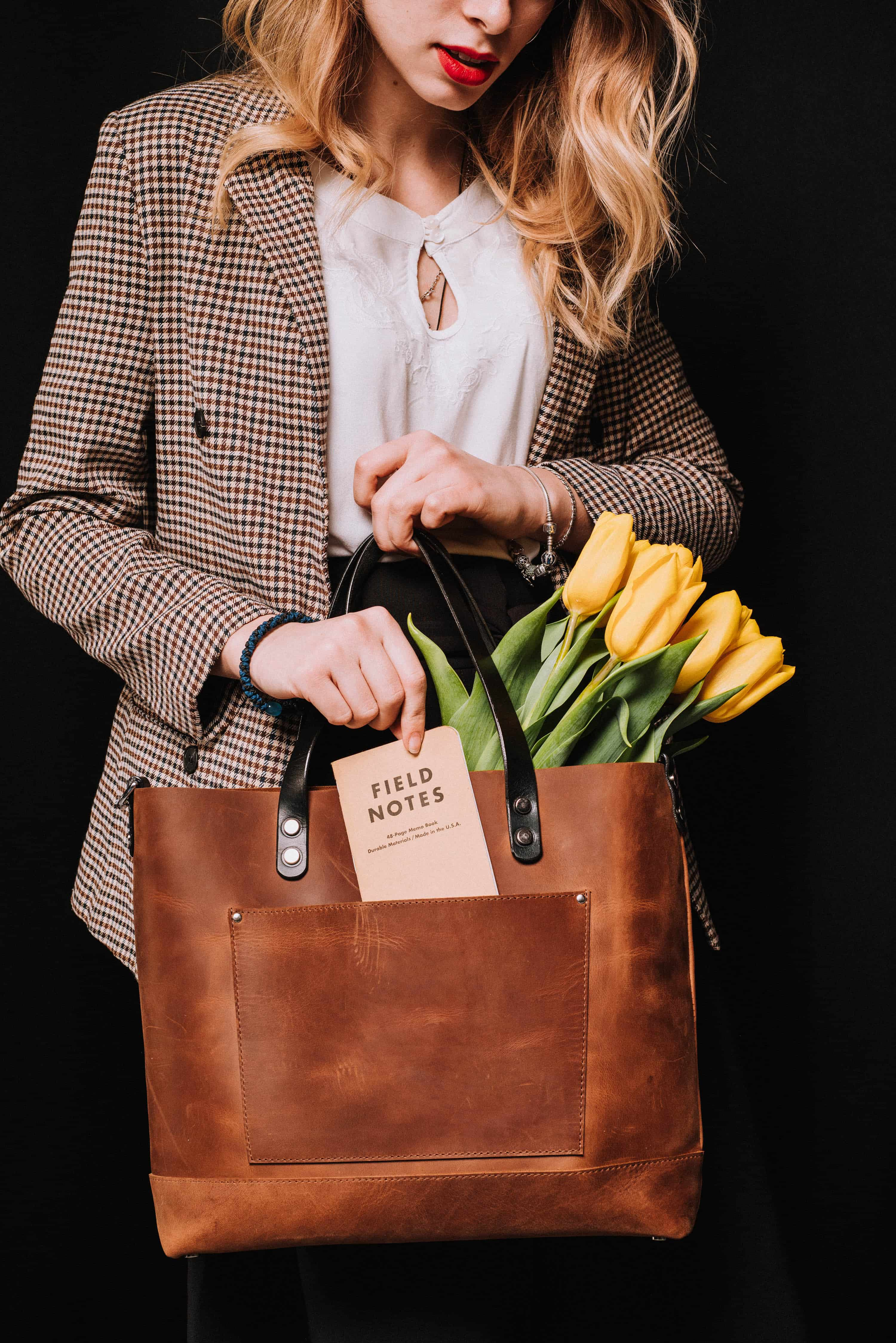 Although blazers are about a balanced and elegant style of clothing, it's very wrong to identify this element of the wardrobe exclusively with business style, since they can be worn to official events, such as weddings, ceremonies, semi-formal events, visits to the theater, restaurant, and informal parties. Over the past few years, the pantsuit format has been increasingly popularizing women's basics clothing, as it`s well suited for everyday wear.
3. Classic trousers
Whatever style, color, or material you choose, trousers are the basics for a wardrobe that will never let you down and create beautiful outfits for ladies. With sneakers or shoes, a shirt or T-shirt, and having your new trousers on, you will feel confident.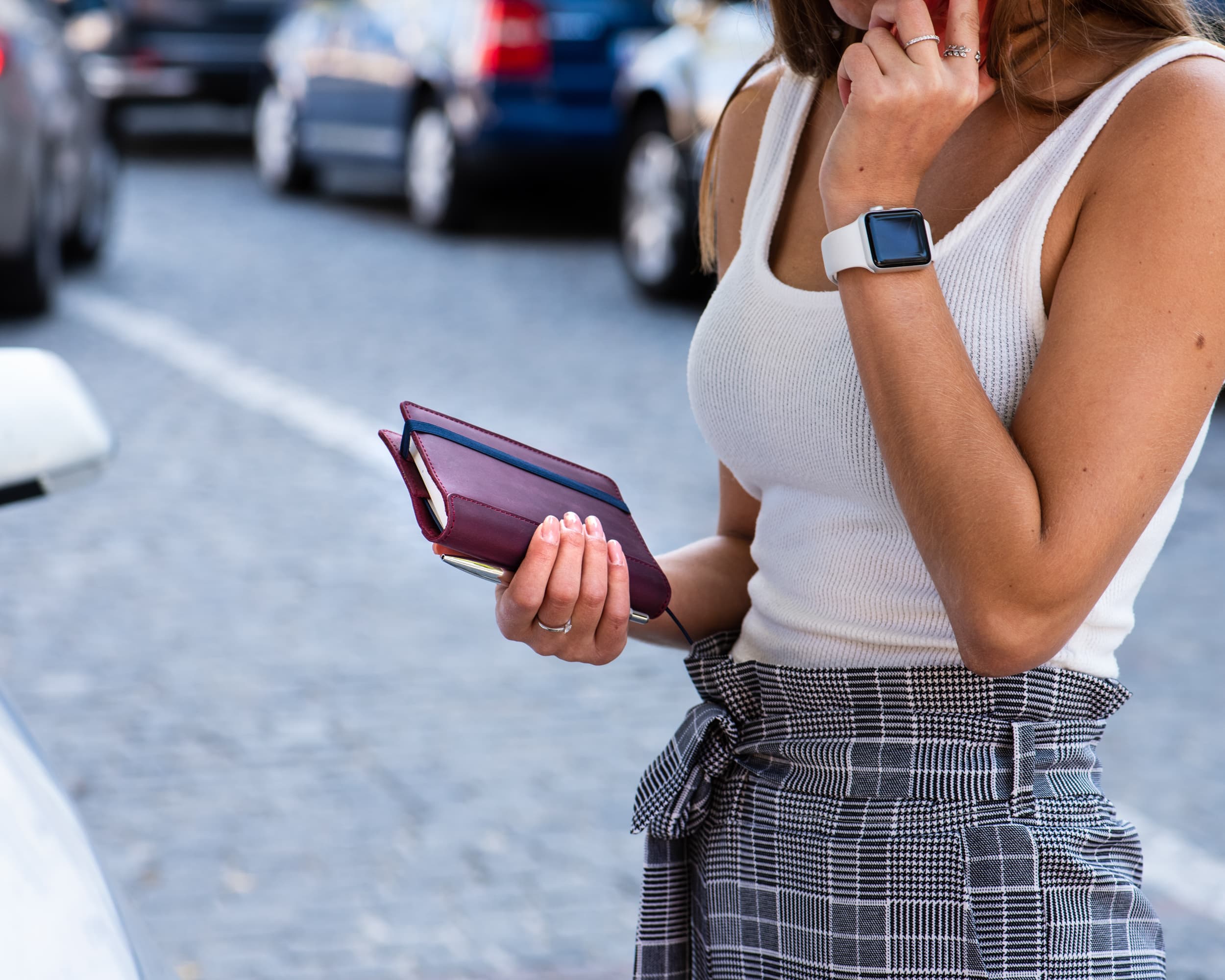 You will feel even more ready for the surprises of the day with leather notepad covers. As your personal assistant, the cover will efficiently organize all essentials: notepad (read more about different types of notebooks in our article), pen or pencil, credit cards, notes, receipts, and much more, while not taking up much space in your bag. Coming in diverse designs, the covers will make it easy to write down ideas, dreams, and plans or follow the agenda on the go.
4. Trench coat
On cool days, put on a long beige trench coat, and you will never regret this decision. The beige trench coat embodies a versatile and elegant style of clothing that perfectly combines with absolutely everything, not only because of its neutral, natural color but also because of its basic cut. Invariably a functional element of outerwear, it ideally protects from wind and rain.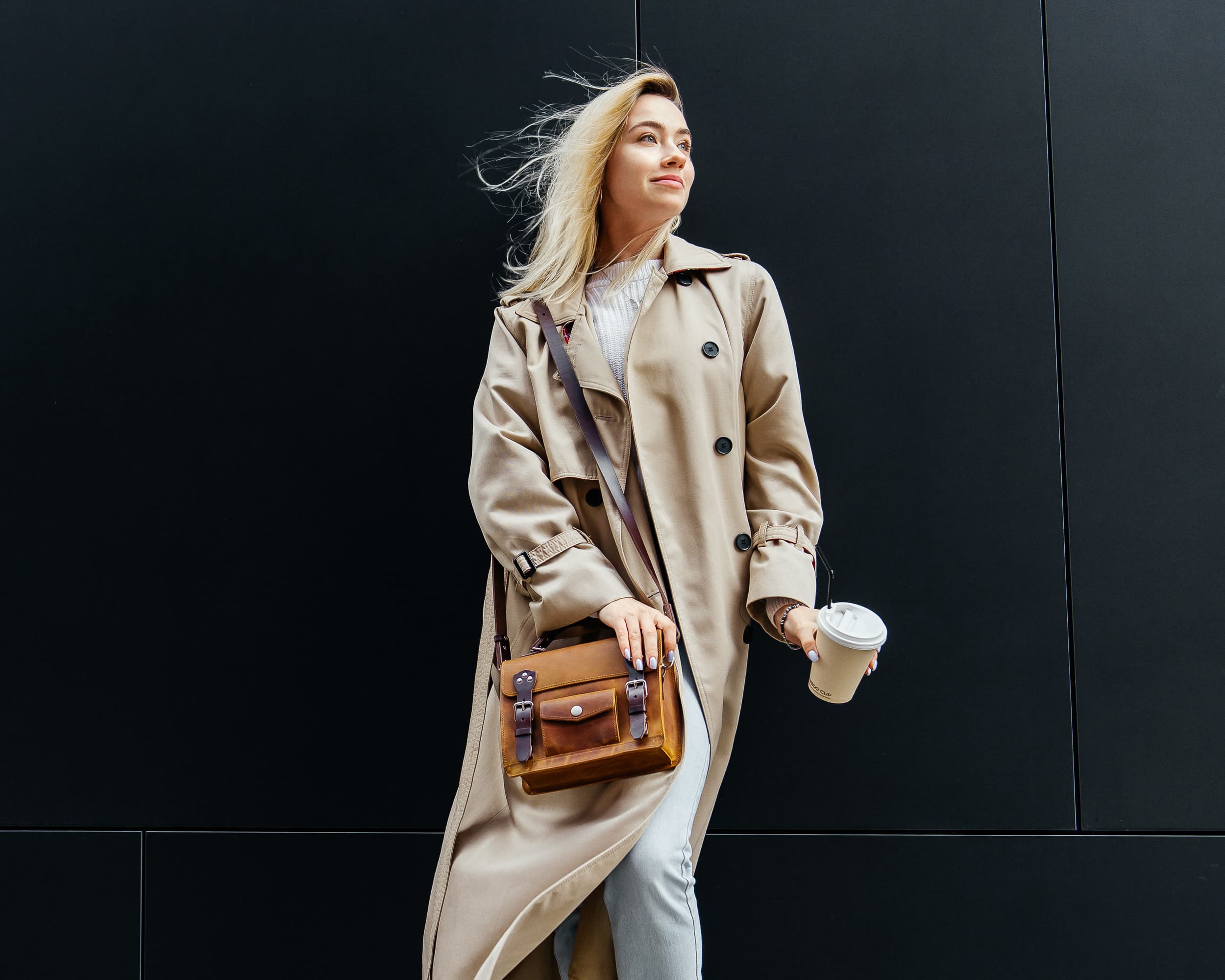 Having your class at the university or business meeting? Grab a leather satchel, and all eyes will be on you. Or, maybe, you`re looking forward to a romantic dinner in a cafe and thinking about the best outfit. Then add some dreaminess to your look by combining a trench coat and leather mini crossbody bag – a must have for every woman that will fit everything you need and sit comfortably on the shoulder or waistline without excessive overloading.
5. Loafers
These shoes should be must haves in wardrobe, if you like classic clothes, and comfort on the go, but do not like to mess around with fasteners, laces, or a shoehorn. They sit neatly on the leg and go with any style: casual, business, or evening.
6. Belt
One should never underestimate the power of a stylish and high-quality belt, which not only helps to hold the trousers, emphasizes the waist, but also adds a certain sophistication and class to basic outfits.
7. Wallet
Sincerely appreciating advanced technologies and the possibility of contactless payment by phone, I still believe that the finest wallets are the best basics for women: for everyday shopping races, walks, commuting, cafe gatherings, business meetings, and trips.
If you`re hunting for a wallet that will not need to be replaced with a new one in a few months, which will not feel like a stone in a pocket or bag, which will hold exactly as much as necessary, and besides, which will not be a shame to pull out during every transaction, Hidemont`s leather women's wallet is the choice.
Find out how to choose a wallet that will last for decades.
8. Sneakers
For those who love an active lifestyle, a pair of comfortable sneakers are the basics for a wardrobe, as they make every step comfortable, light, and stylish. With jeans, trousers, a skirt or dress, sweatpants or bike shorts, under long bright or not-so-bright socks, for work, study, travel, or working out: put on shoes and boldly step towards fashion experiments.
9. Jeans
And how can you not remember jeans when it comes to women's basics clothing: different cuts, fits, and colors? Jeans are loved by everyone for their comfort of movement and the ability to combine them with everything that catches your eye. You can wear them on a date, a photo shoot, a walk on the beach or in the woods, go on a trip to a new country, declare yourself in a new office, enjoy the freedom of movement on the dance floor, or when walking your dog. In winter and summer, with a pair of your favorite jeans, you will never go wrong.
10. Hoodie
And hoodies are generally the must haves in wardrobe that I have in almost every color – I do love them so much. Wearing a hoodie, you immediately feel the home comfort, a sense of security, the warmth of loved ones (especially if I ask for my man's hoodie during a cool evening walk), and freedom of expression. The latter manifests itself in endless options for combining hoodies with other clothing and accessories since hoodies are an element of the wardrobe that has long blurred the boundaries between sports, casual, and professional styles.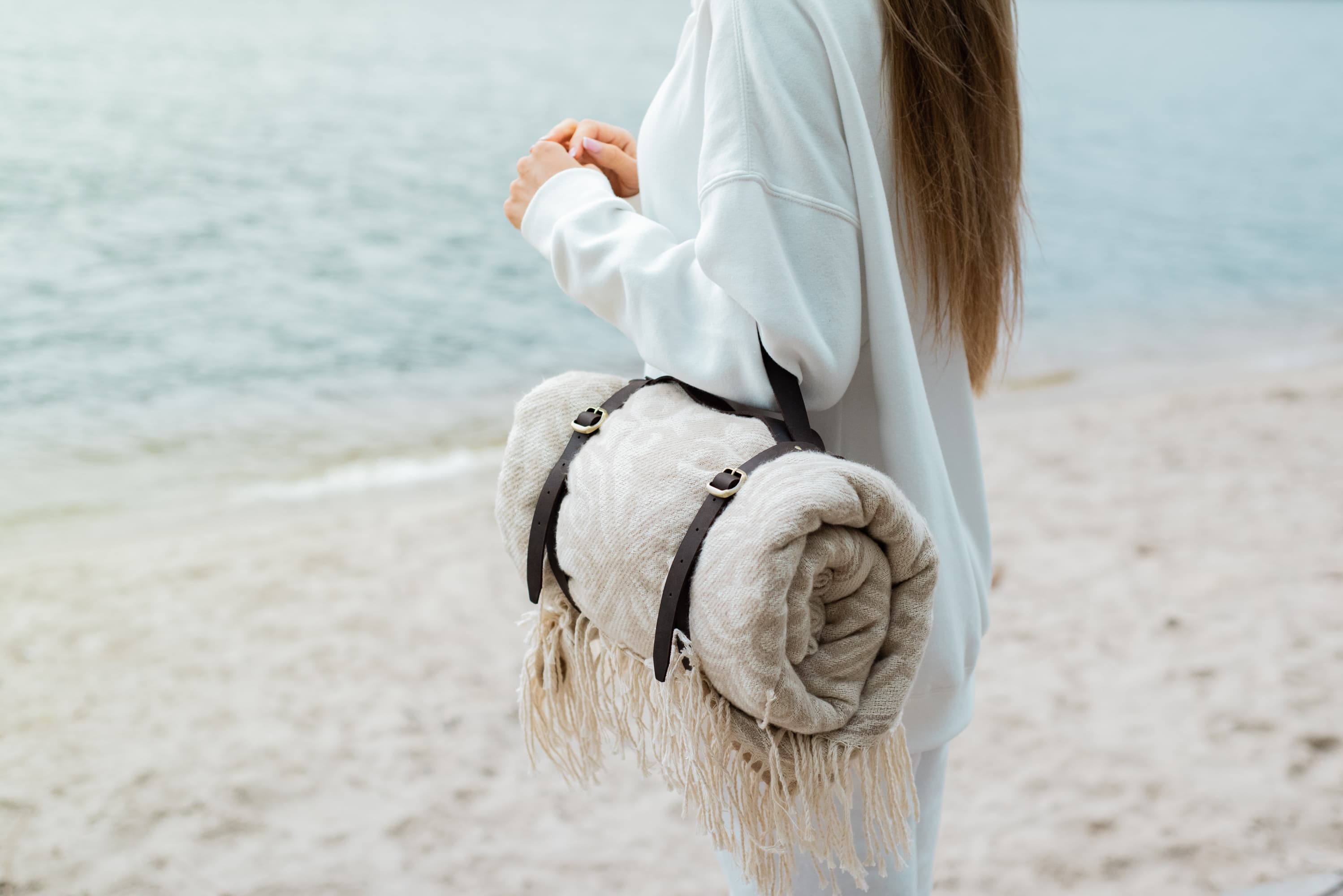 And more atmosphere and relaxation you can enjoy with the leather blanket strap – a must-have for any outdoor activities, such as a picnic, concert, or outdoor cinema, yoga classes, and easy storage of a cover or yoga mat at home.
Thanks to the comfy handle and straps that are adjustable to fit the diameter of the rolled blanket or mat, you will enjoy your time with your loved ones even more without worrying about how to carry everything in your hands. Such a blanket strap can become an indispensable attribute of your family leather traditions that will foster harmony to a joint pastime.
To sum up
There is no universal formula for dressing and accessorizing, but you can always rely on the basic essential clothing pieces that will make this task as easy as possible.
All Hidemont accessories are handmade, unique, minimalistic, and functional, allowing them to fit easily into your lifestyle and meet your needs.