I have a confession: making presents gives me more pleasure than getting one. I enjoy thinking over the preferences and tastes of my dear people, picking up something that will touch their hearts and make a lasting impression on them.
However, choosing good gifts for men has appeared the most challenging task for me ever. Whether it's supposed to be for my dad, grandpa, boyfriend, or brother, the gift chosen by me leaves only controversial thoughts. Are men that hard to please?
In this article, I`m going to discuss one of the most difficult tasks of getting great gifts for men for occasions like birthdays, anniversaries, Christmas, Valentine`s Day, Father`s Day, or graduation. I`ll also figure out what men can be thankful for. Based on these statements or, maybe, personal assumptions and experience, I`ll outline the list of best gift ideas for him and some useful tips on how to win his heart.
Which gift is the best for a man?
If the following situation seems familiar to you, then you`re on the right page.
You ask your dear man, "What you`d like to get as a gift?" – and he says, "Nothing. I already have everything I need." Having heard the answer, you get mixed up and lost in thousands of possible options. "You sure?" His nodding ends up the conversation and you feel like there`re no correct decisions.
Spending hours, googling "do men really mean they don`t need anything?", "top list of cool gifts for men who have everything", "how to make him happy with a gift". All you get is trivial answers on repeat that don't solve your problem. Having picked a more or less suitable gift, you still have doubts. When packing it in an elegant paper bag, you`re getting more anxious. The moment of truth: you expect a storm of emotions and million thanks. And… all you get is a modest smile of gratefulness and "Thanks."
If you`re choked with terrible guilt that you've done something wrong or he didn't like the gift, don`t be.
Even though your beloved recipient remains reserved and not as generous for emotional outbursts as you might have hoped for, there's a clever trick that reveals his biggest appreciation.
You keep seeing him constantly using your gift, it means he loves it.
What makes good gifts for men truly good? To choose the best gifts for men, you should learn a bit more about men`s philosophy about the stuff they use. Most men tend to stick to one item for many years, and they don`t have a separate wallet, for example, for a certain season or look.
Besides, men highly rate practicality and efficiency, so when choosing men's gifts, avoid getting something, you suppose, that will have no functional value for him, being destined to gather dust on the top wardrobe shelf.
With the accessories every man should get as gifts at a central point, I want to say that the life motto "the less useful gift is, the less lasts the joy from it" totally corresponds to Hidemont`s motto, saying "superb quality, less consuming". Hidemont offers a huge collection of unique men`s accessories handcrafted from the best quality materials to make thoughtful and useful gifts for men.
Thoughtful gift ideas for men
You`ll never be wrong giving him a premium leather wallet – a daily accessory that combines outstanding quality to last, impressive practicality, and professional appearance. Coming in a variety of types, a good wallet makes a timeless choice of awesome gifts for guys which works great underlining sophisticated taste and love for EDC organization.
Be the one to always hit the bullseye with great gifts for men – a stylish and compact leather wallet will help him out in any life scenario – shopping, paying for a taxi, lunch, public transport fare, and showing ID when pulled over.
Looking for unusual and striking gift ideas for men and you carry the last-minute shopping? Here are some excellent recommendations on how to choose a wallet for him with no stress.
Help your man stay always organized with leather valet trays. What makes them cool gifts for men? Its versatility has no limits. The tray can be used for everyday essentials storage like a wallet, watch, glasses, cash, keys, notes, AirPods, and everything that can be shaken out of the pockets. Also, leather valet trays are simple but extremely functional presents for men who are fond of board games like D&D.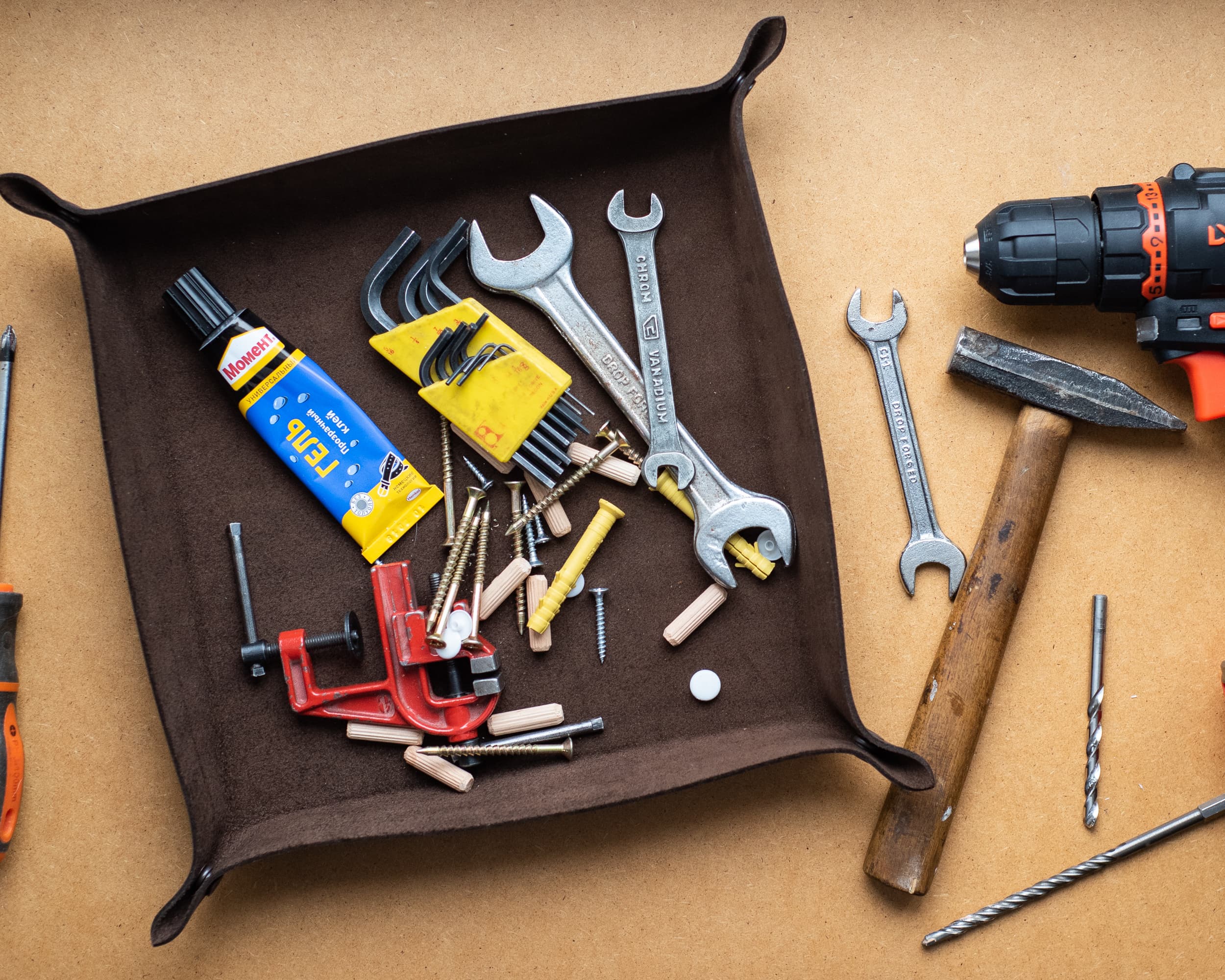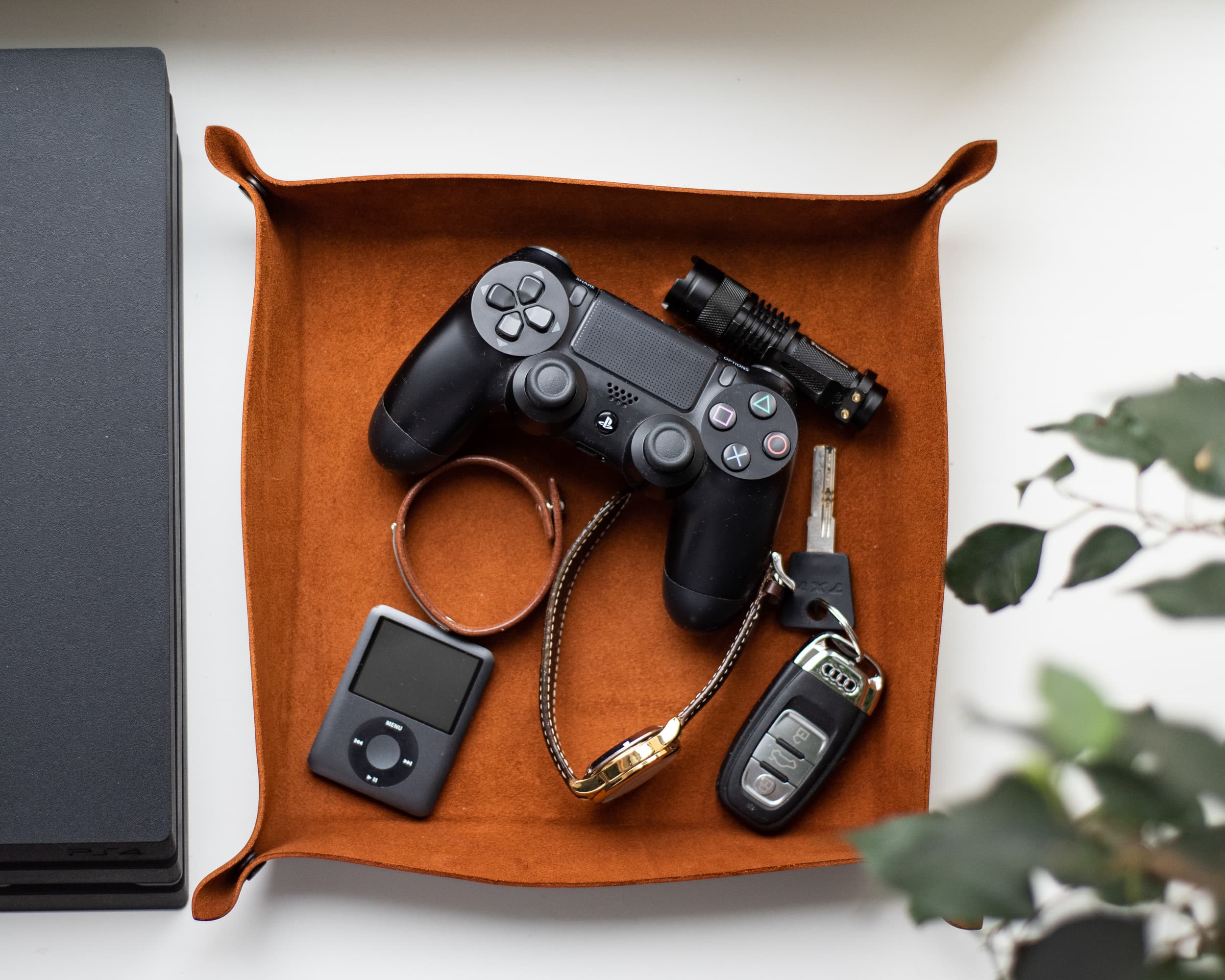 And with leather valet trays with straps, he can enjoy his favorite hobby on trips, as they effortlessly roll up and fit into a bag.
Your husband, boyfriend, dad, or brother is a true tech-lover? Then, don`t hesitate to admire his presence in your life with the most protective leather laptop cases. Featuring a three-layered design, long-lasting materials, easy access to ports, sleek profile, and personalized touch, Hidemont laptop cases are the ultimate pick for office gifts for men who care about their sensitive electronics and good reputation.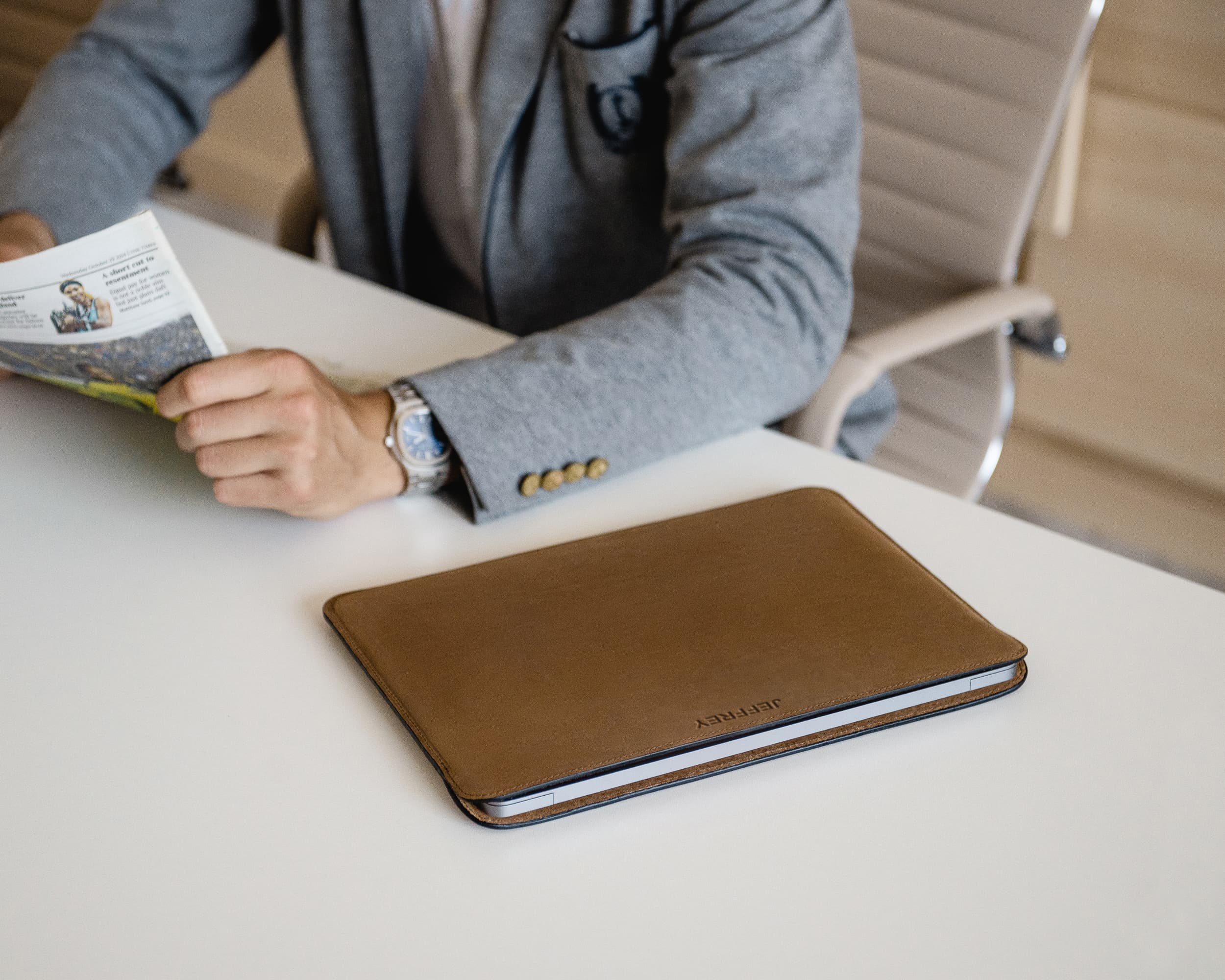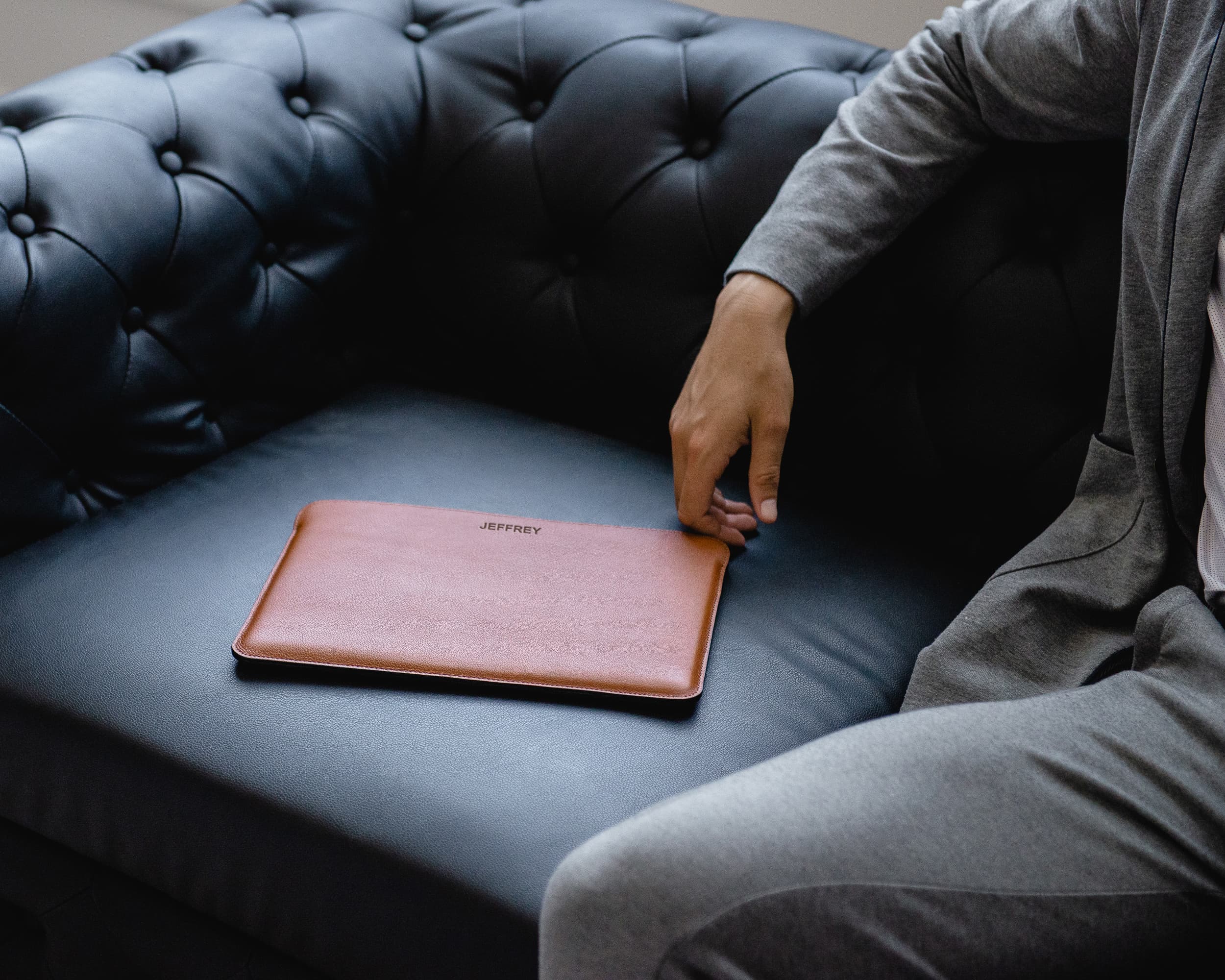 Read more about how to measure a laptop before choosing a case or bag to ensure it fits like a glove.
Leather desk mats and mouse pads
Nothing can express your biggest support in his working, studying, or gaming better than office gifts for him that combine perfect quality, high convenience, and individual flair. Handcrafted with care from natural materials, leather desk mats and mouse pads guarantee a comfortable spot for a wrist and a smooth, flat surface for more accurate mouse movements.
A cord fixator helps to keep the work environment tidy and tangle-free. If you`re fed up with trivial office gifts for guys, consider our personalized desk mats or mouse pads to make his workspace stand out.
Getting him a full-grain vegetable-tanned personalized leather belt, you`ll see his eyes lighting up with gratefulness. A leather men's belt is a timeless accessory for men that continues fashion trends for spring 2023. Want not only to underline his superior status but give him sentimental memories? Look no further for better presents for men because a sturdy and luxurious leather belt engraved with a lovely message will make a lasting impression on him and his colleagues.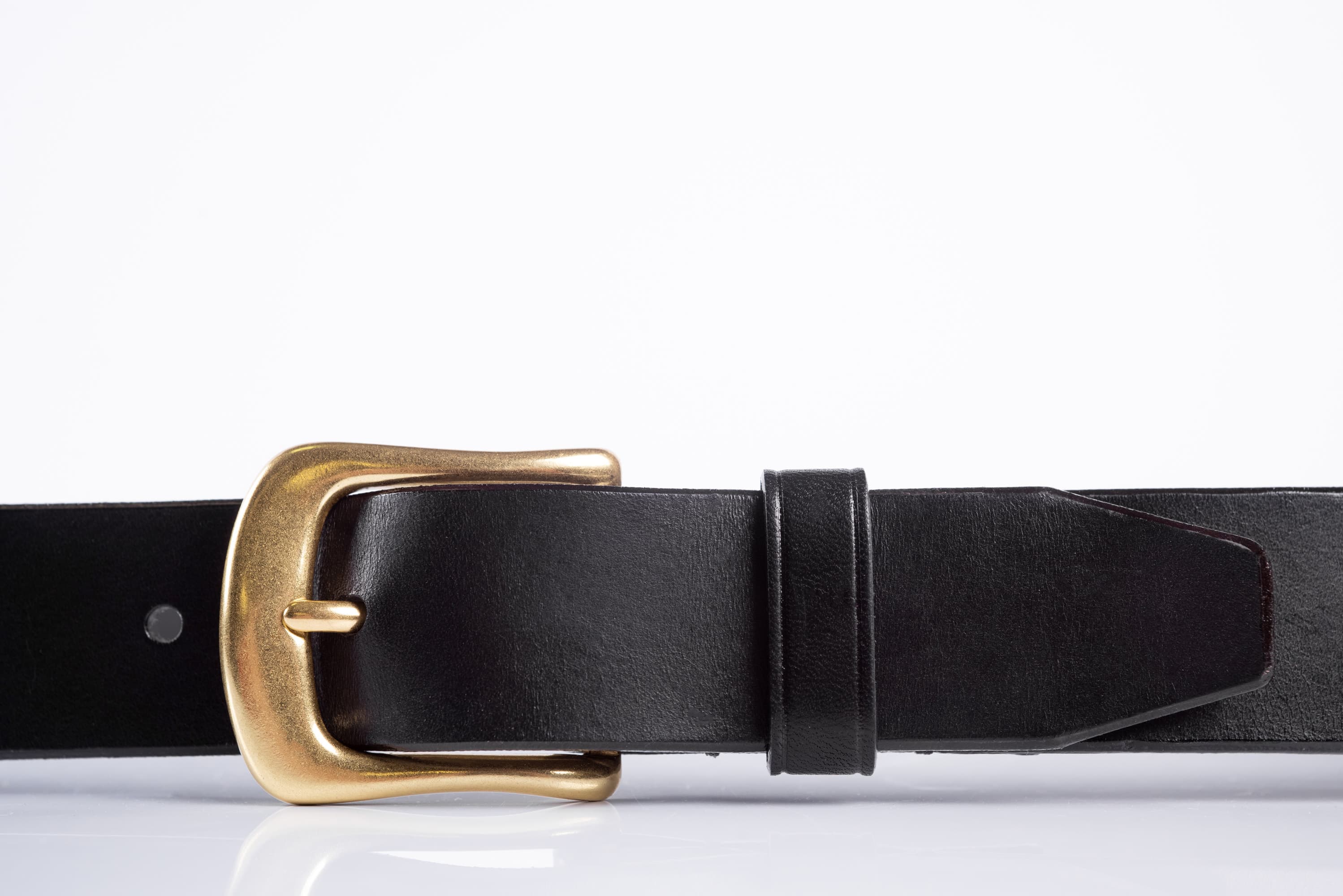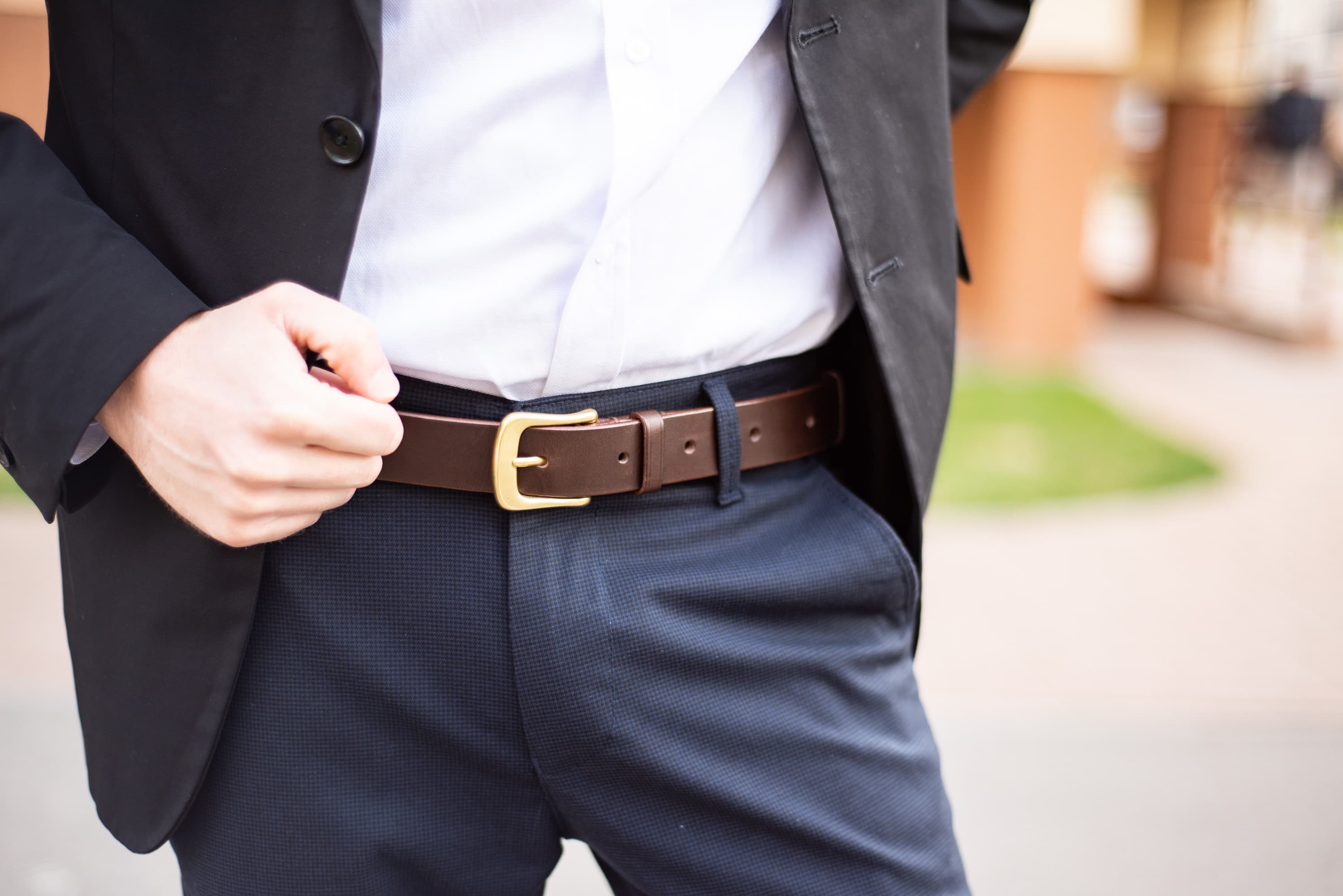 Every enthusiastic wanderluster will be deeply thankful for a leather dopp kit – one of the most useful gifts for men who travel a lot. Whether it's supposed to be for a business trip or family holiday, a leather dopp kit available in a range of sizes, models, and colors allows for storing toiletry essentials safely and neatly in one place without taking much space in a backpack, suitcase, or carry-on.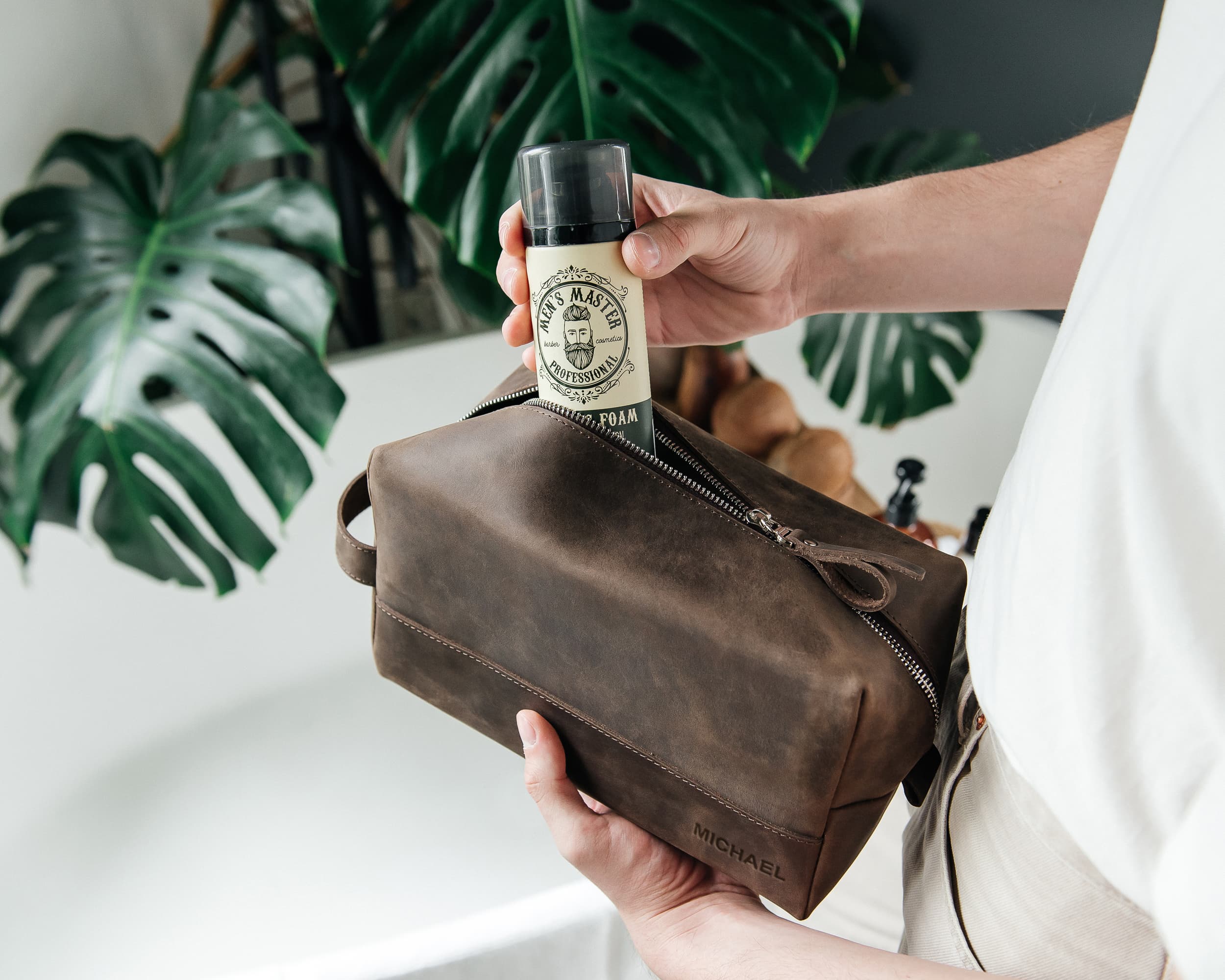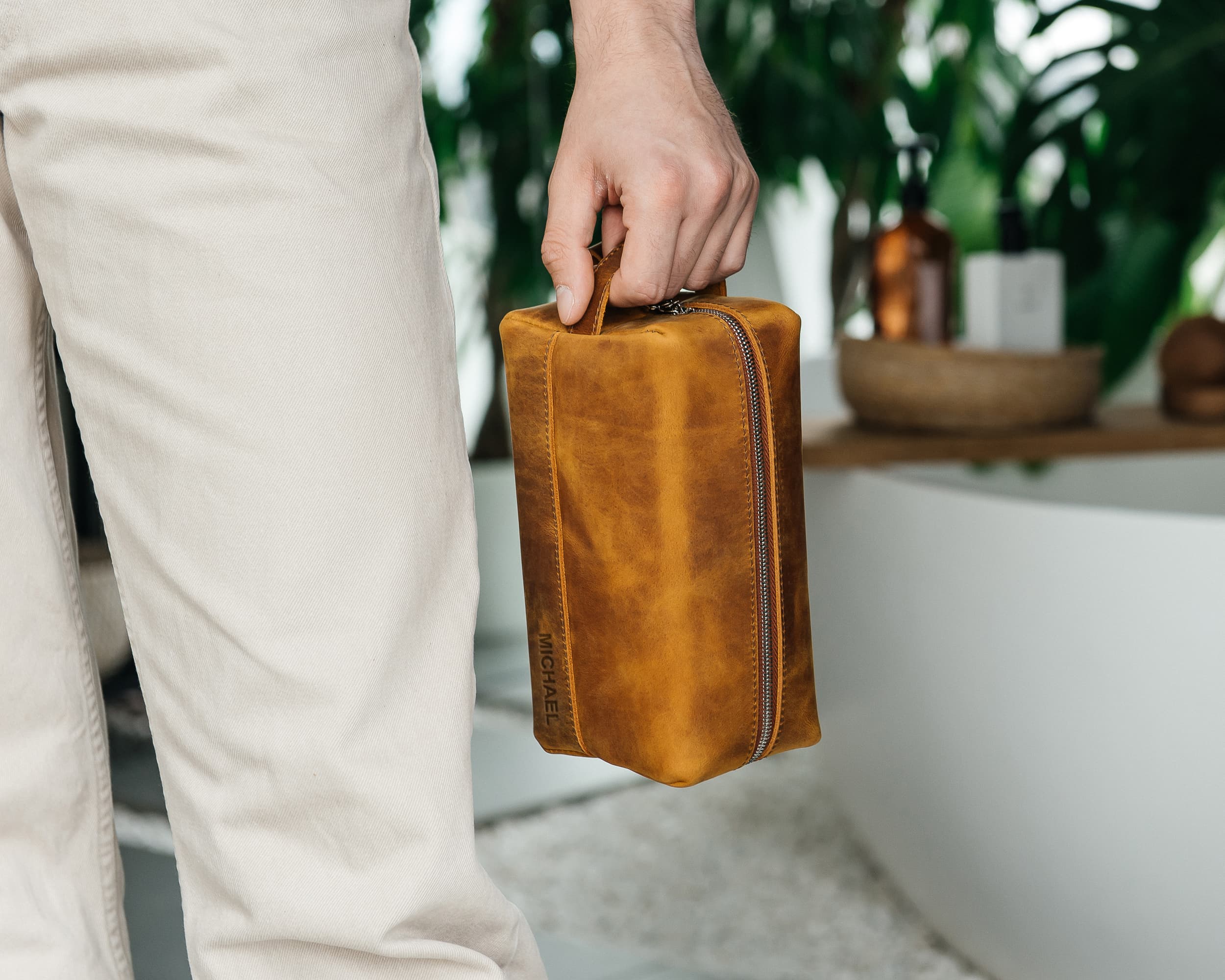 And, as a real life-saver, a leather dopp kit with handles can be easily hung on the hotel bathroom hook.
Still not sure a leather dopp kit will satisfy the needs of your men? Check out how amazingly versatile and helpful these unique gifts for guys can be, used as:
✔ As a wallet
✔ As an underwear or socks organizer
✔ As a document organizer
✔ As a free wire, screws, nuts organizer
✔ As a car accessories organizer
✔ As a first aid kit
✔ As a stash spot for extra cash
✔ As a lunch box
✔ As a phone stander while watching videos/movies
✔ As a bag where you can toss anything to pretend you make an order on a desk
Leather passport cover and luggage tag set
A leather passport cover is a perfect gift for travelers. A leather luggage tag is also a perfect gift for travelers. However, coming together in a complete stylish travel set they give a mind-blowing combination of documents security, outstanding resistance to wear and tear, and an everlasting idea of self-expression at every step.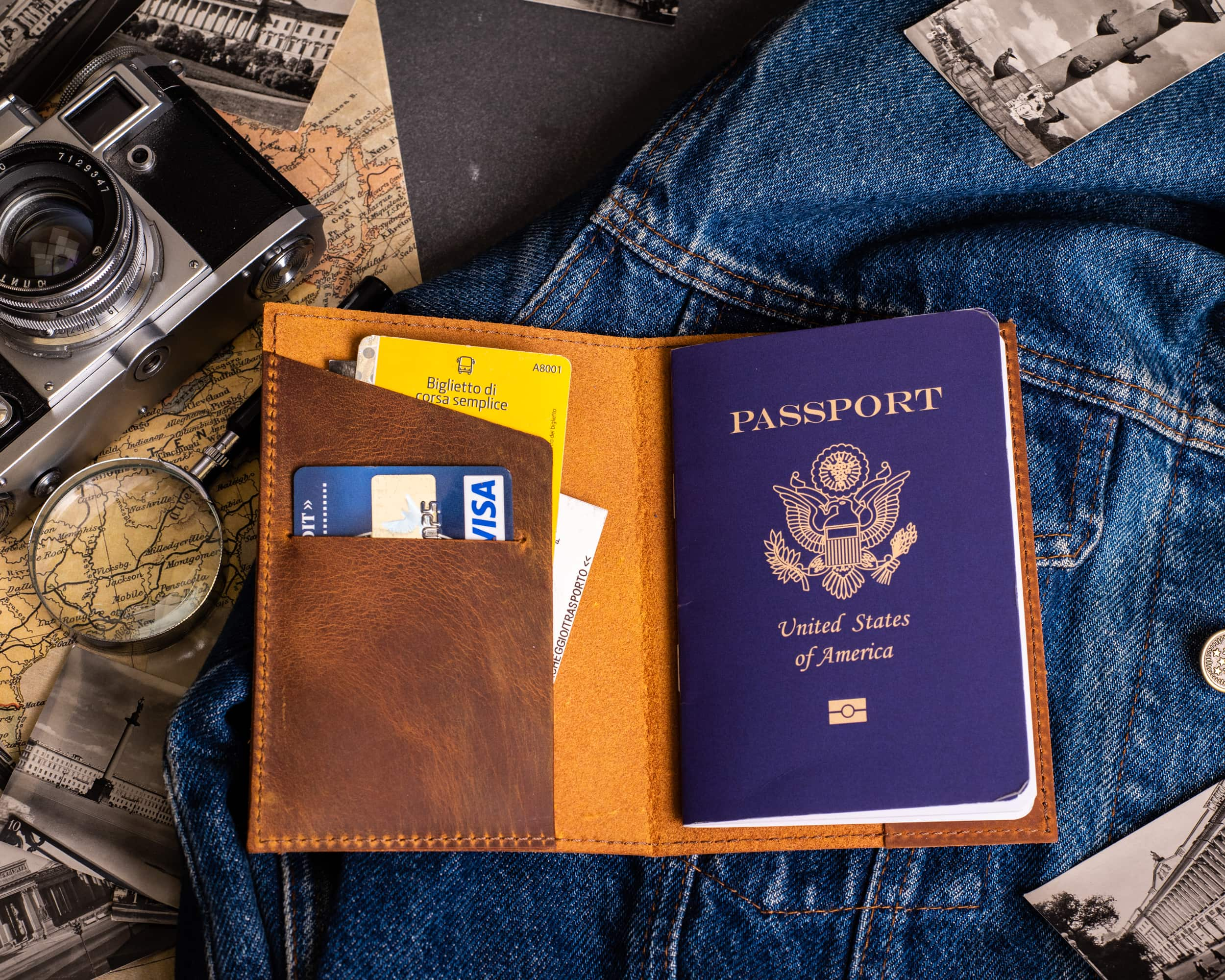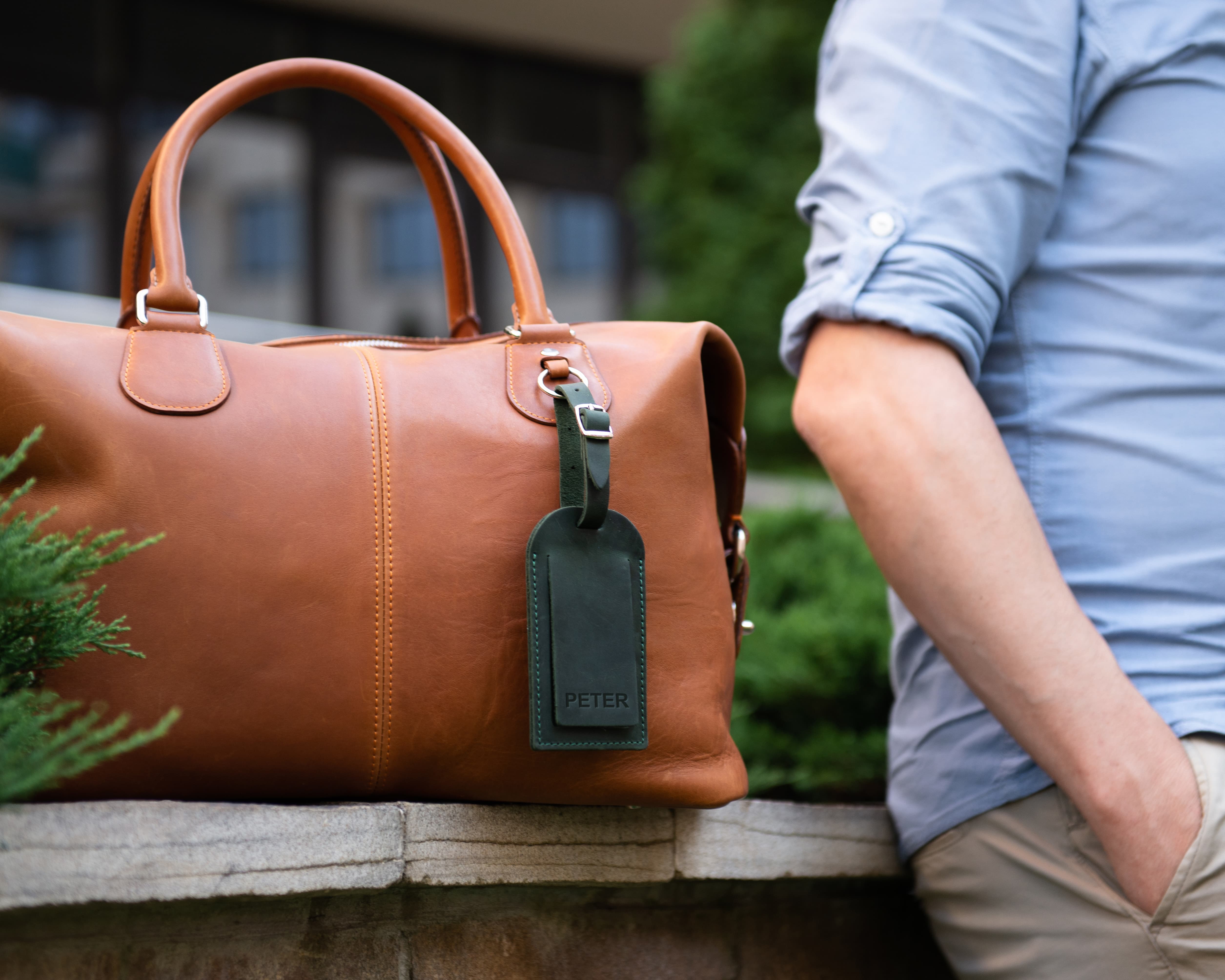 Designed to make your gift choice easier and your men`s travel experience more fuss-free, a leather passport cover will gently and snugly blanket over the documents, while a leather luggage tag will identify the carry-on, being safely attached.
Want to impress a picky boyfriend, husband, dad, or son? Want to be 100% sure the gift will win his heart? Is it a last-minute gift hunt? Or, maybe, you`re looking for a long-distance gift? An e-gift card is a great solution for you. With our e-gift card selecting gifts will be so pleasant and stress-less.
Why are Hidemont men's accessories the best gifts for him?
Choosing gifts for men from Hidemont`s collection means choosing the best-quality gifts. We carefully pick the materials and hardware for every leather item to guarantee that every gift given by you will last for years, withstanding frequent use and meeting contemporary men's needs. Also, the smooth, soft-to-touch texture of genuine leather creates pleasant tactile feelings, so that your beloved man will experience bliss and sheer delight every time he'll use it.
Hidemont cares for the quality of every leather accessory and cares for every man`s piece of mind. Our goal is to put an end to men`s nightmare of constant accessories updating. When looking for satisfying and excellent gift ideas for men, discover our rich collection of leather accessories for men.
Versatile and functional gifts for guys
The simpler, the better – that's the gifts men often expect. We`re so proud to achieve what appears to be unattainable – we`ve created the most minimalist accessories that provide supreme practicality and flexibility, giving men the freedom to use their accessories the way they like. The best gift is the gift that doesn't make one think of some other useful alternatives.
Personalized gift ideas for him
To generalize and say that Hidemont's leather accessories are suitable for all men would be unjust as each man differs in age, profession, and lifestyle, and therefore may require different items.
It's reasonable to say that every man is an individual who has his own preferences and taste, and yes, it's reasonable to say that we've accomplished the goal of making simple gifts exclusive for every man by offering the option of personalization.
Personalized gifts with initials, name, text, or stamp may bear the strongest sense and most intimate feelings, which every man can find so close to his heart. Isn't it a good gift choice for all men?
To sum up
Even though you may feel that choosing the best gifts for men is a rather time-consuming and nerve-racking task, there`s Hidemont`s ultimate guide to cool gifts for men. Our rich collection of unique and quality accessories will make your gift choice far easier and more pleasant.