If every morning you wake up not from the alarm clock. If you can't get rid of the feeling that you are being watched closely during every meal. If the gallery on your phone is full not of your selfies. And if the expression "happy is the one whose clothes go with not the most fashionable brands tags, but with fur" perfectly characterizes you, then you are on the right page.
Someone can show off their little poodle`s incredible tricks, someone feels protected walking in the park in the evening with a German Shepherd, someone`s lifelong dream has come true in the form of a cute corgi loaf, and I, for example, can not imagine what it's like to come home from work in the evening and not see the sheer joy in the eyes of my French bulldog Graham.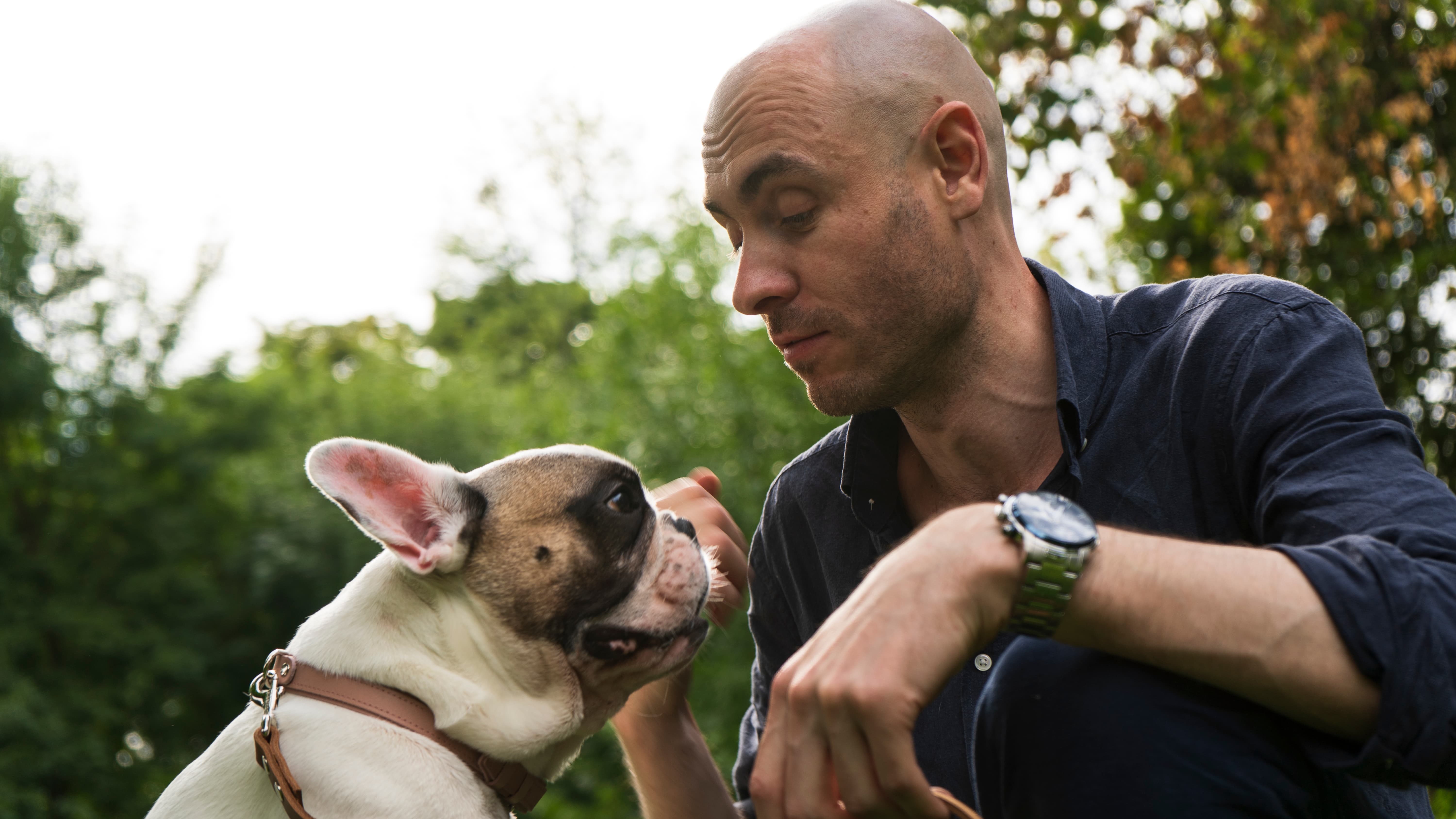 We all have different dogs in color, size, breed, and character, but we all have one thing in common – namely, the desire to give our pet only the best, toys, food, a place to sleep, and best dog walking accessories. First of all, as the owner of an active dog, and only then – a manufacturer of leather outdoor dog gear, I understand why it is so important to find dog walking supplies that will suit not me for financial or aesthetic reasons, but my dog for the most pet-friendly approach that became the basis for their creation.
In this article, I will introduce you to a rich collection of our leather top dog accessories, delving into every aspect of their design. I will also tell you how to stroll with your dog with maximum comfort and style, and what specific dog walking accessories will help you do this.
Leather dog collar: no bothering and jingling
I don't know about you, but I was annoyed that my dog was constantly scratching his neck, trying to paw off any collar that I would not buy him in modern pet stores. Graham has sensitive skin, and therefore contact with nylon collars rubbed, irritated the neck, causing an allergic reaction.
Of course, I didn't make him wear it. The search for alternatives did not stop, and it was easy to get bogged down in them without results. To prevent this from happening to you, read our simple tips on how to choose a dog collar.
Everything changed radically when I designed the dog collar from double-layered genuine leather. Natural and breathable material is delicate to the skin, comfortable, lightweight, is not toxic for small lovers of something to chew, and does not pull on the fur, which is especially a plus for dogs that like lively games at home and outside. However, it should be mentioned that, for some dog breeds, a collar is not recommendable, and a leather harness is a safer and more convenient option.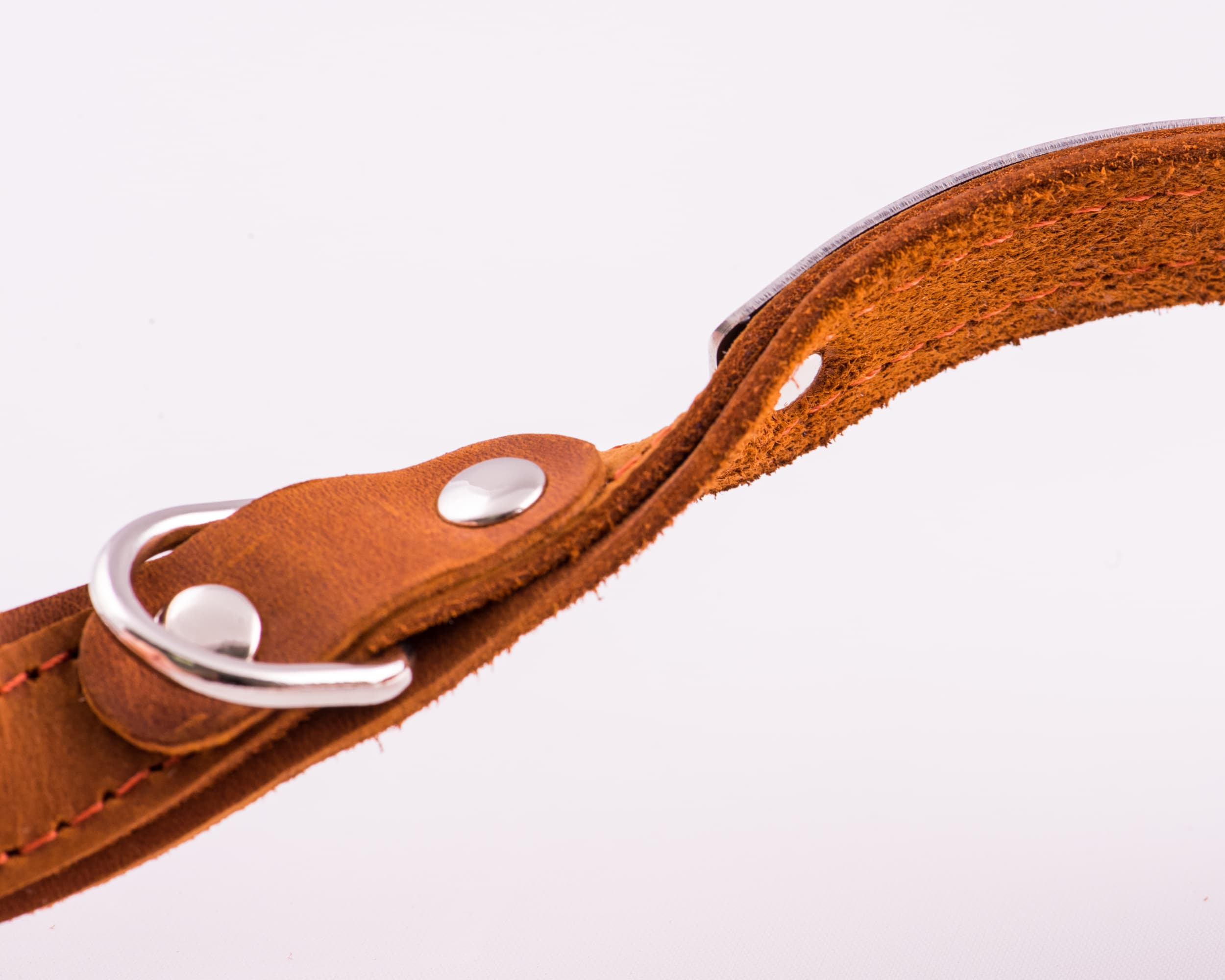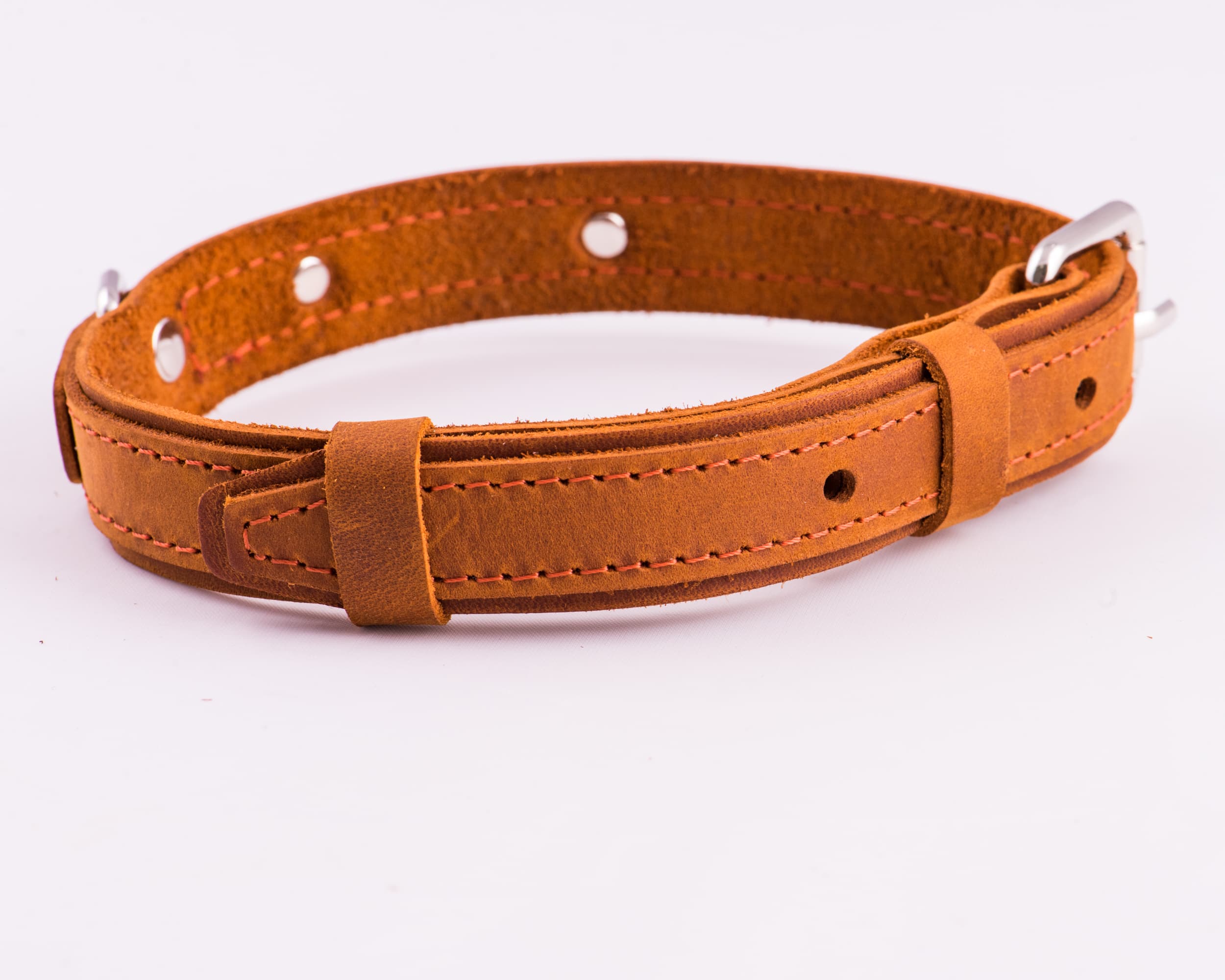 Wear resistance and stylish design
The leather dog collars are the best dog accessories as they look neat, minimalistic, and stylish, and over time will only get a better look thanks to the beautiful patina. Such top dog accessories don`t have an unpleasant chemical smell, don't tear, don`t stretch, don`t fray around, and don't irritate the dog with the protruding strap end, ensuring long-lasting quality.
As the dog must haves, these collars will withstand daily use for years, contact with water, and even the craziest bursts of energy If you treat them in a proper way. To make the dog collar look like new for as long as possible, it is enough only once every three months to apply a small amount of hand cream, and in case it gets dirty – wipe it with a wet baby cloth, allowing it to air-dry naturally in a ventilated room. Don`t dry it on a battery, with a hair dryer, or other sources of artificial heat.
Our coolest dog accessories have combined comfortable design, unmatched durability, and safety design, which is achieved with webbing between two leather layers, a solid D-ring, and a belt buckle. In addition, unlike other cheap buckles that unclasp easily, the belt buckle guarantees not only reliability but also a perfect fit on the neck, and effortless adjustment, which is definitely a huge advantage for fast-growing pups.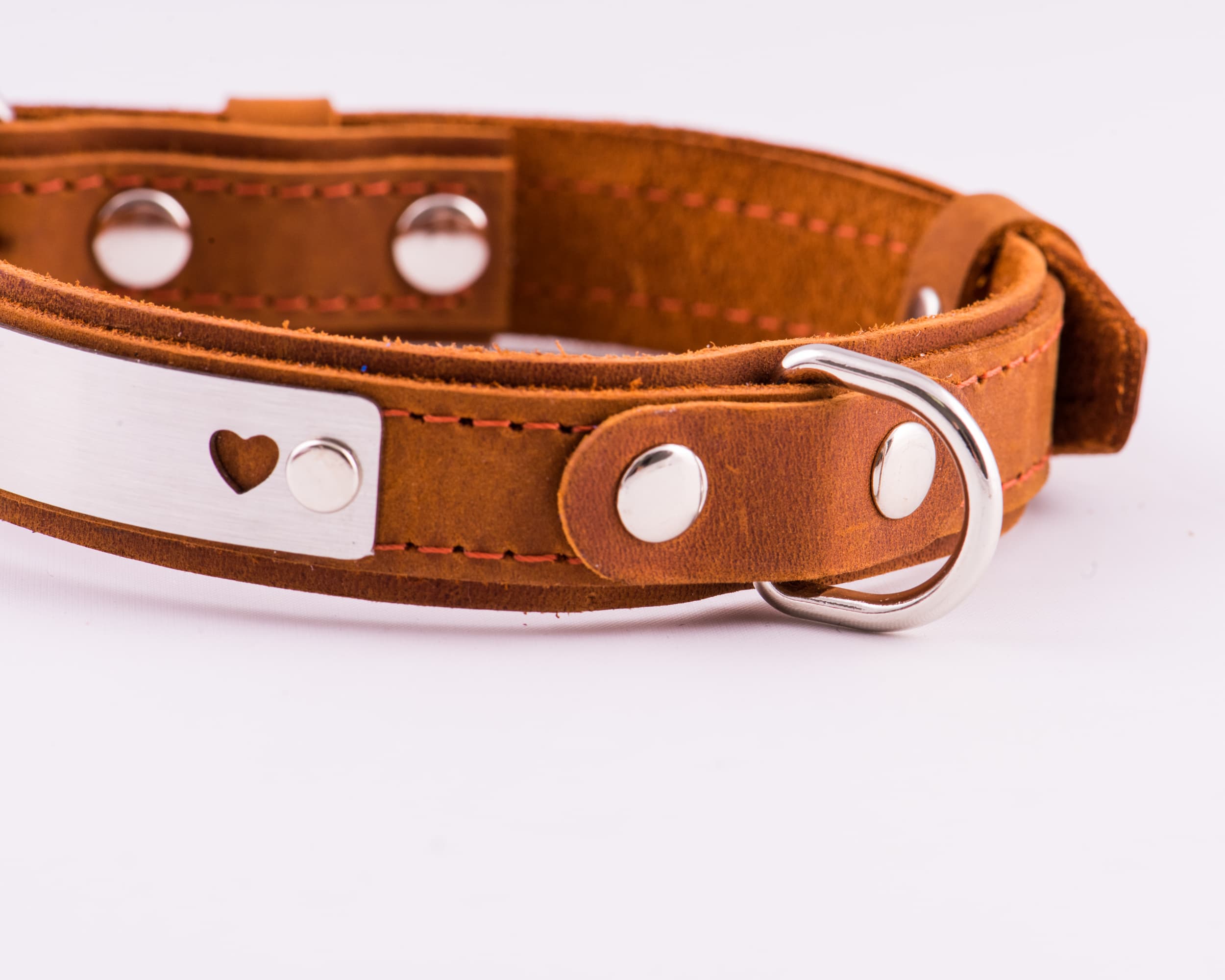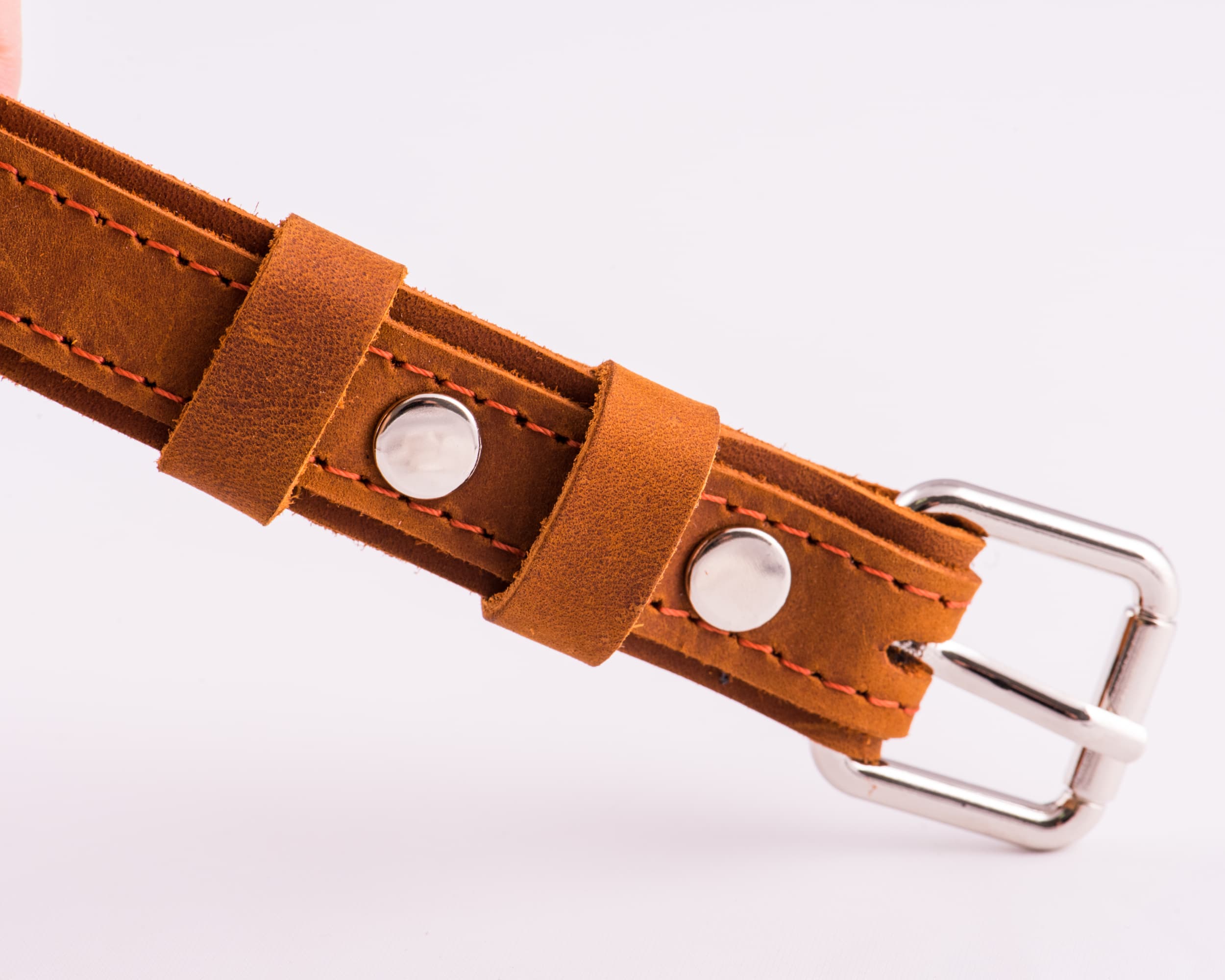 I know from my own experience that most issues arise when deciding on the collar size. To make your life easier and handcraft the most comfortable, perfect-fit dog collar for your furry fellow, I have come up with a simple piece of advice:
Measure the circumference of the dog's neck at the widest point with a measuring tape, taking into account the two fingers gap, and find the closest value in the size chart.
This little detail manifests the most innovative approach to dog walking equipment, and it really makes a big difference. Dog collars with a dangling ID tag are remnants of an impractical past that should be replaced with collars fashioned with laser-engraved silent stainless-steel nameplates.
And it is called silent because this 1 mm thick nameplate is riveted to the collar, ideally repeating the collar contours. It doesn`t jingle while retaining its main function of identifying your pet. I can confidently say that now it is several times more pleasant and safer to walk a dog because a nameplate is also less likely to get lost in the park.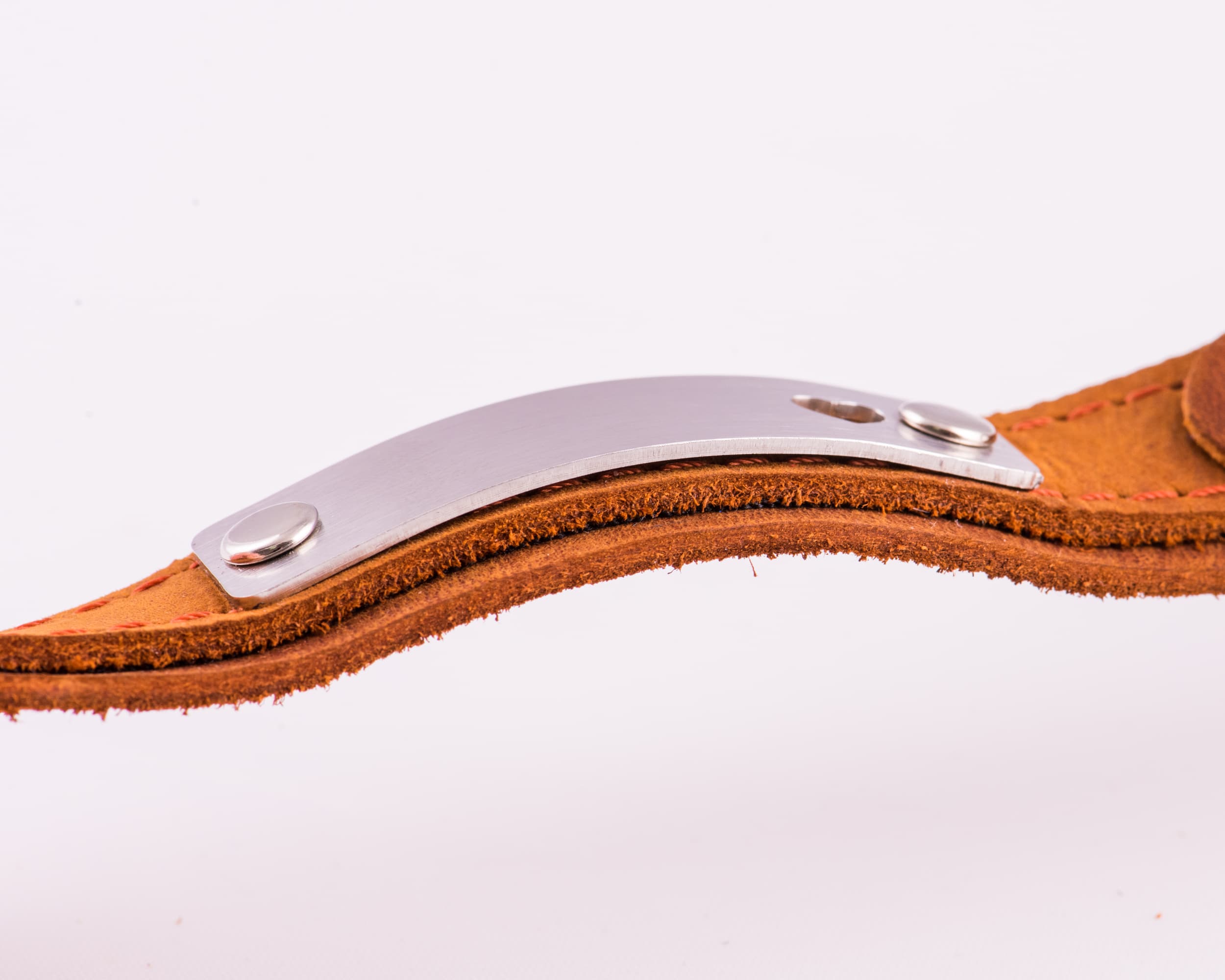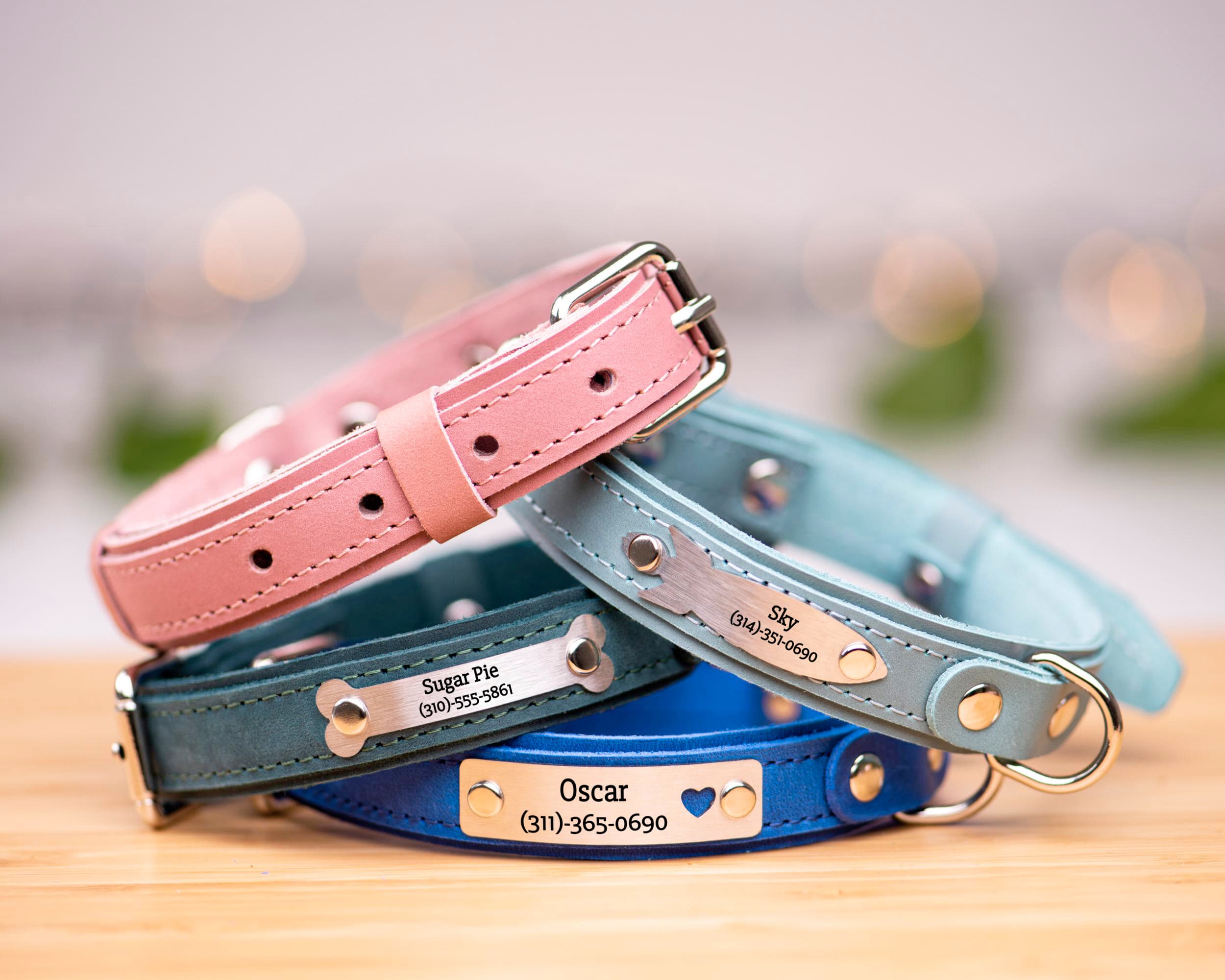 Learn more about the difference between a nameplate and an ID tag and laser engraving on stainless steel in our articles to ensure you`ve chosen the best dog walking accessories.
Our customers like these collars so much: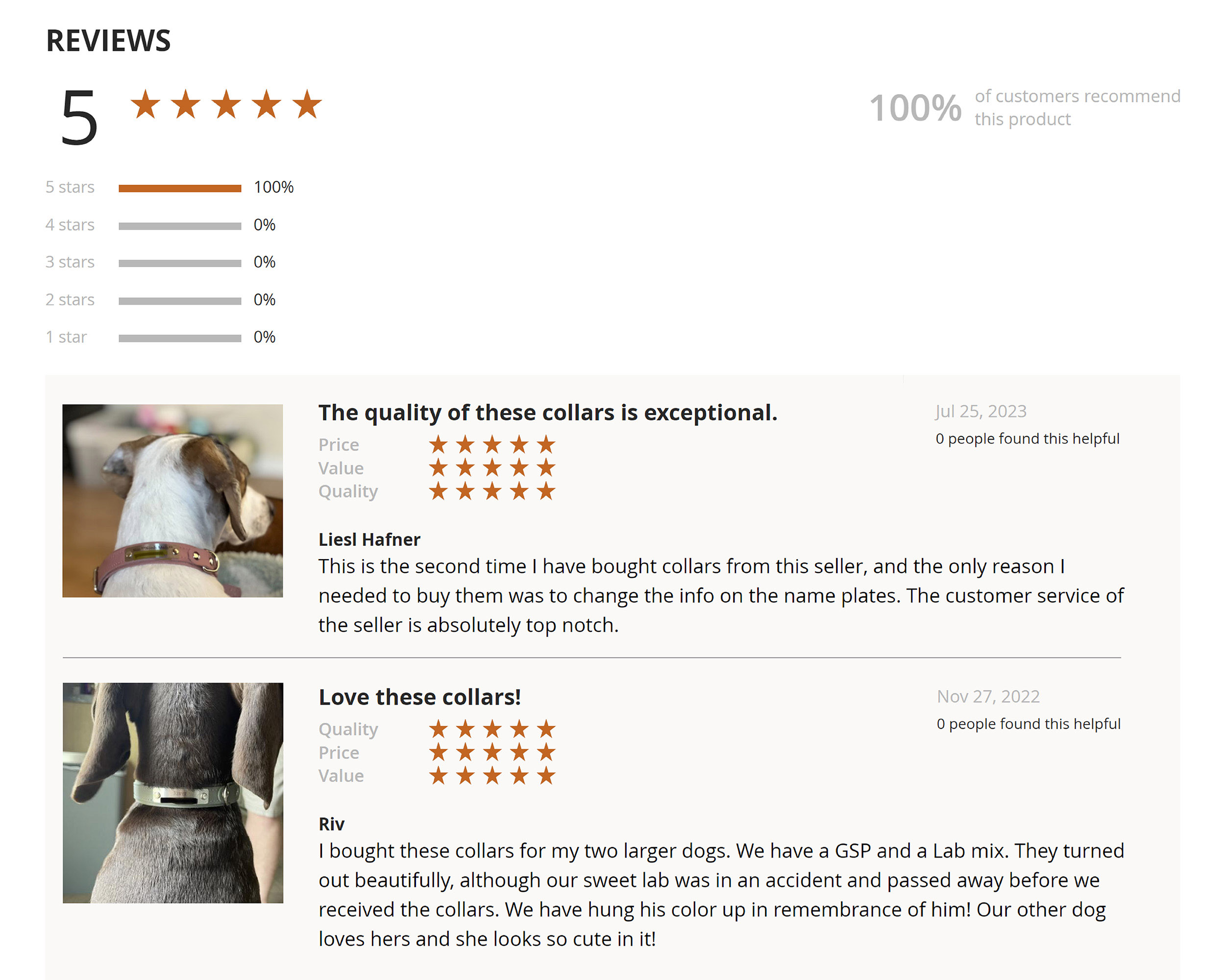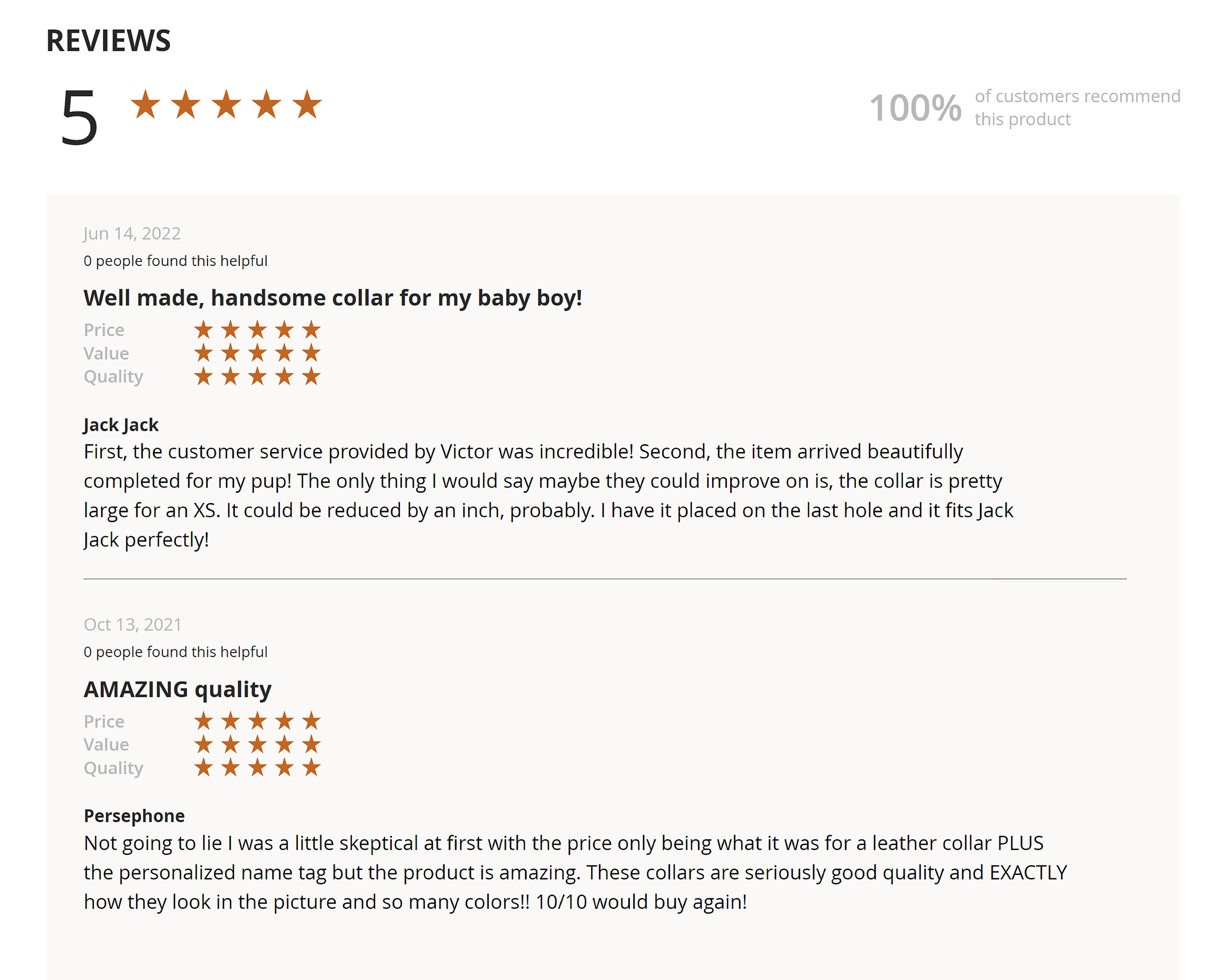 Leather dog leash: confidence on every step
After solving the problem with the collar, another one appeared – with a leash. It would seem that such simple dog walking supplies cannot complicate your time with the dog, but it turned out exactly the opposite. When we set out for a walk, Graham becomes very interested in everything: new people, other dogs, and smells. Switching from one object to the other with lightning speed, he got his paws tangled in the leash, and this greatly limited his nature as a little explorer.
Freedom of movement and safety
New challenges – new solutions, and solid 360o swivel bolt snap, became one of them. In combination with the optimal length of 4 1/2' (140 cm) or 2.8' (85 cm), width of 2/3" (1.7 cm), and thickness of 10 oz (4 mm), the bolt snap helped achieve dog walking equipment design that fits perfectly into the lifestyle of dogs who love to explore the world, while providing an excellent balance between control and freedom of movement.
The leash made of genuine leather stands out with its strength, resistance to stretching, fraying, and cracking over the edges, elasticity, and durability, making them the best dog accessories for walking, training, and traveling regardless of the weather. The leash is able to withstand the active pulling of dogs weighing up to 25 kg.
Our dog leashes are easy to roll up and put in your pocket or bag, and the ergonomic handle provides comfort without rubbing your hands with every sudden rush of the dog to something new on the way.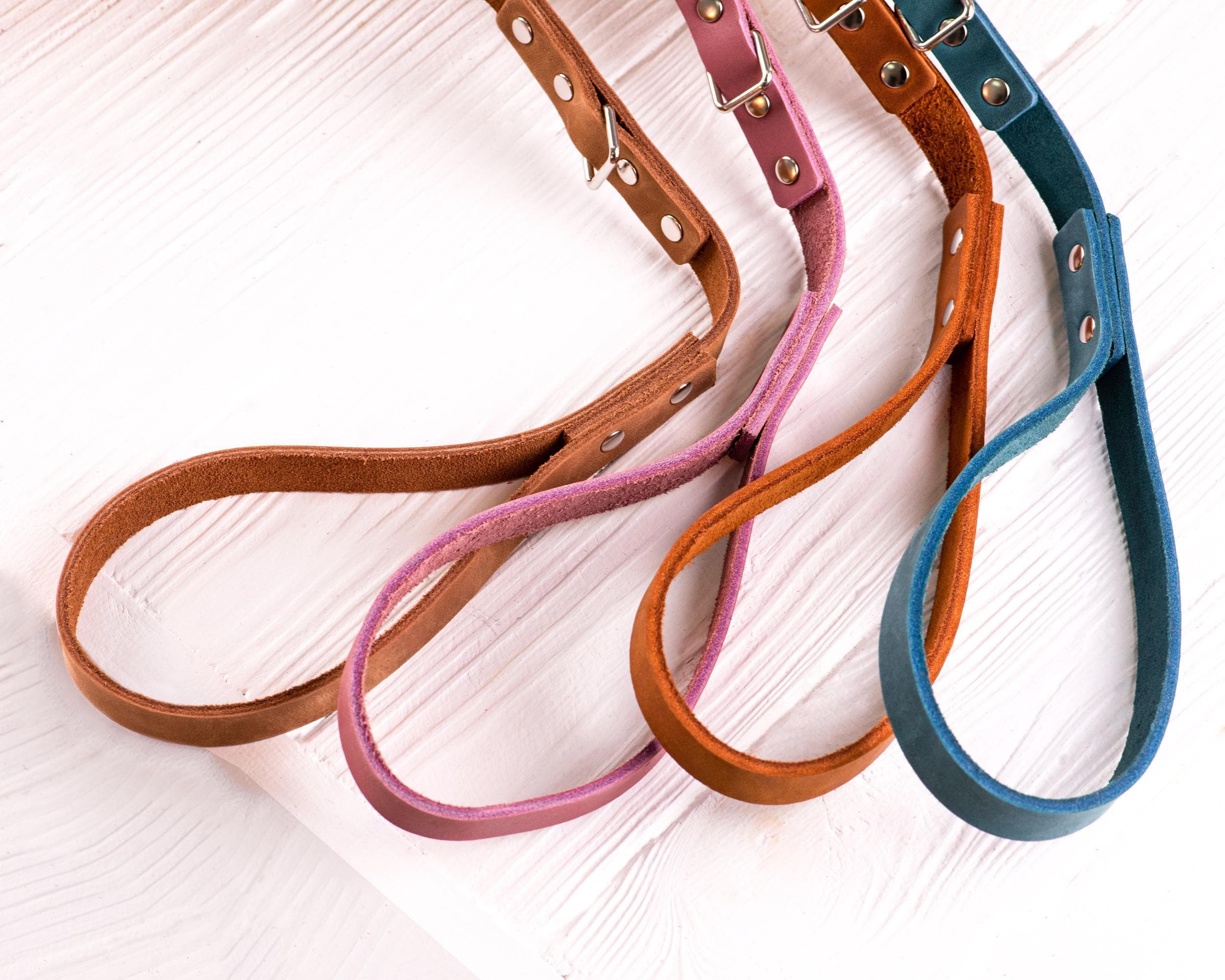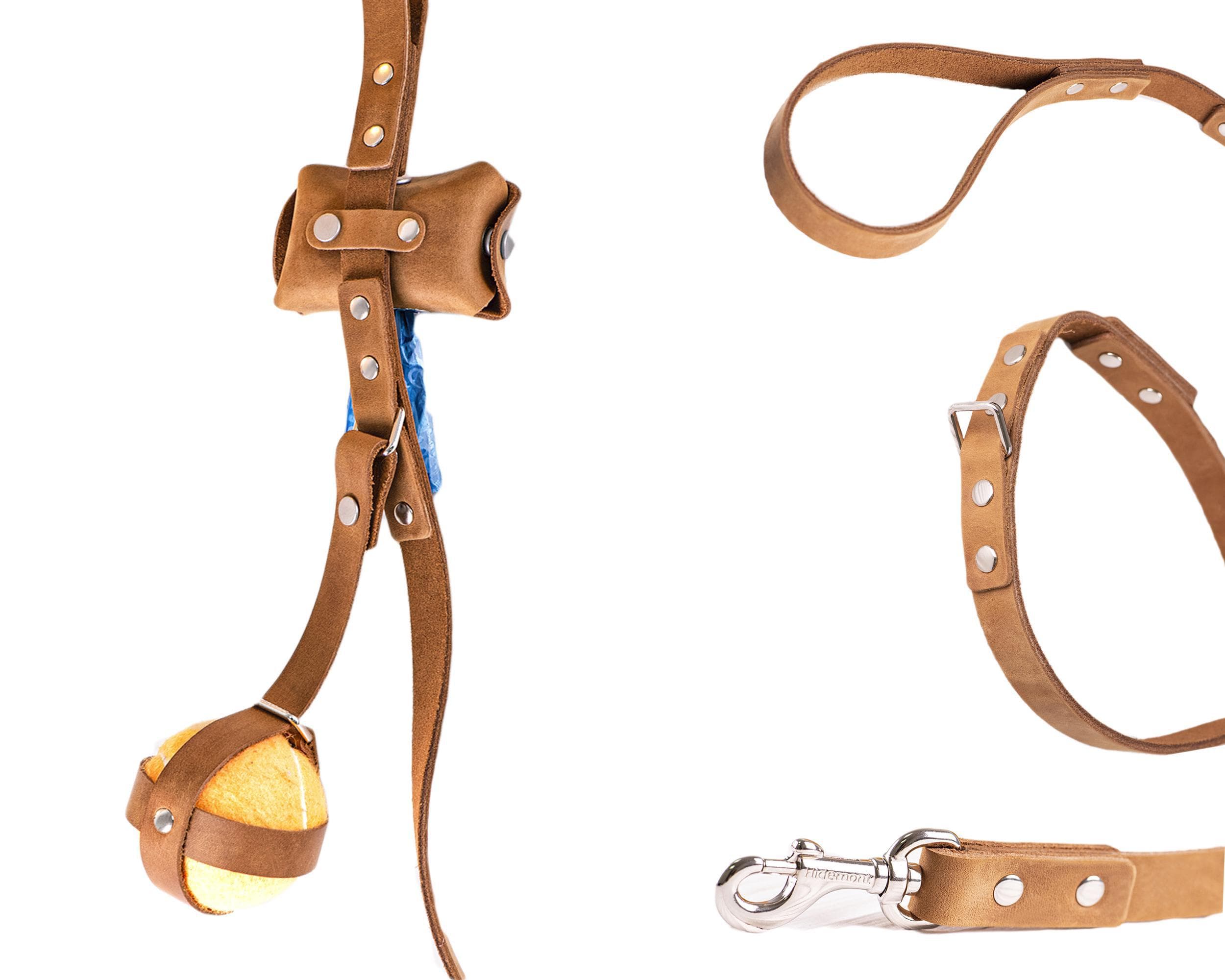 And to always be ready for adventures, it is very convenient to use a high-quality frame riveted to the leash, which allows you to attach and have at hand the most necessary items, for example, a poop bag holder, keys, a ball holder, and much more. For me, this is a more suitable leash than a retractable leash, which does not give such an opportunity.
Are you interested in how to choose a leash that won't disappoint over time? Read our article with simple recommendations that will make your choice much easier.
In the Hidemont leather dog walking accessories collection, you will find the best leash size for your pet. The leashes with a length of 4 1/2' (140 cm) (size M) are medium dog must haves for medium-sized dogs, and they are not too long for the necessary control and not too short for free exploration of the environment.
But the size S with a length of 2.8' (85 cm) is better to choose if you have a large tall dog up to 25 kg because the dog leash will not drag on the ground and will get less dirty. Also, our shorter model is a good alternative to the first leash, which will help you teach a dog to walk on a leash and basic commands.
You have a unique opportunity to make every walk, training session, or dog-lover gift full of sense and style by adding personalization to the dog leash.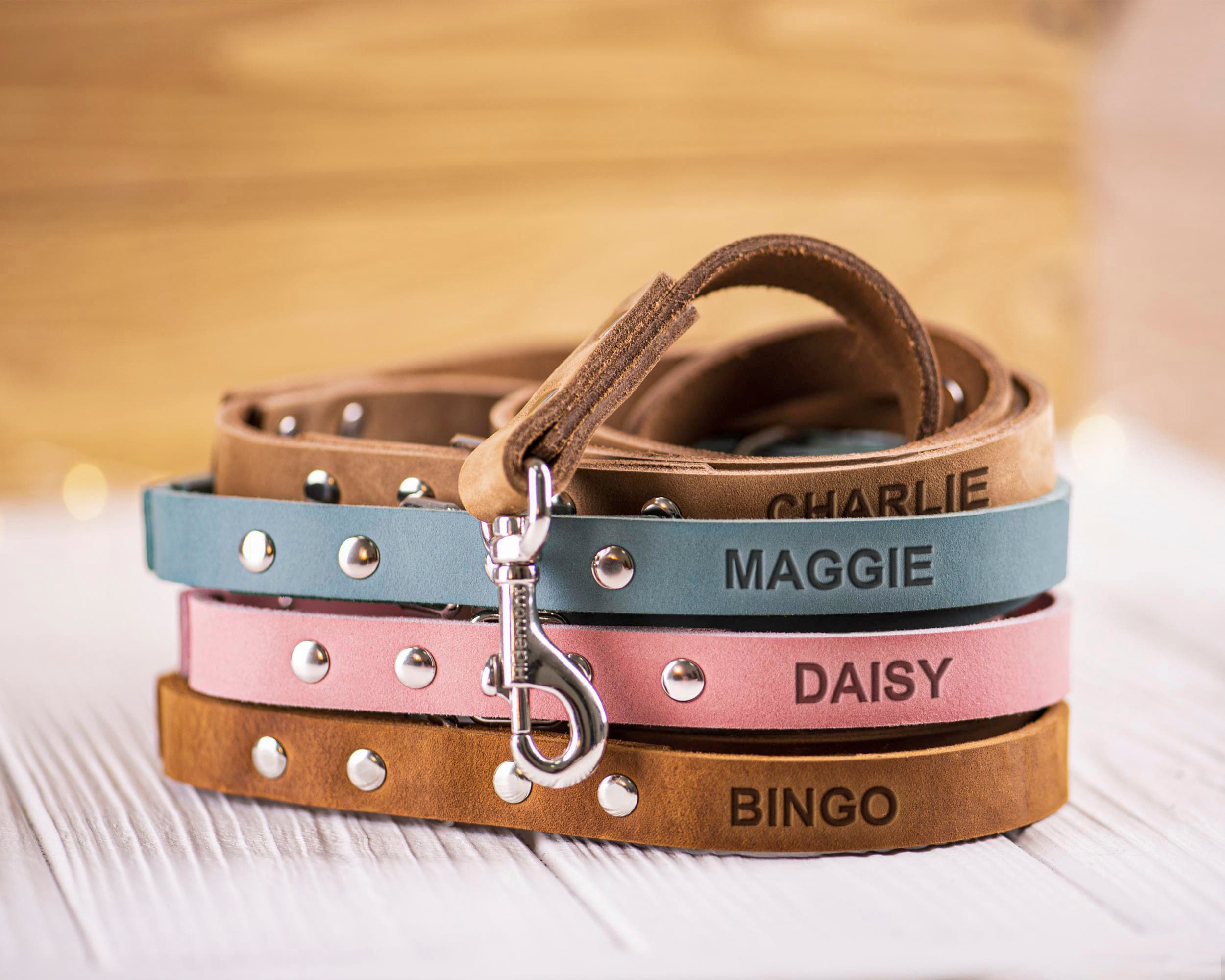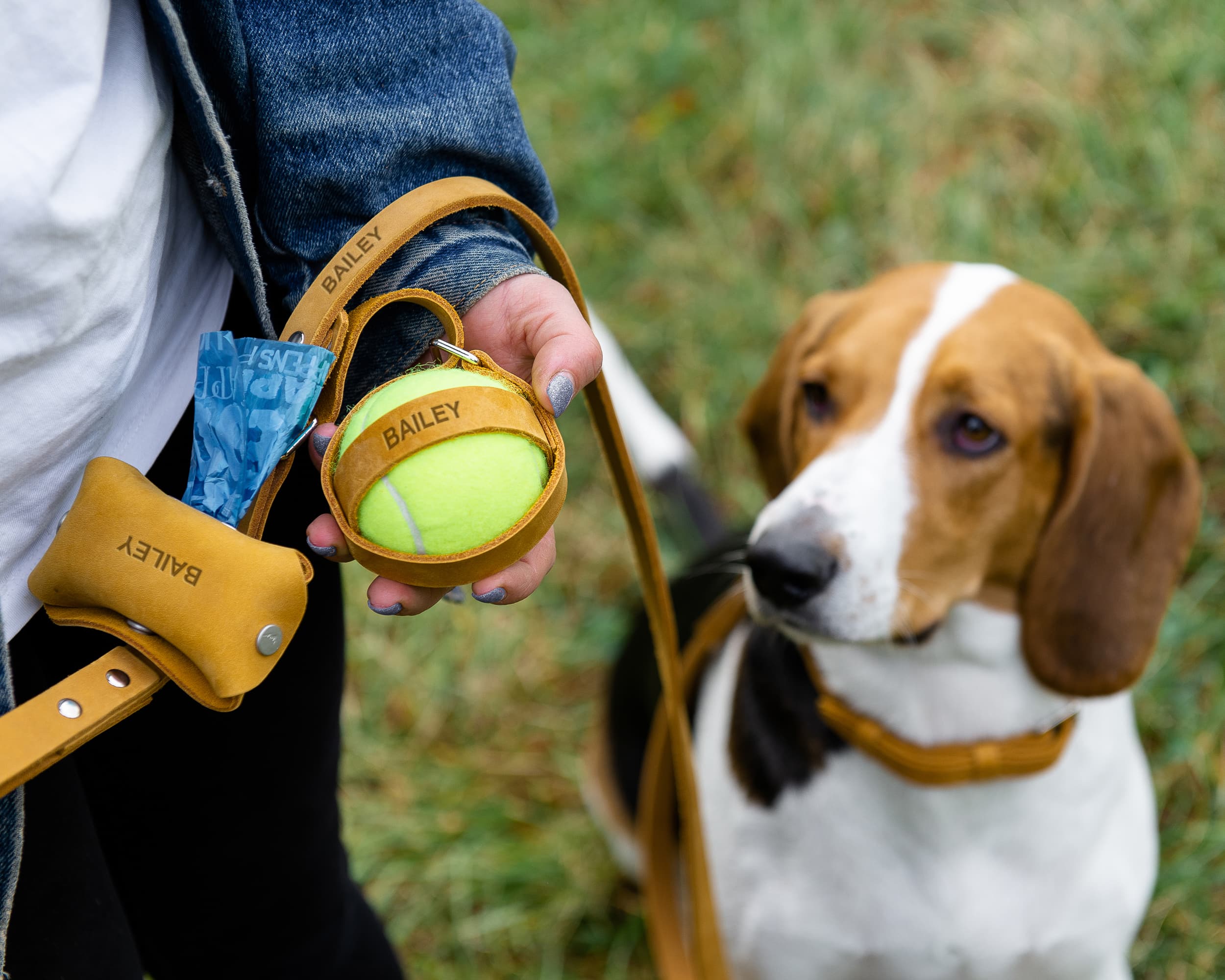 To make the coolest dog accessories, you can add a dog`s name, and everyone around you will get acquainted with a charming boy or girl who obediently goes on a leash by your side. Or it can be any other meaningful phrase of up to 12 letters, reflecting the vibe of your time with your pet or making your fluffy friend feel so VIP (Very Important Pup).
Hidemont customers` satisfaction is the best reward: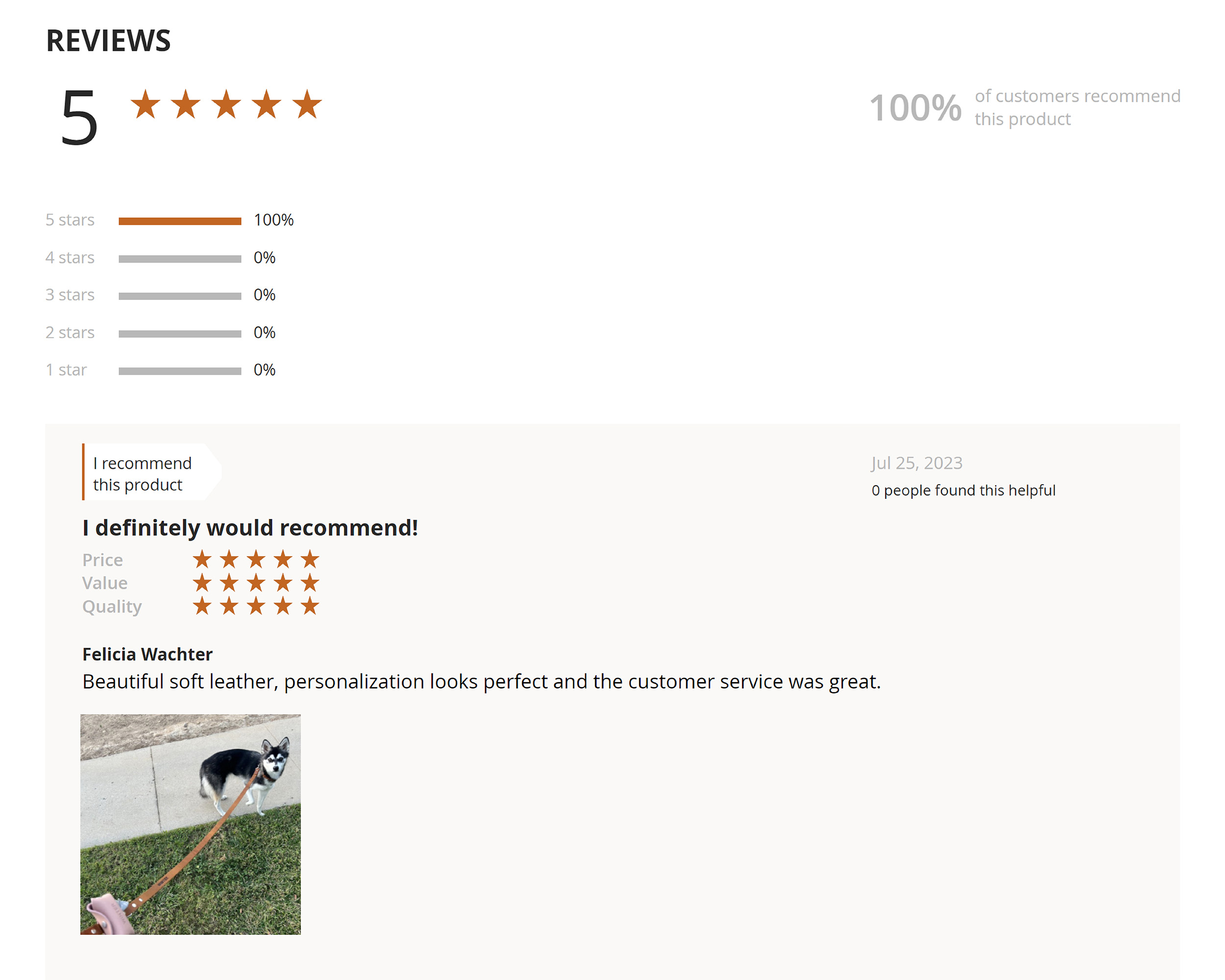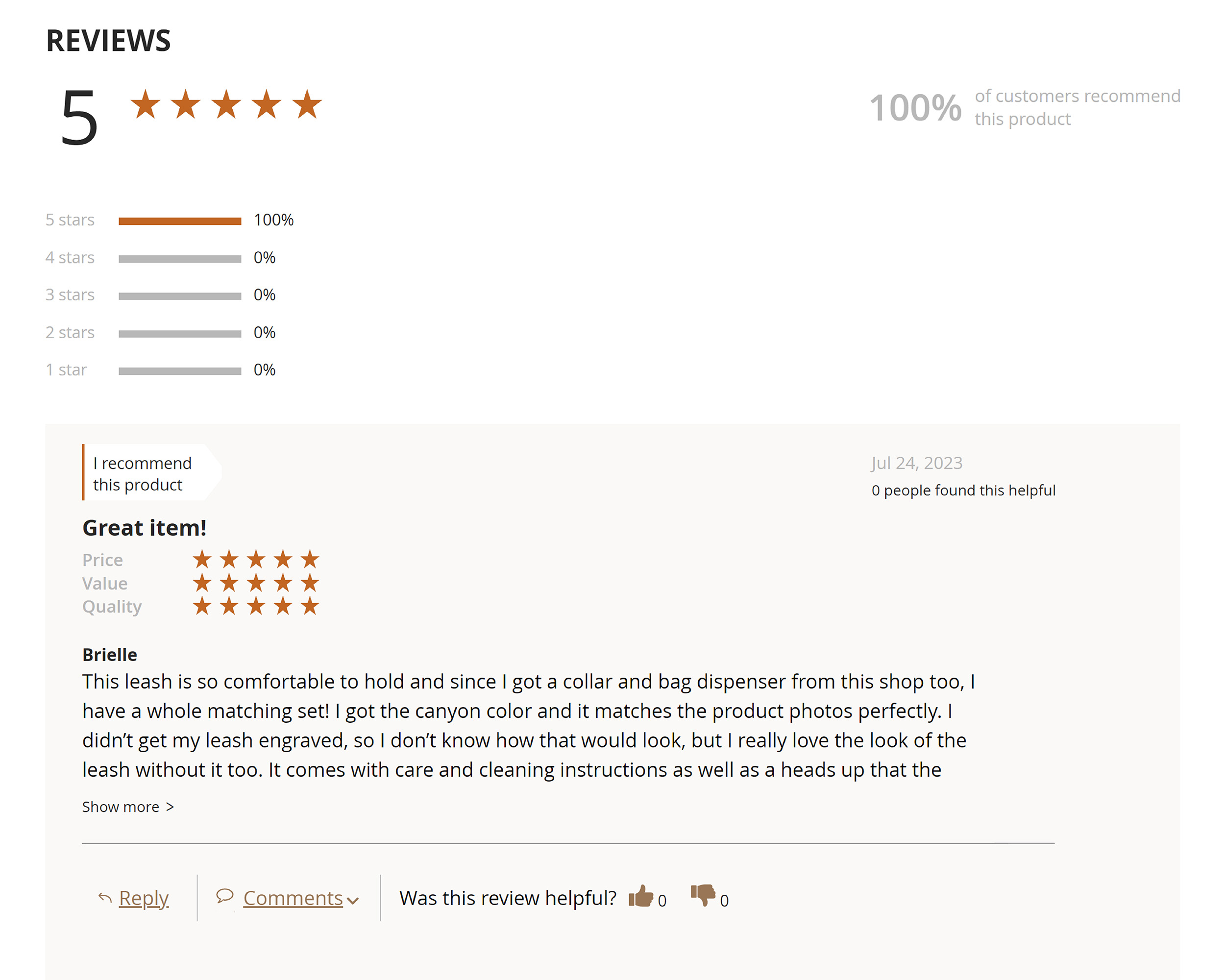 Leather poop bag holder: nature will thank you
And no dog walk goes without picking up. And that's the aspect of walking that the owners talk about reluctantly. There are many reasons why you need to clean up after your pets, and there are also many reasons why you need to find a quality leather poop bag holder.
And, yes, I wasn't excited about this activity, and the embarrassment from the fact that I left the bag roll at home only discouraged me and caused further frustration. Plastic poop bag holders only partially solved the problem and looked cheap and unreliable.
Such inconveniences inspired me to create leather poop bag holders – the dog must haves that make your walking routine a breeze.
Now there is no need for me to worry I left the bag roll at home and that I will unfairly behave with the welfare of our street. And because I can easily snap these cool dog accessories onto a leather leash up to 1.7 cm wide, they won't swing around or get lost.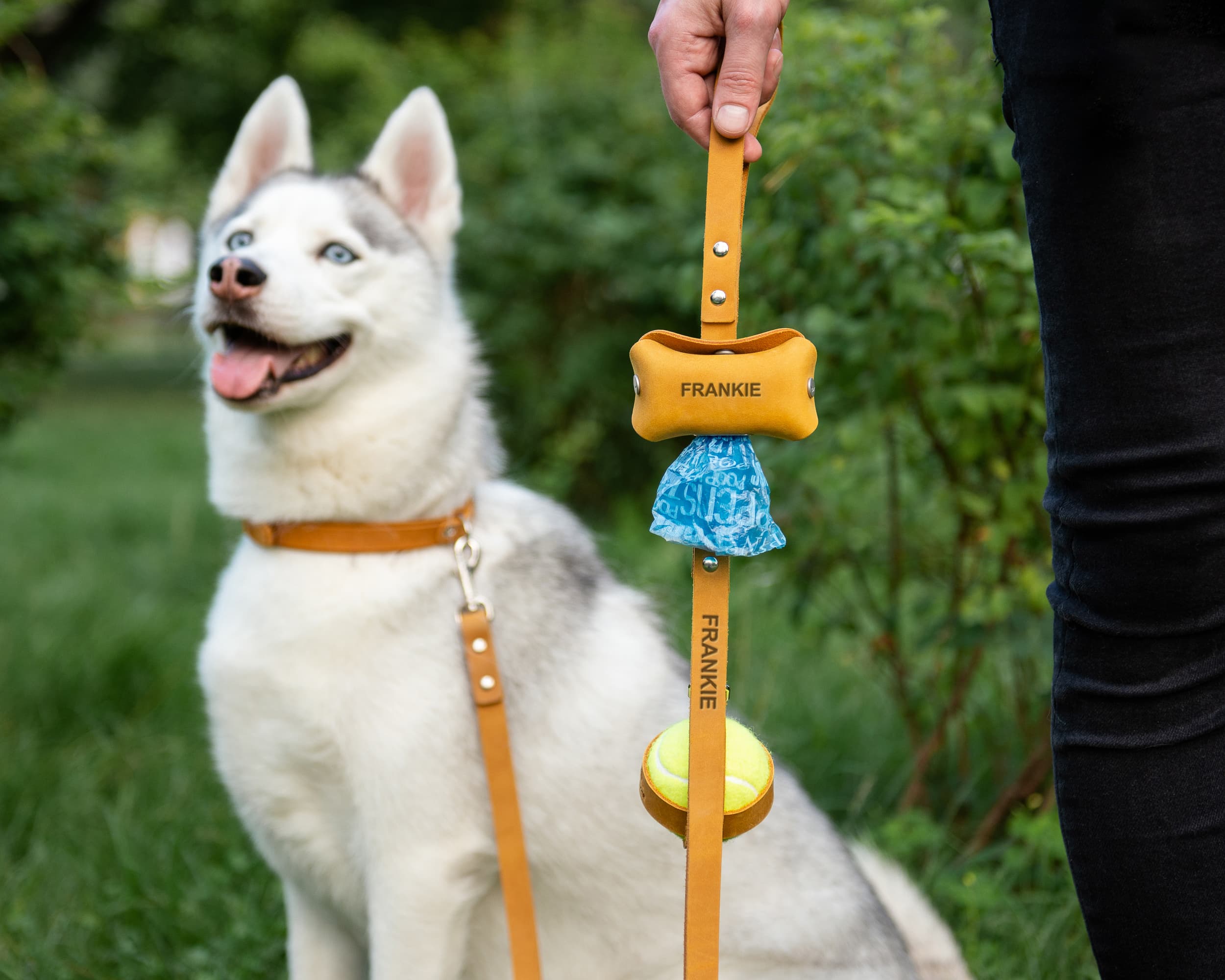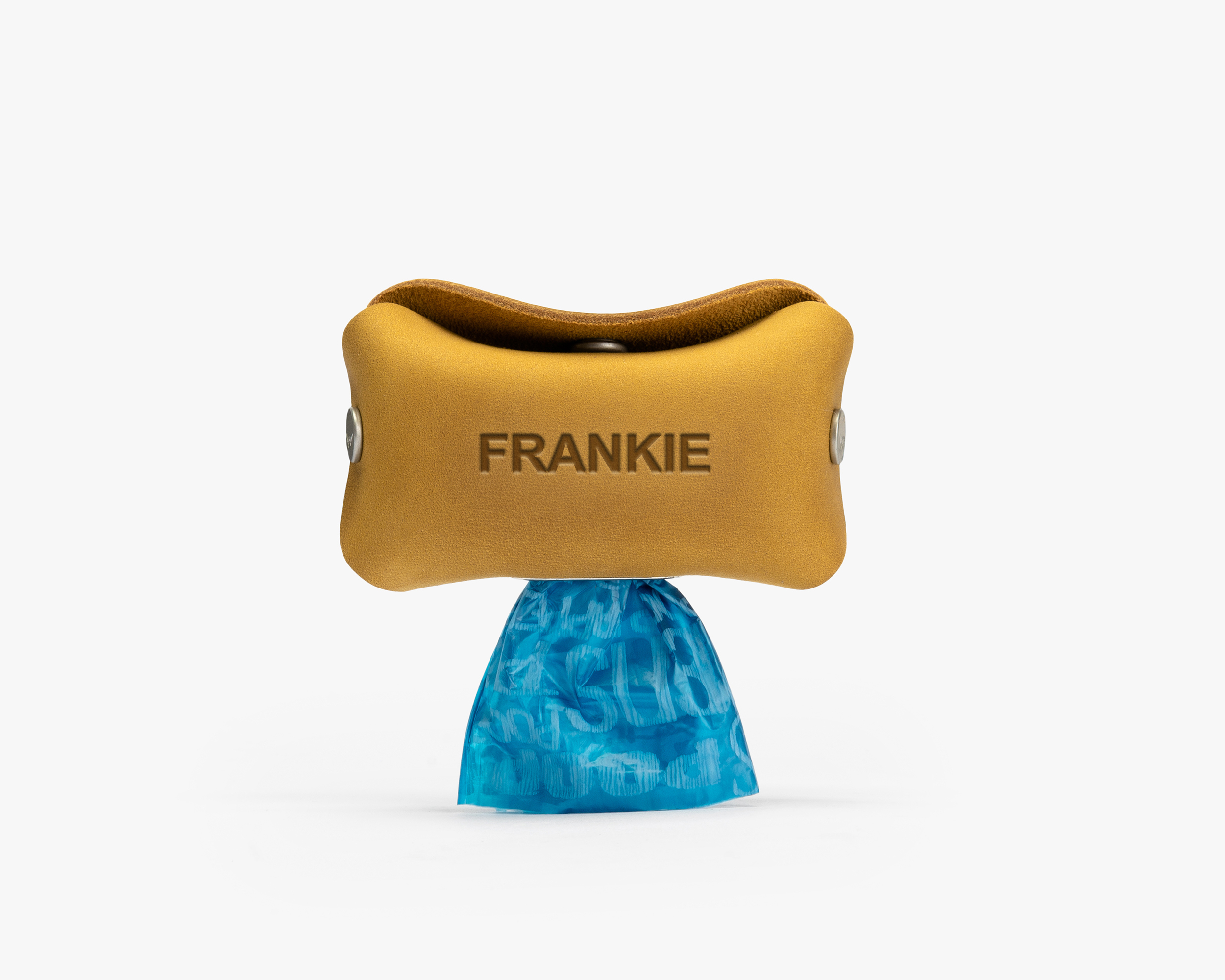 Despite its compact size, the poop bag holder has enough space to fit a standard bag roll, and a thoughtful grommet makes it easy to pull out and tear off the bag in one sharp movement. Noteworthy is its innovative design without a zipper, as it comes only with snap buttons, which guarantees wholesome access to bags that are less likely to get torn up.
High-quality and minimalist design
Unlike plastic poop bag holders in the form of a bone or capsule, genuine leather poop bag holders stand out for their durability, wear resistance, and stylish design. These are the cool dog accessories that you are not ashamed to go outside with and be sure that they will attract the attention of neighbors to the urgent problem of cleaning up after dogs.
I`m so delighted that these handcrafted poop bag holders have found the place in our customers` walking rituals: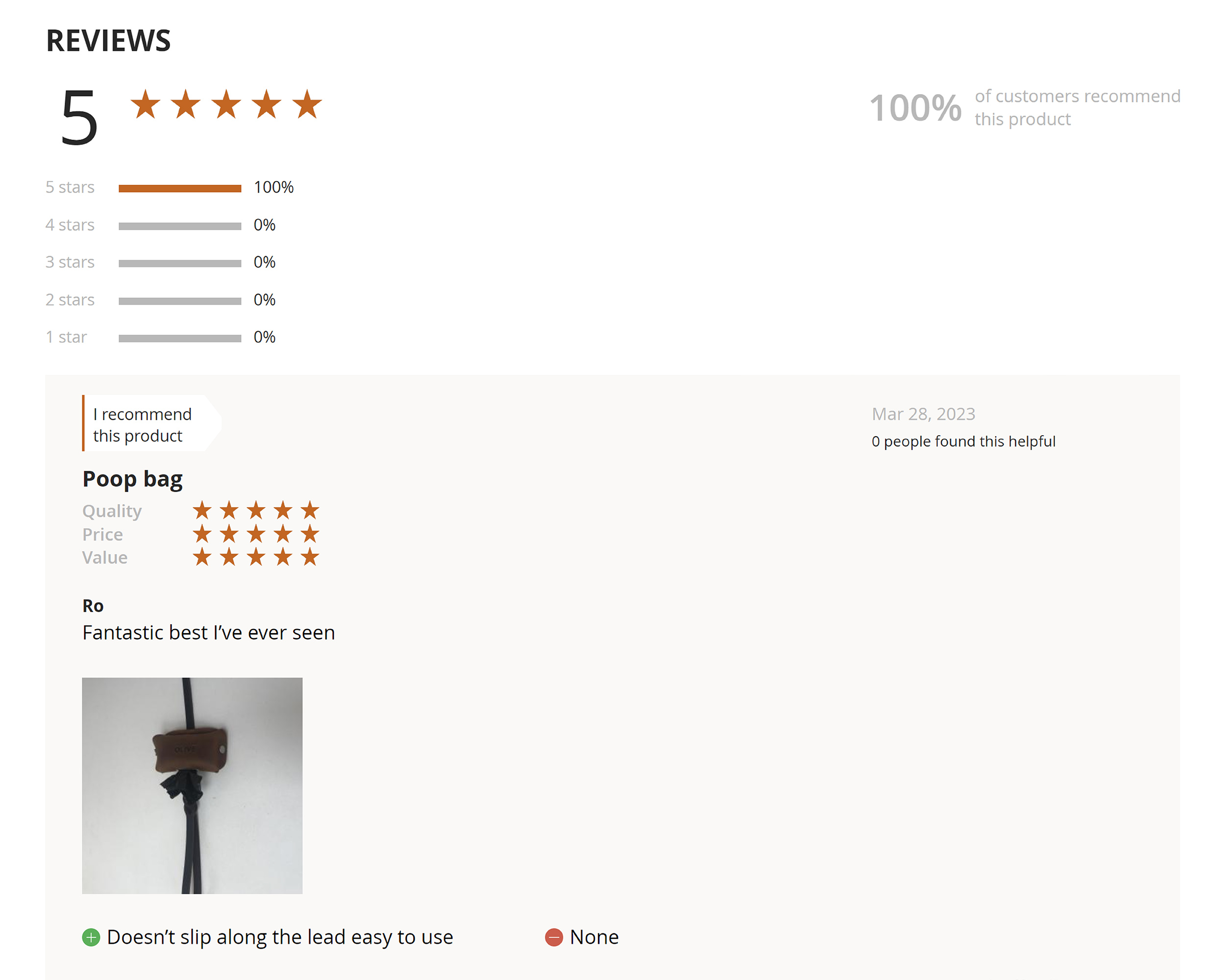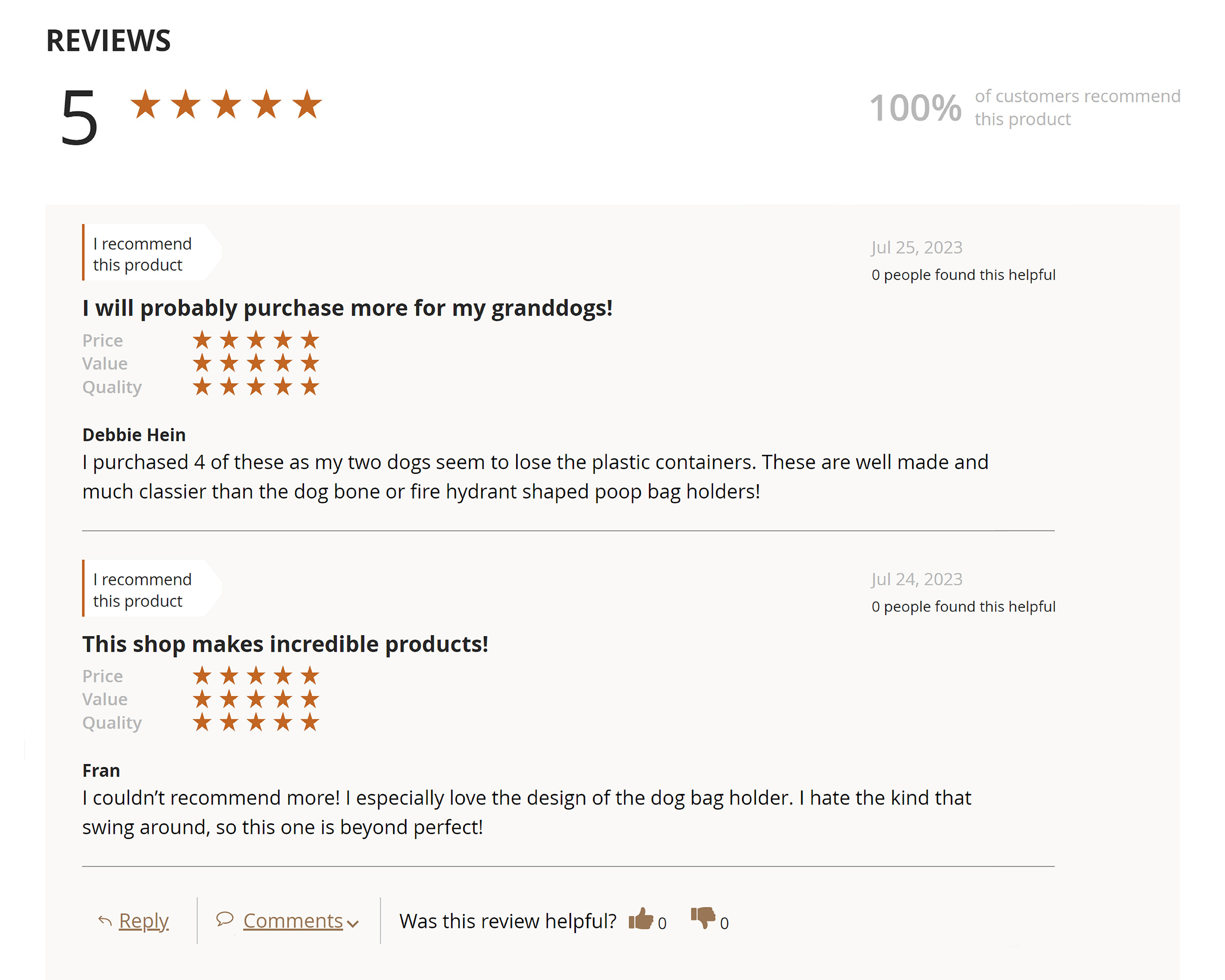 Leather ball holder: high time for a fun game
For your pet, you should ensure more than just food, a place to sleep, and time for a walk – it is also important to support your pet`s physical and mental well-being with quality pastimes together, like games in the park. Dog trainers emphasize the need to devote time to entertainment, focusing on a number of advantages:
Physical health: try to find a free hour or two for physical activity for the dog, which will favor the development of muscles, bones, and weight maintenance and prevent many chronic diseases.
Psychological health : active games are a good way to reduce stress and release energy.
Communication : games also help to improve communication with other dogs and establish a psychological connection with you, trust in you. By participating in frequent games, the dog takes commands better.
Preventing unwanted behavior: time outside should stimulate your pets physically and mentally, not letting them get bored. In addition, after active zoomies and games, it is unlikely that your dog will want to be mischievous at home.
For a good play, you may only need a small tennis ball. There are many options for the game: "Fetch it!", "Find it!", "Take it!». Wherever you go, the ball will always be with you, and this is thanks to my new invention – a leather ball holder – the dog must haves for enthusiastic fetch players.
The leather holder comes in two sizes that adapt differently to your needs. Size S easily attaches to the leash on the frame, and size M has an ergonomic handle, so you can walk hands-free without carrying a standard-sized tennis ball in your hands, pocket, or bag. The ball holder fits it snugly, preventing it from falling out or getting lost. Also, these cool dog accessories are the perfect solution for storing the ball in one place at home, so you will definitely not forget it when setting out for a walk.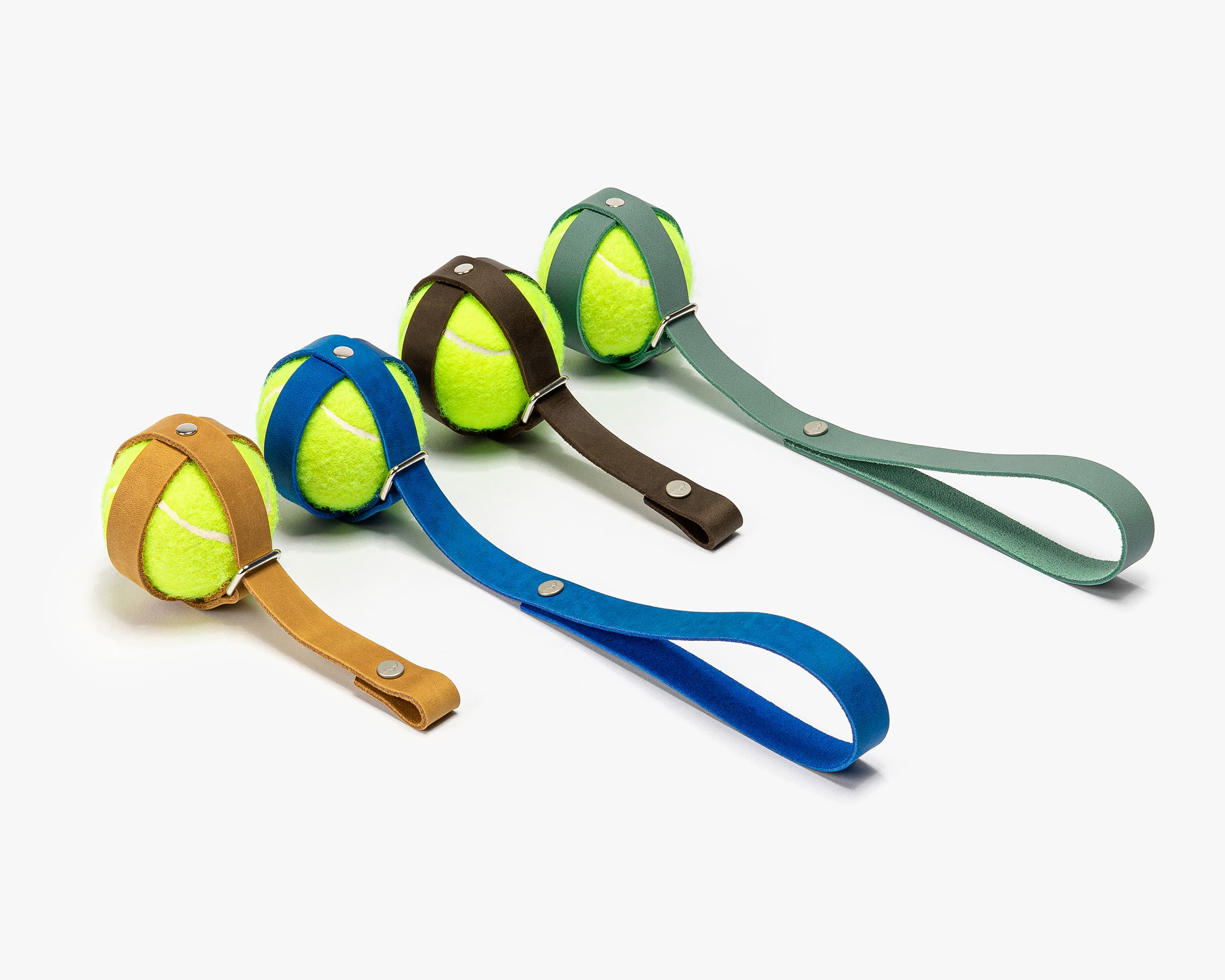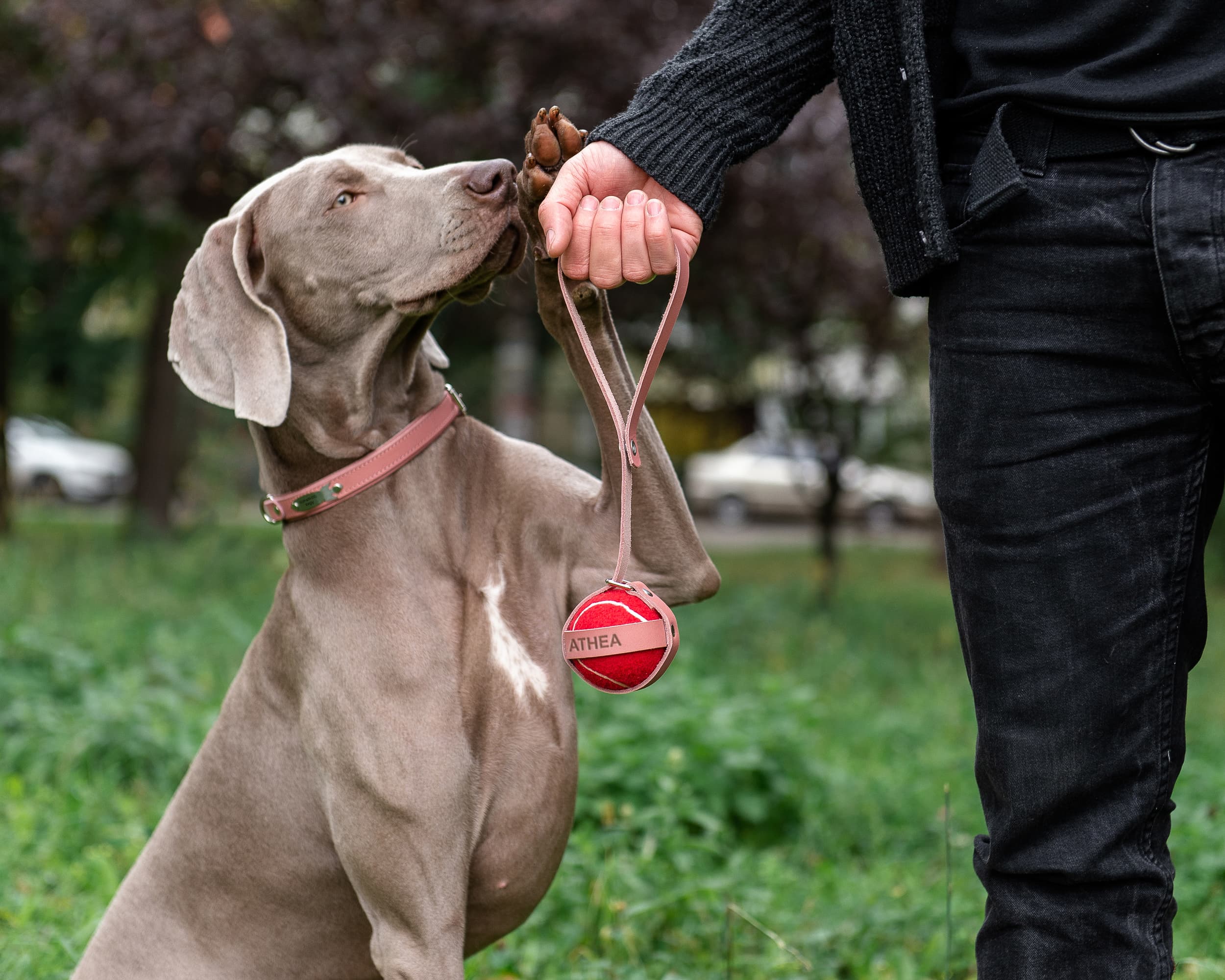 Keeping the ball in sight, which I carry in the holder, Graham knows that something fun is about to happen and is already tuning into the game.
Also, the leather holder helps the dog concentrate on one object, command, or game and, eventually, learn better. Undoubtedly, such holders are the best dog accessories for pets with hearing problems.
The holder features genuine leather that is a natural, non-toxic material, so there is no need to worry about your dog's health. Genuine leather is delicate to the teeth, does not harm them, and impresses with wear resistance and durability.
I truly pour my heart and soul in creating every dog ball holder, and to hear heartwarming words from happy customers gives me even more confidence and passion about what I do: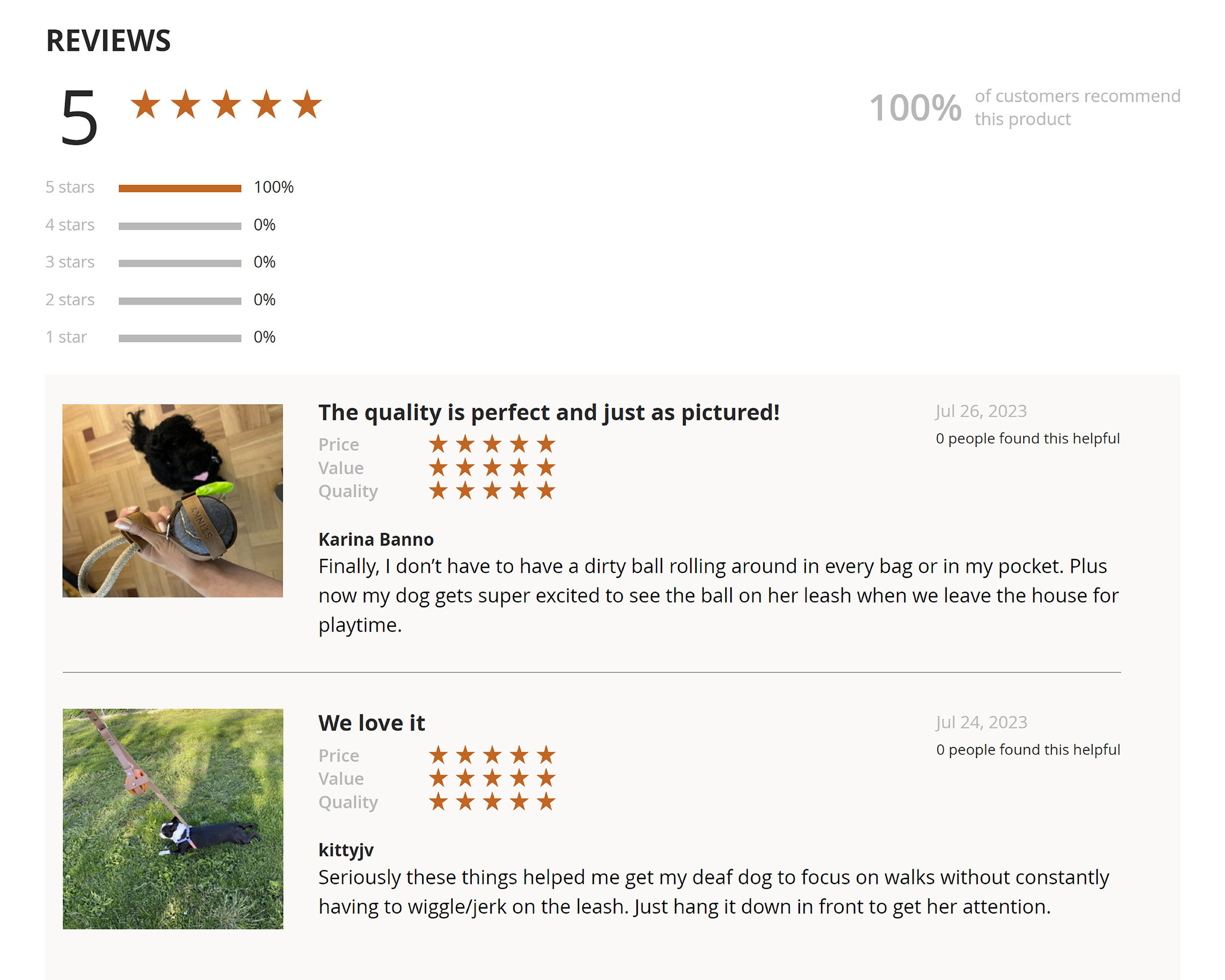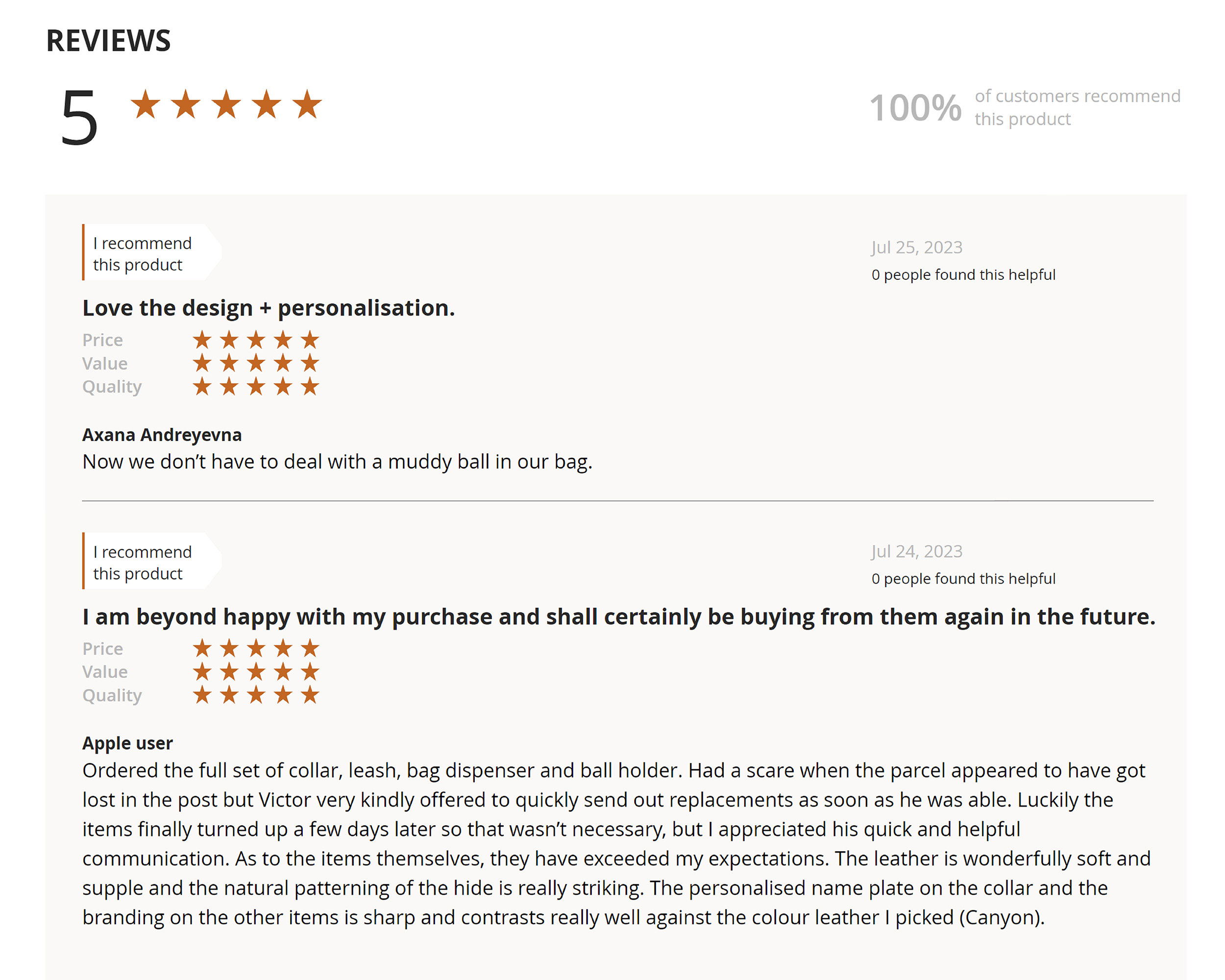 To sum up
Express boundless care and love for your four-legged friends by giving them high-quality, unique, and useful Hidemont accessories, with which you can carelessly walk your dogs, play with them, visit a vet, dog trainee, and even travel.
I approach each accessory crafting for your pet the same way I approach accessories crafting for my Graham – minding his comfort, needs, and unique character.
Of course, that's not all about our pet supplies collection because I strive to constantly improve myself and search for ways to make my dog`s life better. So, keep an eye on our best dog accessories and new-ins so your dog will turn heads during every walk.