As for me, it's really necessary to stay up-to-date, following the latest trends and smartly integrating advanced technologies into our daily routine. And using Apple Pay or other mobile payment options is one of the most notable examples of how innovations can simplify our lifestyle and make it more stress-less.
Still, I`m a person of traditional views and believe that we shouldn't always count on an automated world, `cause, yes, let's speak honestly, it can let us down, too.
Even though I think Apple Pay is a huge and cool step toward our convenient future, I find the principle of the practical, predictive approach of having a plan B much cooler, though. It helped me out a lot, especially, regarding my finances.
Have you ever felt so embarrassed or nervous when paying at the store counter your phone died? Or, maybe, you realized you gave your phone to someone else, forgot it in a car, or, oh dear, lost it? I'm sure you feel your heart in a throat, hearing "insufficient funds" or "credit card declined". Such embarrassing moments cause a delay for other people standing in line behind you. Have you ever blamed yourself for not having a small card holder wallet on you? I have.
Since then, my womens card holder wallet has not been just a daily accessory for me. It's a reliable assistant which gives me the freedom to accommodate to the dynamics of the modern world in a way comfortable for me. It`s a reliable assistant that forms my financial habits, monitors my expenditures, and really saves my skin with "emergency" cash, backup credit cards, ID cards, business cards, loyalty cards, and membership cards. Eventually, it's a reliable assistant that raises my confidence in any situation throughout the day.
There`re so many types of small wallets for credit cards like a bifold, trifold, money clip, and credit card organizer, so one can easily get lost in endless options. In this article, I`ll discuss what is a card holder wallet, what are the advantages of it, and how to make it an ideal gift for men and women. Besides, I`m going to provide simple tips on taking care of your favorite leather credit card organizer so that it looks as new after ages.
What is a card holder wallet: what's the difference from a regular wallet?
Trying to put it simply, I`d like to say that a small card holder is a type of wallet that fulfills certain functionality, mainly, storing cards in one place. Normally, regular wallets offer multiple compartments and pockets for not only cash but credit cards, ID cards, coins, etc, while the card holder wallets provide several card slots only. Also, such functionality directly defines the designs, making the wallet a rather bulky accessory and a card holder wallet – slim and sleek. There are so many designs of credit card wallet for men and womens card holder to choose from.
Caring for your needs and productivity, Hidemont has come up with the best card holders that house all at once without causing bulk, which makes them an ideal choice of leather business accessories for men and women. Small wallets for credit cards by Hidemont are a real find for every man and woman who value premium quality, ultimate efficiency, and minimalist, slim, convenient design. Reflecting the unique owner`s style, a premium credit card organizer is a timeless choice that sets the fashion trends season by season. Read more about fashion trends for spring 2023.
Handmade to exude status, might, nobility, and good taste, a leather credit card wallet for men called Earl will make a big difference in life and change your attitude toward wallets as boring and unnecessary daily accessories.
Advantages of small wallets for credit cards
Simple and minimalist, the Hidemont leather card holder wallet satisfies with its high efficiency:
A quality small card holder is a safe and practical way to store essentials in one place, so you don't need to sacrifice anything. It`s a must-have for busy people who cope with the multitasked day, have numerous credit cards, or travel a lot. Super functional, Hidemont's best card holders keep cash, coins, ID card, and credit cards. Make use of a strong magnet money clip, magnet-flapped ID clear window, 3 credit card slots, and a coin pocket that closes with a sturdy snap button.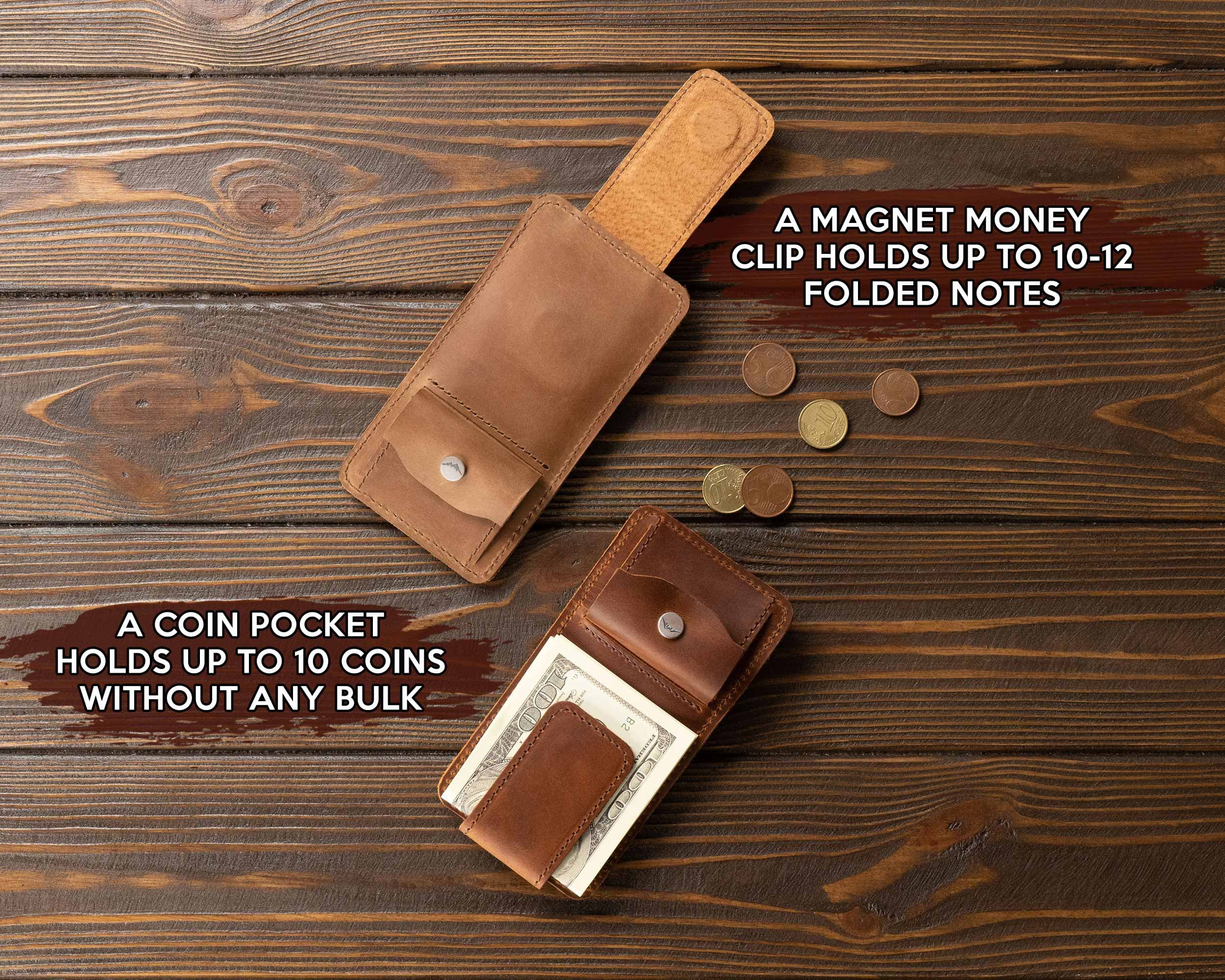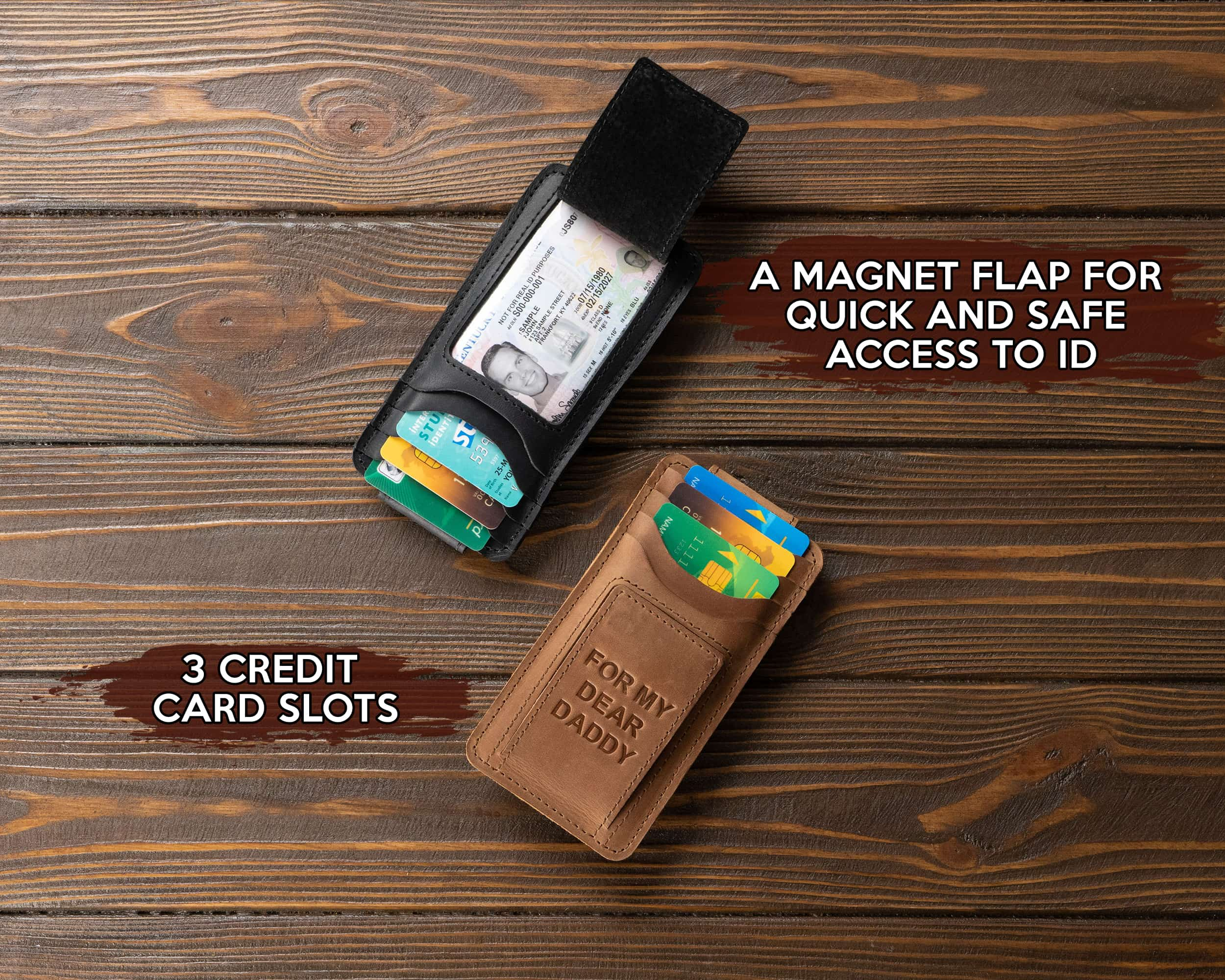 A credit card wallet for men is a way better alternative for storing cards in jeans, jackets, or bag pockets, risking losing them. Store your cards neatly organized and reliably protected with a credit card organizer. Also, keeping cards in a card wallet prevents them from getting damaged or stolen.
If you`re afraid that such a practical and efficient accessory, full of essentials, is likely to weigh you down, don`t be. None of the wallets keeping so much stuff at once can preserve such compact sizes and lightweight designs as Hidemont best card holders. Their convenient dimensions – 5 3/4" x 3" x 1/2" (14.7 x 7.5 x 1.4 cm) and lightweight 2.8 oz (80 g) – guarantee they comfortably fit a jacket, jeans, or bag pocket without considerable bulk.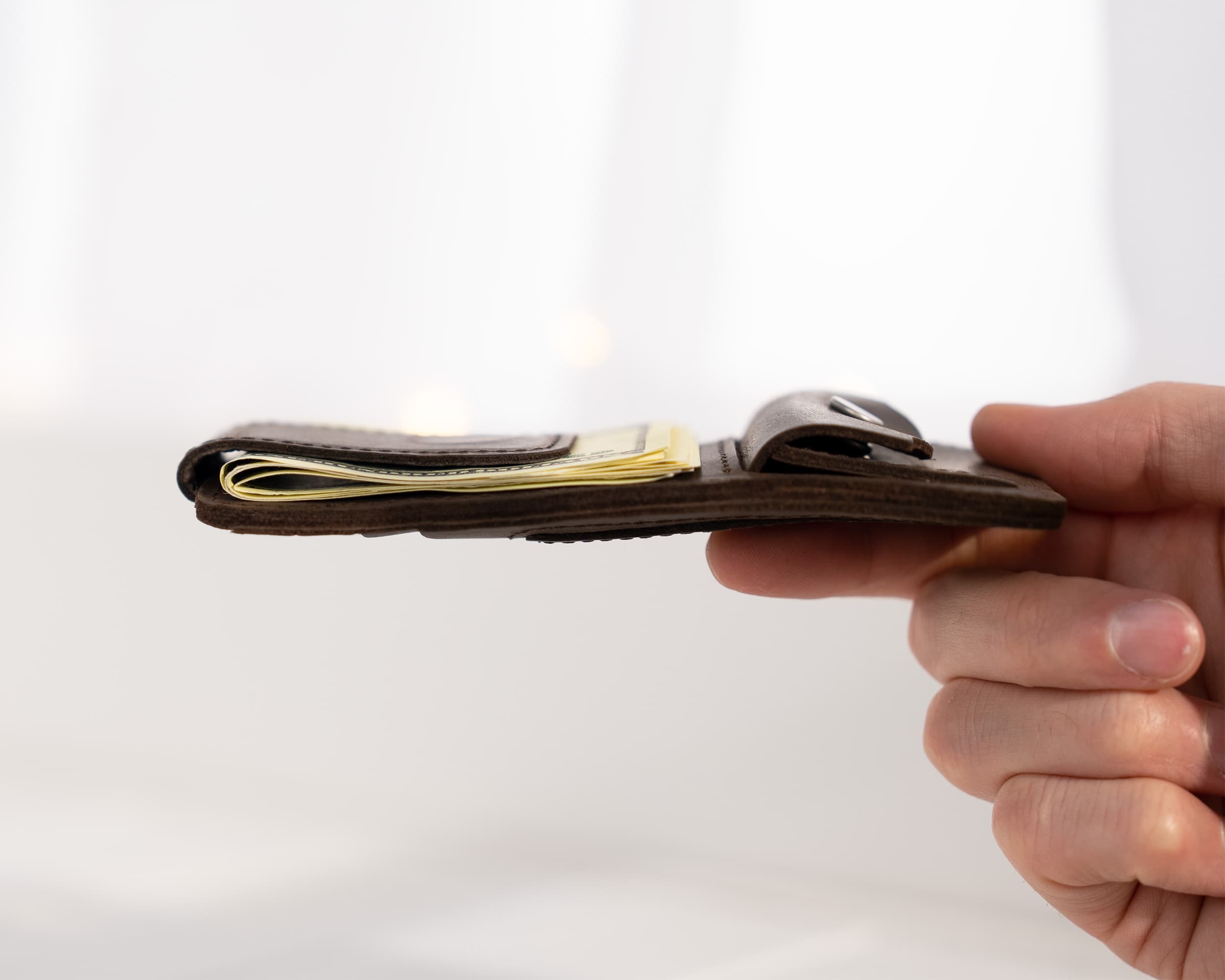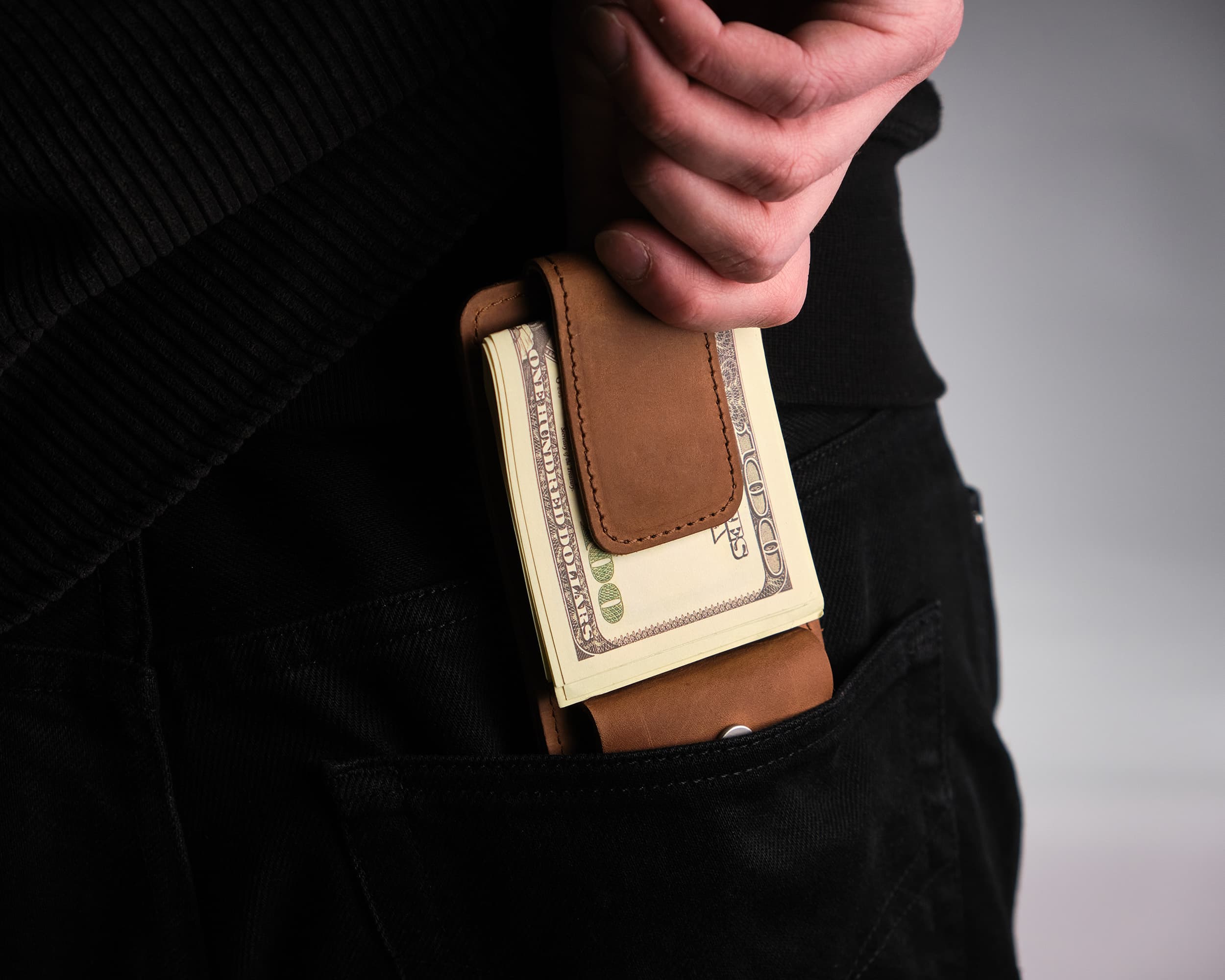 Unlike other mass-market card holders, Hidemont small card holder is handcrafted with care to every detail to ensure it has an appealing, minimalist, and professional look. Natural properties of genuine leather mean the wallet looks classy, luxurious, exclusive with a dash of vintage accent, and as new for years. Coming in rich, nature-inspired colors, a leather card holder sophisticatedly underlines any outlook, whether casual, office, or fancy.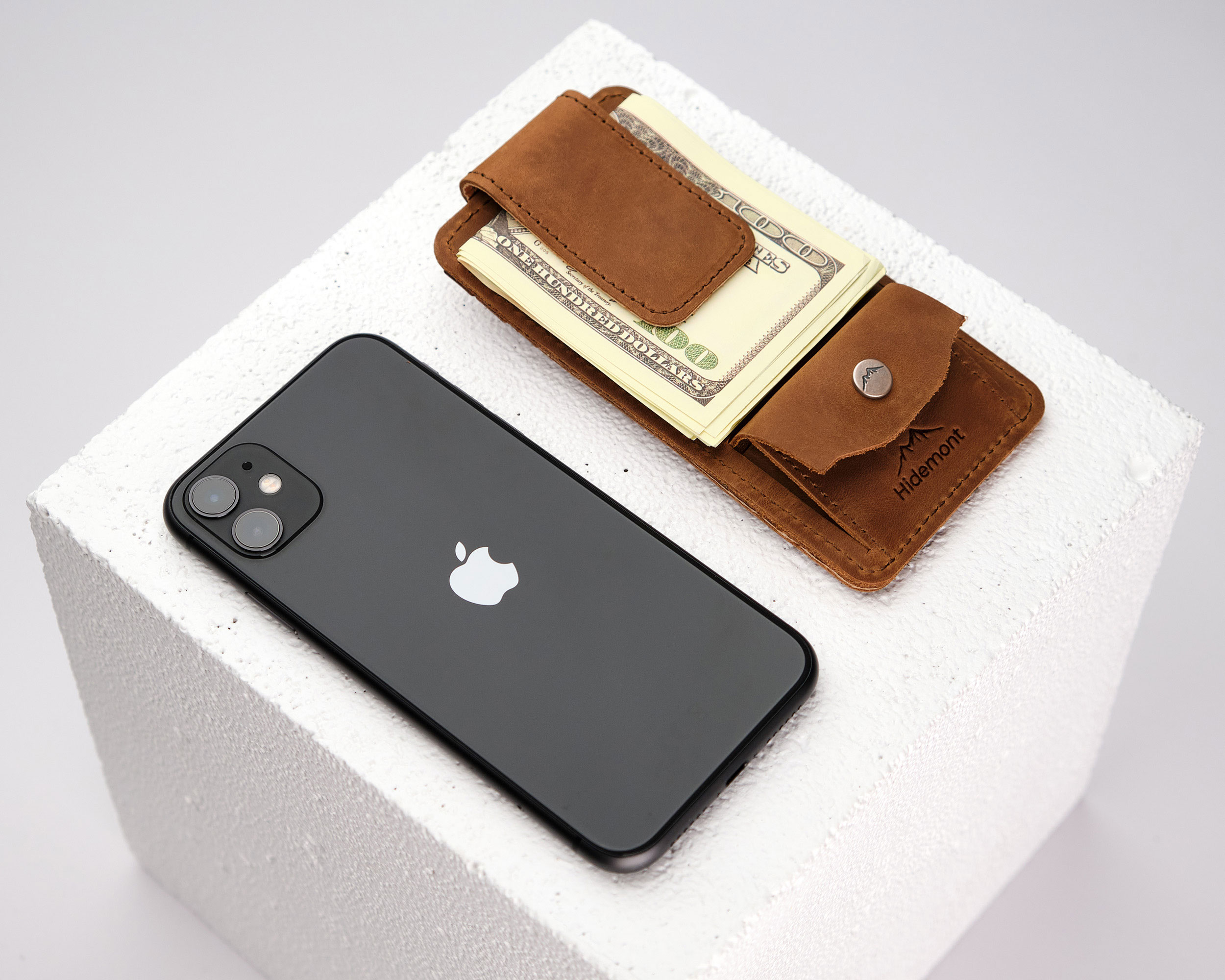 Premium quality leather with a sturdy and supple texture enhances the wallet's durability and resistance to everyday wear and tear.
We strive to craft leather accessories that will express everyone`s personality. And ease up the choice of unforgettable, practical, and long-lasting gifts. If you`re fed up with trivial gift ideas and want to touch your special person`s heart, consider a personalized card holder. Quality engraved with a sentimental message, a wallet becomes something more than just a daily accessory to keep the money. It becomes a valuable keepsake, reminding its owner how much he's loved, appreciated, and cared for. By getting a personalized leather wallet, you`ll make the best gifts for anniversaries, birthdays, weddings, Valentine`s Day, Christmas, or graduation. Check out more ideas for graduation gifts and some tips on Father's Day gifts. And womens credit card organizer with personalization will be a cute gift idea for Mother's Day.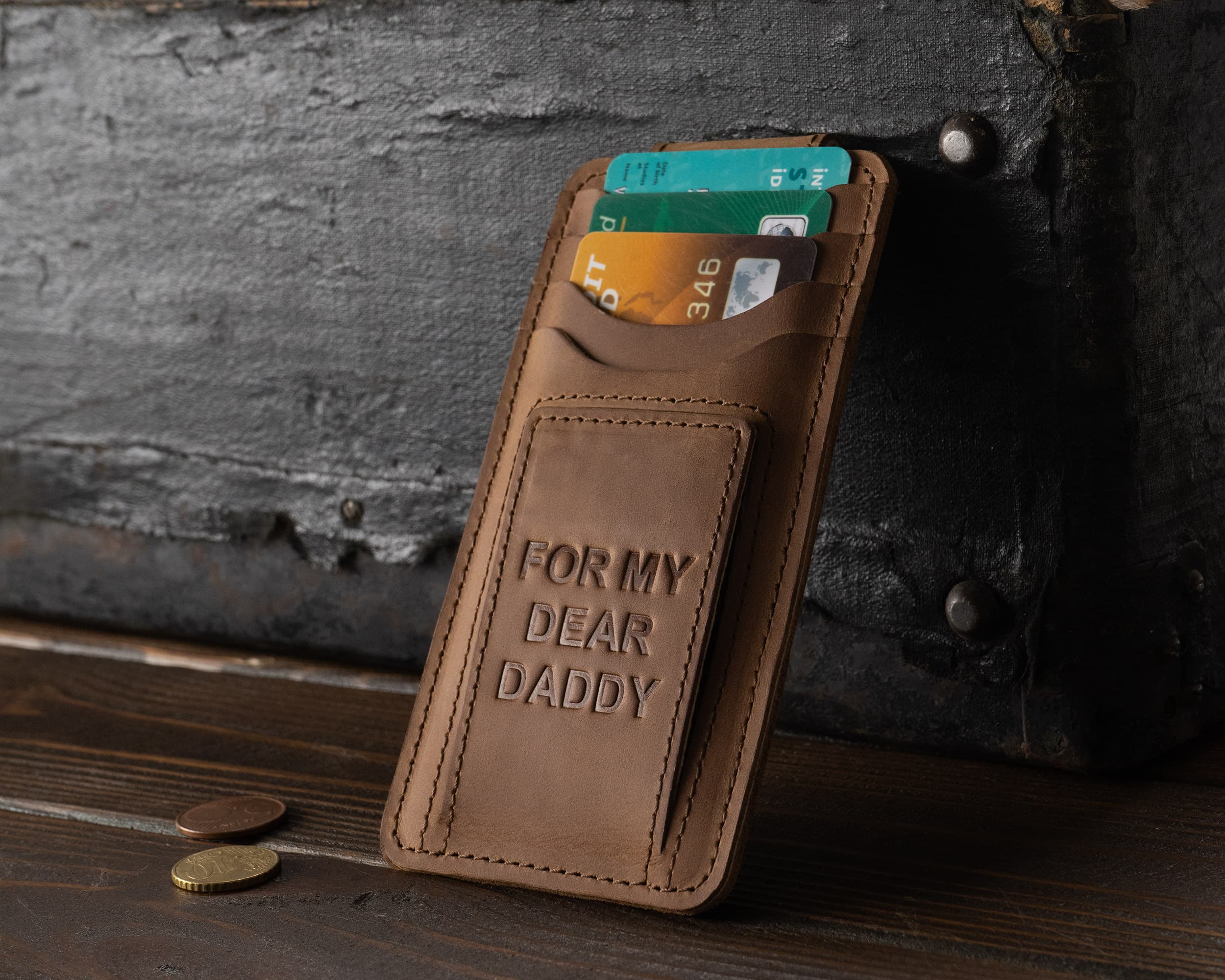 Despite the advantages a card holder wallet provides, people still prefer regular wallets to card holders. What is the reason? Mainly, the fact that a card holder limits the cash or card storage capability can discourage them from getting one. Also, most card holders you can find on the modern market are made of rigid materials that may appear rather damaging when coming in contact with other stuff you carry with a wallet. Considering these aspects, Hidemont has designed the best card holder wallet that will make you forget about such issues. And you`re already familiar with our best card holder, Earl.
No cash storage limitations
Are you used to having "emergency" cash on you? Then, this card holder is just for you. It comes with a strong magnet money clip that holds up to 10-12 folded notes, and you can be sure that a fact of lost finances won't take you by surprise at the most inappropriate moment. What's more, a leather card holder has a convenient snapped pocket that stores up to 10 coins without looking bulky. Really, that's more than enough for those who prefer paying by card.
No card storage limitations
We offer a quality card holder which has 3 card slots. But it doesn`t necessarily mean that you can store only 3 cards with it. Reliable slots allow you to safely store a couple of cards in one. Such design ensures you can have as many cards as you need, the cards won`t fall out, or get lost, and you won't struggle to put them out when you need them the most.
By the way, handmade leather business card holders for men and women appear to be a brilliant alternative for keeping business cards and credit cards. Their capacity and compact size allow you to store around 35-40 standard cards at a time.
Unlike other card holders made of rigid materials like metal, you can find on the market, Hidemont handcrafts card holders of the best quality genuine leather. The natural properties of leather mean the card holder has a sturdy but smooth and supple texture that is gentle to other items in jeans, jacket, or bag pockets. For example, when in close contact, the buttery-soft surface of our card holder won`t scratch your smartphone screen.
How to choose the best wallet?
I`m happy to provide some simple but effective recommendations about what to consider when choosing a new men's or women`s credit card organizer for daily needs, business purposes, or trips.
Have it simple. The more minimalist wallet, the more useful, stylish, and secure it is.
Consider your lifestyle. The wallet`s size, type, and functionality depend on your daily routine.
Decide what payment method you prefer the most.
Think of where you usually keep the money. The wallet size directly depends on where you usually keep the money – in a back jeans pocket, jacket pocket, bag, or backpack.
Pay attention to the wallet material and hardware.
If you still hesitate about what to choose, read on about more detailed advances on how to choose the wallet of your dreams.
How to take care of a leather wallet?
If the leather wallet is treated properly, it`ll last for years, looking like new for longer. Please note that leather is a natural, porous product. The contact with water can cause leather dye transfer. If the leather wallet becomes saturated, allow it to air-dry naturally, and do not use heat to speed up the drying process. For proper care, follow simple rules of conditioning the leather once in 3 months, and, when it gets dirty, clean the leather with a wet baby wipe or a clean cotton cloth with a small amount of hand cream. I`d also suggest reading more about how to take care of leather goods and some affordable but useful leather care goods.
To sum up
The men's and women`s credit card organizer is a classy pick that makes everyday life easier, business deals more pleasant, and trips more convenient. A regular wallet offers different functionality than a card holder wallet, but that`s, indeed, an issue of taste and needs.
If you enjoy having your finances lightweight, secure, and well-organized, don`t hesitate to pick up a quality Hidemont wallet. It is a practical, convenient, and stylish accessory. And, by getting a card holder personalized with a meaningful phrase, you`ll underline your everyday style, and your individuality, or make a sentimental gift for a special man in your life.