Our guide on the spring fashion trends 2023 was just a warm-up before the hottest style rules established by top fashion trends.
As the temperature rises, make sure you do the spring cleaning and refresh your summer wardrobe with the latest trends.
The upcoming season expects us to enjoy nature, embrace every day with boundless energy, seize every opportunity, dream big and plan innovatively, and savor the diversity of summer treats. Yes, but not to spend hours, thinking over the winning look. Our simple and effective fashion trends guide will make it clear: you can relish everyone`s captured eyes on you with the minimum effort and expenses.
Feel confident this summer season and create your style, following our trend list and finishing them with quality and stylish Hidemont leather accessories.
In this article, we`re going to have a fashion-forward glance at colors, textures, attire combinations, prevailing fashion ideas, and some accessories that will make you summer-ready for both women's and men's trends.
GENERAL OVERVIEW OF BEST SUMMER 2023 FASHION TRENDS
Color Power
Summer is our beloved season with no limitations and taboos – paint the hottest days of working, traveling, or entertaining with your favorite shades, and stay true to your style. Whether you prefer a lighter, darker, or brighter palette, feel free to let your inner fashionista speak with passion.
To be 100% sure of your choice, follow the experts` recommendations on the summer fashion color choice: enrich your wardrobe with basic tones like white, black, and beige, add an elegant touch to your look with delicate lavender, pastel pink, soft blue, and make a powerful statement with energetic red, barbie pink, or magenta colors.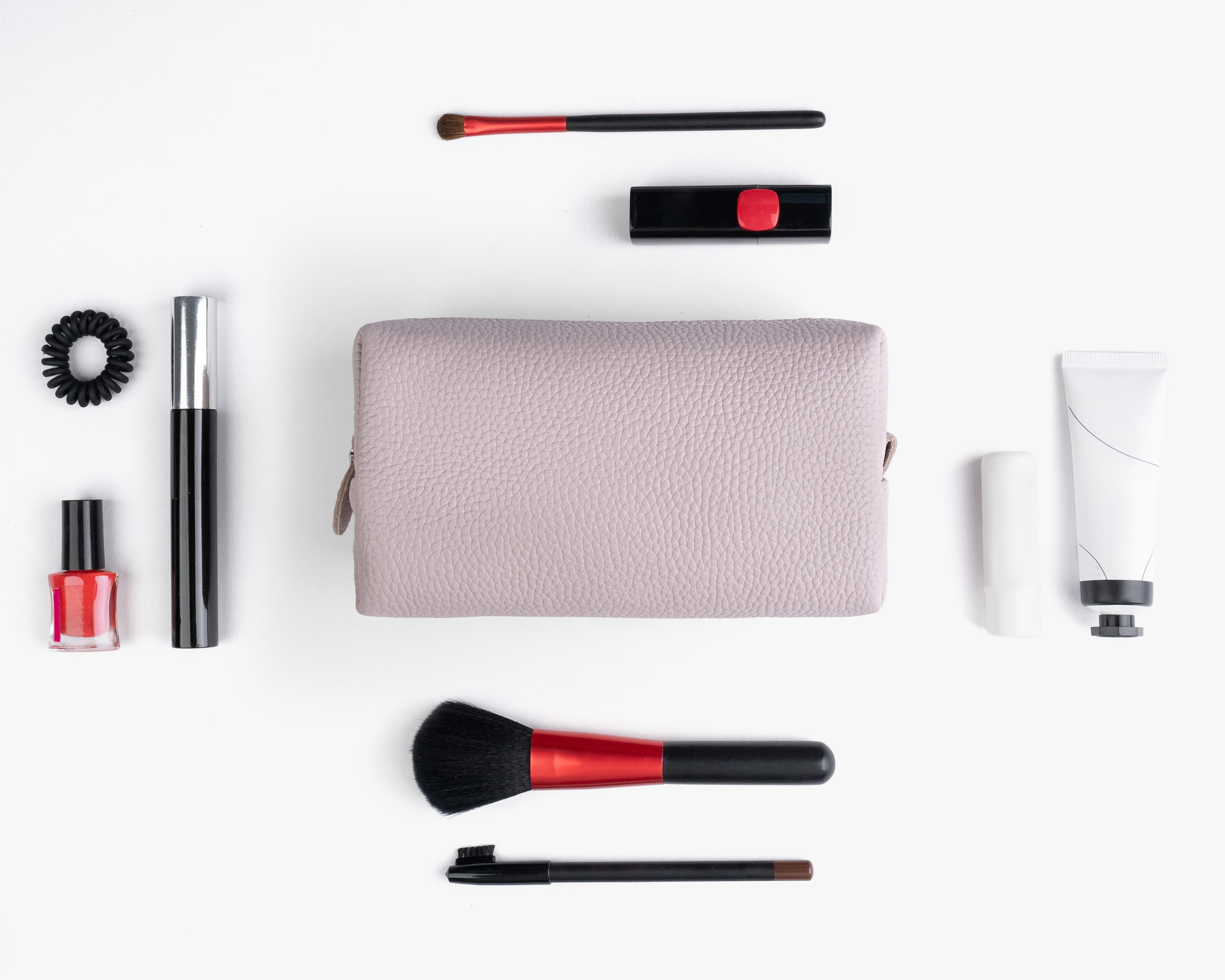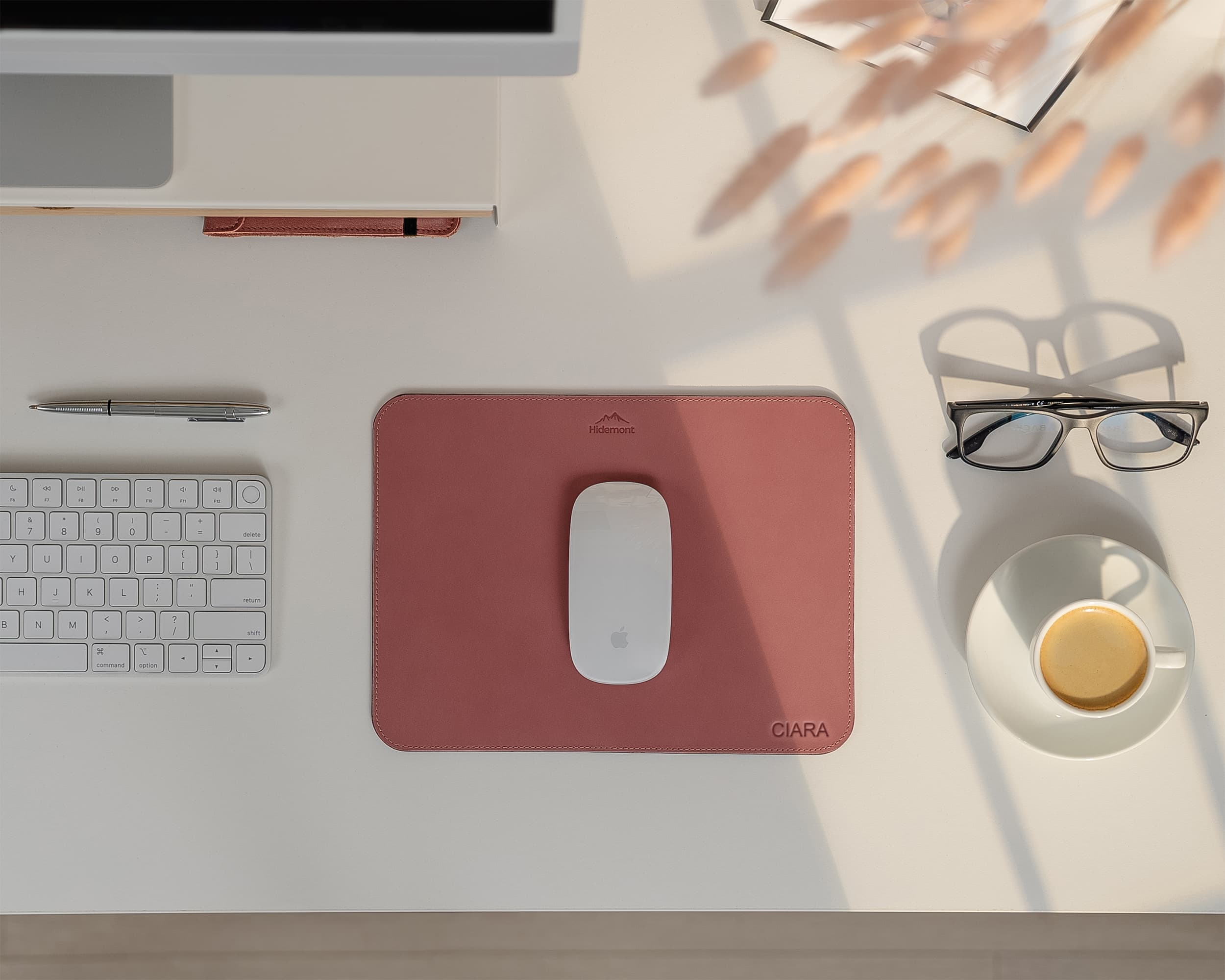 Catch the eye with juicy tints: refreshing orange, zesty lime green, or tropical pineapple yellow.
Texture Revolution
To move with maximum comfort when it's boiling hot outdoors, give preference to light, breathable textures and materials. You`ll never regret wearing clothing made of linen, cotton, or chiffon. Of course, summer 2023 fashion trends cannot go without denim, knitwear, and sheer pieces.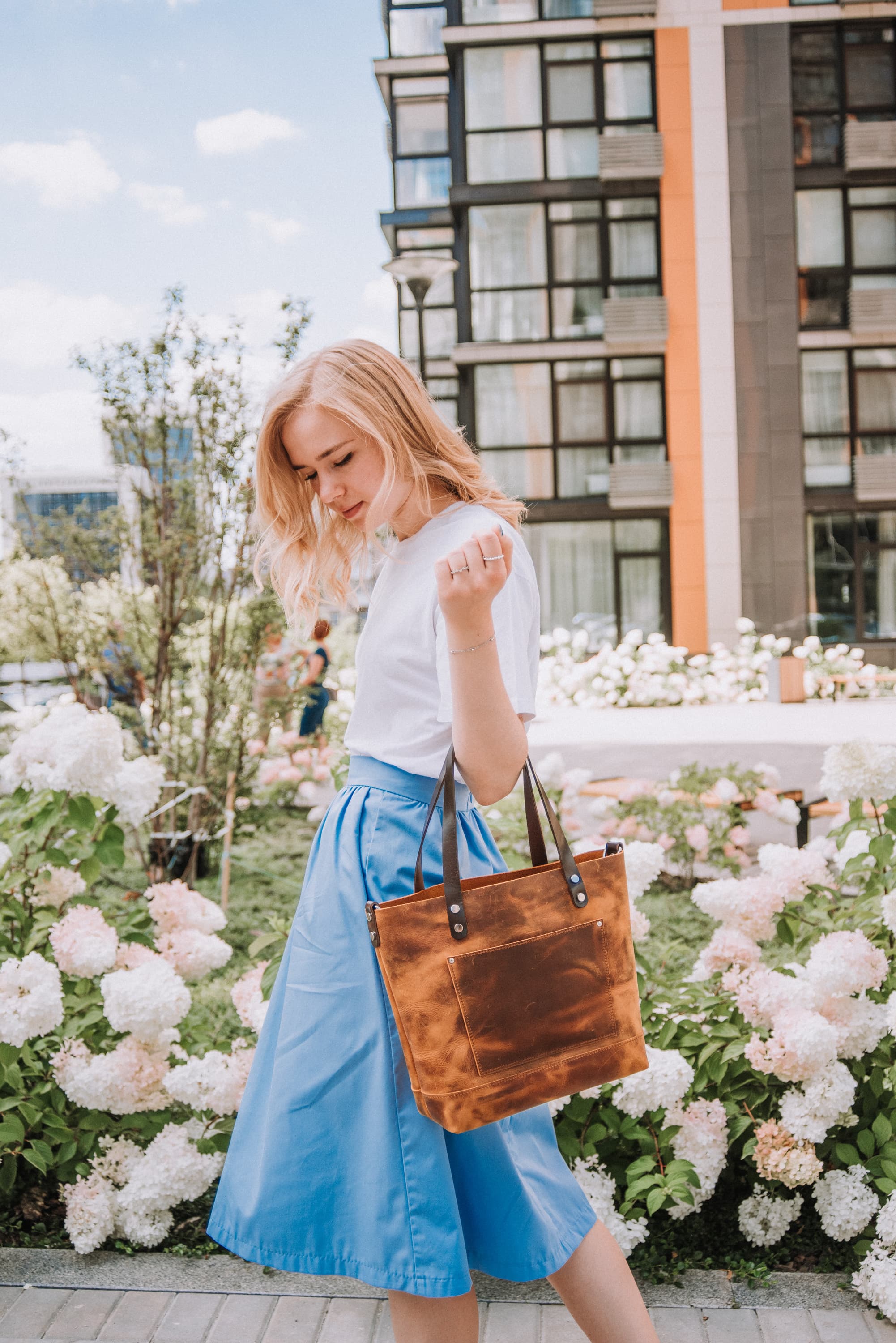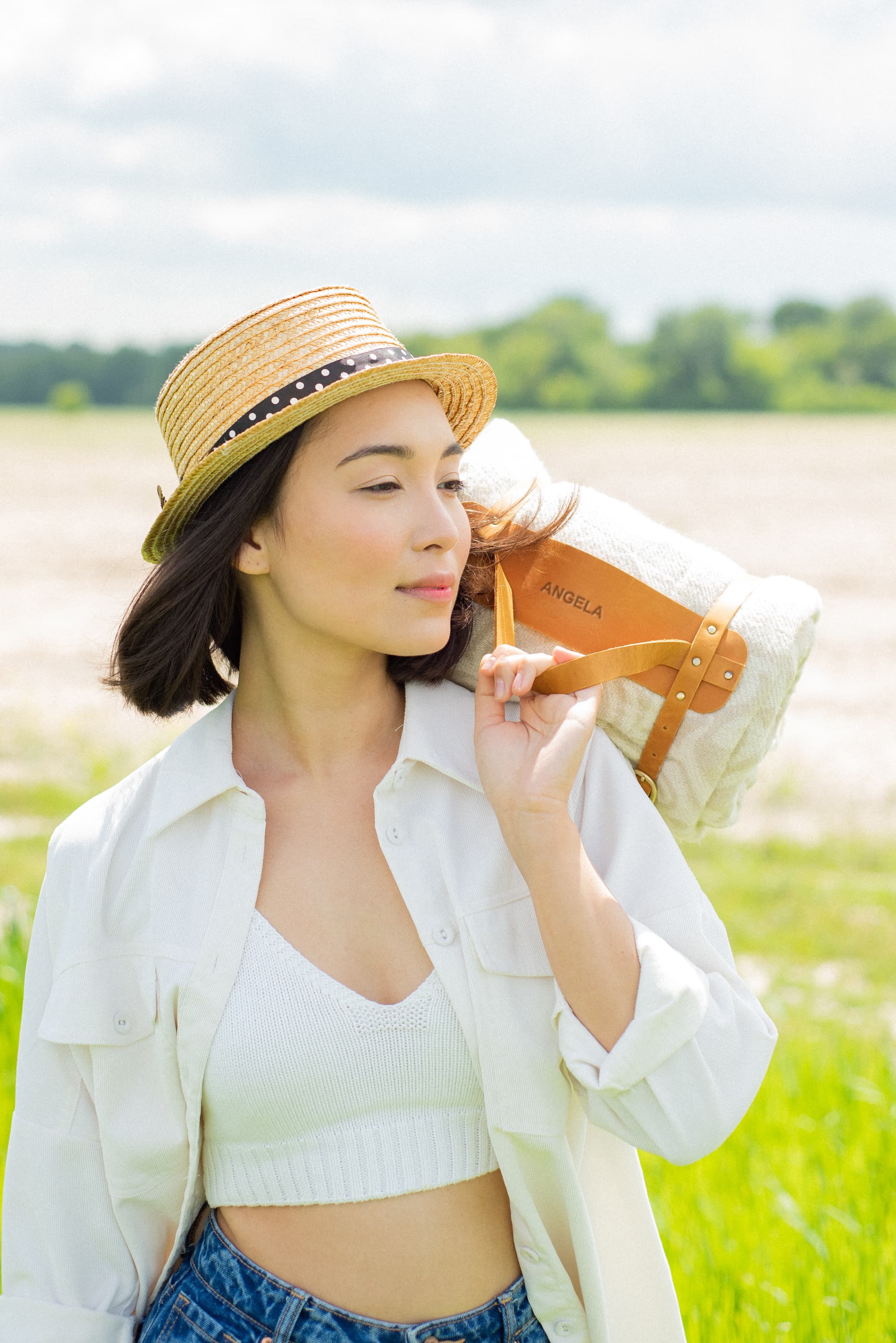 SUMMER FASHION FOR WOMEN
Welcome Back, the 70s
This fashion era has become everyone's infinite obsession because it tends to come roaring back almost every season. It's high time for the retro-lovers to break any possible style rules and establish their own – that's so in the spirit of the 70s.
Simply get rid of imposed standards and conquer the all-embracing wave of individualism and tendency to self-expression.
Move throughout the day confidently and with style, combining a basic white tank with low-waist flare jeans, clogs, a headscarf, and a leather crossbody bag with braided elements.
Our leather crossbody bags are perfect for daily errands, work, and leisure, and, inspired by the Oxford tradition and telling us their own production story, they carry a vital amount of sense. So versatile and lightweight, they fit as much as needed to stay organized without weighing you down.
Just toss your laptop in a leather laptop case, leather tech organizer, etc, and have no worries that you miss something. Feel lost in the endless list of bag trends? Read more about how to choose the bag of your dreams.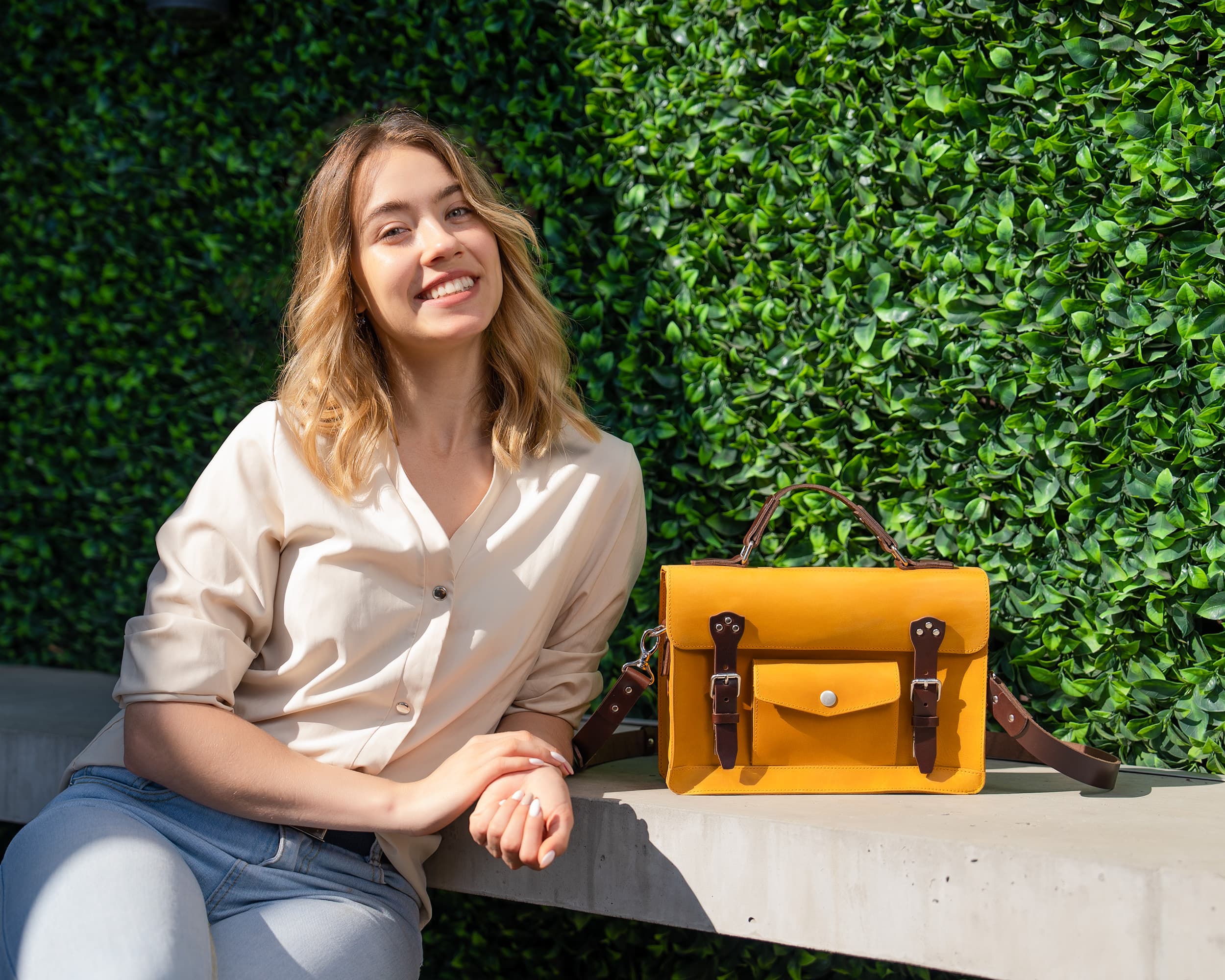 By the way, make sure you leave your high-waist slim-fit jeans behind to wait in the wardrobe until they're up-to-the-minute again.
Reflect the concept of the 1970s with the fashion trends 2023, blending regular-fit garments, floral and geometric motifs, embroidery, patch, and ruffle accents, natural and earthy colorways, midi- and maxi dresses, boots, or platform shoes.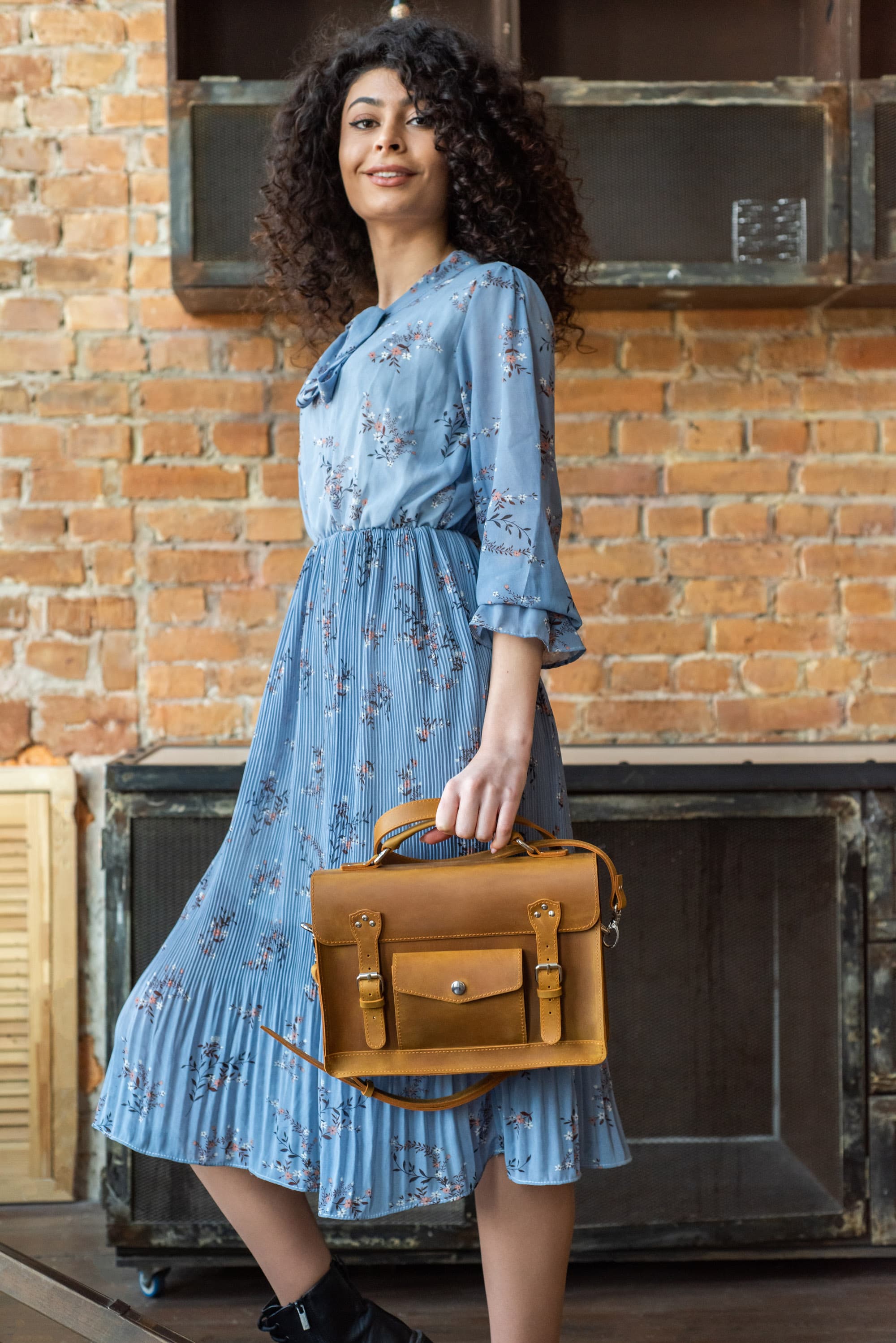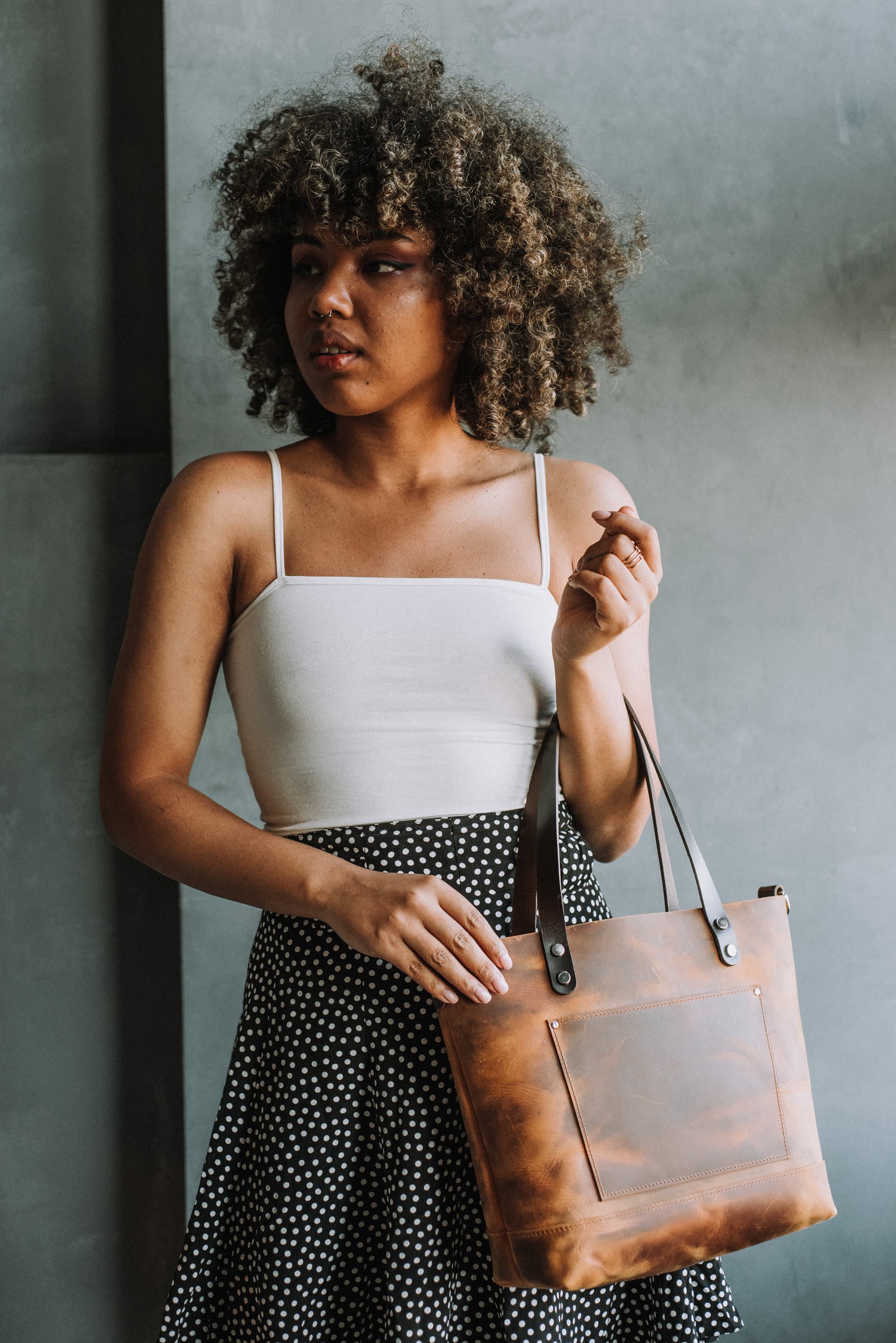 To make a powerful statement in the office, you can create a breathtaking look with a basic white or beige shirt, crochet vest, wide-leg trousers with a pressed crease or ornament buttons, and platform shoes. Make a seamless shift from one day to another with linen blend palazzo trousers, linen shorts, and neutral-colored or asymmetric-printed skorts that are definitely going to be desirable attributes of summer fashion for women.
Express your professional and unique side with vintage-looking personalized leather business accessories for women, such as a leather mouse pad or leather desk pad with an efficient cord holder.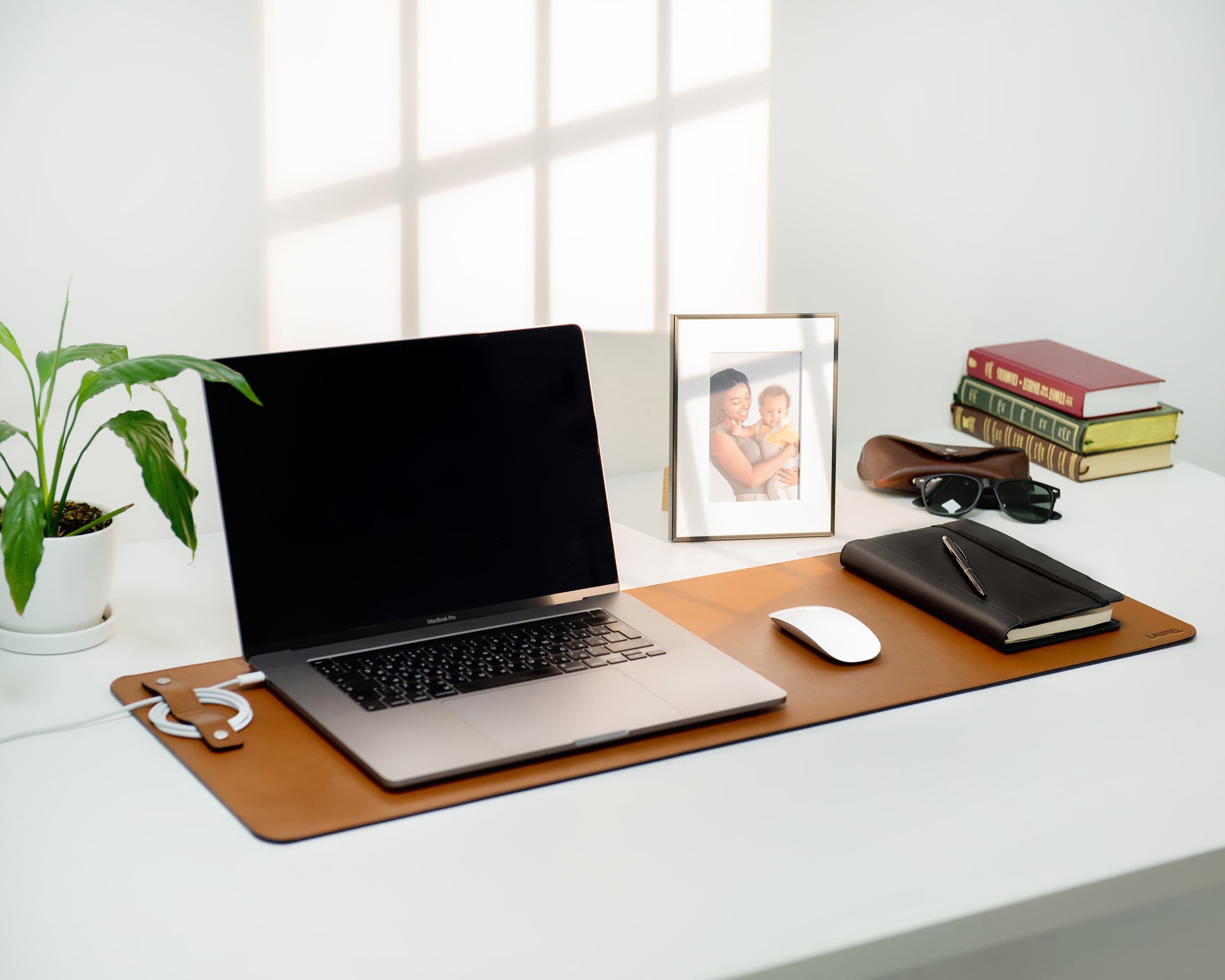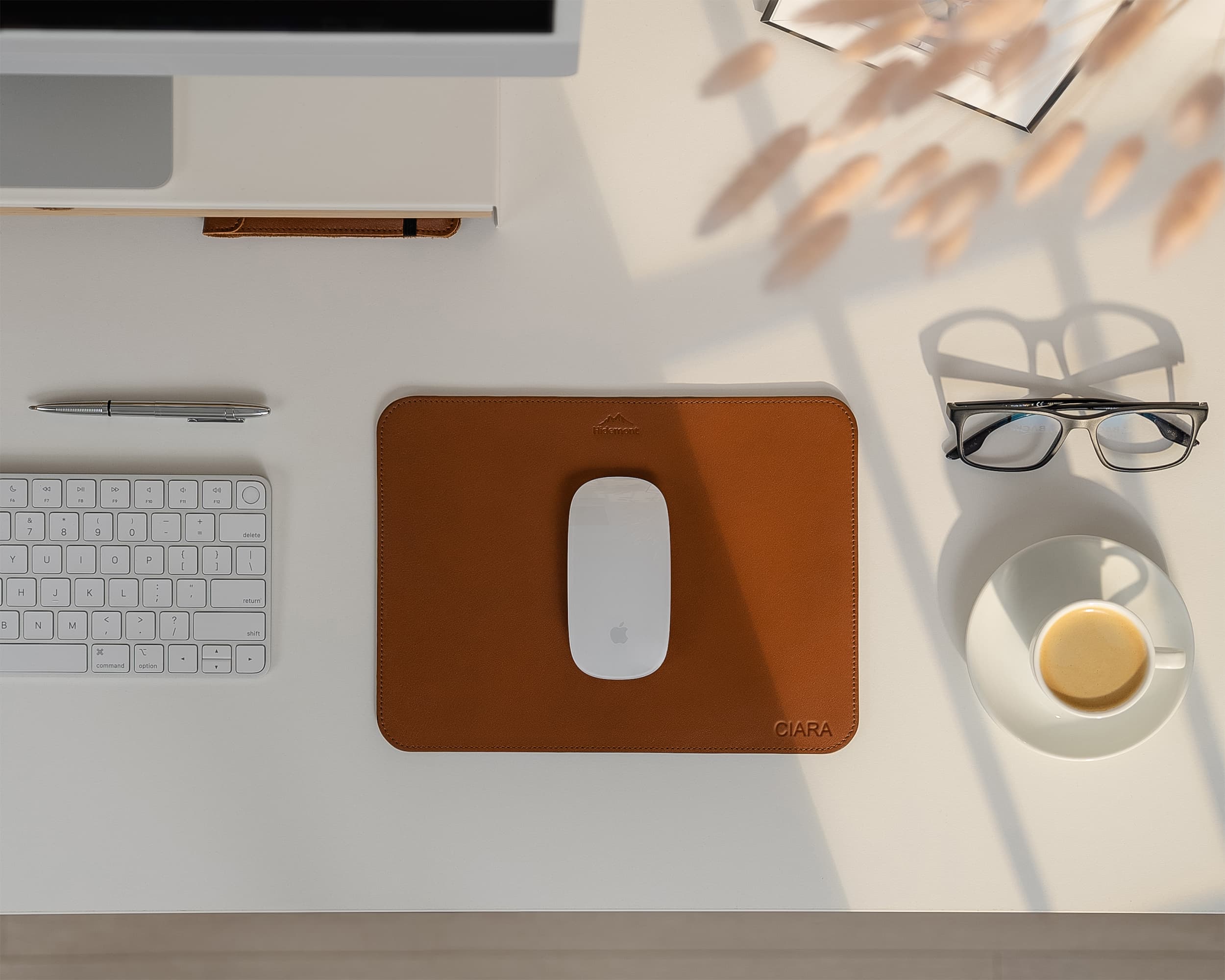 The fashion culture of the 1970s motivates us to raise awareness about crucial social issues, being an integral part of them.
Stick with what`s in and promote eco-consciousness, using a leather poop bag holder during every walk with your furry friend. Find out more about why it's so important to clean up after dogs.
Hidemont`s personalized poop bag holder isn`t just stylish but handy, too, allowing you to have essentials during every walk at hand, securely clipped onto a leather leash.
Stay Active, Stay Trendy
In recent years, the athleisure style has gone viral for most people who are always on the go. Why is it so popular nowadays? This style is highly beloved because it combines the elements of sporty and daily clothes, blending versatility, comfort, and practicality in one look but retaining the chic and eye-catching flair. The concept of athleisure wear defines blurring the lines between sporty and casual clothes, meaning it's often a choice by those who are often pressed by time during the day.
Having a workout right after completing a long to-do list? Your must-have looks can be a mix of crop tops, T-shirts, biker shorts, leggings, sneakers, etc, and finished with a bold-colored cap.
Such a fast-paced lifestyle requires lots of effort to stay refreshed regardless of the circumstances. Take care of your jam-packed timetable – and the Hidemont leather makeup bag will take care of your beauty and personal care essentials, setting the fashion trends 2023.
Crafted from pebbled genuine leather, our makeup bag will easily suit your lifestyle, delighting you with an amazingly soft and soothing texture. The natural suppleness of leather material ensures the makeup bag conveniently fits a bag, neatly storing and organizing all the treasures. Coming in summer fashion color options like soft blue or pastel pink, Hidemont leather makeup bags will complement your stylish and restless spirit.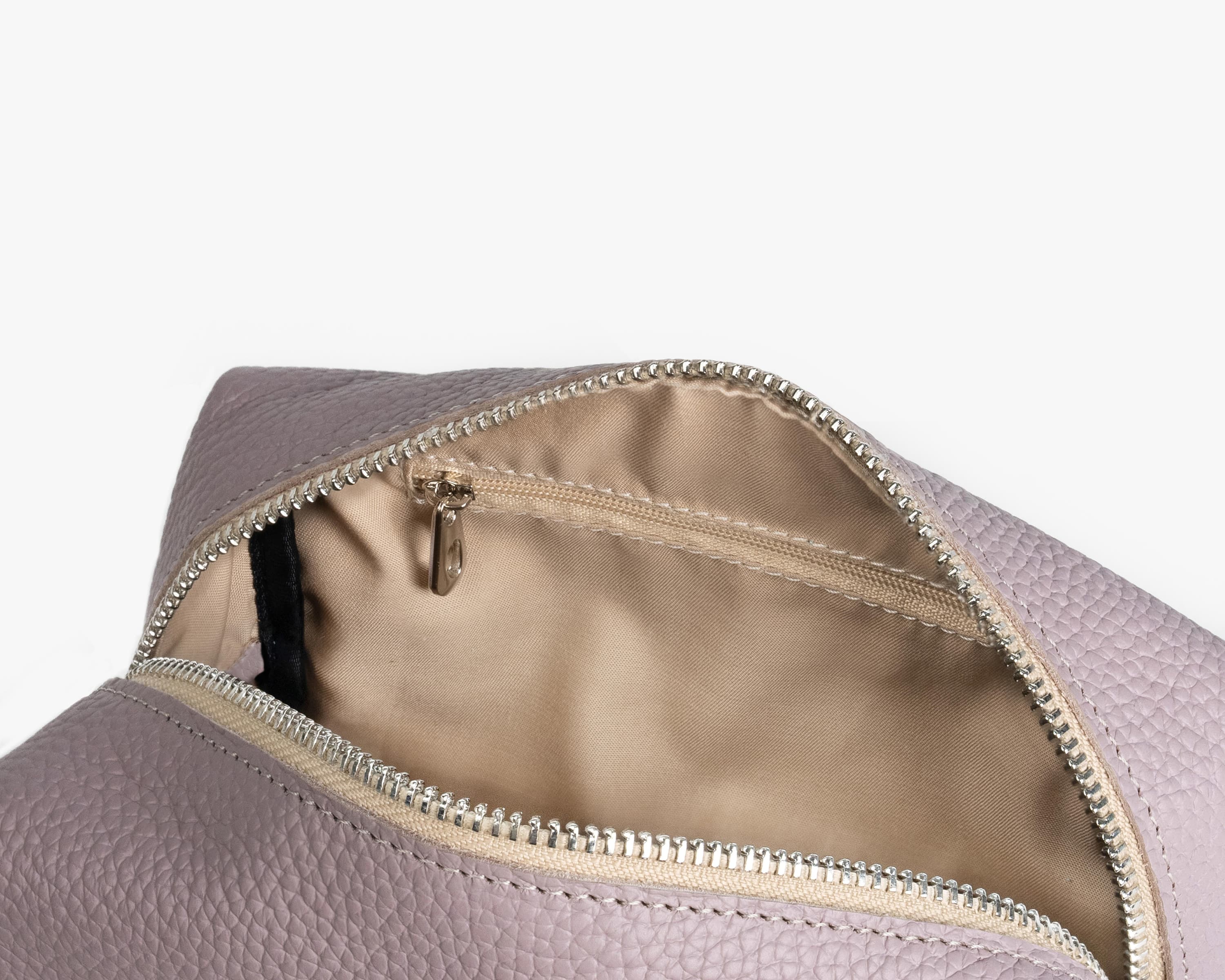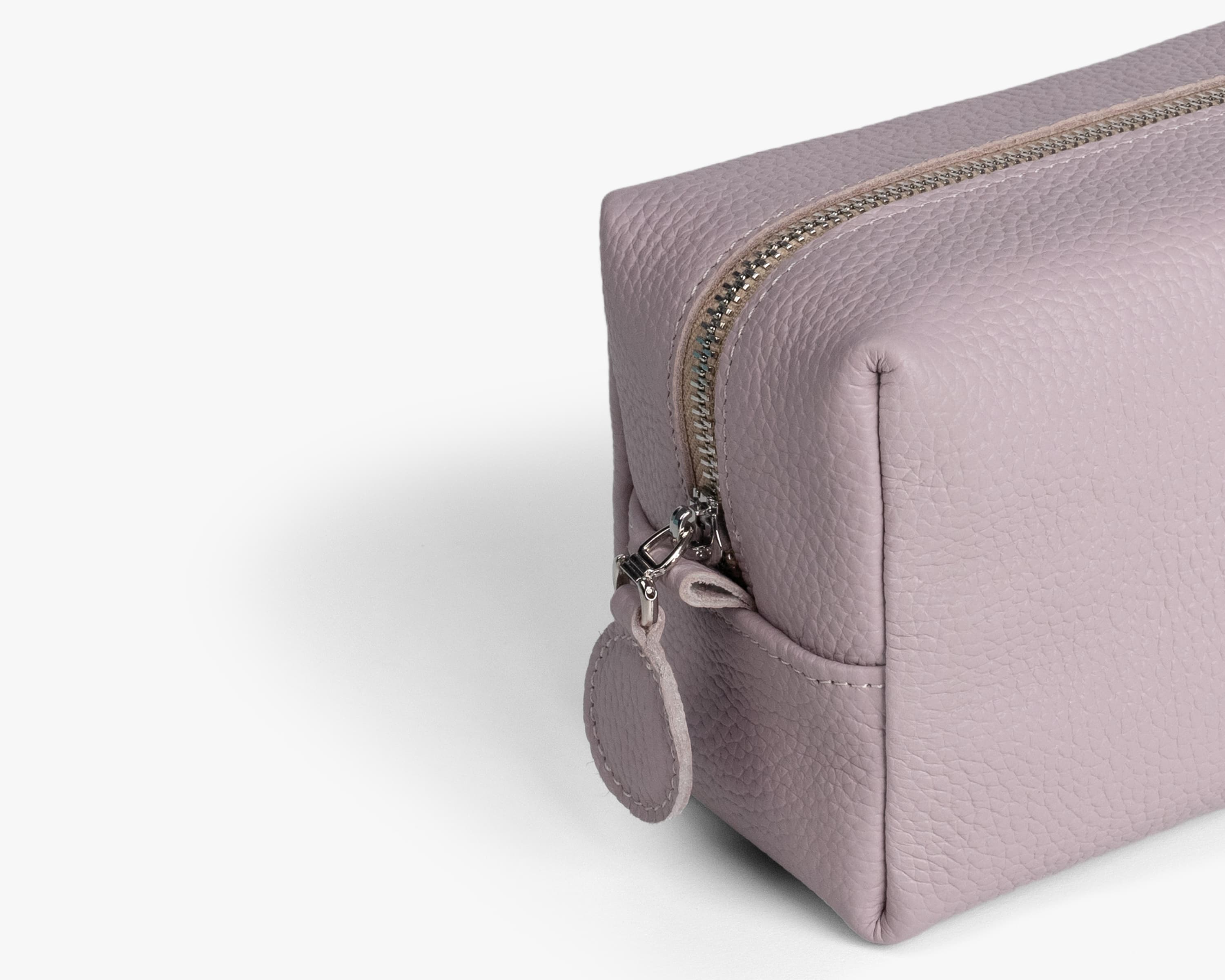 And, for those afraid of forgetting about crucial agenda points, leather notepad covers in diverse and practical designs will be a reliable assistant to organize not only notepads but other essentials like a pen, credit cards, receipts, notes, and many more. The right approach to arranging things, plans, goals, and dreams is already halfway to their fulfillment.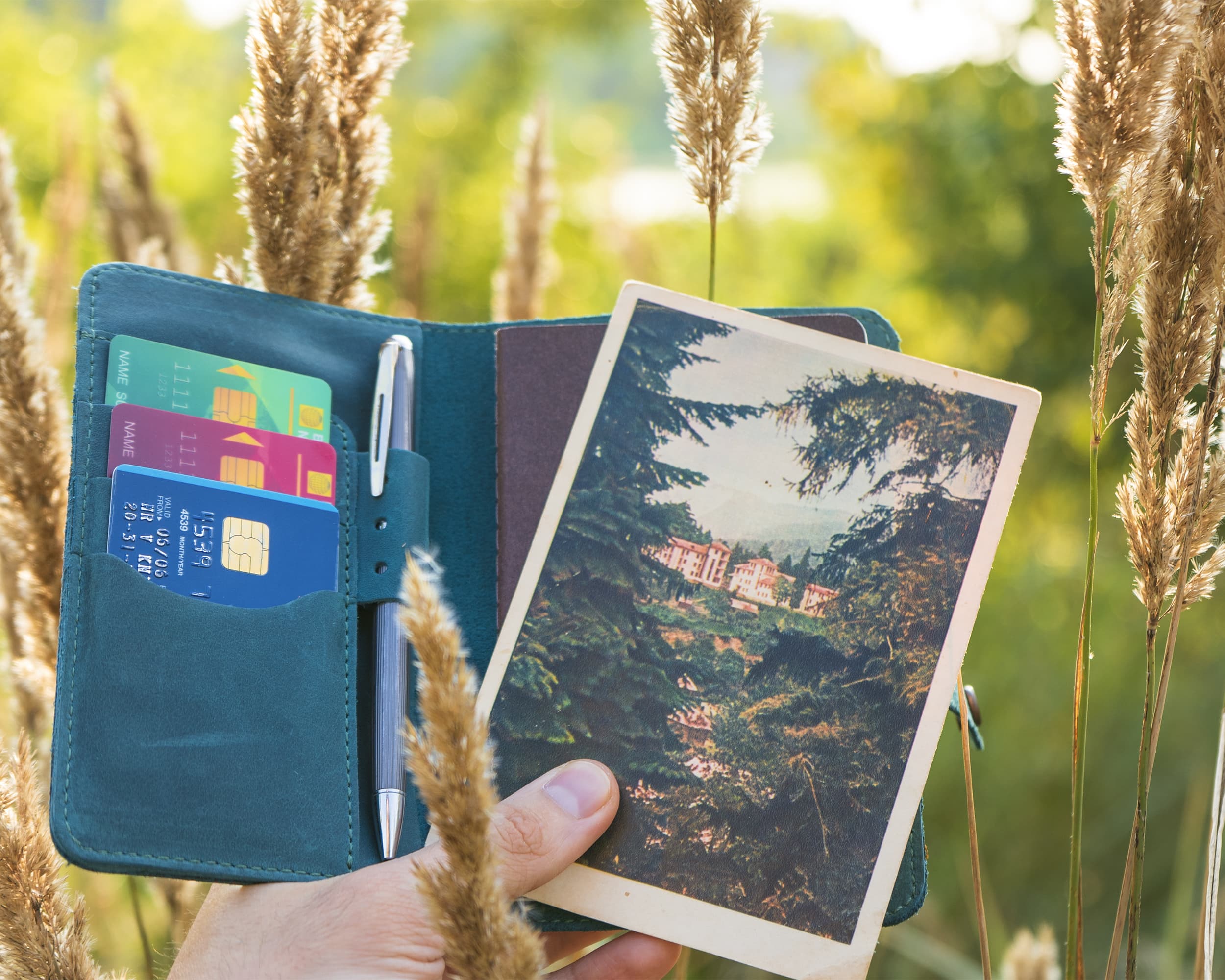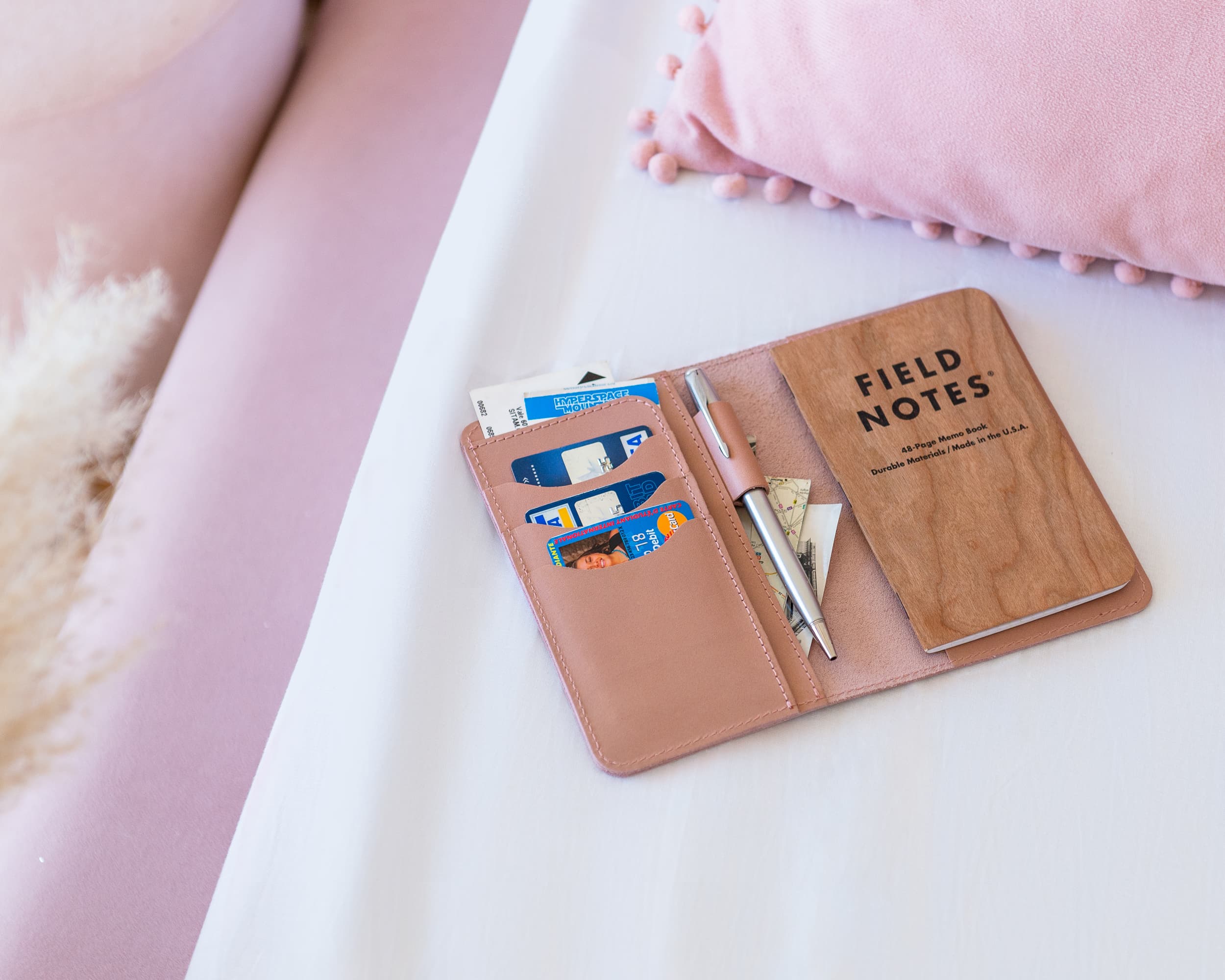 Find your inner balance and unite with nature, taking the best use of a leather yoga mat holder that can also work as a leather blanket holder. Such a simple accessory provides unmatched functionality – it features adjustable straps, a comfortable handle, and long-lasting leather and hardware. Hidemont leather blanket holder will give you peace of mind when it comes to a throw lightweight and effortless transporting and storage. Besides, you`ll be pleasantly surprised about how this blanket holder can become an inseparable part of your family leather traditions, uniting you and the most beloved ones.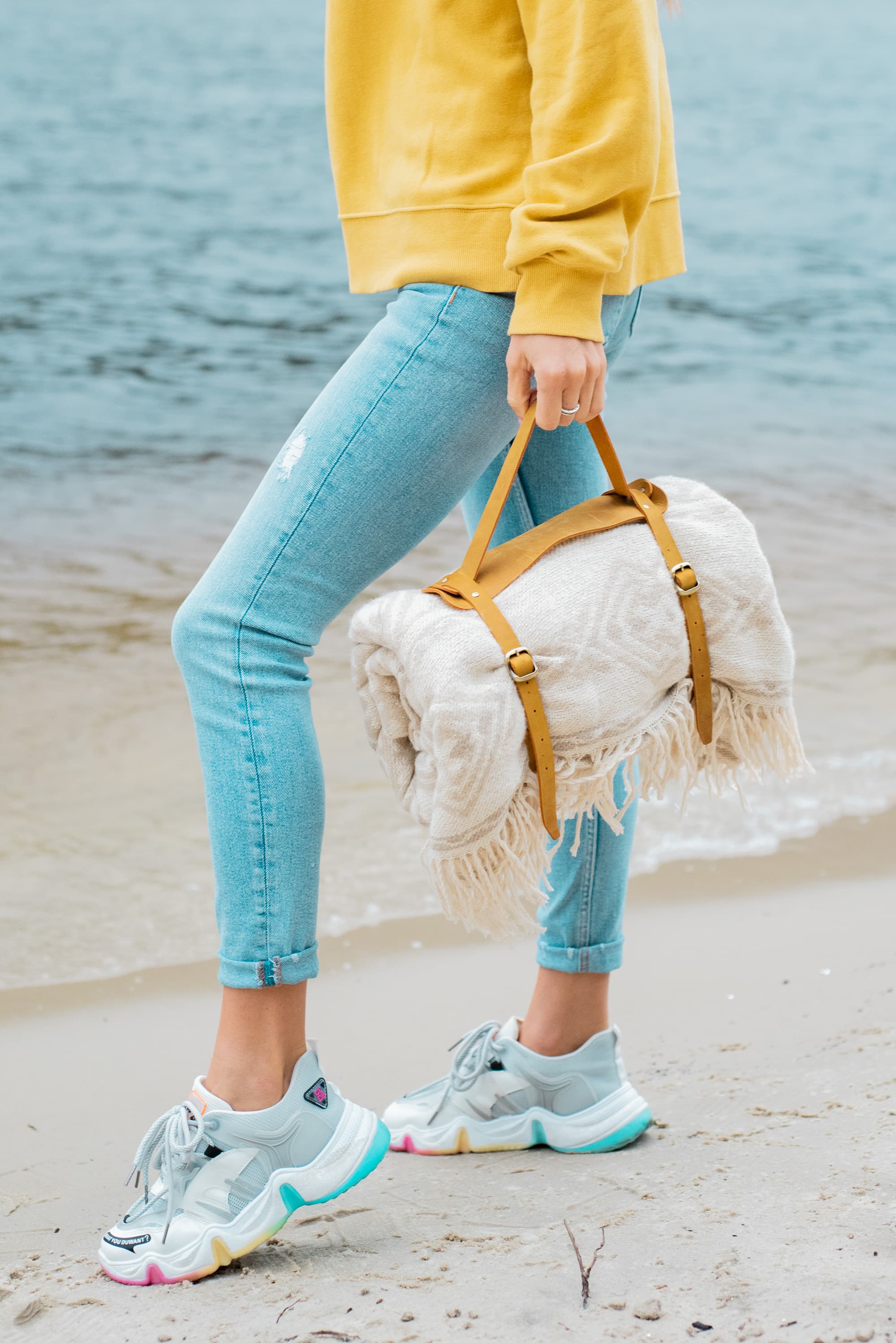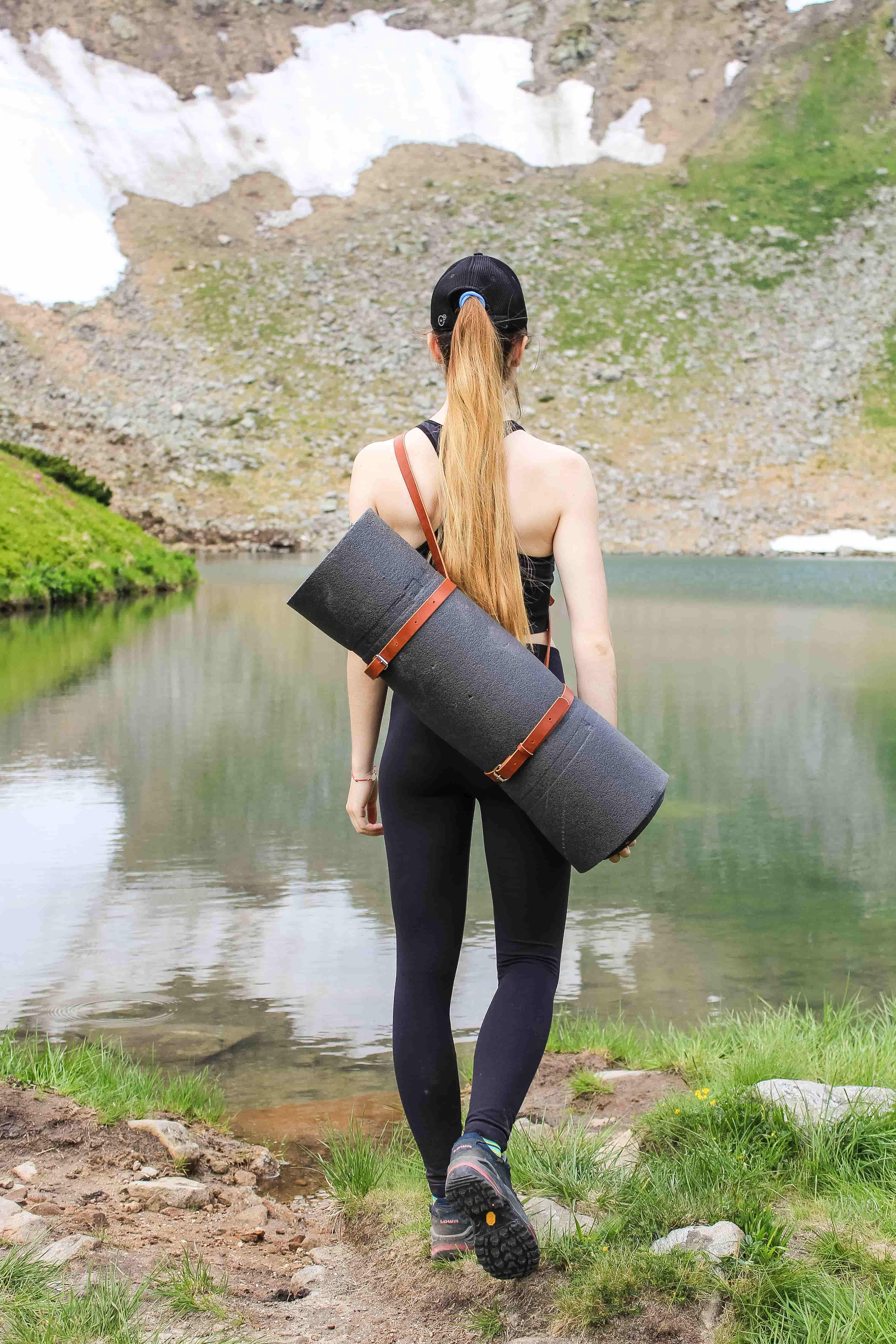 Lines Matter
Indulge yourself in unique designs, patterns, and clothing components that outline these biggest summer 2023 fashion trends, and find the one to be paralleled with your individuality. Whatever creates the vivid, captivating line perspectives is going to be in the spotlight.
Go ahead and experiment with straight tailoring, striped patterns, geometric, symmetric, and asymmetric prints, straight, V-neck, off-the-shoulder, or square necklines, and accessories. Add zest to your daily or travel style by wearing tops with ruffle detail, decorative sleeves, asymmetric hem, jersey crop tops, or one-shoulder tops.
Aviator sunglasses are in fashion trends 2023! So, get ready for the summer days, and don't forget to get the best protection for your favorite pair of shades – our full-grain vegetable-tanned leather sunglasses case will do the job.
Featuring a nose bridge, solid snap button, and sturdy construction, our glasses cases with optional suede lining and nature-inspired colors to choose from are handmade to offer a snug fit, ultimate protection, and convenient carry in a bag.
Tempting you with a timeless sleek and compact silhouette, our women's leather wallets with durable zip in a rich palette will speak of your sophisticated taste and love for essentials organization.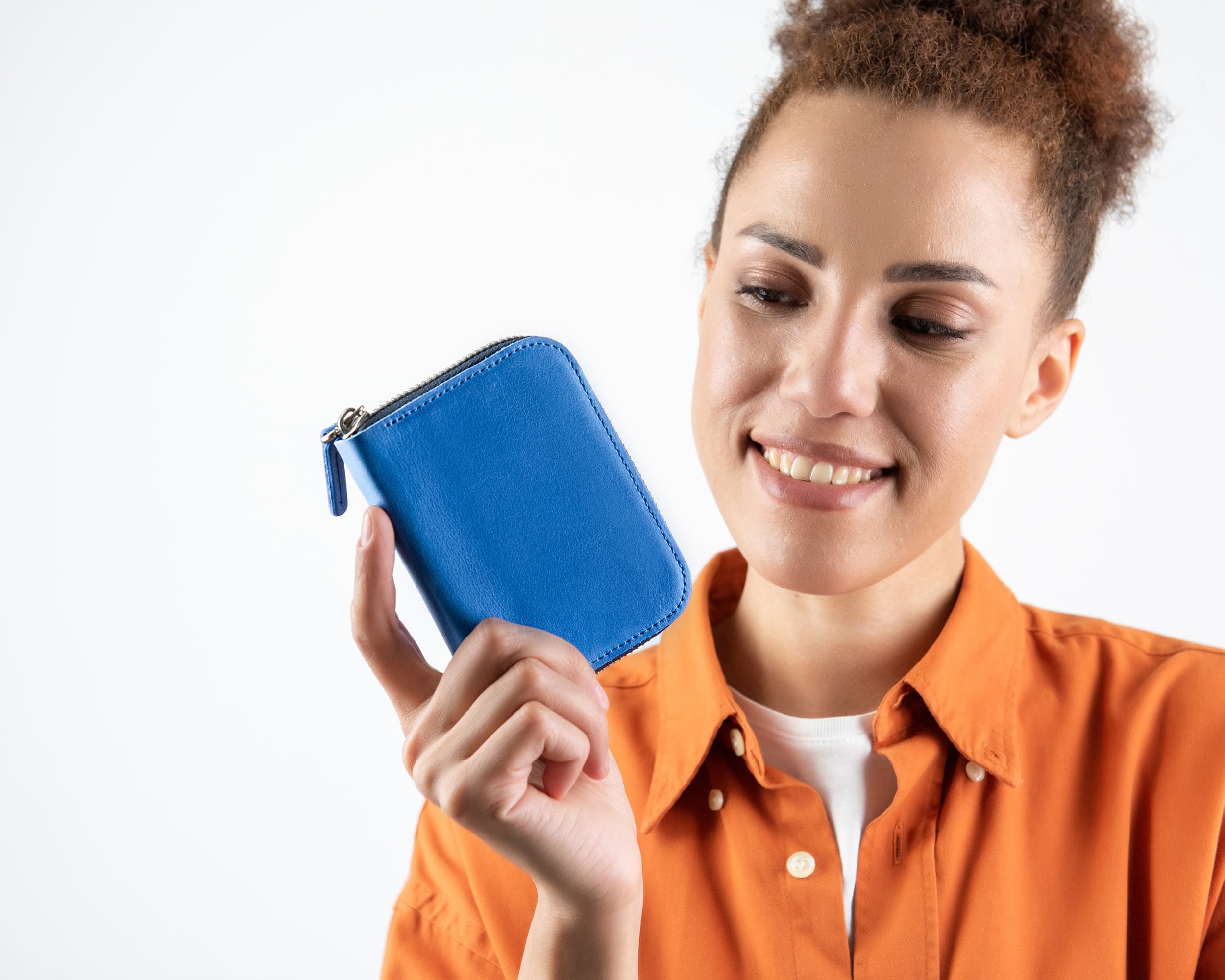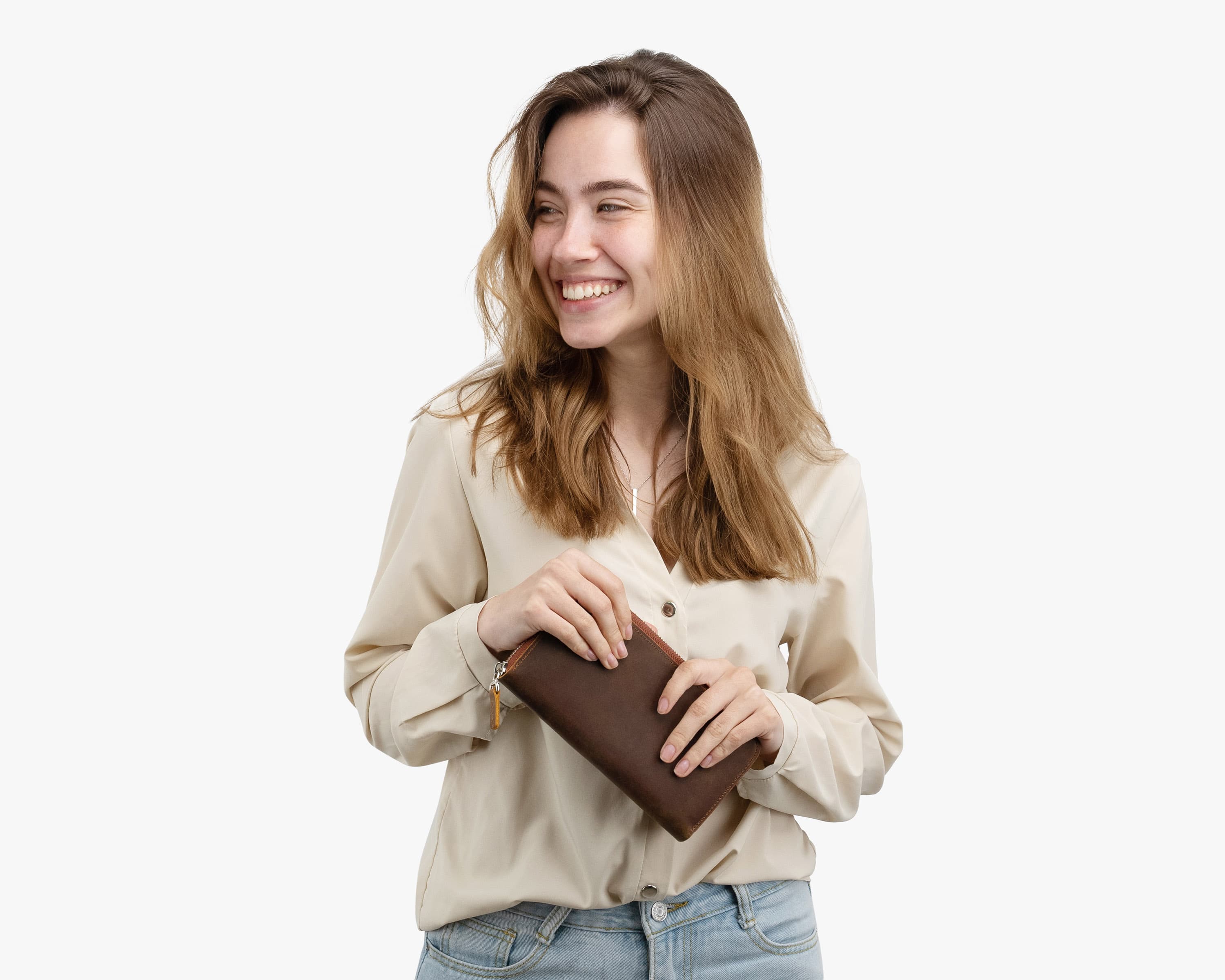 MENS SUMMER FASHION 2023
Relaxed Vibes
Season by season, we take it clear: men like to look simple but strikingly. Nothing excess, just what fits the lifestyle, and personal preferences, and corresponds to the latest trends. And summer men's fashion trends 2023 are not the exception. Embodying men's admiration for simplicity and practicality, summer trends are nothing but a plethora of basic pieces of attire, including regular-fit tops, T-shirts, shirts, layered denim, track pants, and cargo shorts. The more pockets, the better, in fact.
May your summer days be enlivened with tropical prints, tie-dye patterns, and juicy colors. This season, you`ll pay attention that all men will jazz up their wardrobes with magenta, orange, purple, and other bright shades.
Embrace the carefree casual atmosphere and feel the maximum comfort of showing off the best part of yours, yes, your torso. By putting on a regular-fit jacket without a top/shirt underneath, or a crop top in bold colors, you`ll move with freedom and comfort, following the relevant summer 2023 fashion trends.
Move with peace of mind for your finances and other valuable safety and organization – our men's leather wallets will become your new ally for everyday and traveling, so discover more about how to choose a wallet. Durable quality leather means you`ll experience no more stress for endless wallet updating as it will last for years and withstand frequent use.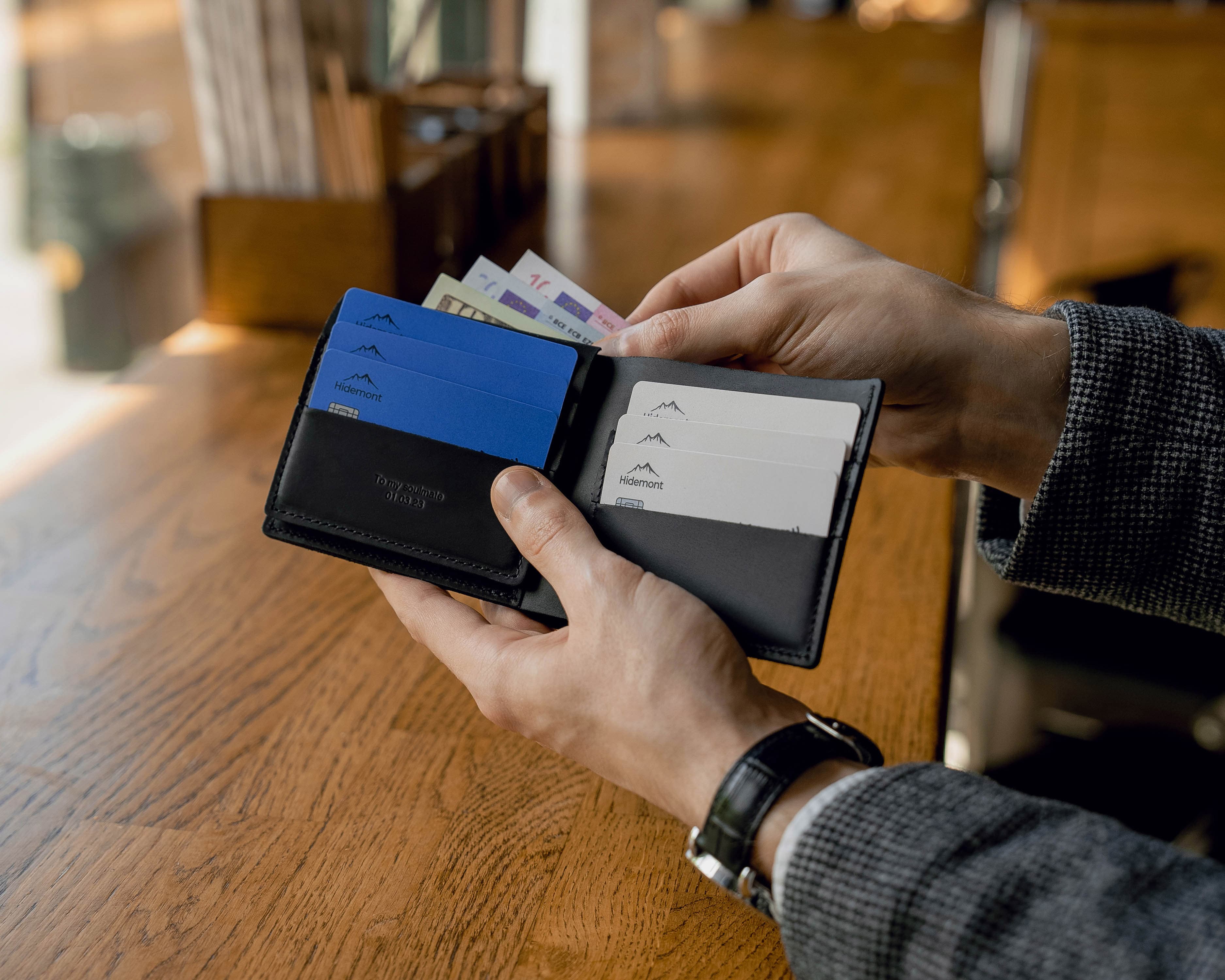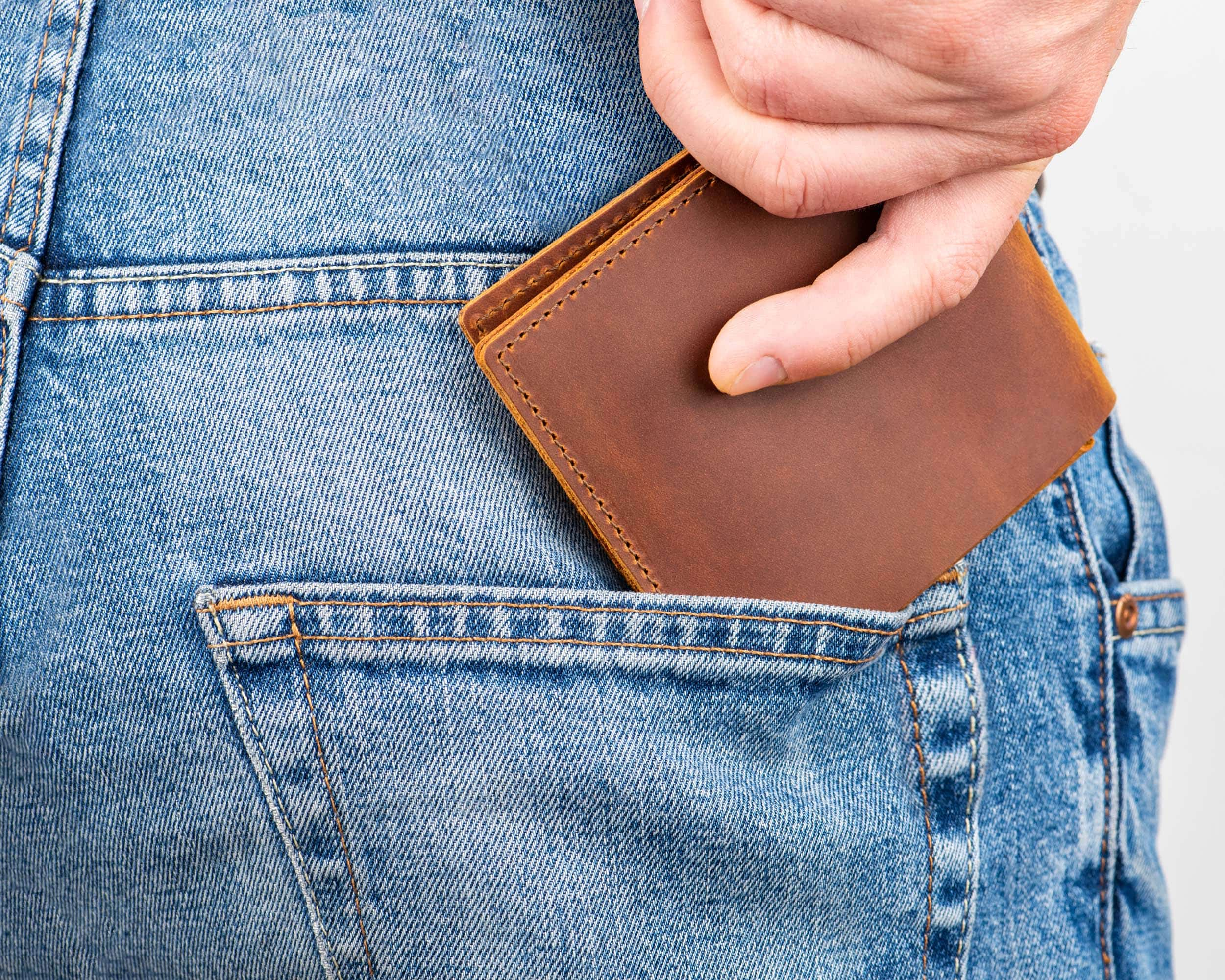 Convenient dimensions give you no limits on how to carry it: the wallet compactly folds to fit into cargo pants, jackets, jeans, or bag pockets. Always having concerns about what to sacrifice and not to take with you in a wallet? With Hidemont leather wallet for men, you`ll take everything needed: cash, credit cards, ID, and other personal items.
Also, being compatible with advanced technologies – namely, AirTag – the leather wallet will make it a breeze to keep track of essentials at home in the mornings or crowded public places.
Explore A New Stylish Side Of Yours
The beginning of summer means the beginning of adventures: the whole world calls you to explore its off-the-beaten paths and the unknown sides of your personality, as well. Traveling helps us to find the needed balance, think and act inventively, and be a significant element of the social and cultural environment. Thus, being restless and adventurous is going to be one of the summer fashion trends 2023.
To have the smoothest traveling experience, you should opt for comfortable, versatile, lightweight, easy-to-clean clothes, shoes, and accessories. Create your most stylish travel looks with cotton or linen T-shirts, shirts in striped, tropical, or checked, patterns, regular-fit jeans, blue or khaki chinos trousers, cargo shorts with numerous pockets (which is quite useful for keeping essentials at hand), breathable sneakers, loafers, espadrille, bright-colored cap or woven hat.
Designed in timeless silhouettes and with unmatched quality, our leather travel accessories for men will make your trip – whether a family vacation, business trip, or summer holiday with friends – a sheer delight. Packing for a trip seems nothing but stress and fuss? You can count on leather dopp kits that work great for organizing essentials in a backpack or suitcase, storing toiletries in one place, and assisting in keeping you refreshed on the go.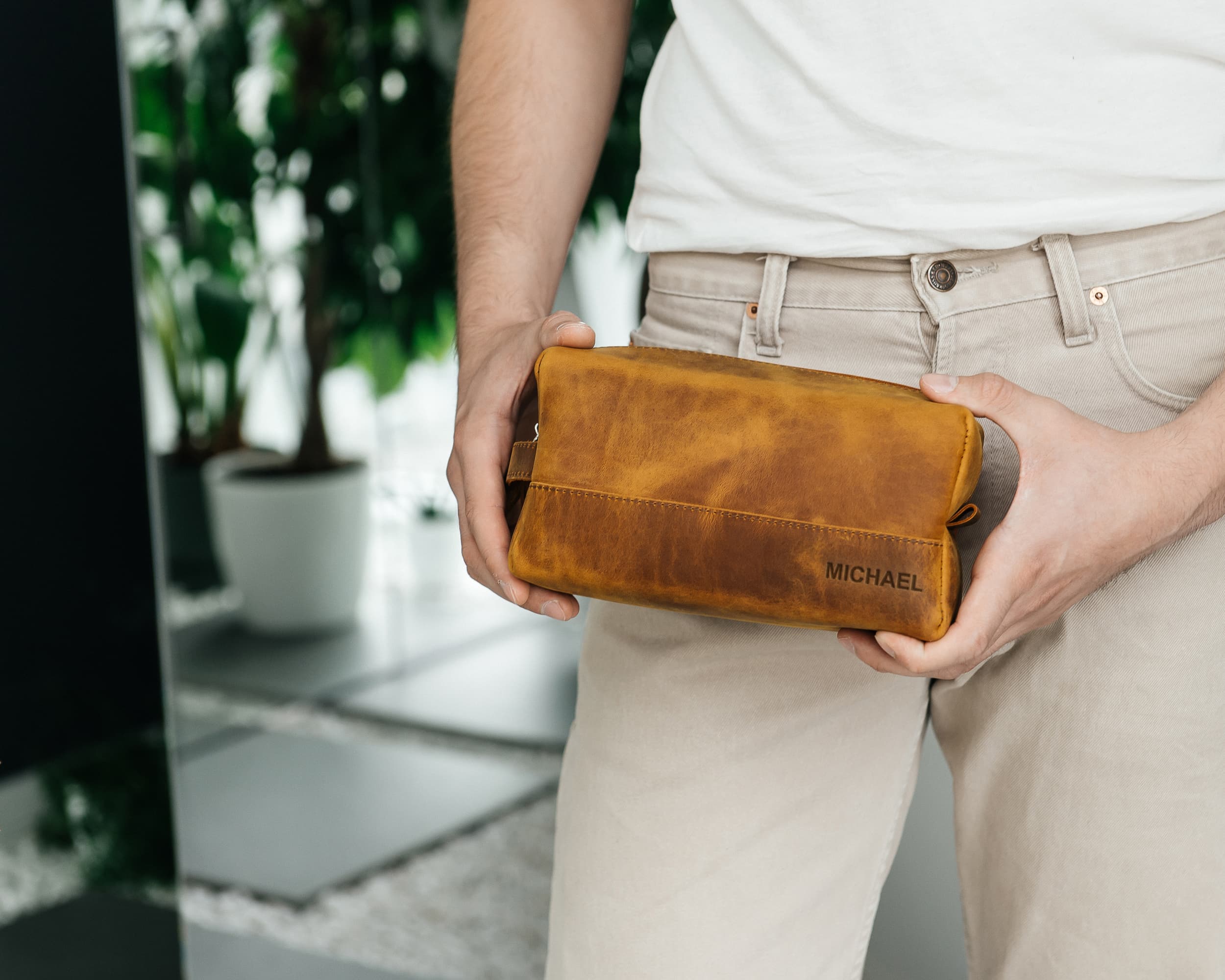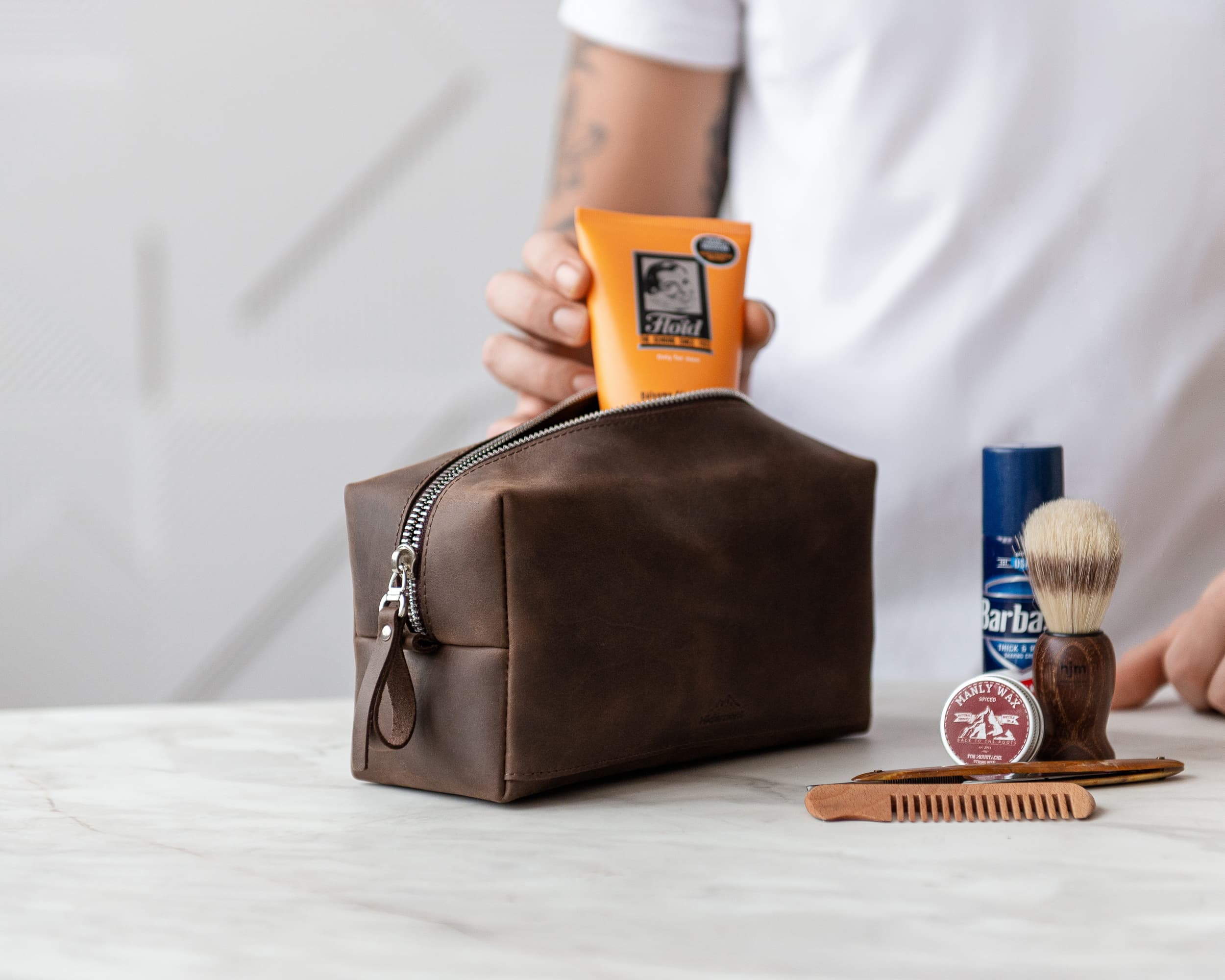 Unwind and enjoy your priceless time, taking the best use of our rich online leather passport covers collection. Coming in various functional designs and colors, personalized covers will hold important documents and other valuables protected, neatly arranged, and highlight your adventurous and stylish spirit.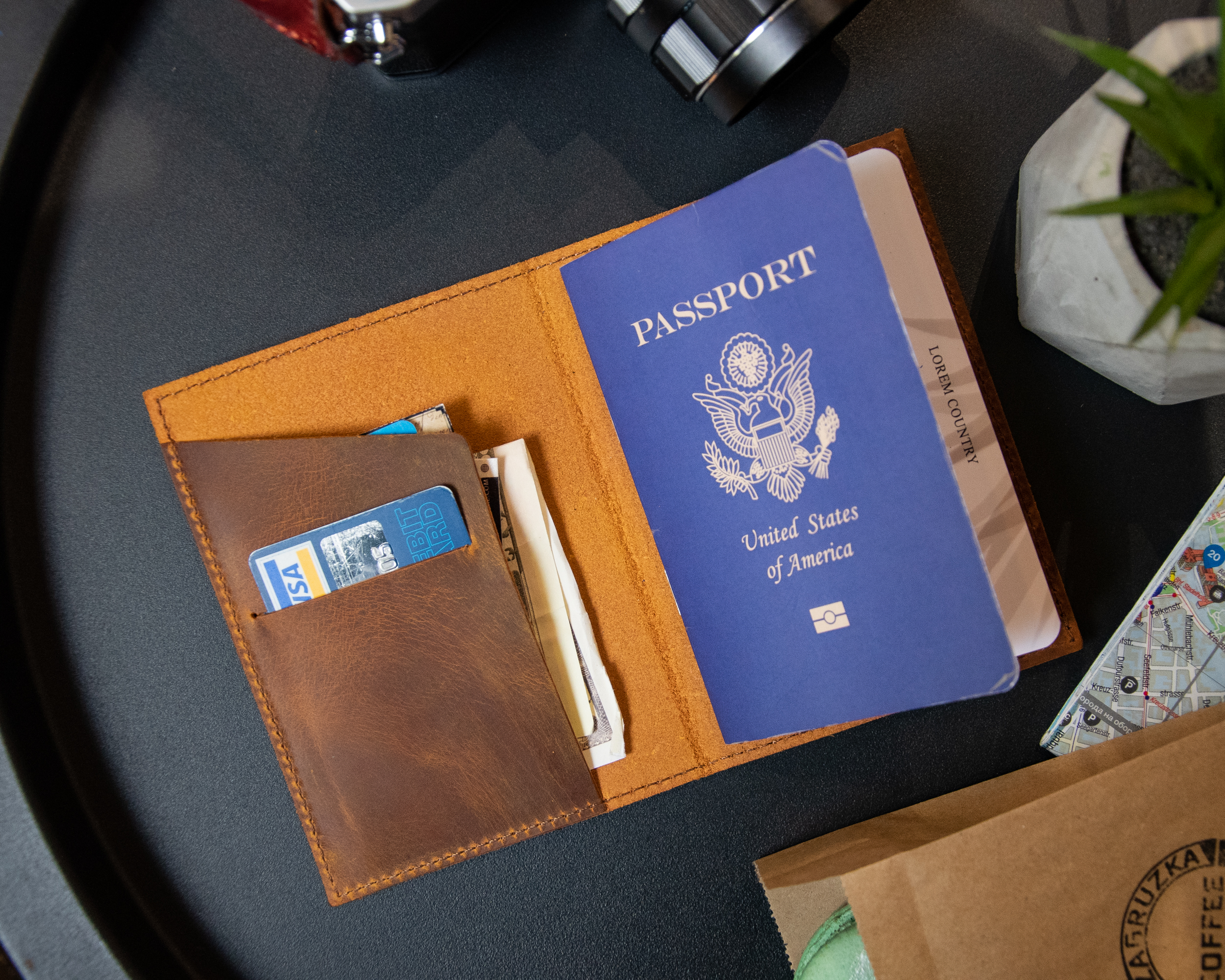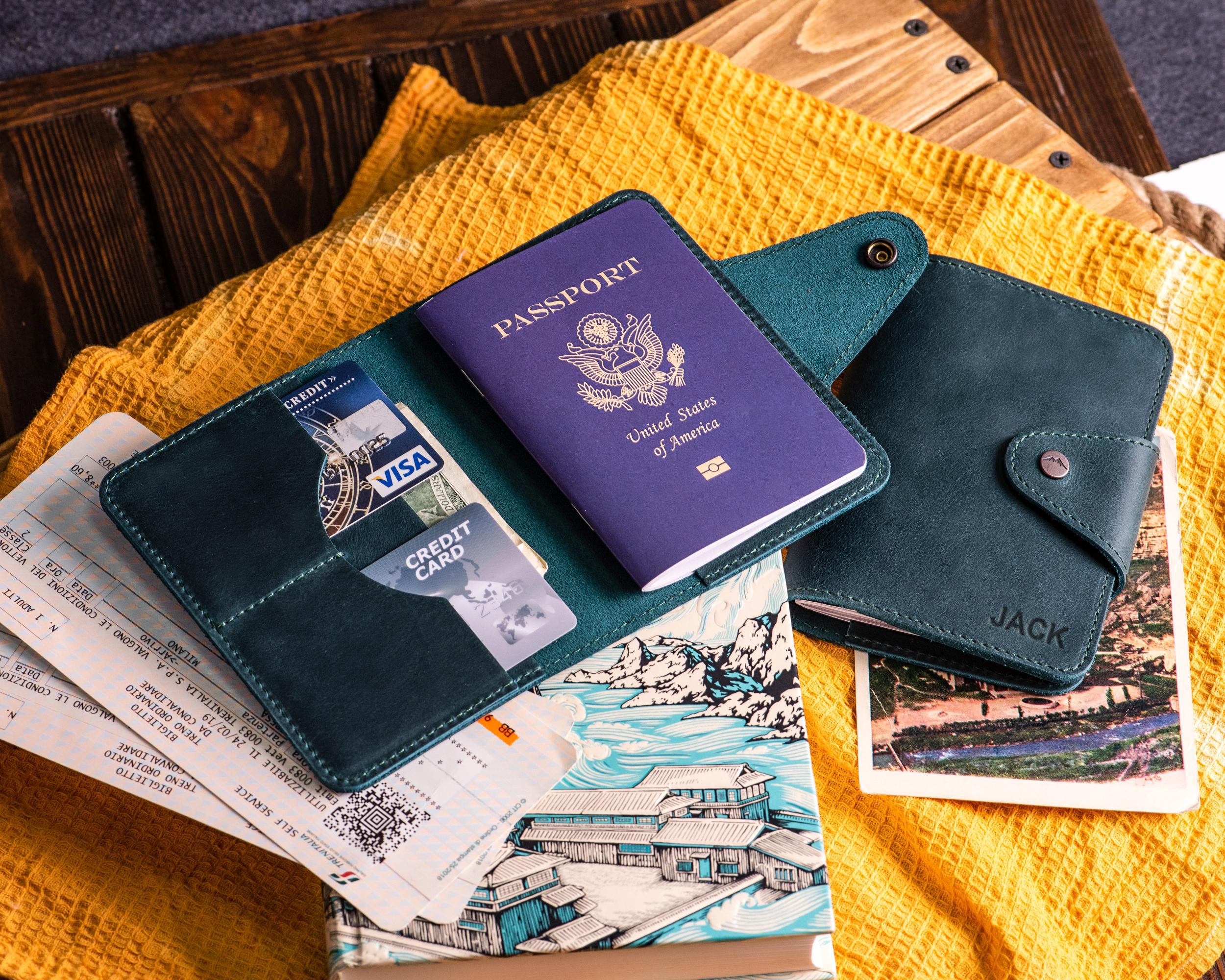 TO SUM UP
The moment you catch the summer sun rays on your skin, hear the soothing murmur of the sea, and savor the heady smell of herbs, you`ll never be wrong to discover the latest trends for summer to look stunning, exclusive, and feel with the maximum comfort and confidence.
Our trends guide – both summer fashion for women and mens summer fashion 2023 – will inspire you to create looks that will easily fit your active lifestyle – these will be perfect choices for work, leisure, working out, and traveling. And our fashionable accessories for men and women handcrafted of the best-quality leather will make a finishing touch to your attire, being not only stylish but efficient, as well.